Ambassador Spud


Kia ora,
I'm Spud from St Helier's School in Auckland. I can't wait to go on the Where are We? field trip in Wellington. I hope I don't get lost! I'm sure I won't because we're going to learn all about navigation and why it's important to know where things are.
See you in the coolest little capital city.
Bye for now,
Spud.
Monday 13 July
Kia ora koutou,
It was a great start to our adventure today with fine weather, smooth flying and time to explore. I had a window seat on the plane and the views were spectacular. We really do live in an amazing country! I can't wait to see more of it on this field trip.
We wandered around Wellington and I saw the beehive – it's bigger than I thought. 
Tomorrow we are heading across Cook Strait to discover more about navigation at sea.
See you then,
Spud.
Tuesday 14th June
Hi everyone,
I had such a fun day today. I can't believe how far we travelled. The three hour voyage across the Cook Strait was like a luxury cruise; no big waves, great views and a good restaurant! I was allowed to go up on the bridge of the ship. This is from where the ship is controlled. I met the Captain and he showed me how electronic nautical charts work and how GPS is used to plot a course and track ships. Sailing must be so much safer now with all the smart technology used to navigate.
I also had a look around the Unfolding the Map exhibition. It was cool to see all the old maps and compare them with the fancy, new digital ones.
Talk tomorrow,
Spud.
Wednesday 15 June
Tēnā koutou,
Today was all about trains. It was so much fun to see all the technology that is used to locate and track trains. I never realised how much work goes into making sure trains are in exactly the right place at the right time. 
I learnt about what GIS is. GIS stands for Geographic Information Systems and they are a great way to organise a lot of information and display that information as layers on a map.
I am really looking forward to tomorrow because we are heading back out to the airport to fly with the Life Flight Trust.
Bye for now,
Spud.
Thursday 16 June
Kia ora,
I have been looking forward to today because I was really interested to meet people from the Life Flight Trust. I also wanted to see what aircraft they use.
We were lucky enough to be able to go for a flight with John the pilot in one of the Trust's planes. There was plenty of room inside the plane because they had taken out most of the seats so that a stretcher and medical equipment could fit. This plane uses GPS and can be accurately tracked.
I can't believe how much travel we have done this week and I have learnt such a lot. I can't wait to get home and share my adventures with you all.
See you soon,
Spud.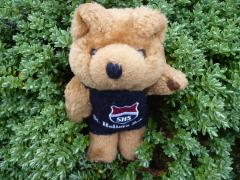 Spud is the ambassador for St Helier's School. Image: LEARNZ.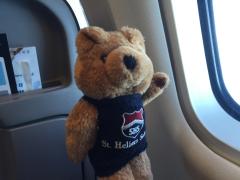 Spud enjoys the views during his flight from Dunedin to Wellington. Image: LEARNZ.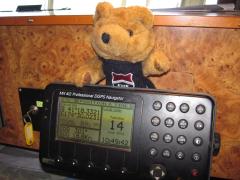 Spud takes a look at a GPS unit used on board the Kaitaki Interislander ferry. Image: LEARNZ.
Spud enjoys perfect sailing conditions as he sails across Cook Strait. Image: LEARNZ.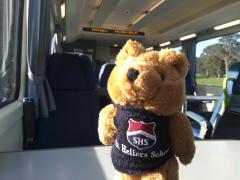 Spud catches a ride on a train to Masterton. Image: LEARNZ.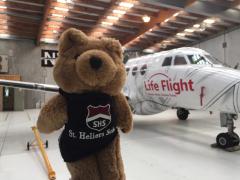 Spud takes a look around the Life Flight Trust hangar in Wellington. Image: LEARNZ.