Ambassador Taiamai


Kia ora,
I'm Taiamai Teddy and I live in Room 7 at Ohaeawai School. I have not been away for a long time and I'm very excited about this journey to Wellington.
I am looking forward to showing off about all the places I'm going to and the things I'll learn.
Talk soon,
Taiamai.
Monday 13 July
Kia ora, 
I hardly slept last night because I was so excited about our trip to Wellington. I was surprised at how smooth our flight was as I'd heard that landing in Wellington can be a bit scary but today there were hardly any bumps. We also enjoyed amazing views over the mountains. It made me want to learn how to ski!
Tomorrow we will head back south on the Interislander ferry to find out more about navigation at sea. 
See you then,
Taiamai.
Tuesday 14th June
Kia ora koutou,
Gosh we were so lucky today with a smooth crossing of Cook Strait. The journey seemed to zoom by and before we knew it we were in Picton. Time flies when you're having fun eh! I learnt about how the Kaitaki ship can track other ships and know exactly where it is at all times using GPS. Electronic nautical charts have replaced paper charts and make it much easier for mariners to know where they are.
Tomorrow we are travelling overland by train. I can't wait to travel with the train driver. I wonder if they will let me drive the train?
See you in the morning,
Taiamai.
Wednesday 15 June
Kia ora,
It was another great day here in Wellington and hardly a cloud in the sky. We started the day at Train Control. This is from where all of our trains are controlled. I didn't even know there was such a place. I met train controllers who look after a certain part of the rail network and make sure that all the trains are in the right place. They change signals and make sure that no trains collide.
I learnt that trains all have GPS units on board so they can be tracked.
Well, it has been another big day of travel, including a great train ride to Masterton but I am rather tired now so I'll say goodbye.
Taiamai.
Thursday 16 June
Hi guys,
I was worried that it would become too windy for us to fly today but I needn't have worried. We had perfect flying conditions. We did a circuit over Wellington and learnt how planes navigate.
I also learnt how people at Life Flight Trust work together to help rescue people and transport them between hospitals.
It has been a great week in Welly but I'm looking forward to arriving home.
See you soon.
Taiamai.
Taiamai Teddy is from Ohaeawai School. Image: LEARNZ.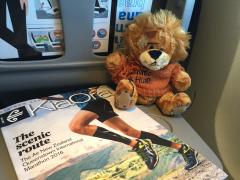 Taiamai takes a look at the Koru magazine during his flight from Dunedin to Wellington. Image: LEARNZ.
Taiamai takes a look at a nautical paper chart. Image: LEARNZ.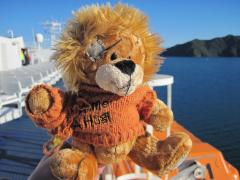 Taiamai enjoys a perfect day out on the Kaitaki Interislander ferry. Image: LEARNZ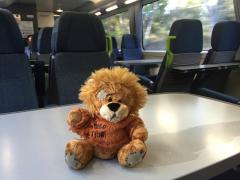 Taiamai takes a train to Masterton. Image: LEARNZ.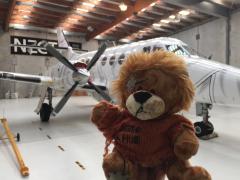 Taiamai inside the Life Flight Trust Hangar. Image: LEARNZ.