Ambassador WALT


Kia ora koutou,
I'm WALT the pukeko who loves learning with children. I can't wait to go on the navigating and positioning trip. I'm counting on not getting lost with all this location technology around! I am very excited about representing the amazing Mathematicians on this adventure.
Talk soon,
WALT.
Tuesday 14th June
Kia ora,
I'm exhausted! I have travelled all over the country and back again. It was not the start I had planned for this trip. I missed the plane yesterday and had to talk very sweetly to the Warrington post lady who helped me get to Wellington today. Unfortunately my late arrival also meant that I missed the ferry ride but I did see the incredible 'Unfolding the Map' exhibition. If you are ever in Wellington you should come and see it. I saw the first chart ever published - it didn't look like charts today and I don't think it was very accurate.
It is great to finally be here and catch up with the other ambassadors' adventures. Tomorrow I will be learning about how trains use technology to travel more efficiently and safely. 
See you at the train station,
WALT.
Wednesday 15 June
Kia ora,
We were lucky enough to spend the day finding out about trains today and we even looked behind the scenes at the Train Control Centre. I didn't know that all of New Zealand's trains are controlled from this one place. I also discovered that every train is monitored manually and by computer using GPS. Train controllers have a really important job and make sure that there are no train collisions and that all trains are tracked.
We saw some cool technology at Train Control then we were given free train tickets to Masterton. I love travelling by train – it is so easy and you get a great view!
Tomorrow we will take to the skies to see how planes navigate.
See you then,
WALT.
Thursday 16 June
Kia ora,
Today we went to the Life Flight Trust offices beside Wellington airport. It was a really interesting place to explore with lots of cool rescue equipment, a helicopter and a fixed wing aircraft.
I lay in the stretcher during our flight over Wellington and out over Cook Strait. I can see why planes are used to transport patients rather than vehicles because they can travel heaps faster.
Despite arriving late for this field trip I have still managed to jam a lot into only a few days – I have learnt so much about how exact locations are found and why location is important. I'm looking forward to ariving home to share more of my adventure.
WALT.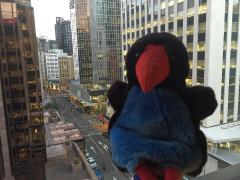 WALT finally makes it to Wellington for the Where are We field trip. Image: LEARNZ.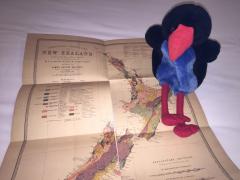 WALT admires a map from the Unfolding the Map exhibition in Wellington. Image: LEARNZ.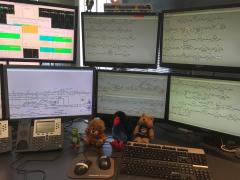 WALT and the other ambassadors take a look around Train Control in Wellington. Image: LEARNZ.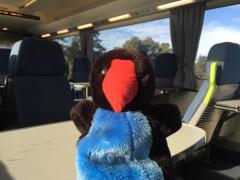 WALT enjoys a train ride to Masterton. Image: LEARNZ.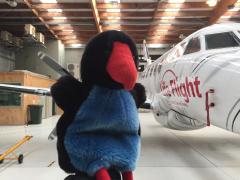 WALT inside the Life Flight Trust hangar in Wellington. Image: LEARNZ.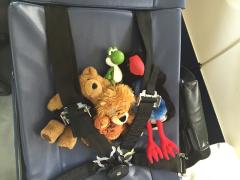 WALT and the other ambassdors are strapped into a stretcher on board the Life Flight Trust plane. Image: LEARNZ.