Meet Dionne Hansen
Job:
Senior Geodetic / Geophysical Analyst.
Job description:
I work for Land Information New Zealand which is the government agency responsible for much of New Zealand's land and sea data including maps and nautical charts, the network of geodetic survey marks and the network of 39 CORS sites located across New Zealand which are run in partnership with GNS science through the GeoNet Project. 
My job is varied and exciting, it includes processing raw present day and historical raw GPS data using sophisticated GPS software programs, doing field work and working with the different teams in the LINZ to make the most of New Zealand's location data. 
Work background:
I spent 8 years as a Geodetic Analyst at the British Isles continuous GNSS facility. Which was a National Data archive for the UK located in Nottingham. Prior to this I attended university in Canada.
Favourite part of job:
My favourite part of my job is investigating problems and solving them, producing good results, and feeling like my work contributes to something greater. I also love working within my team they are a group of enthusiastic passionate people and they help make each day fun.
Least favourite part of job:
I love my job, but wish I could control the weather so that all of my field work happened on beautiful days and all of my office work occurred on the rainy windy days. 
What I am working on now:
Working on reprocessing the whole of New Zealand's historical and present day CORS site data with the most current models to get the best positions possible. 
A quick story about a job well done:
For me a job well done generally involves having an eye for detail and spotting problems before they become problems.
Submitting a contribution to an international project and seeing it compare well with the solutions of others.
A (humorous) story about a job that went badly and what you learned:
As a non-native New Zealander, I have learned a bit about volatile weather while doing field work. I was doing field work on a very windy day, it was my job to set up the tripods so I levelled them carefully and set up the GPS antenna, but I didn't realize the power of the NZ wind. I had not tightened the tripod legs enough and my base station ended up flopping over and I had to redo my setups. It was a good lesson, I never made that mistake again. I've also worked at the top of a hill in a rainstorm and as soon as the job was done and I set off down the hill heading swiftly for cover, the storm was gone and it was still and the sun came out. I learned that sometimes you can just wait for the right moment, because New Zealand's weather changes so swiftly, and the work will go more quickly and smoothly.
Qualifications:
I have a Bachelor of Science and Master of Science from Canada.
Interests outside work:
I love being outdoors. Rock climbing is my passion, but I also enjoy tramping and travel.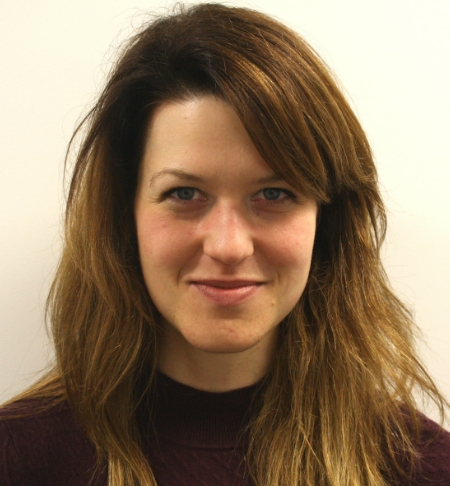 Dionne Hansen is a Senior Geodetic/Geophysical Analyst with LINZ. Image: LINZ.