Diary 2
Date:
Tuesday, June 11, 2019
Field Trip Name:
Matariki and Navigation - Kupe, Cook and Today
Weather:
Cloudy and windy
Where You Are:
Wellington
<- Homepage: Navigation from Kupe to Cook to Today
---
Kia ora koutou,
You started the day at Te Wharewaka o Pōneke in central Wellington. This function centre is known as the waka house and also offers waka and walking tours. You met with Matt Ammunson-Fyall who works here to complete the first web conference. Matt was keen to answer students' questions about Matariki and navigation and enjoyed sharing his knowledge. You can find out more by listening to the web conference.
Finding Matariki
Following the web conference, you headed up to Space Place at the Carter Observatory. Matariki is no longer visible as it sets in May. You met with Haritina Mogosanu so you could see what Matariki will look like when it rises on 25 June. Hari took you into the planetarium to show you what the night sky will look like later this month. You watched as a small cluster of stars rose from the horizon. Even though this cluster is tiny it is the closest star cluster to Earth. Check out this stellarium link to see where Matariki will rise in the dawn sky. Hari explained that Māori had three different names for this star cluster depending on the season in which it was visible. Māori only call this star cluster Matariki when it rises in midwinter marking the start of the Māori new year. The dates for Matariki change each year because they are based on the European calendar rather than the Maramataka or Māori lunar calendar. You can find out more by watching the video.
Navigating by the stars
After seeing Matariki you may have wondered if this star cluster was used by Māori to navigate. Hari explained that in winter it was not used to navigate as this was a tough time of the year for long voyages. During other seasons this star cluster and other bright stars were used to navigate. Traditional Polynesian navigation is based on a star compass that divides the night sky into sectors or whare. The star compass allows navigators to remember where stars rise and set. Like the Sun, stars rise in the eastern horizon and set in the western horizon. Navigators who know the direction and position that the stars rise and set, can use the horizon as a compass. Traditional navigation also relied on knowledge of ocean currents, wind, cloud formations and bird migration patterns.
In the name of science
Hari showed you a display about Captain James Cook and the science he did during his voyages in the Pacific. Cook wanted to see the transit of Venus (the passage of Venus across the face of the sun) which they could see in Tahiti. The observation would make it possible to accurately calculate distances from the Earth to both Venus and the sun for the first time. This work helped scientists to understand the size of the solar system. You may have been surprised to discover that Cook's voyages were not just about exploring new lands but also about science. You can watch the video to find out more.
Kupe and his adventures
Once you had explored Space Place you headed back to Te Wharewaka o Pōneke to help paddle a waka. Matt introduced you to Ariki Brightwell who is a guide at Te Wharewaka. Ariki told you about the famous Māori navigator Kupe. Kupe was the first Polynesian to discover the islands of New Zealand. It is said that the wife of Kupe, Kuramārōtini, came up with the name of Ao-tea-roa ('long white cloud') when she saw the North Island for the first time. Kupe's adventures took place mainly in the south Wairarapa, Cook Strait and Northland regions. Ariki told you some of the local names that come from the time of Kupe and showed you the statue of Kupe outside Te Wharewaka. You can see this in the video. You can also take a look at the story map that Duane from LINZ put together using Tourbuilder. 
On board a waka
It was then time to help paddle a waka with the crew from Land Information New Zealand. You received instruction from Ariki and headed out into the Whairepo Lagoon. Following Ariki's calls, you managed to keep in time and successfully paddle the waka. The wind was too strong to head out on to the harbour, but you gained an understanding of how to work as a team and navigate safely. You spoke to Matt about how Polynesians first found their way to Aotearoa. These sailors used waka hourua or double-hulled sailing canoes, so they didn't have to paddle. They harnessed the winds energy and navigated via the sun, moon, stars, ocean swells and wind. After making it all the way to Aotearoa they made return trips back home before eventually settling in Aotearoa. These voyages took a huge amount of skill and courage and Matariki is the perfect time to remember and celebrate these achievements.
You said farewell to the team at Te Wharewaka and headed out to the airport to catch a flight to Picton. Tomorrow you will venture out into the Marlborough Sounds to follow the voyages of Captain Cook and visit Ship Cove.
See you then,
Shelley the LEARNZ field trip teacher.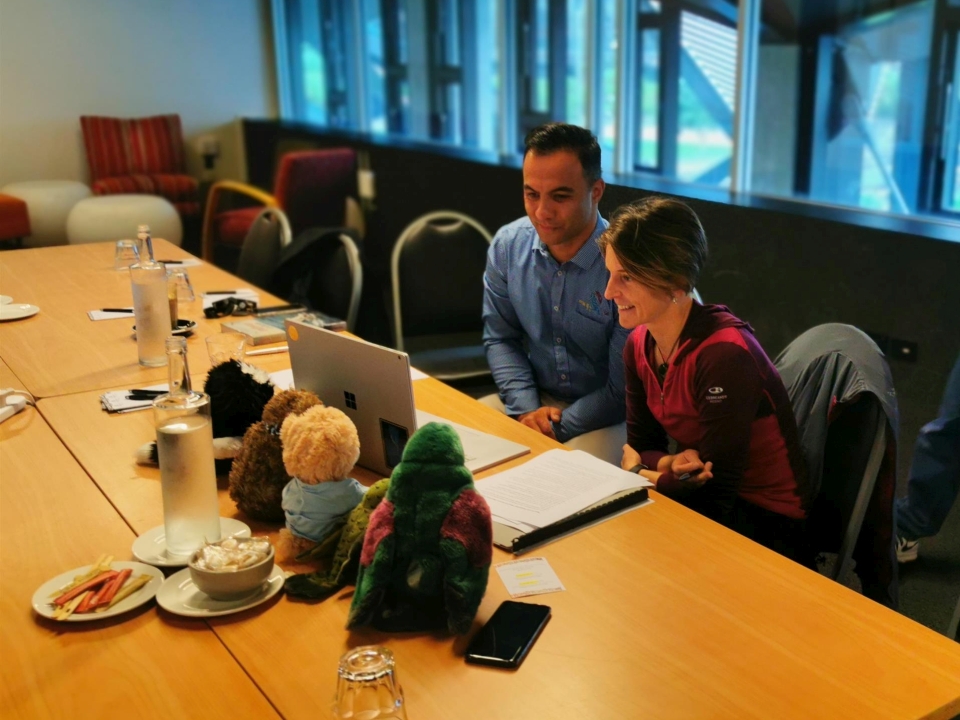 Matt, Shelley and the ambassadors talk to students from Arahoe School and Ponsonby Primary School during the web conference. Image: Duane Wilkins, LINZ.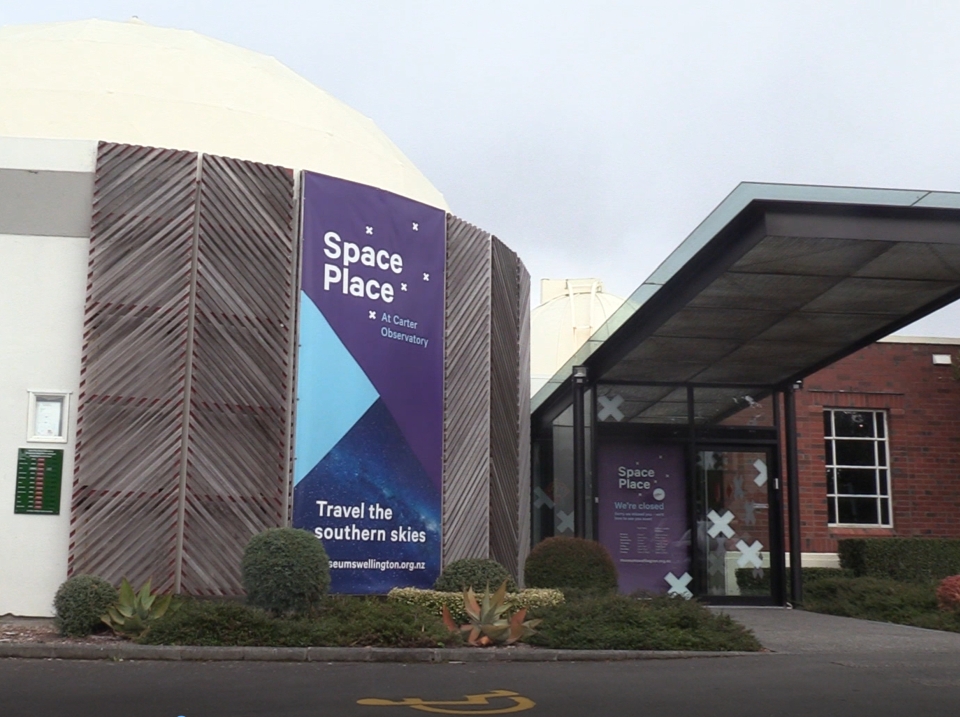 You visited Space Place in Wellington today to see the planetarium and find out more about Matariki and navigation. Image: Shelley Hersey, LEARNZ.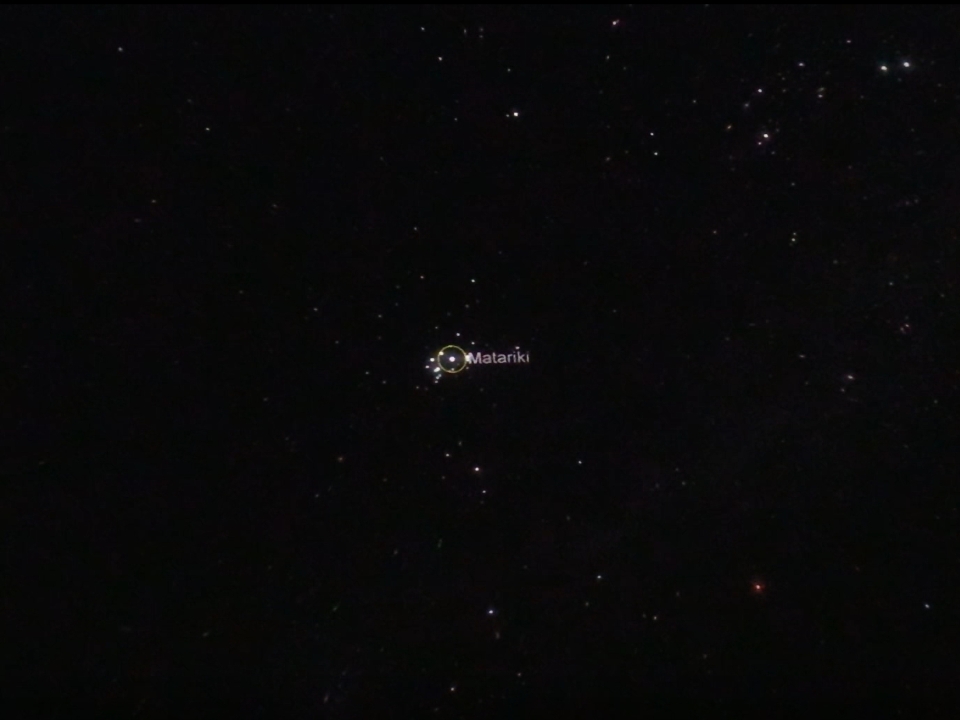 This is the Matariki star cluster shown in the planetarium. This is how it will look as it rises on 25 June. How far away is this star cluster? Image: Shelley Hersey, LEARNZ.
This is a statue of the legendary explorer Kupe with his wife, Hine Te Apārangi, and his tohunga (priest), Pekahourangi. Image: Shelley Hersey, LEARNZ.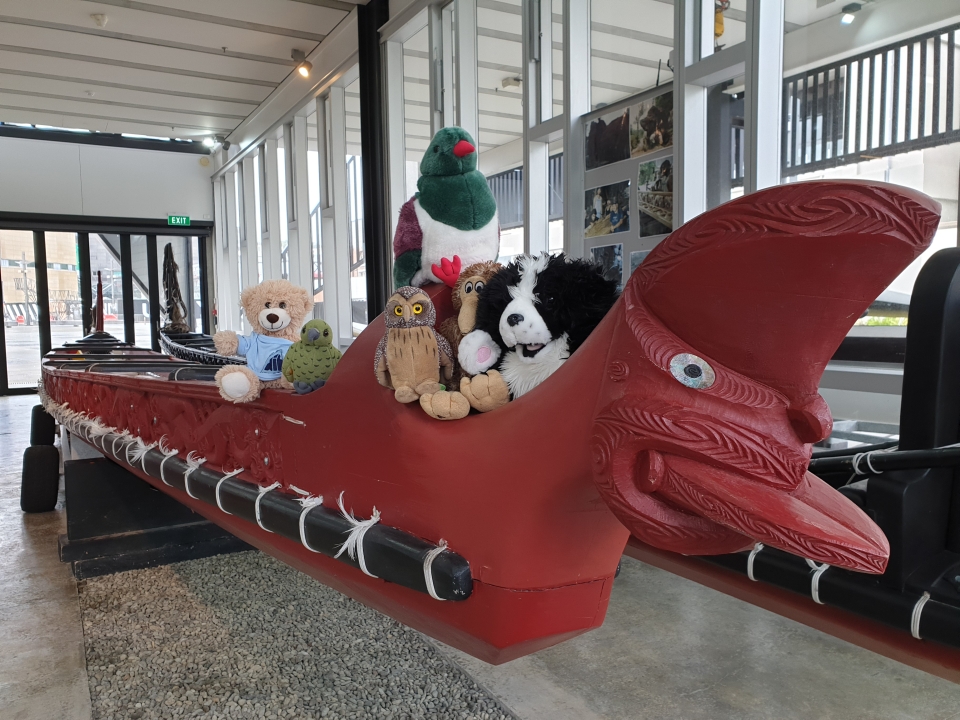 The ambassadors on a waka at Te Wharewaka o Pōneke. How long do you think this waka is? Image: Shelley Hersey, LEARNZ.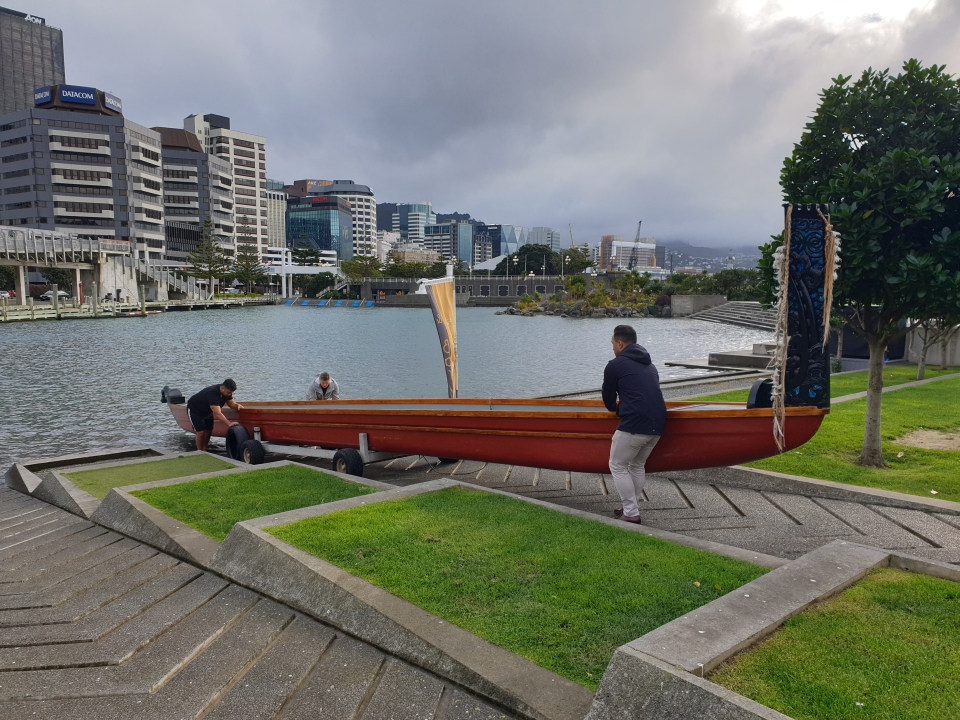 A waka is launched into Whairepo Lagoon in Wellington. Image: Shelley Hersey, LEARNZ.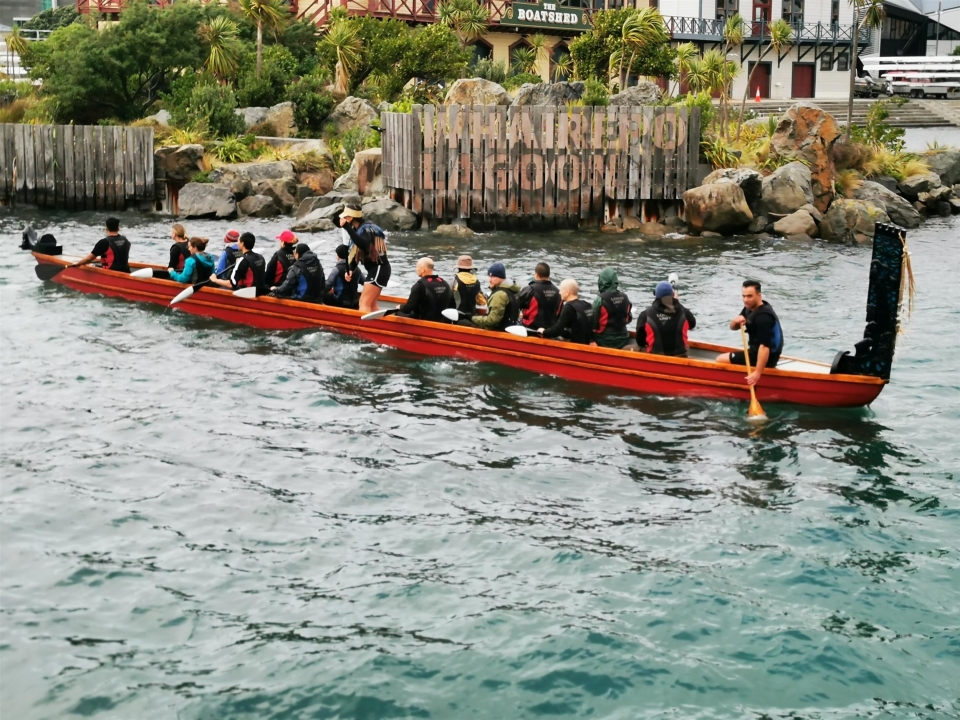 The crew from Land Information New Zealand and the LEARNZ team work together to paddle a waka. Image: Duane Wilkins, LINZ.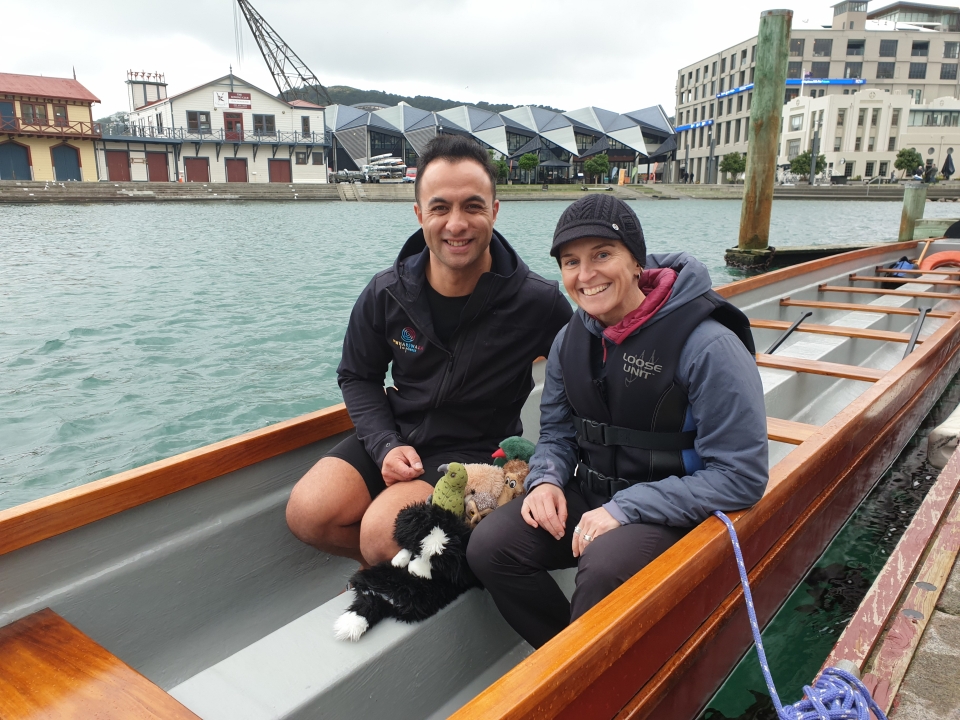 Matt, Shelley and the ambassadors on board a waka on Whairepo Lagoon. How many people do you think are needed to paddle this waka? Image: Andrew Penny, LEARNZ.
Time to head to Picton on a Sounds Air flight. Image: Shelley Hersey, LEARNZ.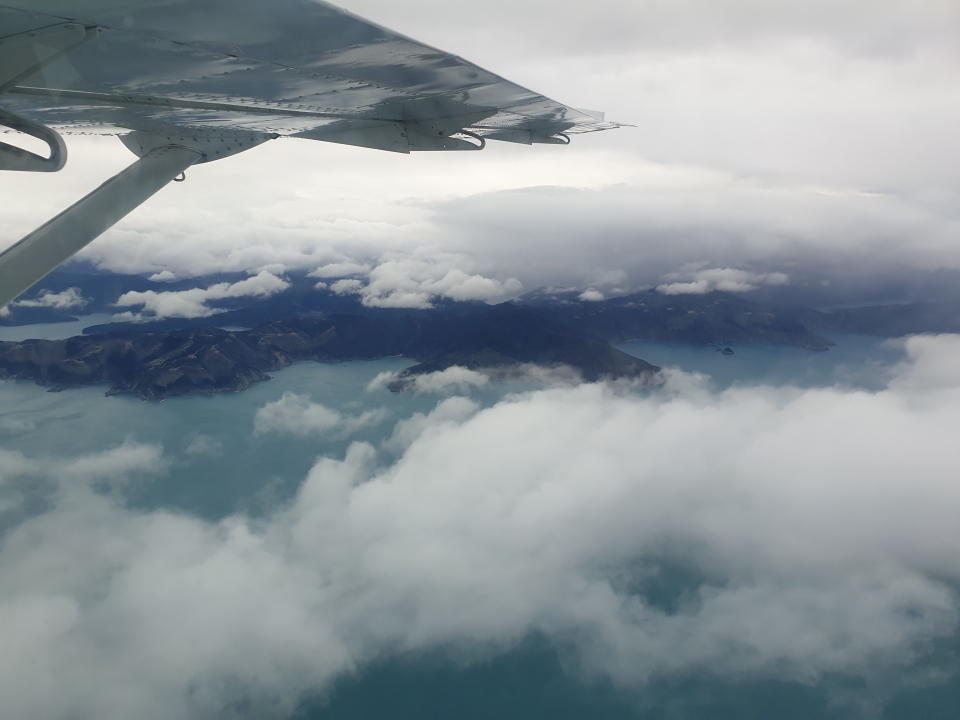 It was a bumpy flight through to Picton but you managed to enjoy a view through the clouds to the Marlborough Sounds. Image: Shelley Hersey, LEARNZ.