Restoring Māori place names
European names replaced Māori names on maps, but many Māori names survived. Some Māori names were replaced but then returned. Over time, other original Māori names have been restored.
Misheard names
When European explorers first arrived in New Zealand, they recorded some Māori place names. But sometimes they misheard the name or did not write it down correctly. Many traditional Māori names were changed because of this. The earliest example is Tolaga Bay. In 1769 Captain Cook asked the people of Ūawa what the place was called. They thought he was asking the name of the wind and replied 'Tāraki', meaning north wind. Cook wrote this down as 'Tolaga'.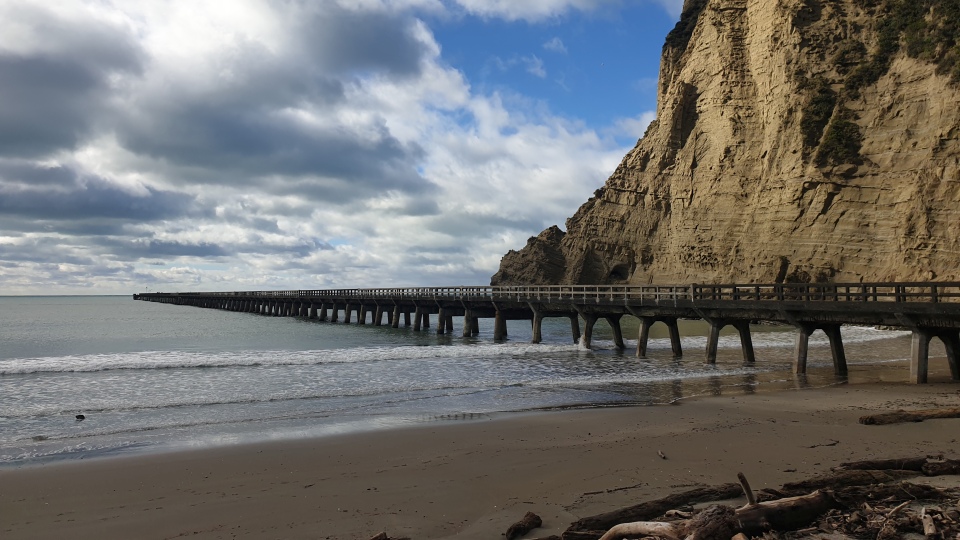 Changing place names
Early Europeans replaced original Māori placenames with their own. Māori continued to use their own place names as well as new names. New names were often for new features, like towns. Many features which Māori had named, such as eel weirs or fishing grounds, were unfamiliar to Europeans, or were removed during colonisation.
The Māori names which survived European habitation were mostly in places with high Māori populations such as in the central North Island and Northland. In some areas European place names changed back to the original Māori names. Sometimes Pākehā were willing to use the Māori name, despite their feelings toward local Māori and pressure from the authorities. Places like Taihape, Ohakune, Raetihi, Taumarunui, Rotorua, Taupō, Whakatāne, Tauranga, Te Kūiti, Te Awamutu and Ngāruawāhia had European names for only a brief time.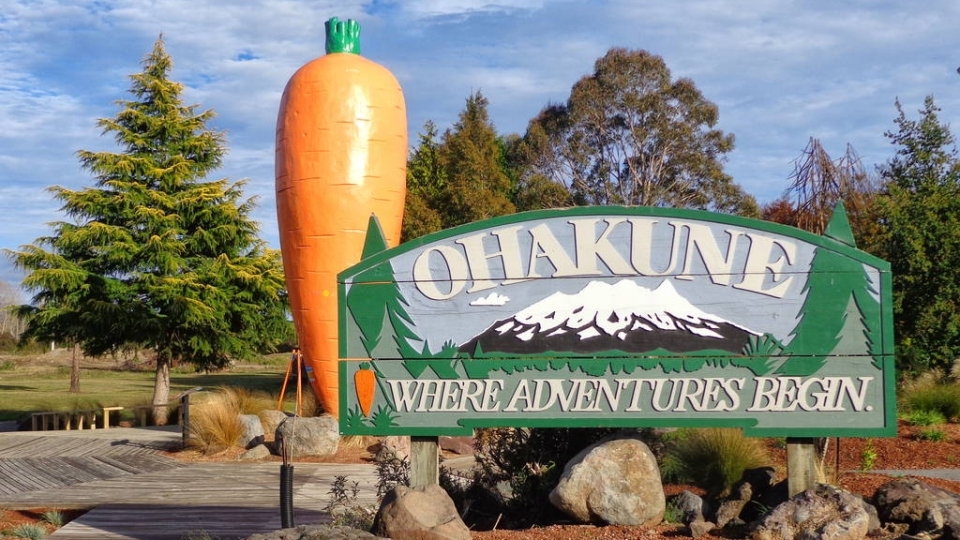 Making place names official
In 1894 the future Prime Minister Joseph Ward put forward a change in the law that any future naming or name changes would give preference to original Māori names. Altered and misspelt Māori names could also be corrected, but this was often not done. For example, Kurow in North Otago was not changed back to Kohurau.
In 1946 Parliament set up the New Zealand Geographic Board (NZGB) and gave it power to change or apply Māori and English names. They collected Māori place names and decided which names on maps should be replaced by Māori or 'British' names.
Now also known as Ngā Pou Taunaha o Aotearoa, the Board's job is to make place names official. They encourage the use of original Māori place names on formal maps.
Transliteration
Transliteration means to spell using the characters of another alphabet. Some Māori names are transliterations of European names, such as Pōneke for Port Nicholson or Ākarana for Auckland. Missionary Richard Taylor named settlements along the Whanganui River Ātene (Athens), Koriniti (Corinth), Hiruhārama (Jerusalem) and Rānana (London). Red Rocks near Wellington is the European version of a Māori name (Pariwhero). Names mixing Māori and Scottish words include Gleniti near Timaru and Glenomaru near Balclutha.
Rivers
Major rivers throughout New Zealand were often given European names but later changed back to earlier Māori names. Thames gave a name to town and district, but the river has changed back to Waihou. In Hawke's Bay the Ngaruroro and Tukituki, and in Canterbury the Rakaia, Waimakariri and Rangitātā all changed back to their Māori names. The remaining major rivers with non-Māori names are the Clarence, Buller, Grey, and Clutha.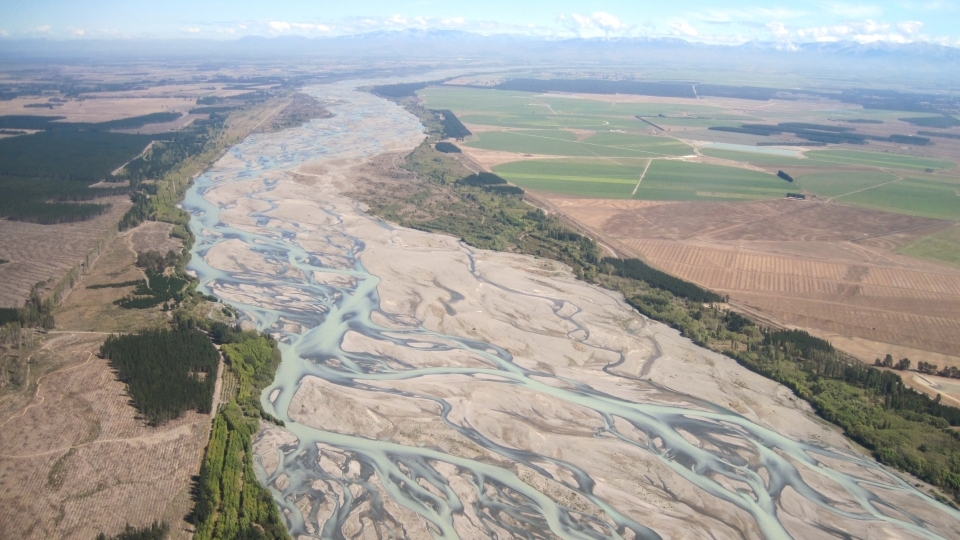 Double naming
Ngā Pou Taunaha o Aotearoa has given several official double Māori and English names. For some of these, either name could be used. For example, the North Island or Te Ika-a-Māui. Another example is where both names should be used together, such as Matiu/Somes Island.
Restoring Māori place names has been included in Treaty of Waitangi claims. One treaty settlement with South Island tribe Ngāi Tahu listed 96 place name changes. Most got double names in English and Māori, and these now appear on maps. An example is New Zealand's tallest mountain which officially became Aoraki / Mount Cook.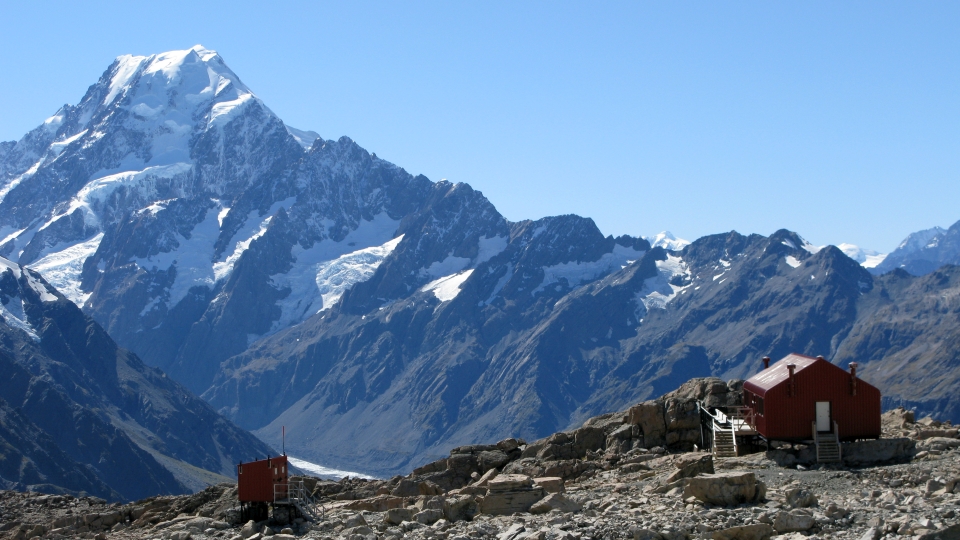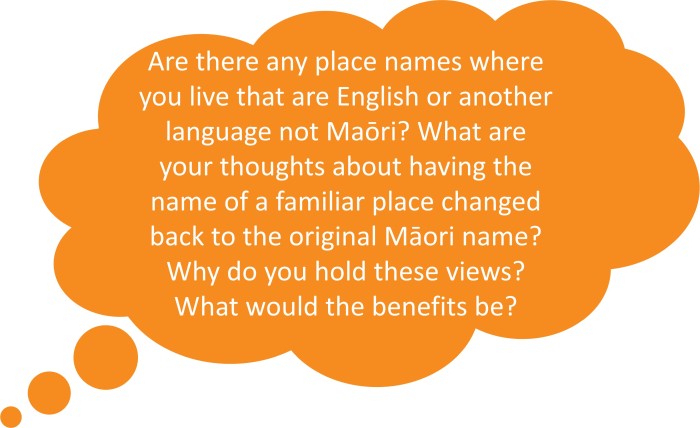 Try the restoring Māori place names quiz.
Audio Māori keywords: