Ambassador Egbert
Hello everyone, tēnā koutou,
I am Egbert the LEARNZ ambassador. I go on all the trips with Andrew and help look after the other ambassadors from your schools.
I really love LEARNZ field trips about New Zealand's special places. I am looking forward to exploring Taranaki with you and learning about how to use maps to tell stories that connect people to each other and to their past and to their special places. 
Best,
Egbert
Monday 30 July
Kia ora koutou
Today we flew from Kerikeri to Auckland, and then from Auckland to New Plymouth. It sure was a great day for flying. The sky was clear and there was little wind. We had some great views along the way!
I hope the weather is good this week. We have a lot of outdoor activities and it's helpful if the sun is shining more than it's raining! But I guess you can't help the weather so we'll just get stuck in no matter what!
Best,
Egbert
Tuesday 31 July
Kia ora koutou
Today we went on a long walk through the bush. We were on the lower slopes of Mt Taranaki and ended up at part of the Hangataahua River. It was a fun walk, but we did get a bit wet in the rain on the way back.
This afternoon at Puniho Pā we put together a story map of our journey. We used Google MyMaps to make this. It was cool! I even had a go and found it pretty easy to use so if I can do it can you too!
Best,
Egbert
Wednesday 1 August
Kia ora tatou We had a bit of sunshine today which was nice. But last night's rain made for some very muddy tracks! I sure needed a shower when I got back to the motel this afternoon!
We looked at a lot of technology today. It was interesting to see how it is helping with conservation. We also met a special dog today called Tai. Tai has been trained to find whio. His excellent sense of smell helps him to find these ducks which can sometimes be difficult to locate. Joe Carson works with Tai to help her look after the whio population on Taranaki Maunga. It's cool meeting people (and animals) like Joe and Tai and learning about the conservation work they do.
Best,
Egbert
Thursday 2 August
Kia ora everyone
Today we went to Rotokare Scenic Reserve. This is a cool place that has a predator proof fence around it to help keep out animals like stoats, rats, and cats. That means that special birds, lizards, and insects have a better chance of surviving and growing in numbers.
They have an education room at the reserve. There were all sorts of posters, diagrams, models, and other material for learning about nature and conservation. I was particularly taken with a stuffed cat that has been positioned in attack mode! The taxidermist did a great job showing just how lethal these animals can be. I'll never look at Fluffy the same way again!
I hope you have had as much fun as I have on this week's field trip – see you on another one soon!
Best,
Egbert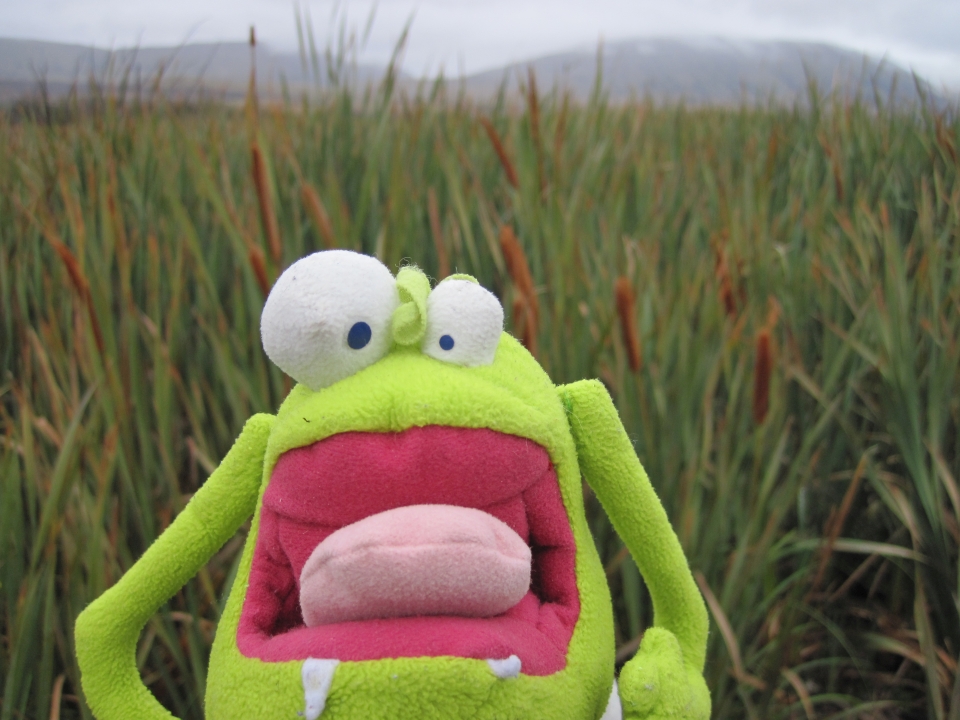 Egbert is one of two LEARNZ field trip ambassadors. Image: LEARNZ.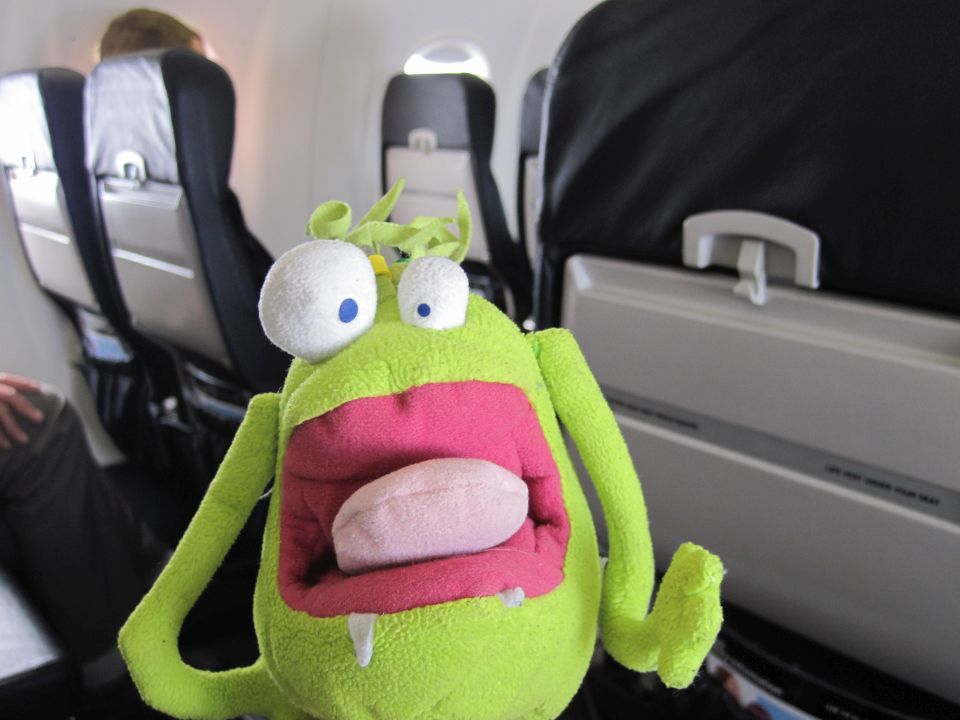 Monday. Egbert is excited to be on board for the first flight to New Plymouth today. Image: LEARNZ.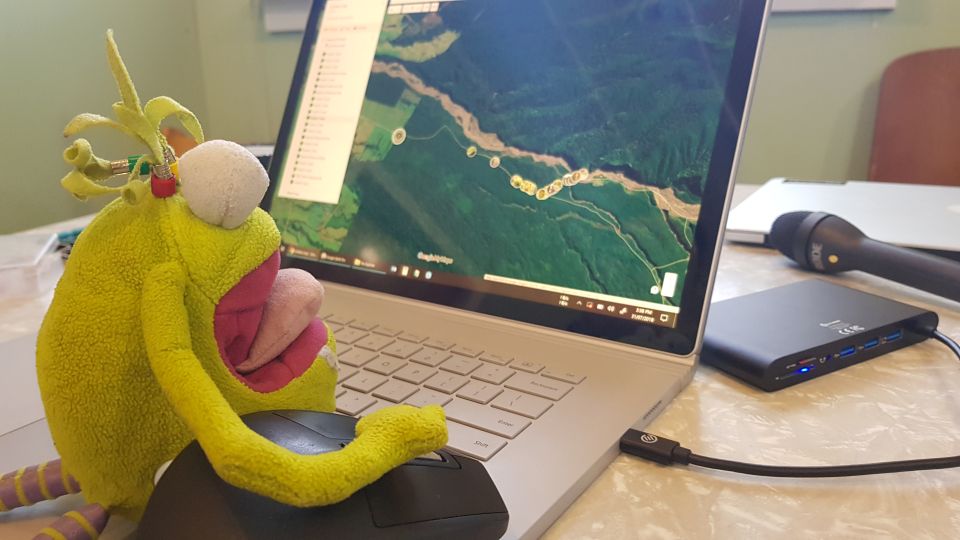 Tuesday. Egbert has a go at putting together a story map using Google MyMaps. Image: LEARNZ.
Wednesday. Egbert thought Joe and her dog Tai were a good team. Image: LEARNZ.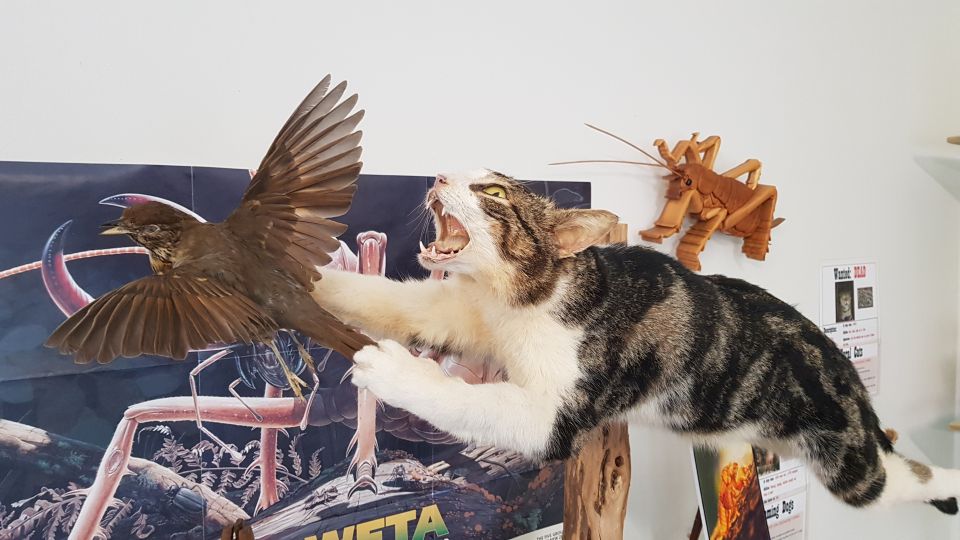 Thursday. Egbert was particularly taken with a stuffed cat that has been positioned in attack mode. Image: LEARNZ.