Meet Charles Walters
Job:
Tiki Toa Kaiwhakahaere
Job description:
To plan, develop, implement and evaluate the Tiki Toa Collective Impact programme. Tiki Toa is a collective programme working alongside key partners Department of Conservation, Taranaki Mounga Project, Devon Intermediate, and Te Pihipihinga Kakano Mai I Rangiatea. The programme works alongside intermediate-aged young people to boost health and wellbeing through connection to Mounga Taranaki, the natural environment and Te Ao Māori. Key elements of the programme include facilitating group workshops on the Mounga, inclusive of key health, environmental and cultural identity content, as well as supporting the young people and their whānau in achieving their aspirational goals.
Work background:
At the end of 2015 I finished my Physical Education degree at the University of Otago and come home to be more connected and to learn more about my whakapapa. I started my working Career at Sport Taranaki as the Kaiwhakahaere where I was responsible for getting as many Maaori involved with their communities. I did this by hosting sporting events, using taaonga taakoro and traditional maori games as a vehicle to promote well being and Maori identity as well as worked with schools and teachers during kaupapa maaori wananga such as marae visits and visits to sites of significance. I worked here for over 2 years before I started at Tui Ora and the Tiki Toa Programme.
Favourite part of job:
Definitely getting up and learning about our mounga. Listening to kaumatua and Te Ao Maori historical stories and visiting these sites. My entire life living in Taranaki I never got any opportunity to connect to our mounga so it is a huge privilege that I get to give this opportunity to rangatahi, as one day i am confident that this will have a huge meaning to who they are as the progress through life. 
Least favourite part of job:
I love all parts but being back in the office doing administration, theory type of things (unless its learning more about our Mounga).
What I am working on now:
At the moment I'm working on developing the programme still in terms of the content and what is being taught in the workshops and different ways of assessing what the rangatahi are taking out of it and what is actually meaningful to them. Also I am thinking and planning around the best way to have the whanau of the rangatahi involved more.
Qualifications:
BpHEd- Bachelor of Physical Education
NCEA 1,2, 3
Interests outside work:
Kapahaka, Ju-jitsu, Rugby League, Te Ao Maori!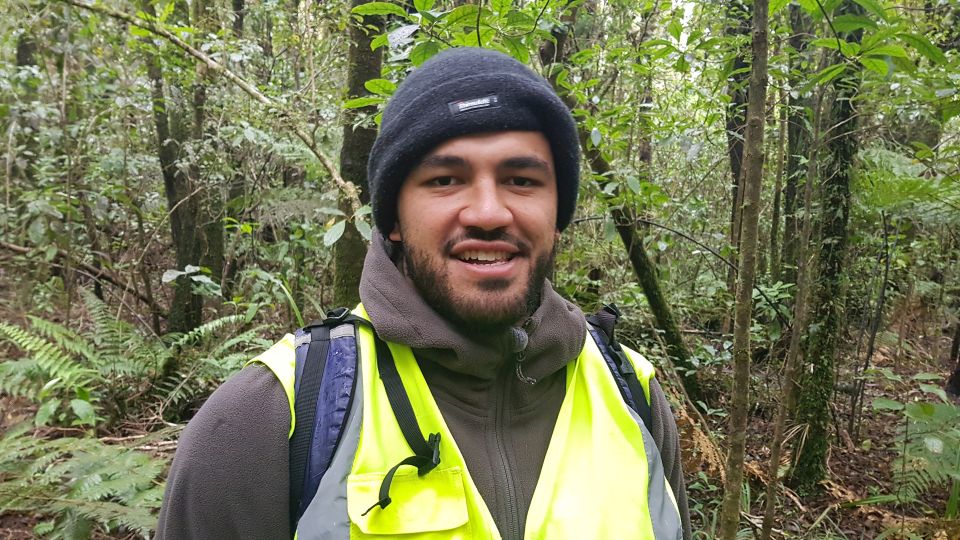 Charles Walters. Image: LEARNZ.