Meet Emily King
Job:
Senior Biodiversity Ranger
Job description:
Organising, planning and providing technical support and advice for the biodiversity work of the Taranaki Mounga Project.
Work background:
My career has focused on a selection of wonderful things: managing a wide variety of threatened flora and fauna species, pest control, and working with iwi and community groups on an array of different projects. Worked for DOC for over 16 years, with the last 10 years in Taranaki.
Favourite part of job:
The privilege of making a genuine difference protecting and conserving the beautiful taonga on our Mounga and working with a dedicated team and amazing volunteers and community.
I also get a buzz from being in the field with people and sharing special experiences, like the recent toutouwai translocation.
What I am working on now:
Am often working on a number of things at any one time, however my current primary focus is organising and preparing for our next translocation species, which is the beautiful kaka.
Am also working with the Taranaki Kiwi Trust with our survival and dispersal monitoring, organising habitat assessments for species we hope to translocate, toutouwai and bat monitoring for the spring and summer, establishing long term monitoring of many species, and a myriad of other things.
A quick story about a job well done:
Prior to the Taranaki Mounga Project I used to lead the whio programme on our Mounga. Whio had become locally extinct and the aim of the project was to re-establish a population. This was a considerable undertaking as it had never been done before and was quite complex. Since taking on the project I had the pleasure of witnessing the whio population go from 10 pairs with no successful breeding to 30 pairs and many ducklings, not only fledging but also recruiting into the population. It was simply wonderful and the population is now moving from strength to strength. This was all due to an enormous amount of hard work of many people over many years, with many early starts walking up cold (but stunning) rivers and servicing of a large stoat control network (at that time 8,000ha).
I am so proud of the whio team, the volunteers, the pest control programme, the whio and the Mounga! I look forward to this being replicated with all the species translocated to the Mounga.
A (humorous) story about a job that went badly and what you learned:
Toutouwai, or North Island robin were the first species Taranaki Mounga intended to release as part of our restoration objectives. Toutouwai were going to be released over a two year period, with up to 50 manu per year.
Pureora was chosen as our site to source toutouwai due to the large population size, good genetics and incredible support of Ngati Rereahu. However, Pureora is notorious for being wet and cold! Everything was planned to perfection and the team (of mostly Rotokare volunteers) were chomping at the bit to head to Pureora and start catching. But the trip was delayed by two days due to road closures caused in the wake of cyclone Debbie! The team arrived and started catching, but then a second cyclone was on its way. The pressure was on to catch as many birds as possible and release them on the Mounga before the second cyclone hit. The team did an amazing job and reached our target of 50 toutouwai being released into their new home. For the second year, we naively thought it would be much easier, fingers and toes were crossed for good weather, but luck was again just not on our side. Bad weather struck again, with a "mini" cylone hitting in the middle of our catching trip, again, causing catching to be delayed and release days to be shifted. Again the team pulled it off and released another 45 manu, making 95 in total!
What I learnt is that there is no point in worrying about the things you can't control (especially the weather), no matter how many alternative pre-plans you have it will all work out in the end! At the end of the day you can only laugh. This was very much a team effort and we have a resilient, hardworking and adaptable team, who have a great sense of humor! What was funny uh-oh turned into funny – ha ha!
Qualifications:
Masters of Conservation Science
Bachelor of Science – Zoology & Botany majors
Bachelor of Arts – Art History major
Interests outside work:
Spending time with my family and showing my 2 year old son the wonders of our world – whanau first. Also love spending time with friends, gardening and a good cup of Dilmah!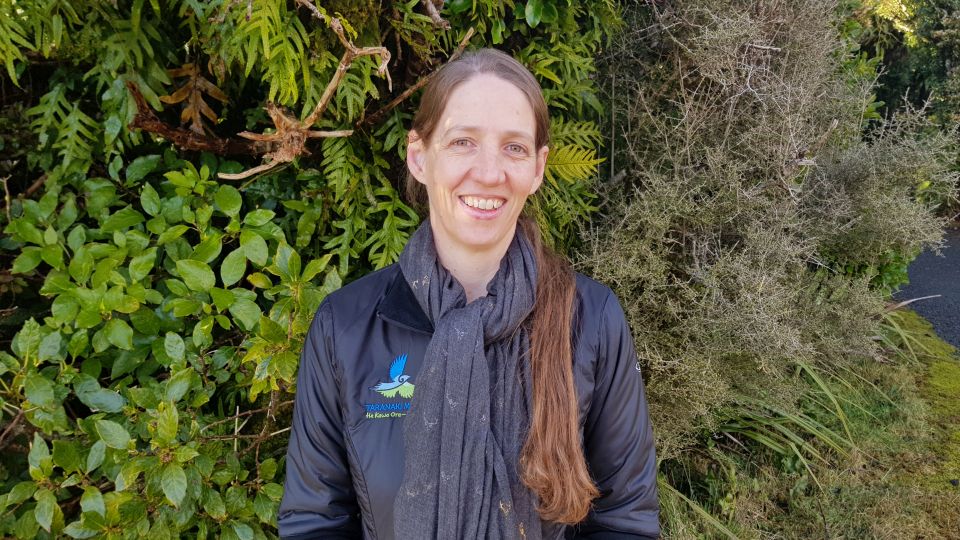 Emily King. Image: LEARNZ.