Meet Jenny Kerrisk
Job:
Volunteer (and volunteer coordinator)
Job description:
"Jack of all trades" at Rotokare! Sanctuary weekly routines including Trap checks, Fence checks. Bird things including kiwi tracking, Hihi sugar feeding, monitoring surveys. Pest monitoring - tracking tunnels. Maintenance jobs on fence, traps, tracks, boardwalk. Roster management. Some data entry. Run Sunday working bees
Work background:
Dairy farming. Science technician – dairy research. Recently contract kiwi work for Kiwis for Kiwi and Taranaki Kiwi Trust.
Favourite part of job:
Kiwi hunting and bird monitoring
Least favourite part of job:
Sore knee & back from trap checking.
What I am working on now:
Fence & trap checks, kiwi tracking, Boardwalk maintenance.
A quick story about a job well done:
Repair on the Fence hood – ugly looking join in hood sections way up high, gap showing up big enough for a mouse, people kept writing it down on fence checks. Finally a fine day when a couple of strong volunteers were there and someone able to drive the quad up the steep hill.. Gathered all the tools together in the workshop and ladders. Litchy took the quad up with most of the hardware, other 3 of us walked. Needed all of us to hold things, pass things up etc. Solved the problem of fitting a patch of coloursteel and replacing lots of rivets. Didn't forget anything we needed, job sorted, we are the A-team!
A (humorous) story about a job that went badly and what you learned:
Working bee to build a shelter to store spare traps in – Posts and corrugated iron up the hill by the fence already. Leaving workshop, I said "see you up there at post 150-ish" and the guys with the chainsaw rushed off ahead of me. I headed up the shortest way with the others. Got there.. Where are the guys? Radio them – O, they didn't take one. We did some digging and an hour later the guys call on the radio, from the workshop again "Where are you??". More instructions and eventually they turned up.. When later asked how the working bee went, Steve summed it up - "I carried a chainsaw for 2 hours!" Lesson – give clearer instructions and make people take a radio!
Qualifications:
NMIT courses – Bird ID, Plant ID, 5 Minute Bird Counts. BSc in Ecology years ago. Many years experience tramping and leadership in local tramping club.
Interests outside work:
Tramping (limited now with knee problem). Kiwi surveying and other kiwi work.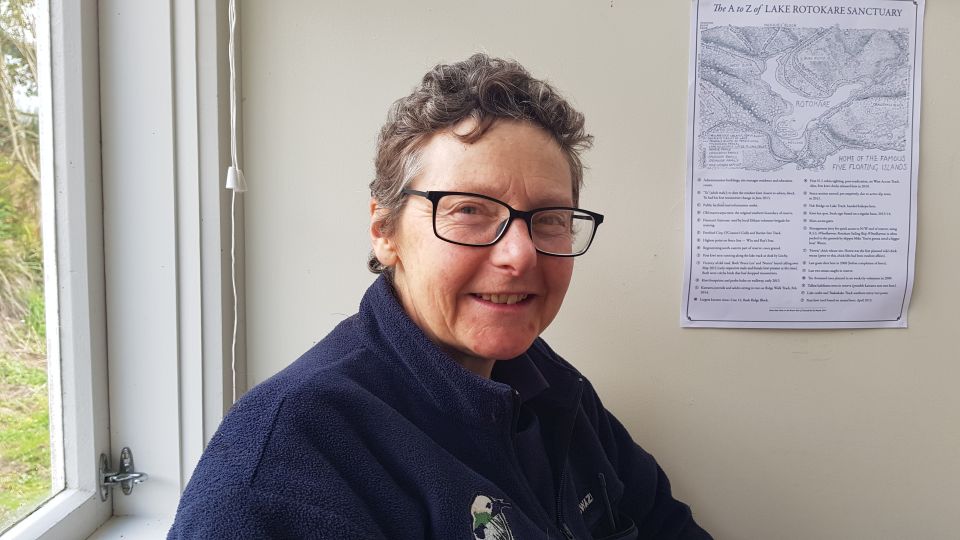 Jenny Kerrisk. Image: LEARNZ.