Meet Te Poihi Campbell
Job:
Project Manager of Te Atiawa Charitable Trust
Job description:
To empower and develop capacity and capability of hapu of Te Atiawa to achieve their aspirations.
Work background:
Predominantly Māori education and Māori broadcasting sectors.
Favourite part of job:
Working within the local community. Supporting community groups to strive towards and achieve their aspirations.
Least favourite part of job:
Sitting at my computer desk for a lot of the day. I like to move around!
What I am working on now:
Currently developing a regional summit-like event for youth of Te Atiawa to acquire the skills, knowledge, acumen and experience to lead the iwi into the future.
A quick story about a job well done:
I was part of the Te Korimako o Taranaki (Taranaki Māori Radio) broadcasting team that broadcasted the Ngā Manu Kōrero 2017 National Secondary School Speech competition in New Plymouth, Taranaki. It was the first time that this two day annual event was broadcasted online via live stream nationally and internationally.
Qualifications:
Bachelor of Mātauranga Māori (Te Wānanga o Raukura), Certificate in Adult and Tertiary Teaching (Te Wānanga o Aotearoa), various cultural certificates (Te Reo o Taranaki), various media broadcasting certificates (Whitireia)
Interests outside work:
Besides spending a lot of time with my whānau which I love the most, I also spend a lot of my time at our marae located in South Taranaki. My whānau and I look after a small farm also located in South Taranaki. I like to get out in the environment eeling, fishing and gathering kaimoana. I enjoy running, swimming and cycling and participating in local events. Heading to various waterholes and the beach with the whānau in the summer is a favourite pastime and growing vegetables and fruit trees is also a favourite activity.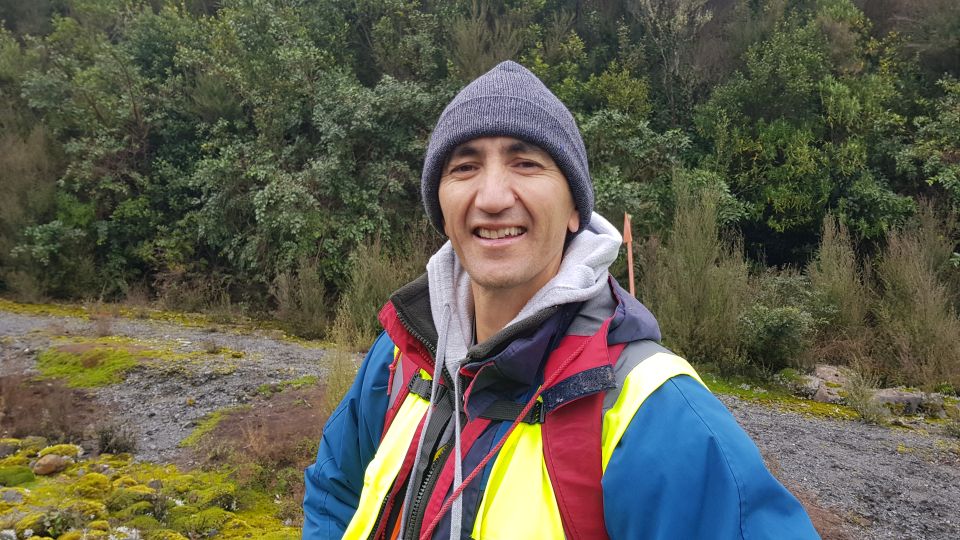 Te Poihi Campbell. Image: LEARNZ.