Ambassador WALT
Kia ora koutou
I am WALT from Ilam School. I have been on a few LEARNZ field trips and have loved every one. On a Location field trip I was a bit late leaving Christchurch and was (just a little) lost for a while. But they tracked me down eventually! I'm determined to up my game this time. Our school will love learning about how to map stories of our shared heritages.
Looking forward to the field trip!
Walt
Monday 24 June
Kia ora everyone, I quite enjoyed the travel day today. Some people don't like flying, but I think it's a lot of fun. We had a lot of laughs along the way and some great views out of the aeroplane window. I even got some answers right on the inflight quiz!
There were two flights – one from Kerikeri to Auckland and one from Auckland to Wellington. In Wellington, Andrew got a rental car and we drove to Lower Hutt. Tomorrow we are going to Belmont School.
Talk then,
WALT
Tuesday 25 June
Kia ora everyone,
Today we went to Belmont School. We also had a trip into Wellington City to meet Google expert John Bailey. It was interesting learning about the Belmont students' Map My Waahi projects. I found out how they used Tourbuilder to present information about their various family histories. I think a project like this would be good for all schools to do. It is interesting learning about your own family history and heritage. It is also interesting learning about where other people are from and their history and culture. I think that the more you know about others, the better you will get along with them.
Talk tomorrow,
WALT
Wednesday 26 June
Kia ora everyone,
Today we met three parents of students at Belmont School. It was interesting learning about some of their family history. They all had such different stories to tell.
We also met the Lower Hutt mayor, Ray Wallace. He is distantly related to William Wallace, a famous Scottish knight from a long, long time ago!
In the afternoon we went to the beach at Petone. Here we talked with Rosanna, who made a story map about kayaking in Antarctica. It has been a fascinating day!
Talk tomorrow,
WALT
Thursday 27 June
Kia ora everyone,
Firstly, Great job on the web conference this morning!
I had a fun day to day. I enjoyed the visit to Te Kura Māori o Porirua. It was neat to hear everyone at the school speak te reo Māori. I also liked our visit to the Ministry for Culture and Heritage. We went to the library there, which was full of books about New Zealand's history. I could have spent many hours there for sure!
I have had a very interesting week on this field trip. I hope we can all do some digital story maps when I get back to school.
See you all next week!
WALT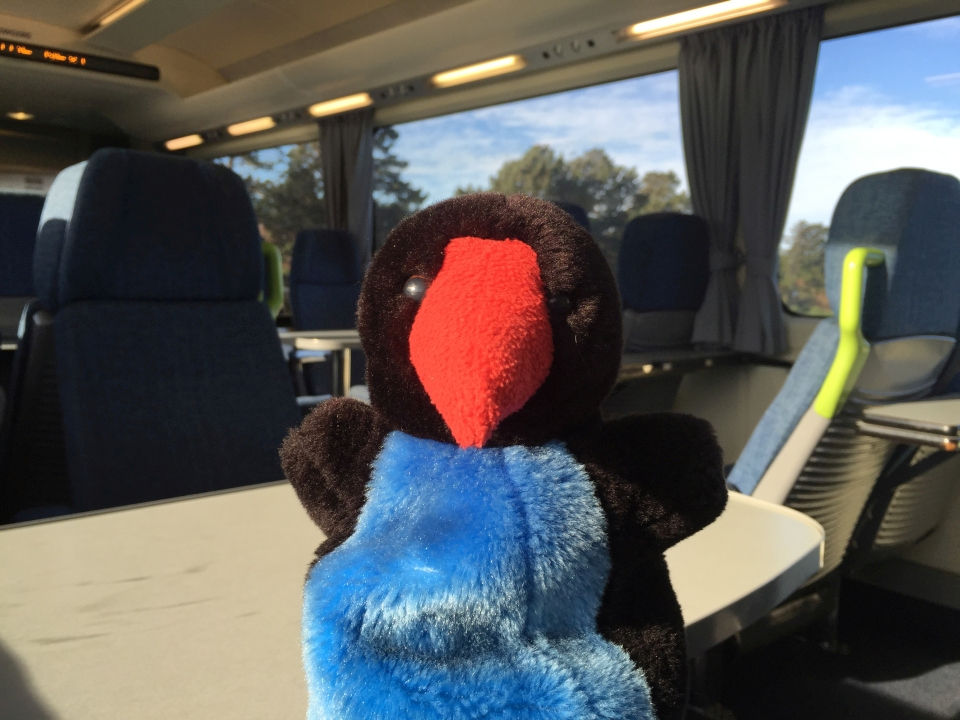 WALT will represent Maths56 on this year's Map my Waahi field trip. Image: Shelley Hersey, LEARNZ.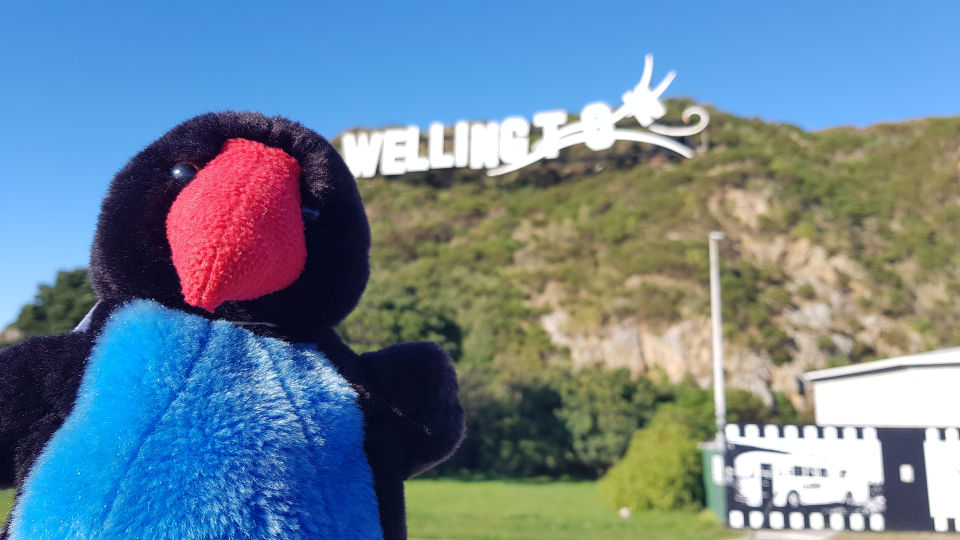 Monday. WALT poses in front of the famous 'windy Wellington' sign near the airport. Image: Andrew Penny, LEARNZ.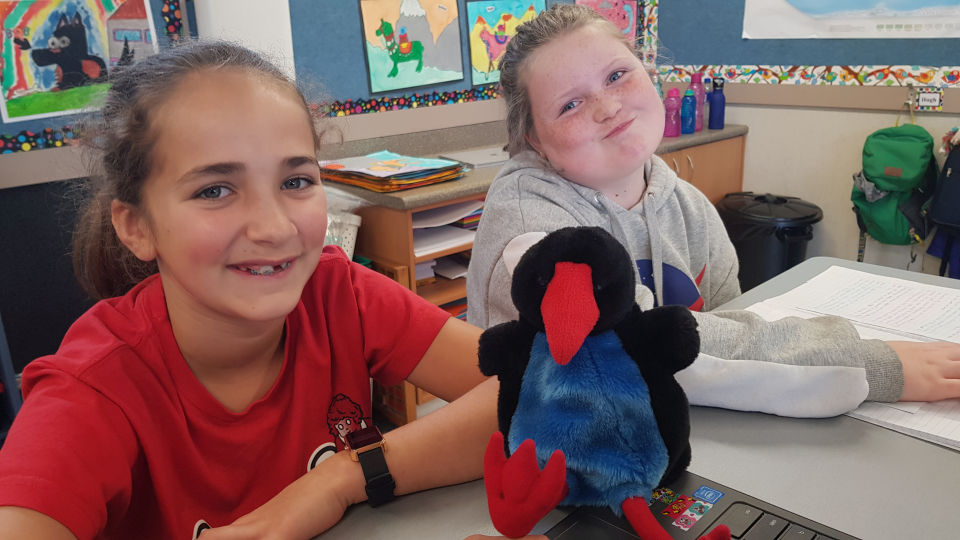 Tuesday. WALT is with Marcia and Isla at Belmont School. Image: Andrew Penny, LEARNZ.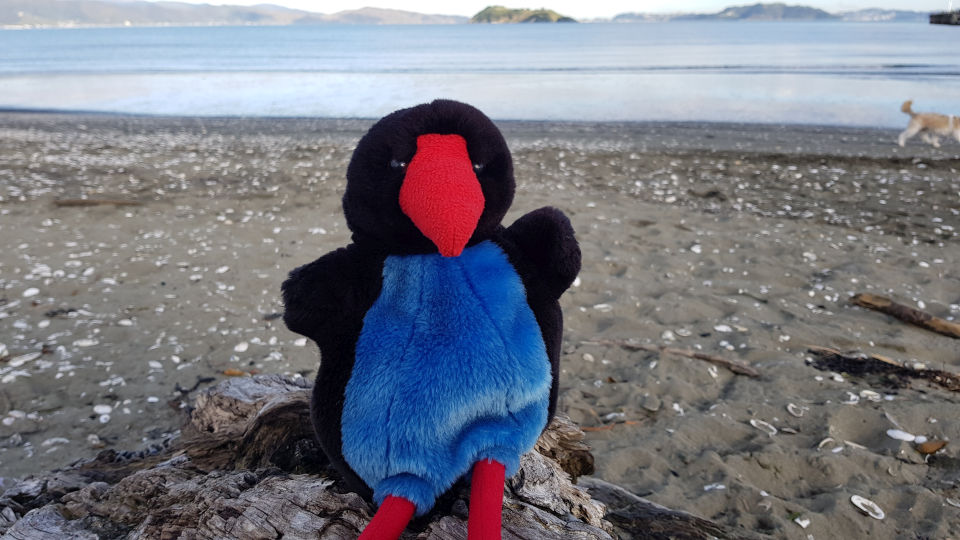 Wednesday. WALT is at the beach in Petone. Image: Andrew Penny, LEARNZ.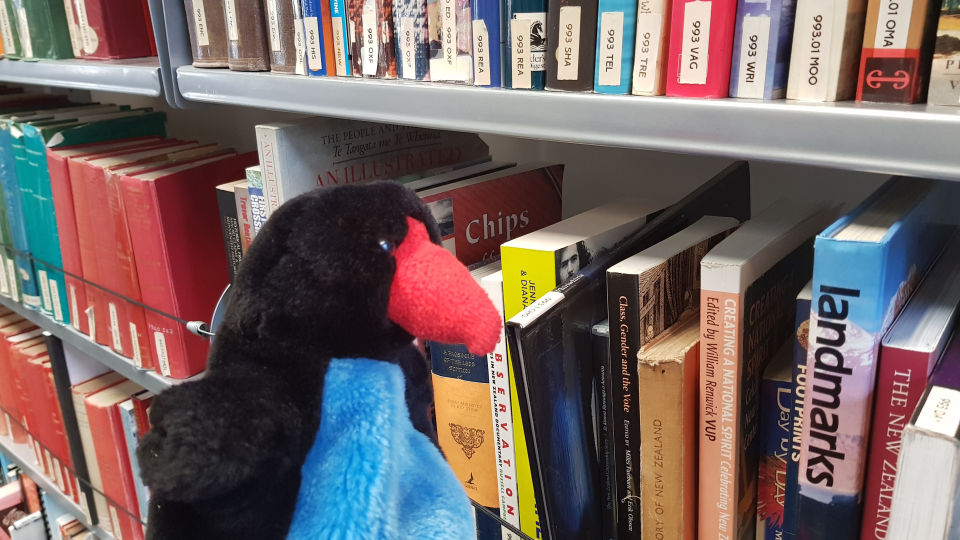 Thursday, WALT takes some time to browse the selection of books at the Ministry for Culture and Heritage library. Image: Andrew Penny, LEARNZ.