Diary 3
Date:
Wednesday, February 20, 2019
Field Trip Name:
Marine Reserves
Field Trip Place:
Paraparaumu - Kāpiti Coast
Where You Are:
Waikanae Estuary
<- Homepage: Marine Reserves: Exploring Kapiti
---
Kia ora koutou
This morning the ambassadors and I met with Ben Knight at the Kāpiti Boating Club. After the web conference we went to Waikanae Estuary. Here we learned more about citizen science and how to do a Marine Metre Squared survey.
Web conference
It was a bit windy to do the web conference outside. Ben took us to the upstairs part of the boating club. We had a fantastic view of Kāpiti Island from there. Ben provided some thoughtful discussion about citizen science. He also helped answer your questions about marine reserves. There is a recording of the web conference available on the web conference page.
Value of citizen science
After the web conference we drove to Waikanae Estuary. We met up with some students from a local home school group who were with us to have a go at Marine Metre Squared. We all headed out to the estuary through an area of native plant restoration. You can see an image of this area in one of the panorama photos at the top of the diary page. The Waikanae Estuary Care Group restored this area. It is a good example of how local community groups can play a part in restoring our natural environments. This is something we will talk more about tomorrow.
The estuary is a scientific reserve. It connects to the Kāpiti Marine Reserve and to Kāpiti Island Nature Reserve. This connection gives protection for animals which move between sea, river and land habitats. Find out more about Waikanae Estuary here - https://www.doc.govt.nz/waikanae-estuary.
At the estuary, we met with Nicole Miller from Friends of Taputeranga Marine Reserve. Nicole was with us yesterday at Kāpiti Island. I asked Nicole about what citizen science is all about and how meaningful data gathered by the public is. The good news is that anyone can be a citizen scientist. The data you gather also plays a part in the bigger picture of New Zealand's biodiversity knowledge and conservation. Watch the video with Nicole or read more about the idea of citizen science on the field trip background page.
iNaturalistNZ
Nicole also talked about another citizen science tool called iNaturalistNZ. You can record your observations on the inaturalist.nz website. This enables you to share information with science communities. There is also an iNaturalist app. Nicole showed us a picture from the app that she took as part of observations the community is making at Taputeranga Marine Reserve. You can contribute observations to help with the bigger picture of biodiversity in an area. Or you can submit observations for others to identify if you're not sure what a particular plant or animal is.
Marine Metre Squared in action
Ben showed us the equipment you need to do a Marine Meter Squared survey. The equipment is quite basic, so it should be easy to organise for your whole class. Ben also took us through the process of doing a survey. The students we had with us seemed to enjoy the process!
Afterwards, Ben explained the process of entering your survey data onto the MM2 website. On the website there are simple mapping and analysis tools, and you can compare your shore with others in New Zealand. You can also connect with other members of the MM2 network, get help with species identification, and take part in new projects and challenges.
You can watch the videos with Ben, and there is also further information on all aspects of Marine Meter Squared at https://www.mm2.net.nz/. I encourage you to check it out and plan on doing a Marine Metre Squared survey. If you do, I'd be keen to know how you get on and what you find out!
Catch you in the morning,
Andrew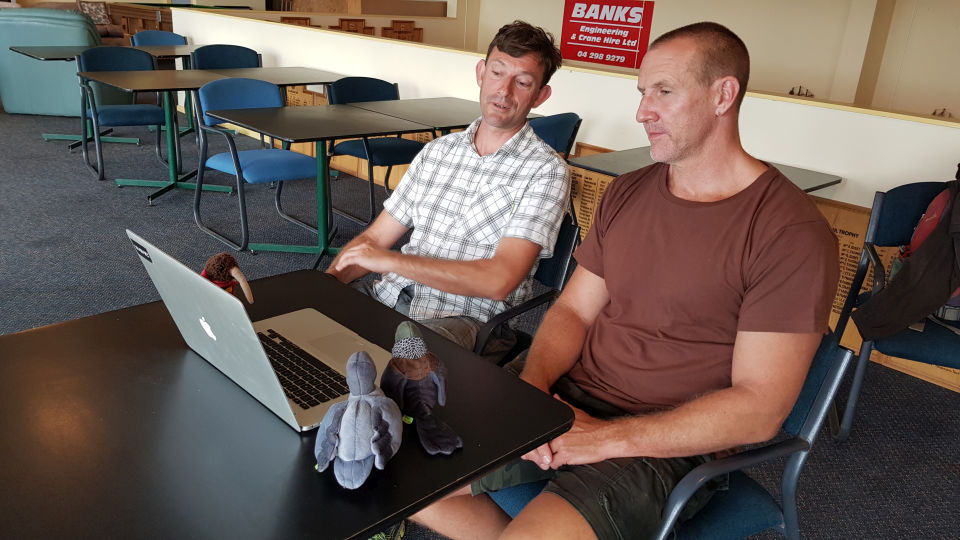 Andrew and the ambassadors with Ben Knight on this morning's web conference. Image: Shelley Hersey, LEARNZ.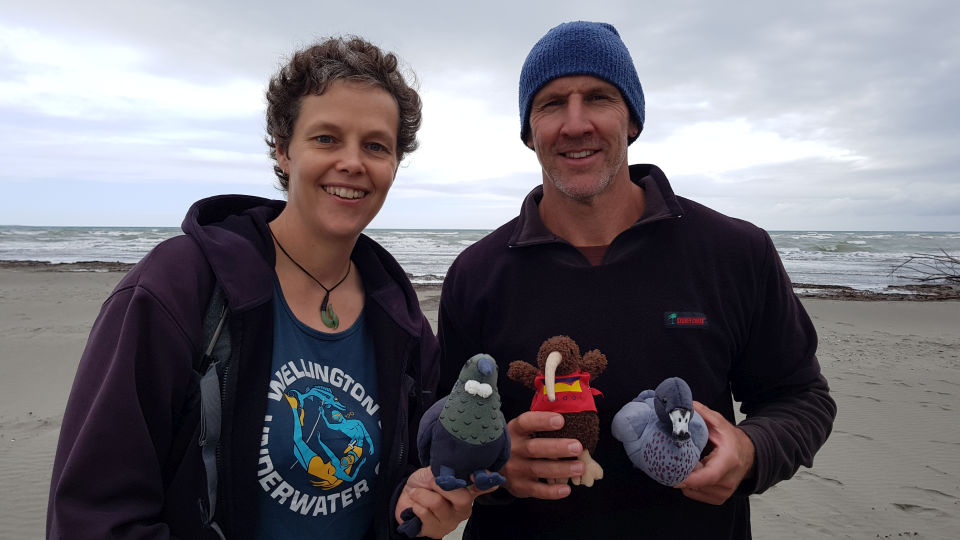 Andrew and the ambassadors with Nicole Miller at Waikanae Estuary. Image: Shelley Hersey, LEARNZ.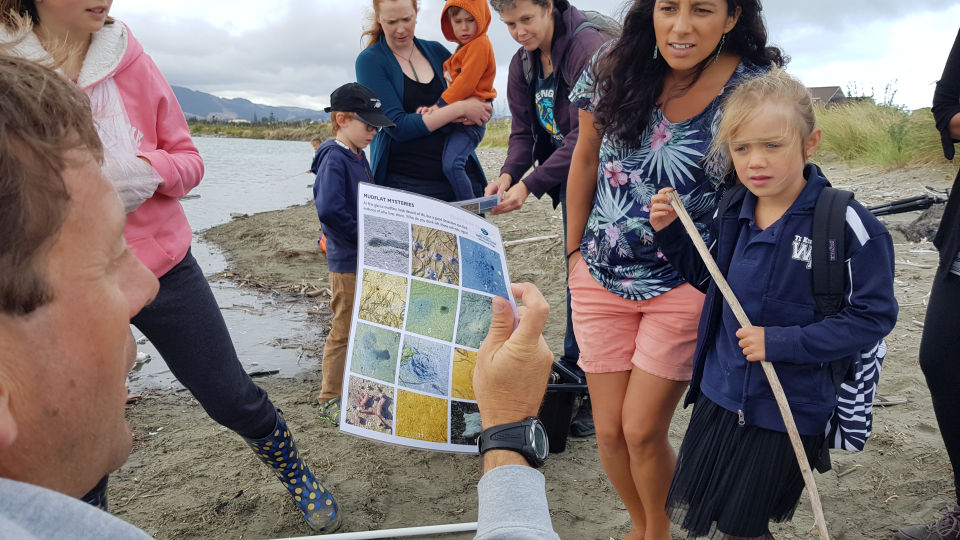 Ben talks to the students about what they might find during their Marine Metre Squared survey. Image: Andrew Penny, LEARNZ.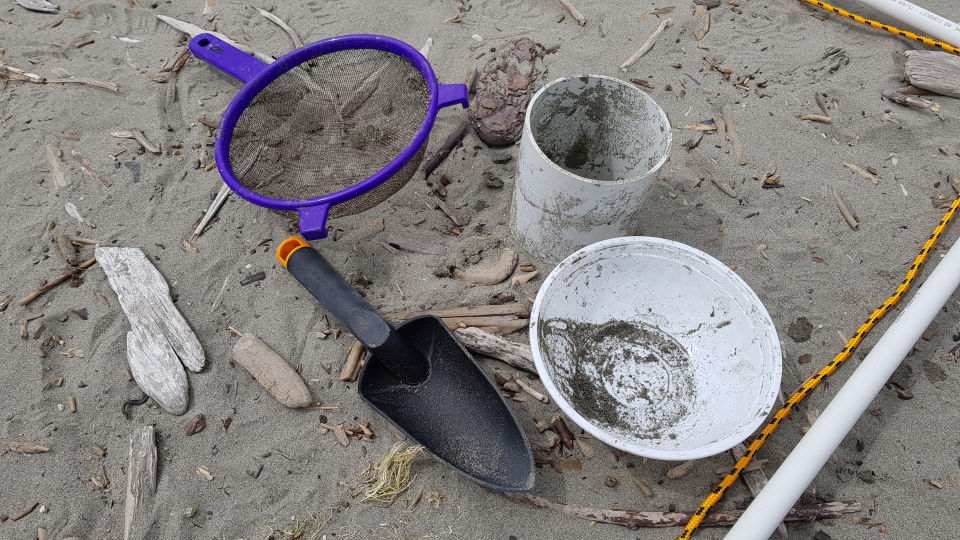 Equipment you will need for your Marine Metre Squared survey. Image: Andrew Penny, LEARNZ.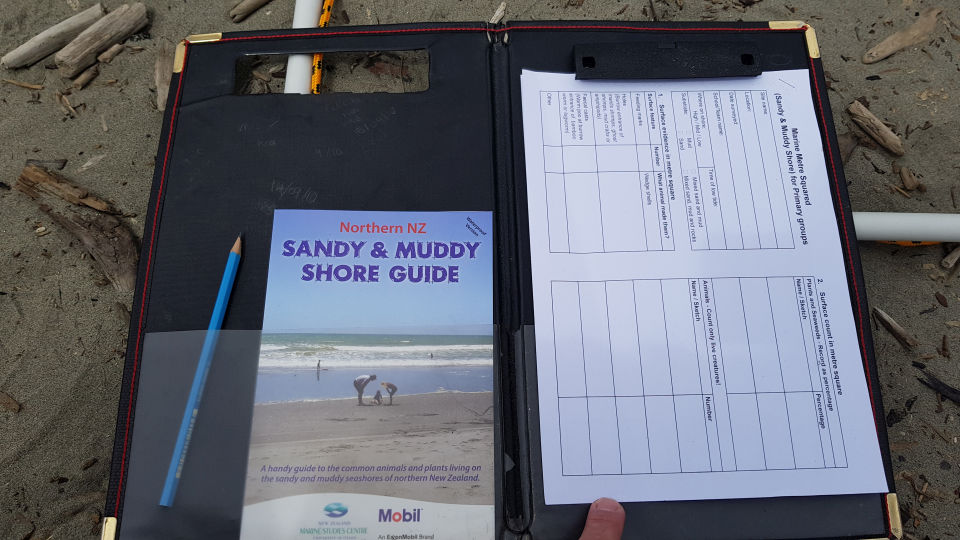 A shore guide is useful to help you identify plants and animals. You will also need a data sheet to record your surveys. Image: Andrew Penny, LEARNZ.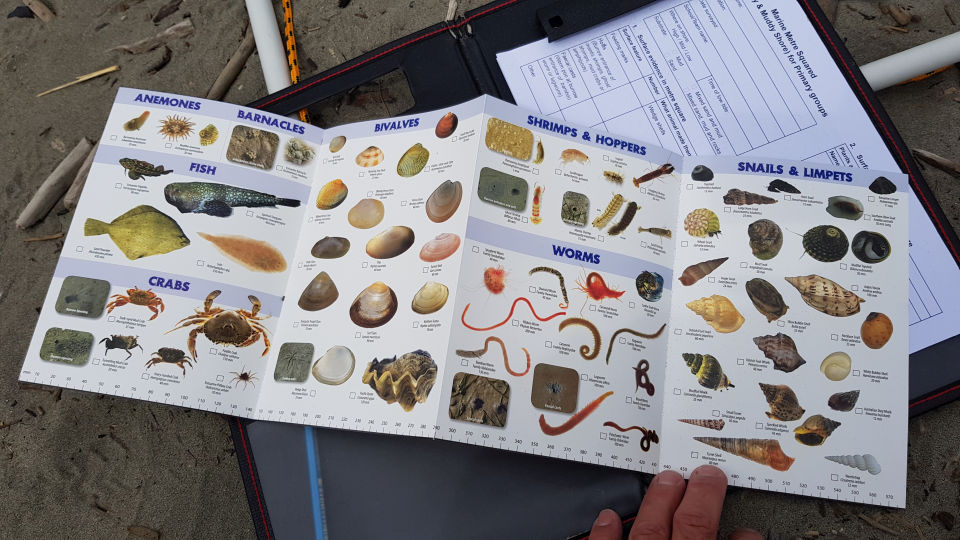 Part of a shore guide from the University of Otago Marine Studies Centre. There are different guides available for north and south, as well as rocky and muddy/sandy shores. Image: Andrew Penny, LEARNZ.
Some of the homeschool students with their quadrat. Why is only a metre square used for the survey? Image: Andrew Penny, LEARNZ.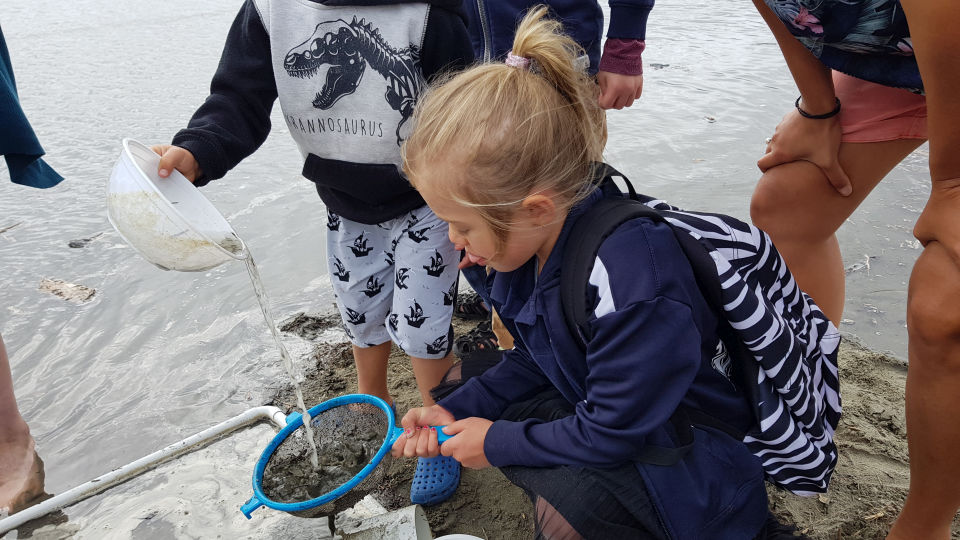 The students sieve out the sand to reveal what they have found from the core sample. Image: Andrew Penny, LEARNZ.