Ambassador Kowhai Kea
Kia ora everyone,
My name is Kowhai Kea. I am a member of the Kowhai Home Group at Clifton Terrace Model School. I share in class discussions and sharing time. I  have featured in a school movie on our website about renewable energy and energy efficiency. I sure do love science! I am really looking forward to hitching a ride on my third LEARNZ field trip for this year - it's going to be a blast!
Catch you later,
Kowhai Kea.
Monday 18 November
Kia ora
I am such a lucky kea getting to travel all over the countryside on LEARNZ field trips. I didn't even have to fly thanks to Air New Zealand.
I'm now in Wellington and I've spent the afternoon exploring our cool capital city. Being a Wellington local I took great pride in showing Shelley, Alvin and Albert around. They were amazed at how much character our city has with its art and mixture of new and old buildings.
Tomorrow we have special permission to go inside the Memorial Park construction site.
See you there,
Kowhai Kea.
Tuesday 19 November
Kia ora
I was so proud to be a Wellingtonian today and the weather was perfect. Poor Albert just about overheated, being so far from water.
We were lucky enough to get special permission to climb up the Carillon Tower today. I wanted to fly but because no one else could I had to just clamber my way up with everyone else. From the top the view was amazing and we even played some of the 74 bells. The Largest bell is 12.5 tonnes – I bet that one is really loud! 
Tomorrow we are heading deep into the trench.
See you there,
Kowhai Kea.
Wednesday 20 November
Hi everyone,
I was so excited about today. Not only did we go inside the trench and see how it was being built but I also was able to talk to my class during the audioconference. I was so proud of you guys and the questions you asked.
Inside the trench I felt very small – the retaining walls are huge and look much bigger from below. The 600 metres of retaining walls are anchored with a massive 558 ground anchors drilled through the walls. 
Well it has been a hot and rather busy day so I'm off for an early night.
See you in the morning,
Kowhai Kea.
Thursday 21 November
Hi everyone,
It was so cool to spend another morning in the trench. I saw how sediment is removed from water and I took part in a cool little experiment. It is amazing how dirty water soon clears when the dirt sinks to the bottom.
I have missed my class this week so it was great to be personally delivered back to Kowhai home group. I was so proud of the waiata you all sang. It has been an amazing week and already I am looking forward to the two Memorial Park field trips next year to follow progress.
Until next time,
Kowhai Kea.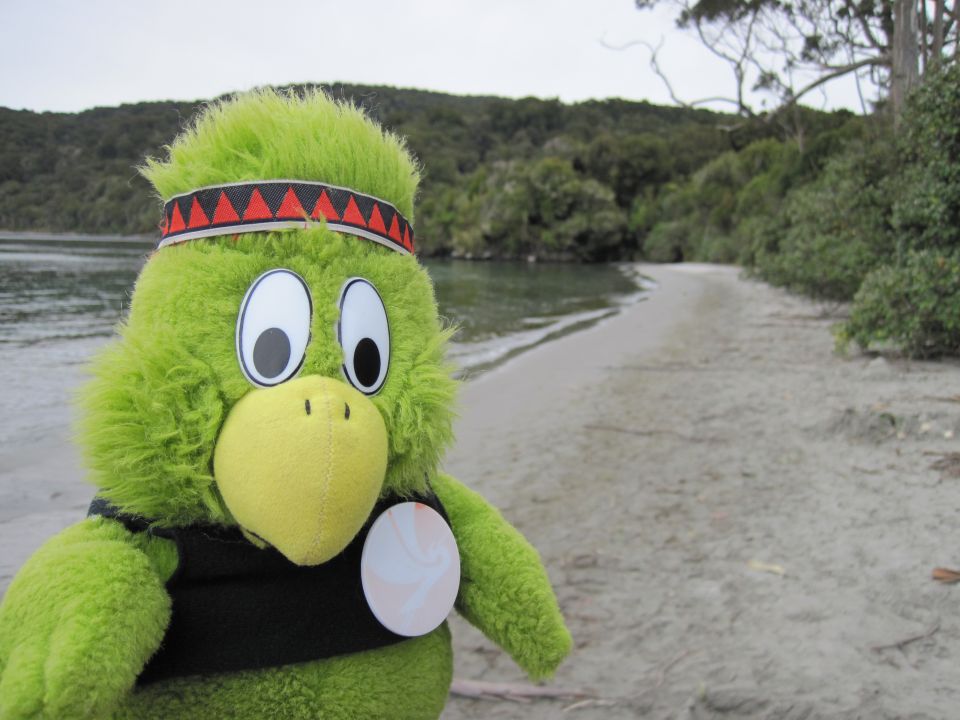 Kowhai Kea, the ambassador from Clifton Terrace Model School at Magnet Bay during the LEARNZ Rakiura | Stewart Island Great Walk field trip. Image: LEARNZ.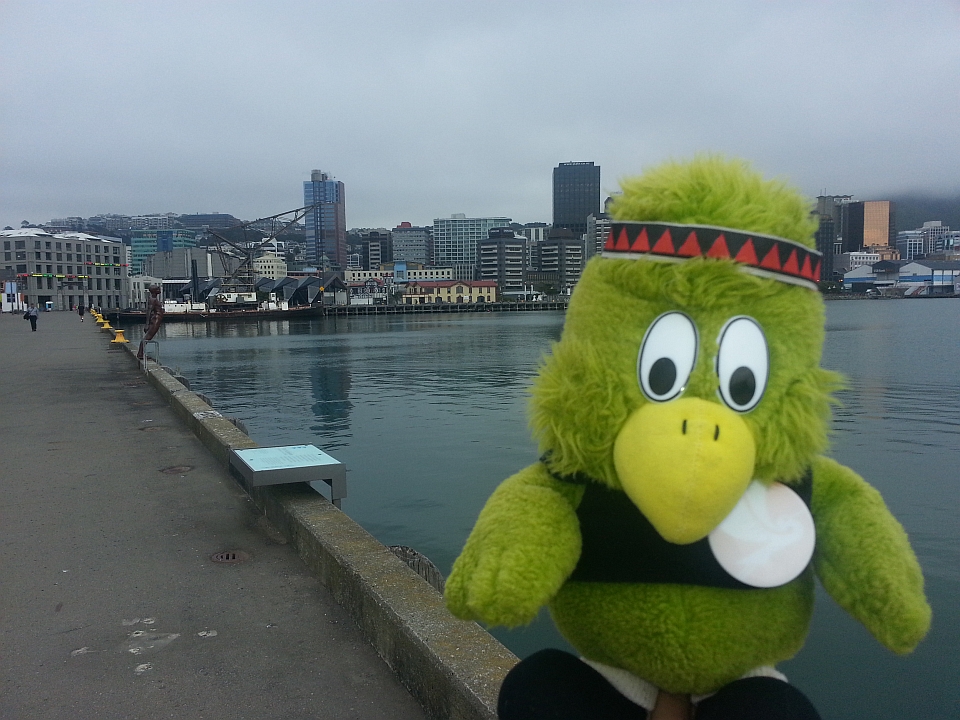 Ambassador Kowhai Kea takes a look around Wellington City. Image: LEARNZ.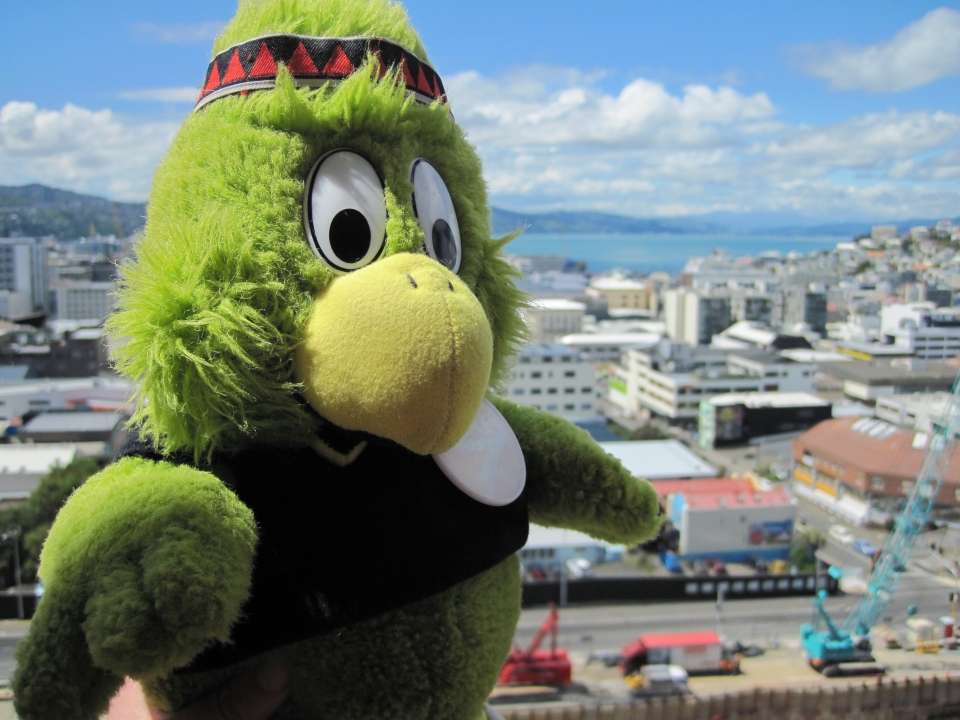 Kowhai Kea enjoys the view from the top of the Carillon Tower. Image: LEARNZ.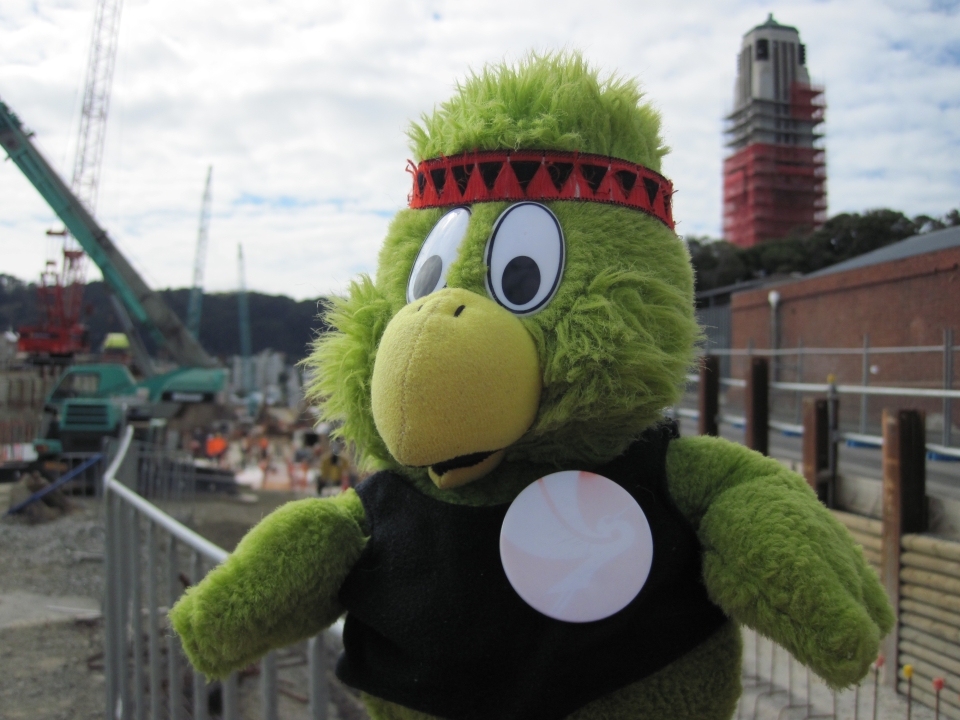 Kowhai Kea enjoys looking around the trench at the Memorial Park construction site. Image: LEARNZ.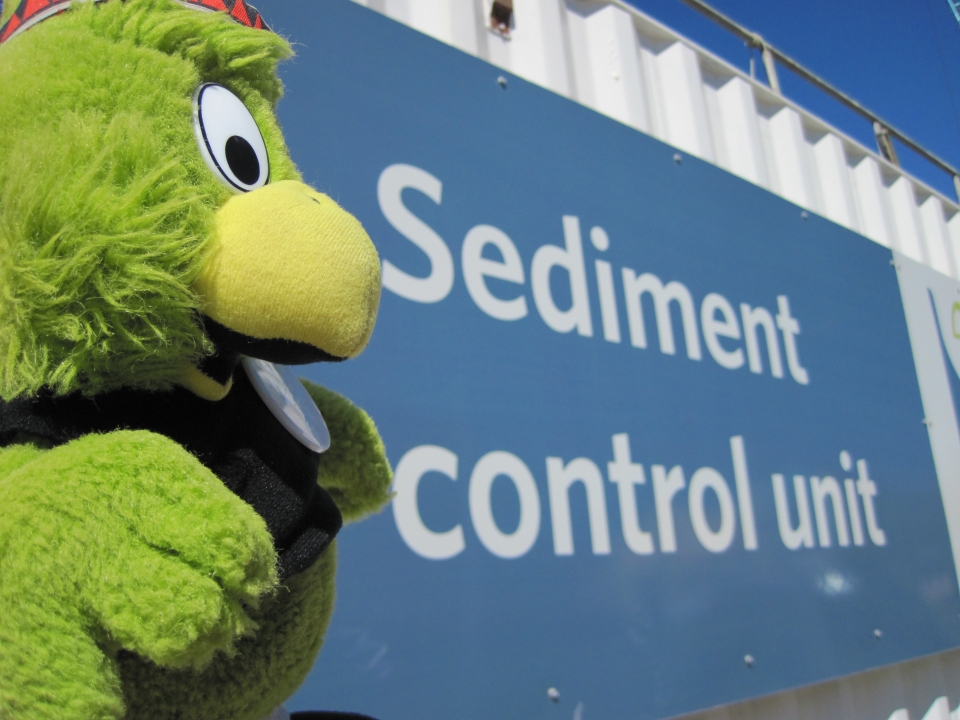 Kowhai Kea stands beside the Sediment Control Unit at the Memorial Park construction site. Image: LEARNZ.