Ambassador Kaitao
Kia ora.
Ko Kaitao ahau, and I have the privilege of being the ambassador for Room 5 at Kaitao Middle School.
I'm really looking forward to sharing the adventures and learning on this field trip.
Can't wait to get on the road!
Monday 12 May
Well here we go folks. We are on the road and in the windy capital for the Memorial Park field trip. This is going to be a really interesting trip. Andrew has been telling me all about this massive roading project so I can't wait to get on site and see how it is all being put together. I think it is really cool too that Memorial Park is going to be a place for people to remember those who have sacrificed their lives for our freedom.
Talk soon,
Kaitao
Tuesday 13 May
Hey everyone!
Today was super-duper. I was just blown away when Cole told us how much concrete is needed to build the tunnel. He said it will take 2,000 concrete truck loads! That is a lot of concrete. The concrete is poured on site which is done really early in the morning – 4:00am!. We kiwi are still wandering around at that time of the day. Hope you are enjoying the field trip so far.
Talk soon,
Kaitao
Wednesday 14 May
Hey everyone!
Today I learned all about how water will be drained away from the Memorial Park underpass. Drainage is really important because you don't want heaps of water just randomly flowing across the new road in a heavy rain storm! There is some really amazing technology called GIS that helps the engineers with their stormwater planning. I can't remember what GIS stands for though! You will have to read Andrew's diary from today – I'm sure he has talked about what it is.
Talk soon,
Kaitao
Thursday 15 May
Hey everyone!
What an awesome field trip this has been. The highlight for me was learning all about the amount of concrete and steel that has been used to make the underpass strong. They say that it will be able to withstand a 1 in 2,500 year earthquake. I'm not quite sure what that means but it sure sonds impressive!
I am looking forward to coming home again and sharing all my experiences with you.
See you all soon,
Kaitao
Kaitao the Kiwi is from Kaitao School in Rotorua. Image: LEARNZ.
Monday. Kaitao gets comfortable for the flight to Wellington. Image: LEARNZ
Tuesday. Kaitao had a great time on the construction site today. Image: LEARNZ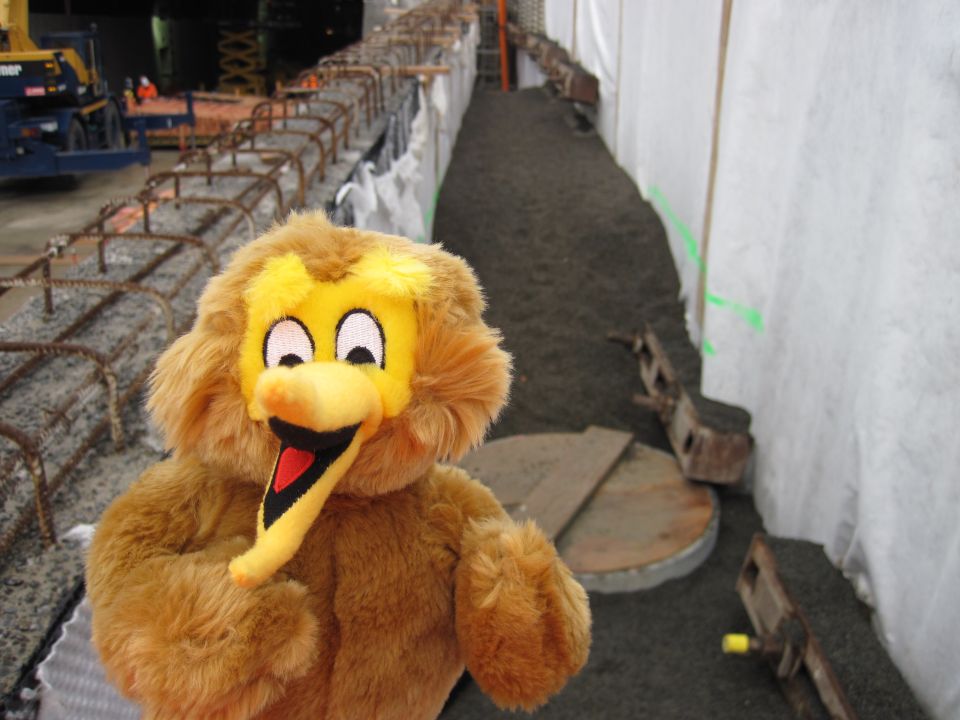 Wednesday. Kaitao enjoyed learning about drainage today. Image: LEARNZ.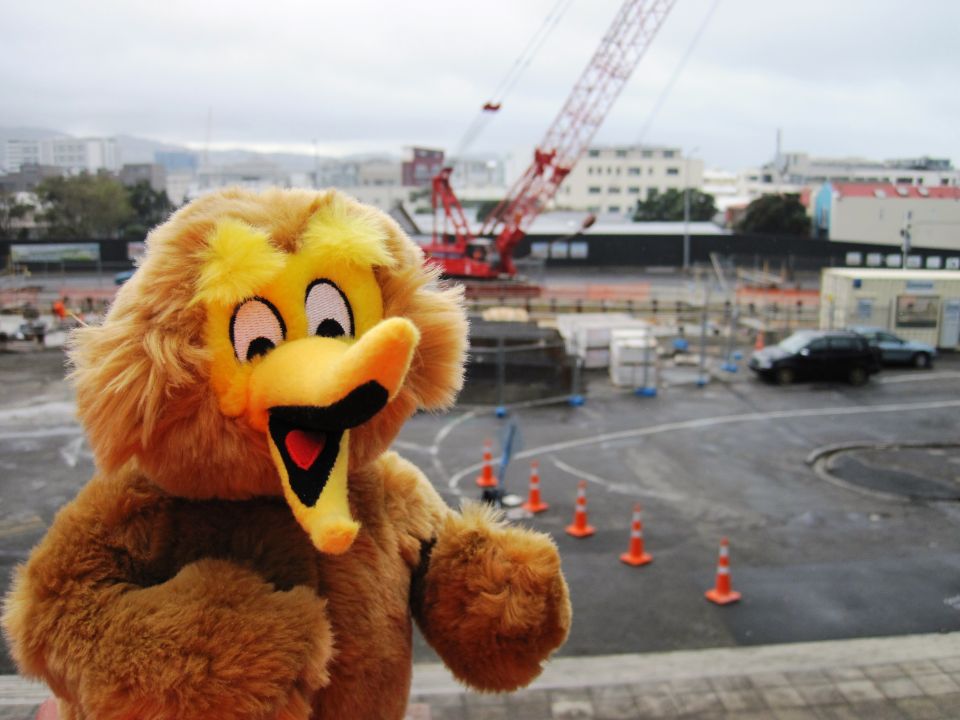 Thursday. Kaitao has had a great time on the field trip. Image: LEARNZ.