Ambassador Murgatroyd
Hi everyone,

I am Murgatroyd the moose. I was born in Canada and raised in Banff, high up in the mountains. I was bought from a children's bookshop and brought to New Zealand in 1995. I live in Wellington now but love to visit the mountains whenever I can.
I live near the roadworks and have driven past the Carillon. I can't wait to see them putting the roof on the tunnel. Maybe I'll get to walk through it - oooooh, scary. At least there will be no cars - yet. My Avatar friends will be watching out for me so I had better show them lots of interesting stuff.
Monday 12 May
Hello everyone,
I didn't really travel at all today. Well, only with Robina to meet up with Andrew and the other ambassadors where they are staying here in Wellington. I said good-bye to Robina and hello again to Andrew and the ambassadors. I have been on a field trip with Andrew once before so I am looking forward to another great trip. In fact Buggles, who is another ambassador on this trip, was on the same field trip that I was on. It was great to catch up with him again.
Talk again tomorrow,
Murgatroyd
Tuesday 13 May
Hello everyone,
Today was a truly fascinating day. Even being here on site and in the Memorial Park Alliance office it is hard to comprehend the organisation needed to get a project like this completed in such a tight timeframe. There are so many people doing so many different jobs it is just mind boggling. But I guess you can do a lot with a budget of 120 million dollars! That's how much the project is costing. It certainly will be a great feature in Wellington when it is finished though.
Talk again tomorrow,
Murgatroyd
Wednesday 14 May
Hello everyone,
Today we visited a place called the Home of Campassion Crèche. The building looks a bit run down but that is partly because it is in the process of being moved to a new location. A lot of work has been done to the Crèche to keep it in one piece while it is being moved. It is an historic building that is going to be a feature of the Memorial Park. It will be neat to come back later on and see all the restoration work that has yet to be done to it.
Talk again tomorrow,
Murgatroyd
Thursday 15 May
Hello everyone,
Well that ends the Memorial Park 2 field trip. I have had a very interesting week. I feel I now know a part of Wellington better than a lot of Wellingtonians. I'm sure you have all learned a lot too. I will be interested to hear about the discussions you've been having about this construction project.
I will have to remind Andrew about leaving me at the motel reception so Robina can get me back. Otherwise I might end up with Andrew in Kerikeri! Mind you, it wouldn't be a bad place to mistakenly end up in!
Later everyone,
Murgatroyd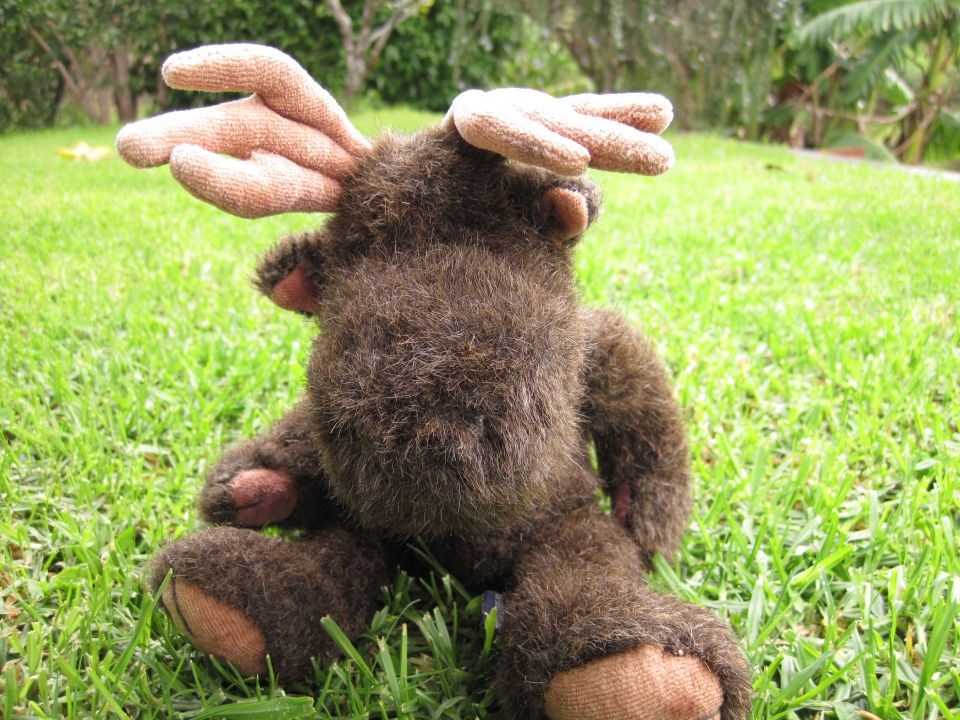 Murgatroyd is from Canada but now lives in Wellington. Image: LEARNZ.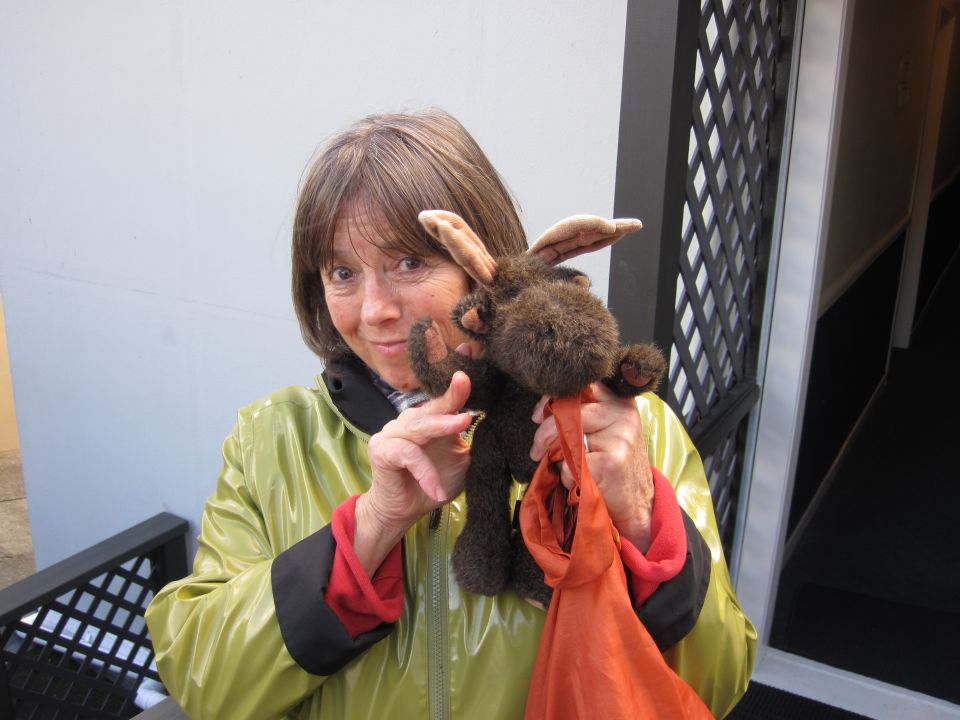 Monday. Murgatroyd says good-bye to Robina. Image: LEARNZ.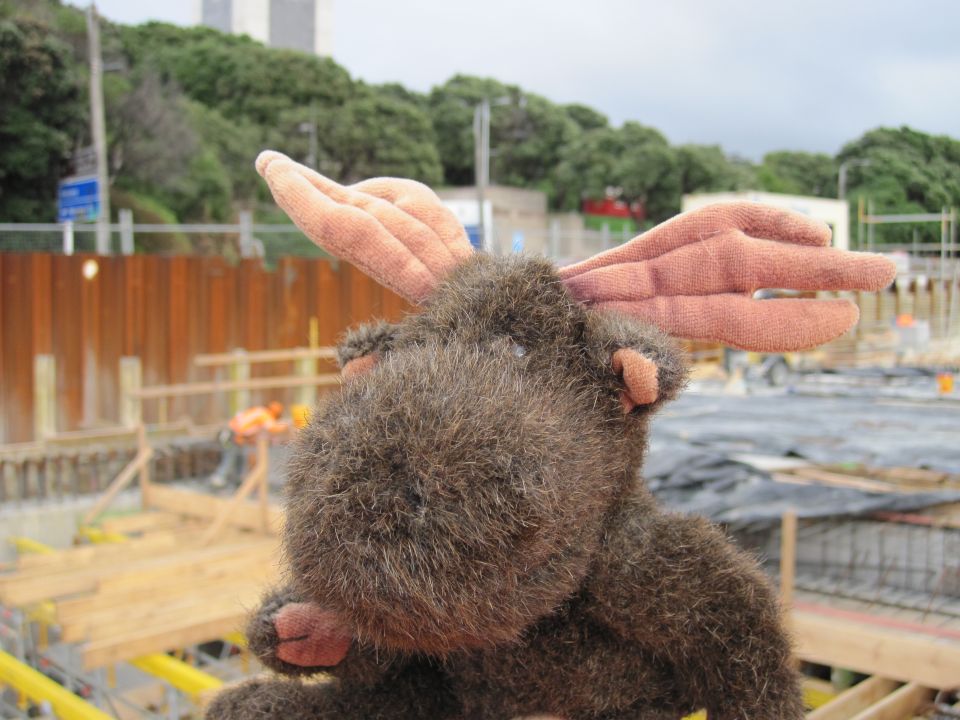 Tuesday. Murgatroyd had a fascinating time on the construction site today. Image: LEARNZ.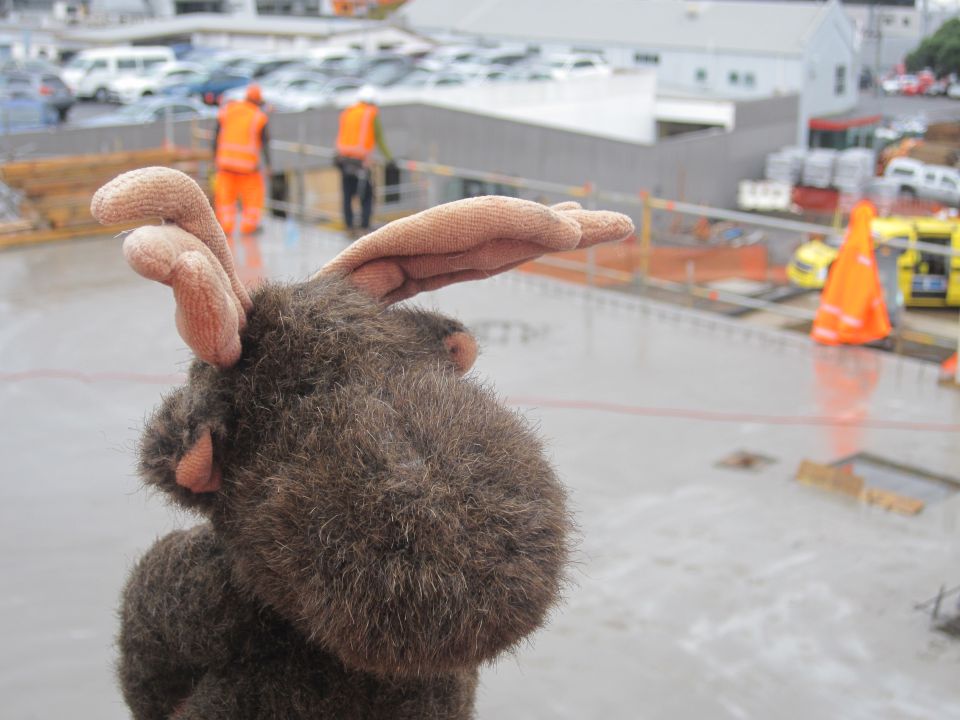 Wednesday. Murgatroyd had a great time finding out how the Home of Compassion Crèche is going to be moved. Image: LEARNZ.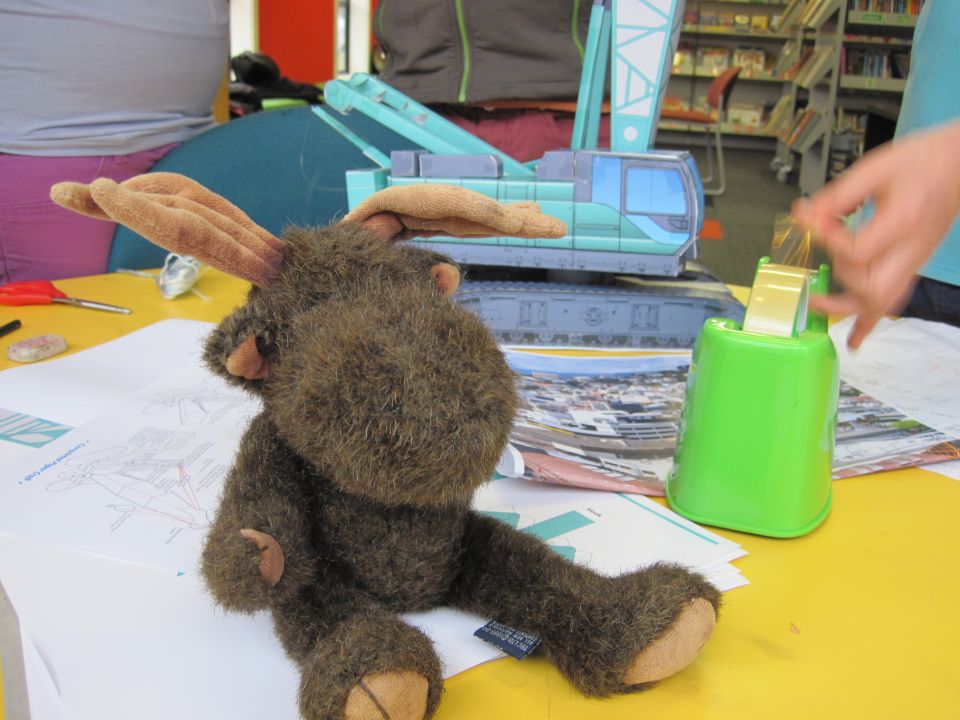 Thursday. Murgatroyd gets involved in civil engineering with Katherine Heays. Image: LEARNZ.