Diary 4
Date:
Thursday, May 15, 2014
Field Trip Name:
Memorial Park 2
Field Trip Place:
Wellington
Weather:
cloudy with rain
Where You Are:
around the Memorial Park Alliance office and Mount Cook School
Today's plan was to chat with some people about careers in the construction industry, and then head over to Mount Cook School to see how they have been involved in the Memorial Park and underpass project.
Construction careers
As I said in yesterday's video about GIS with Katherine Heays, the construction industry is "not just diggers, cranes, concrete and steel". There are a whole range of other jobs you may not ever think about that are going on behind the scenes of a construction site.
A good website to have a look at is Futureintech - www.futureintech.org.nz. This site shares the career experiences of New Zealand's technologists, engineers and scientists to help you decide if a job like theirs is right for you. Make sure you also watch today's first video where Katherine Heays talks about her job for Memorial Park Alliance as a civil engineer. Katherine reflects on the influences which helped lead her down this career pathway. She also provides some advice for those of you thinking about whether this line of work is right for you. The ambassadors have certainly been inspired this week by our experts!
After chatting with Katherine you then met with Memorial Park Alliance Construction Manager Steve Croft. Steve gave you an overview of how all the teams within the Alliance are organised. It really is quite amazing just how many different jobs there are for this project. It also gives you an idea of the different career paths there are within the construction industry.
There is one thing that sticks in my mind about the construction industry which I have heard mentioned several times this week. And that is, even though you might only be playing a small part in such a large project, it is still an important part. No matter what your particular role is within the project, there is still a real sense of achievement at having been a part of the finished product. Wouldn't it be cool if you could drive through the underpass or walk around the Memorial Park and say: "Hey, I helped build this!"
Today's audioconference
Today's audioconferences involved Rosebank School and St Peter's School. There is some great extra information you can pick up from these. Check out the questions first then listen to the answers by going to Audioconference Recordings.
Right next to their school
Mount Cook School is right next door to the construction site, so I thought I would take you for a visit there to see what it has been like for the school being so close to it all. As it happens, the experience has been a very positive one. You met some students who are part of a Memorial Park and underpass special interest group. They shared with you the sorts of activities they have been involved in along the way, from naming cranes to their own construction project called a "marble run". They were even given a special guided walk through the construction site!
You then went and met the school principal, Sandra McCallum. Sandra was very welcoming and the ambassadors quickly realised that their trip to the principal's office was not because they were in trouble! Sandra talked about the school's involvement with the project since the idea first came about. Over time the school and Memorial Park Alliance have developed a really good relationship. The school has had some great learning opportunities from the project and in the end there will be a fantastic park right on their doorstep. What is also really neat is that the students have a sense of kaitiakitanga over the park. What you could do is check out the NZTA website and see what roading projects are happening near your school. There just might be some fun learning opportunities waiting there for you!
I am sure you have enjoyed your participation in the field trip this week. Be a part of Memorial Park 3 in November and see how this roading project, to remember those who served at war, has progressed over that time.
Until then,
Ka kite anō.
Andrew and the ambassadors chatted with Katherine Heays in the construction site public viewing room. Who do you think the woman in the picture behind them is? Image: LEARNZ.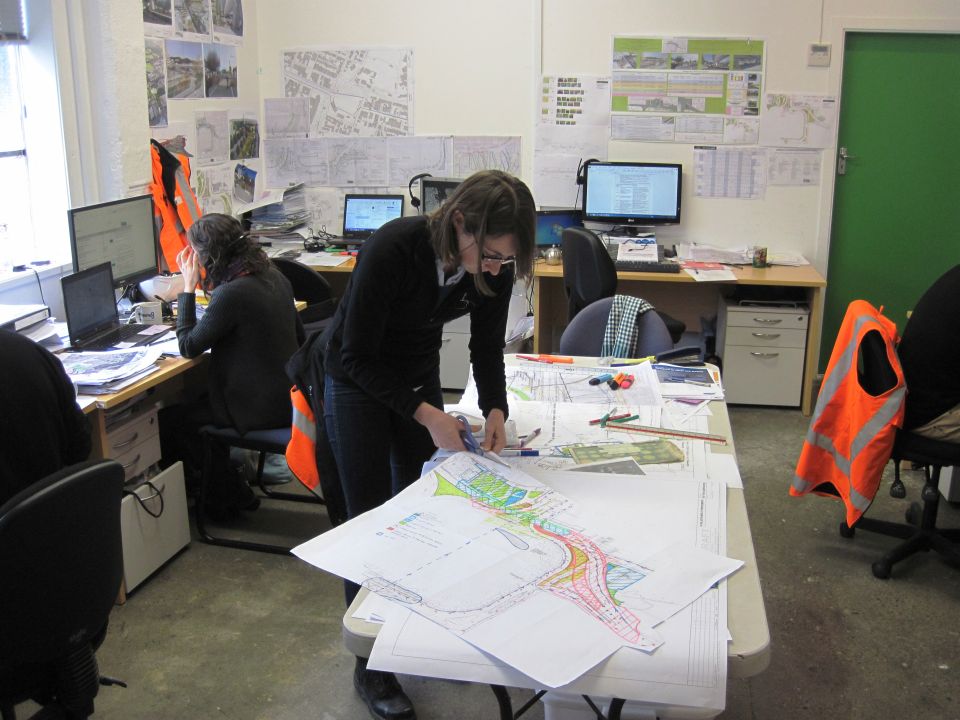 Katherine Heays hard at work in the Memorial Park Alliance office. What school subjects might be good to focus on for a career as a civil engineer? Image: LEARNZ.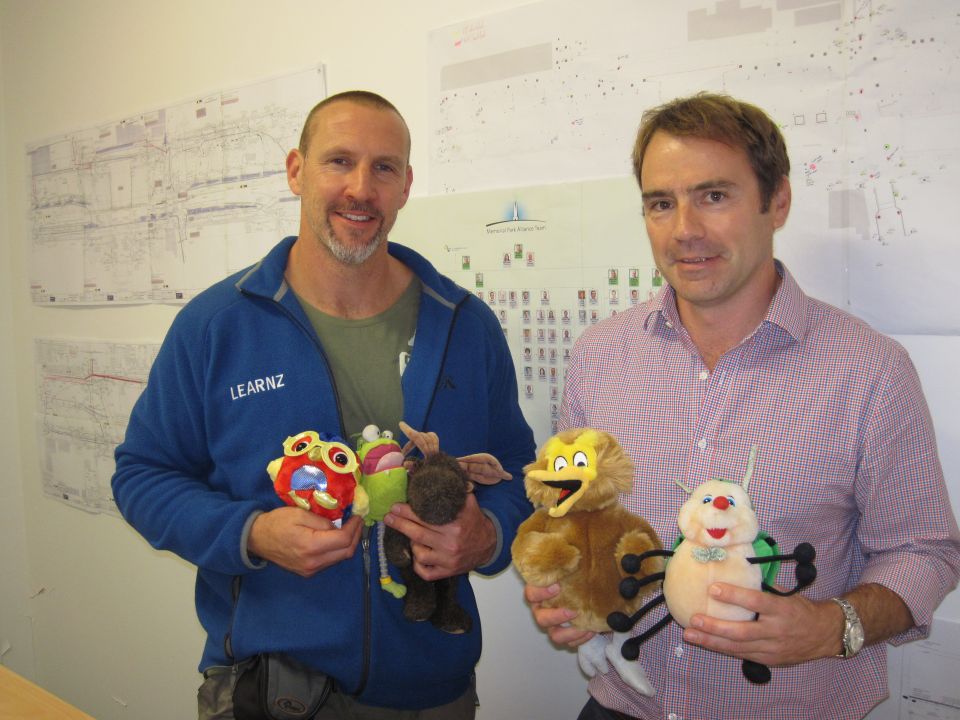 Andrew and the ambassadors with Construction Manager, Steve Croft. What sort of challenges do you think Steve faces with his job? Image: LEARNZ.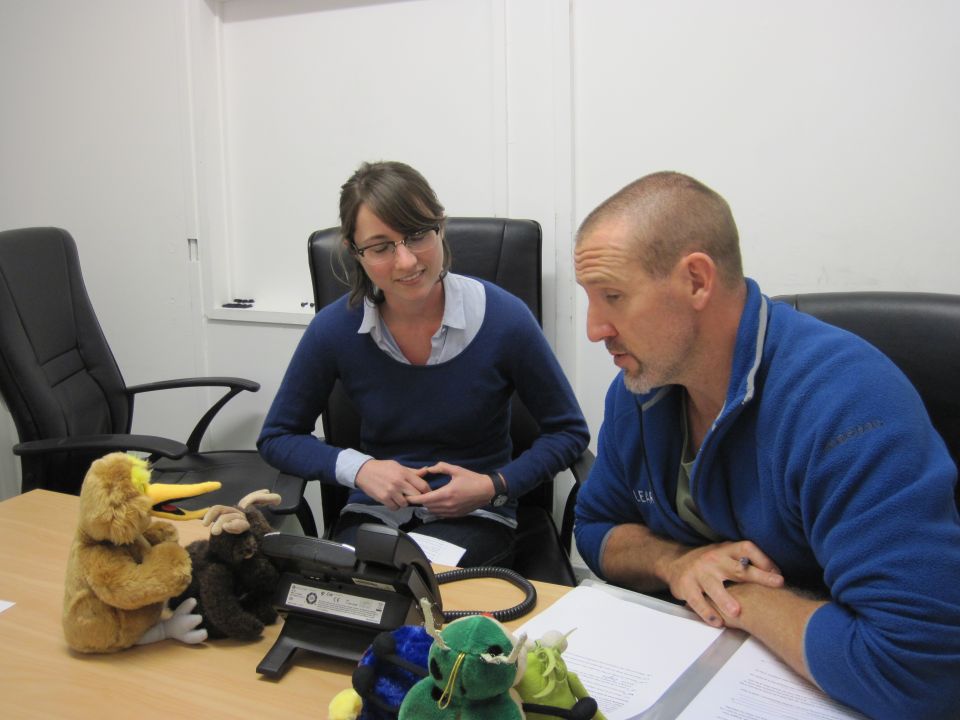 This week's audioconferences have taken place in a meeting room at the Memorial Park Alliance office. Have you listened to any live or recorded audioconferences? If so, what has been an interesting fact you have learned about the project? Image: LEARNZ.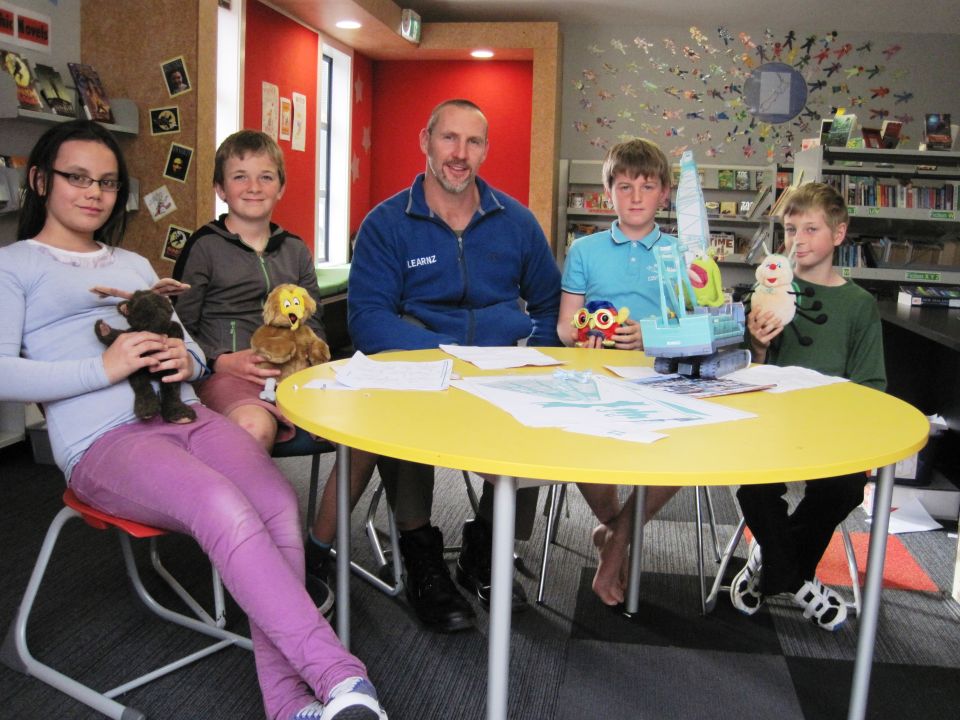 Andrew and the ambassadors with some of the Mount Cook School special interest group. What parts of the construction project would you be particularly interested in if you were at this school? Image: LEARNZ.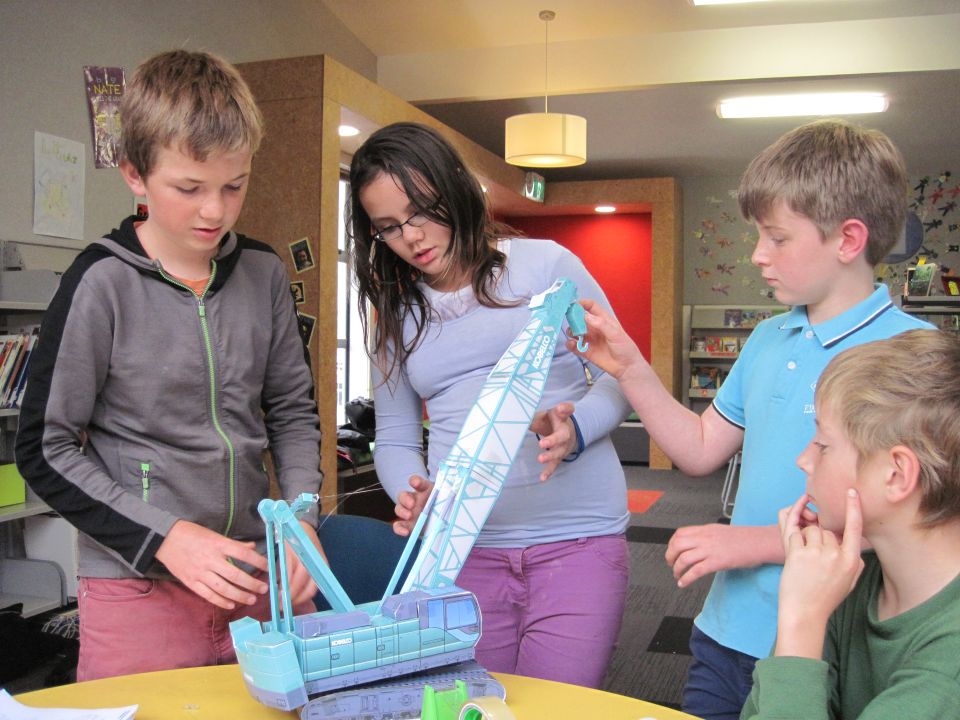 Mount Cook School students who are part of the special interest group work on the construction of their cardboard crane. What name do you think they will give it? Image: LEARNZ.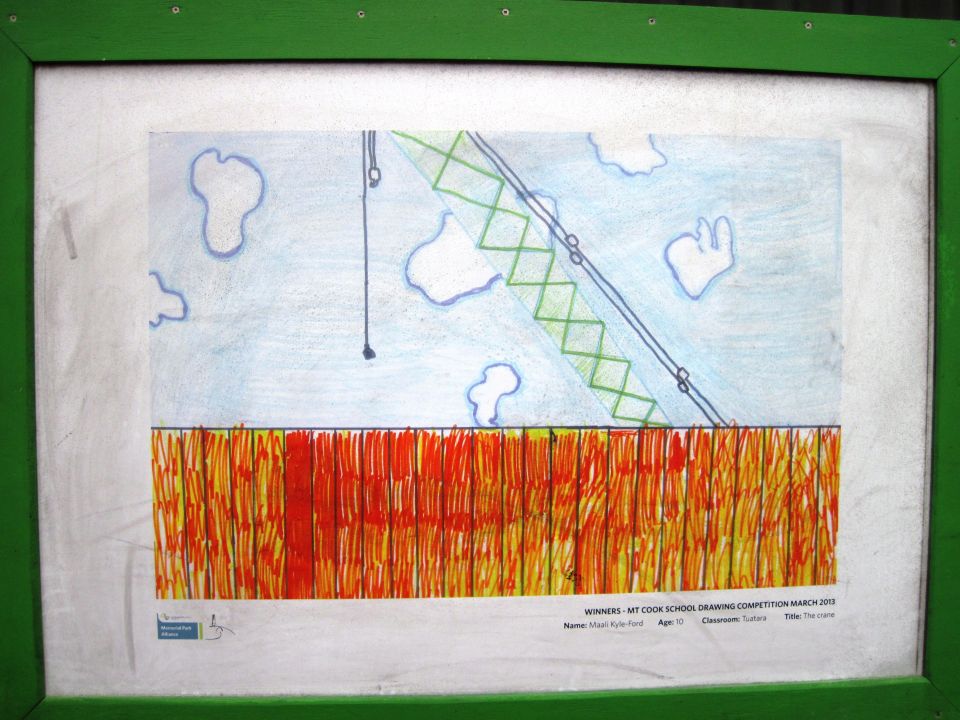 One of the student artworks displayed on the noise wall outside Mount Cook School. What other ideas do you have for students as a way of getting involved in the construction project? Image: LEARNZ.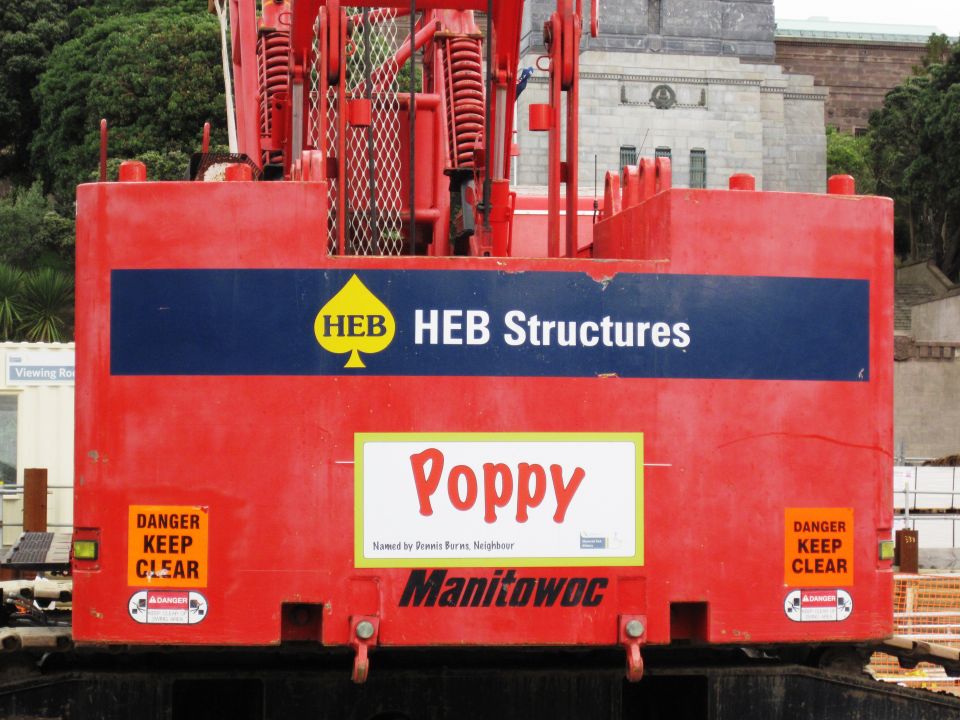 Mount Cook School students chose this name for the red crane. Can you think of other appropriate names for cranes working on this project? Image: LEARNZ.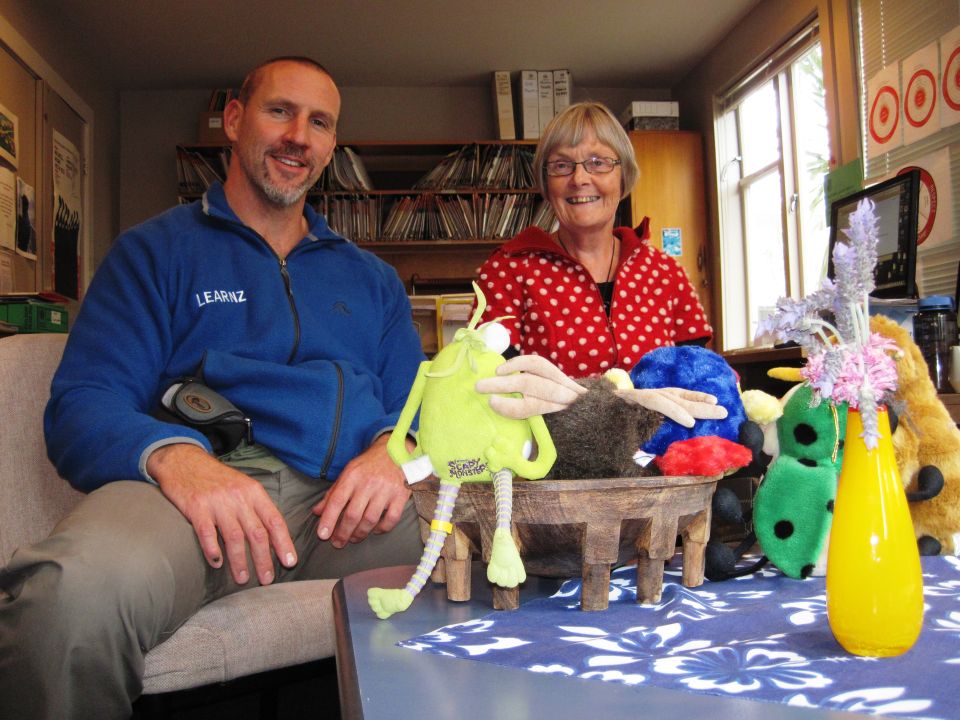 Andrew and the ambassadors met with Mount Cook School principal Sandra McCallum. How has the school benefitted from the construction project? Image: LEARNZ.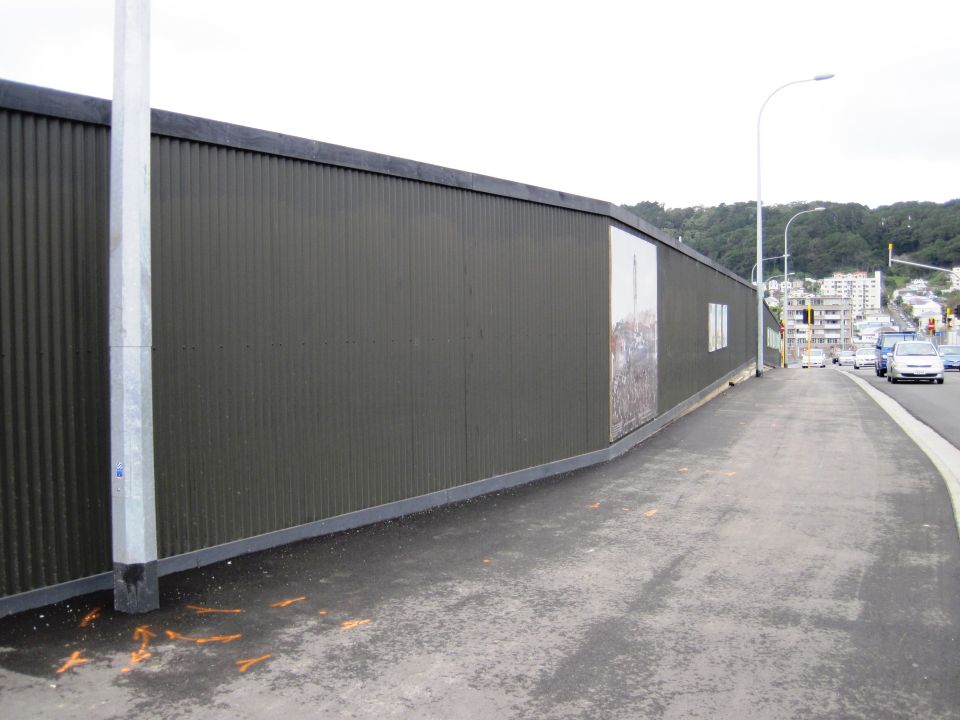 What is this wall called that is between Mount Cook School and the construction site? How does it help? Image: LEARNZ.