Diary 3
Date:
Wednesday, November 12, 2014
Field Trip Name:
Memorial Park 3
Field Trip Place:
Wellington
Where You Are:
Wellington City
Kia ora koutou
It was a nice sunny day out and about in Wellington city today. You made your way up to the Memorial Park and Arras Tunnel site through the morning hustle and bustle. People were cycling, running and skateboarding here and there. Vehicles were filling up the roads. If you are from a small town like me it is easy to get side-tracked looking at the wonderful variety of shops, businesses, not to mention people making all manner of fashion statements. My favourite part of walking through the city is coming across the café smells. Freshly roasted coffee and tempting food – it can be difficult to focus on the task ahead!
Catching up with Hira School
This morning you met some students from Hira School at the National War Memorial. They are currently on camp in Wellington City so we decided to meet up and discuss some of the underlying reasons behind the construction of the new Memorial Park. You will see in the video that we talk about commemorating World War 1 and how this impacts on our national identity.
The students then joined us at the Memorial Park Alliance office for today's first audioconference with expert Matthew Tonks. But wait there's more! We were invited back to the marae where they are staying for morning tea. Yum – tea and lemon cake. Ka pai Hira School!
Importance of the poppies
After saying good-bye to Hira School it was back to the Arras Tunnel to talk about some of its significant features. You will notice when driving through the tunnel that the walls are lined with red poppies. The red poppy has become a symbol of war remembrance the world over, so the tunnel poppies are a gentle reminder of why the tunnel is actually there. These poppies also symbolise the New Zealand soldiers who died at Gallipoli back in 1915. You can watch the video with Matthew who talks more about the actual number of New Zealand casualties and therefore how many poppies there are.
What does Arras mean?
We talked further with Matthew about the meaning behind the tunnel name, Arras. It is named Arras Tunnel for the wartime efforts of New Zealand miners in the French town of the same name. Watch the video but also take a look at Wellington's Arras Tunnel. This is an online PDF version of a brochure handed out at the tunnel open day on Saturday, 27 September by the Memorial Park Alliance. It covers much about the World War 1 Arras miners and how Wellington's Arras Tunnel was built.
Commemorating Anzac Day 2015
After some lunch, Matthew gave a rundown of the commemorative events that will take place around Wellington and the Memorial Park on Anzac Day 2015. But if you are not in Wellington don't worry – there are plenty of events happening around the country leading up to and beyond Anzac Day that you can all be part of. A really good site to visit is http://ww100.govt.nz/. There is a lot of information there so have a look to see what is happening in your region or for projects to become involved in at school. Another good site to investigate is http://walkingwithananzac.tumblr.com/.
Last but not least
Our final audioconference today had Matthew Tonks answering questions from Sacred Heart Cathedral School. As usual, go to Audioconference Recordings if you missed the live version.
It was another fantastic day in the capital with the third out of four Memorial Park field trips. The excitement is certainly building up for the Memorial Park 4 field trip in March next year which will lead nicely to Anzac Day 2015.
Catch you tomorrow,
Andrew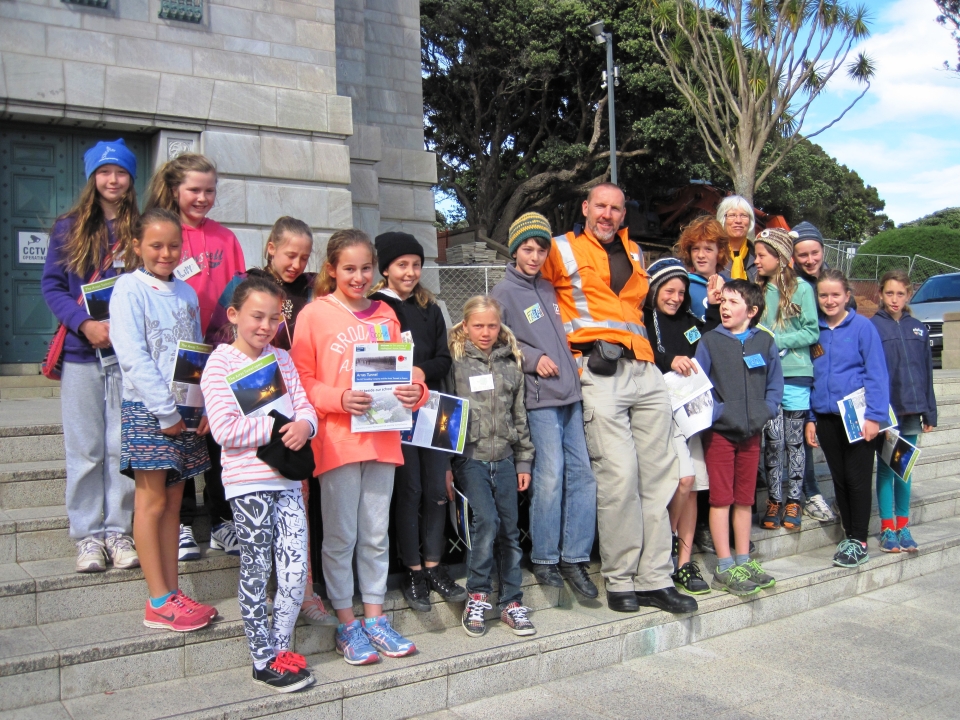 Andrew with the Year 5 and 6 students and teacher Jane Pearson from Hira School. Image: LEARNZ.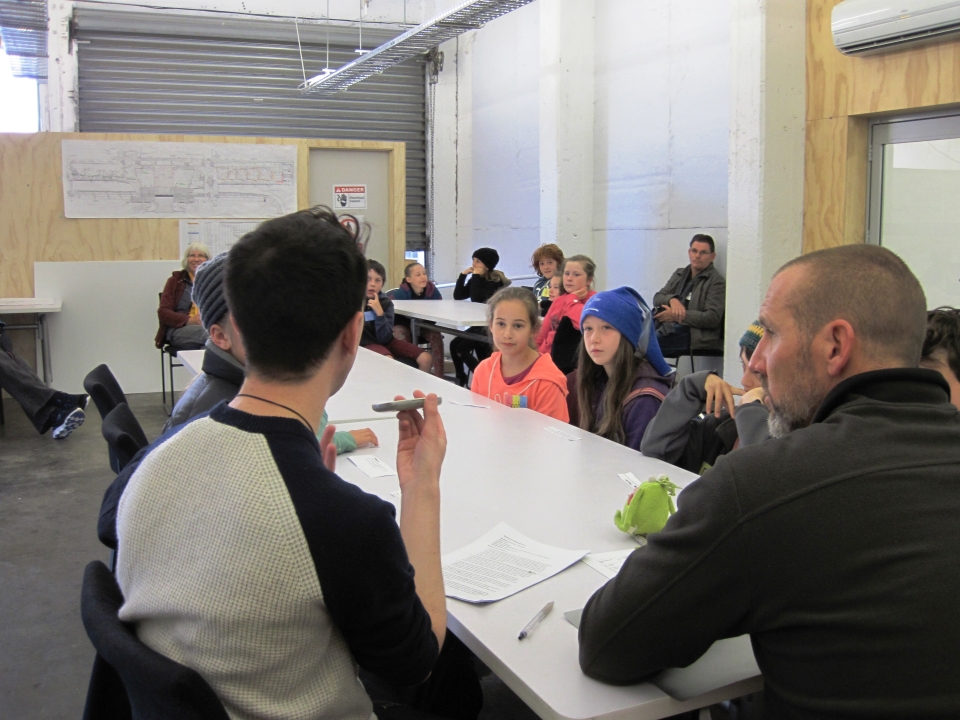 Mathew Tonks answers another question from Hira School during this morning's audioconference. Image: LEARNZ.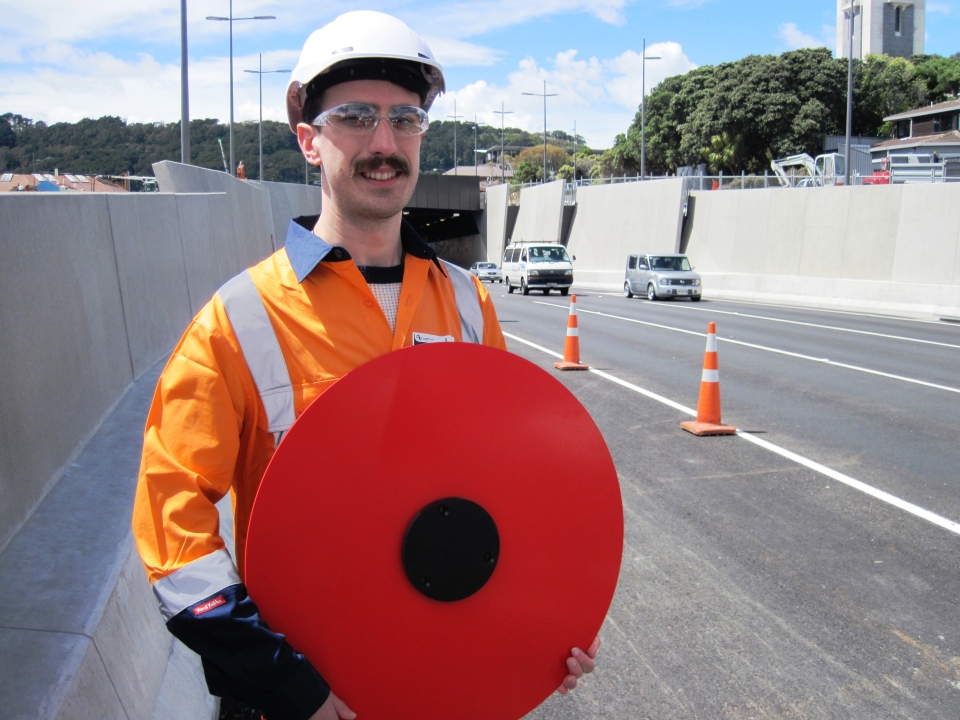 Mathew Tonks holds up a poppy like the ones inside Arras Tunnel. What do the poppies symbolise? Image: LEARNZ.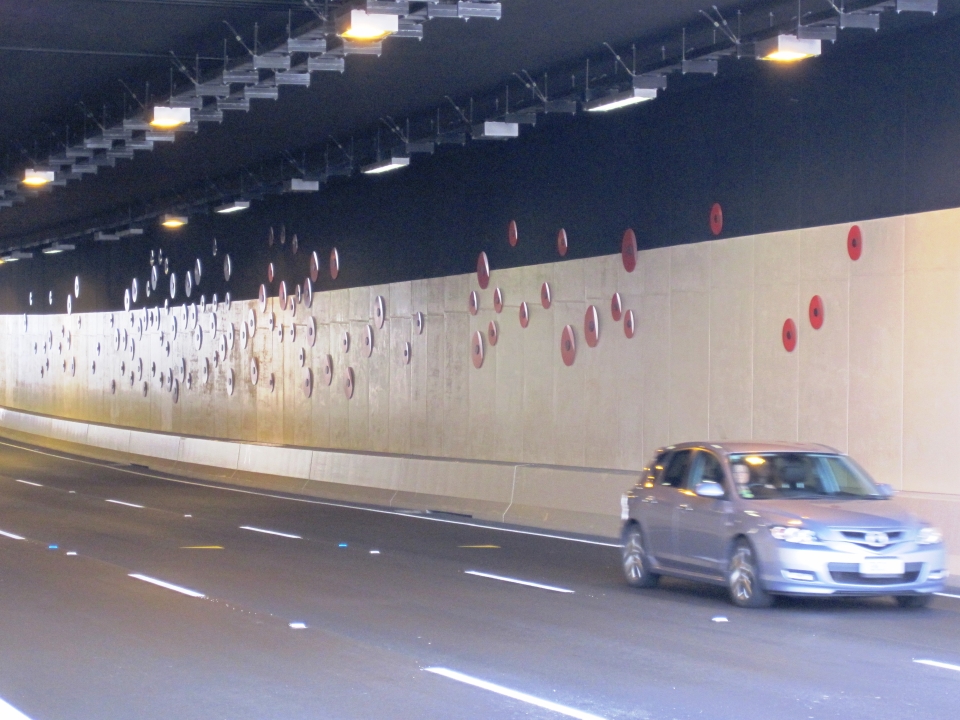 A car drives past red poppies on one side of the Arras Tunnel. Have you found out how many poppies there are in the tunnel? Image: LEARNZ.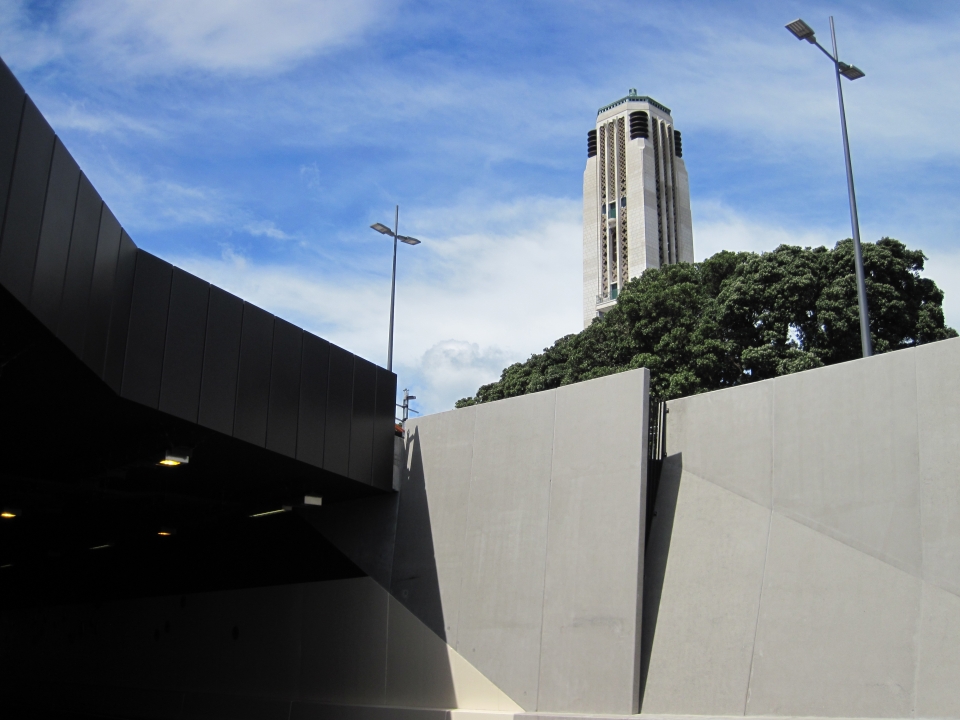 Looking above the huge concrete pillars at the western end of Arras Tunnel towards the Carillon tower. Do you know what the Carillon actually is? Image: LEARNZ.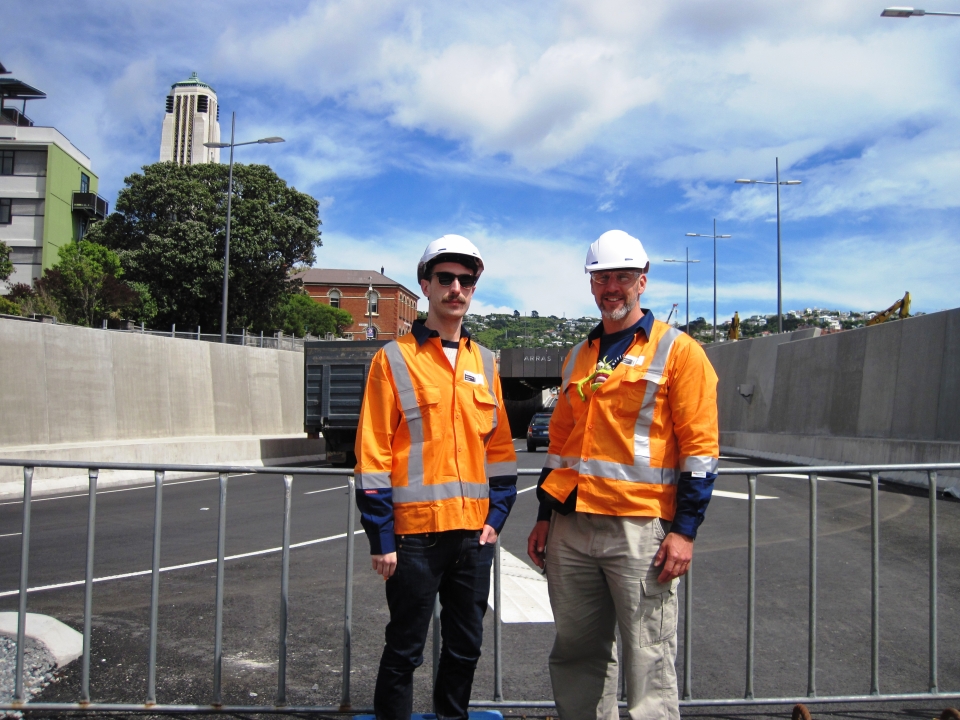 Andrew and Egbert with Matthew Tonks at the eastern end of Arras Tunnel. Have you read Matthew's profile page yet? Image: LEARNZ.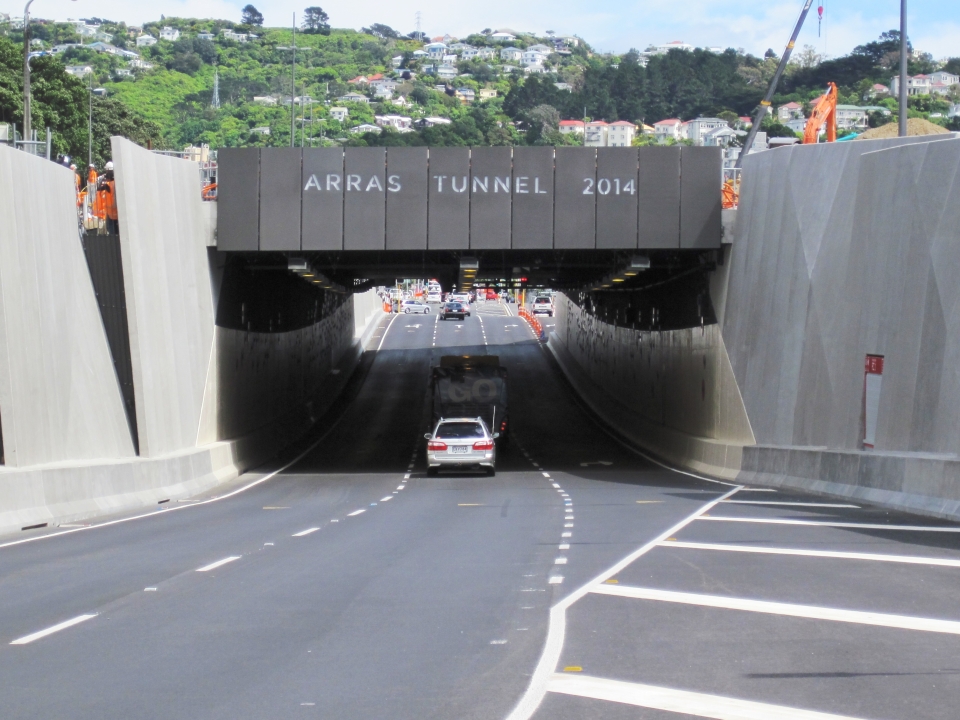 Vehicles driving into the Arras Tunnel. How did the tunnel get its name? Image: LEARNZ.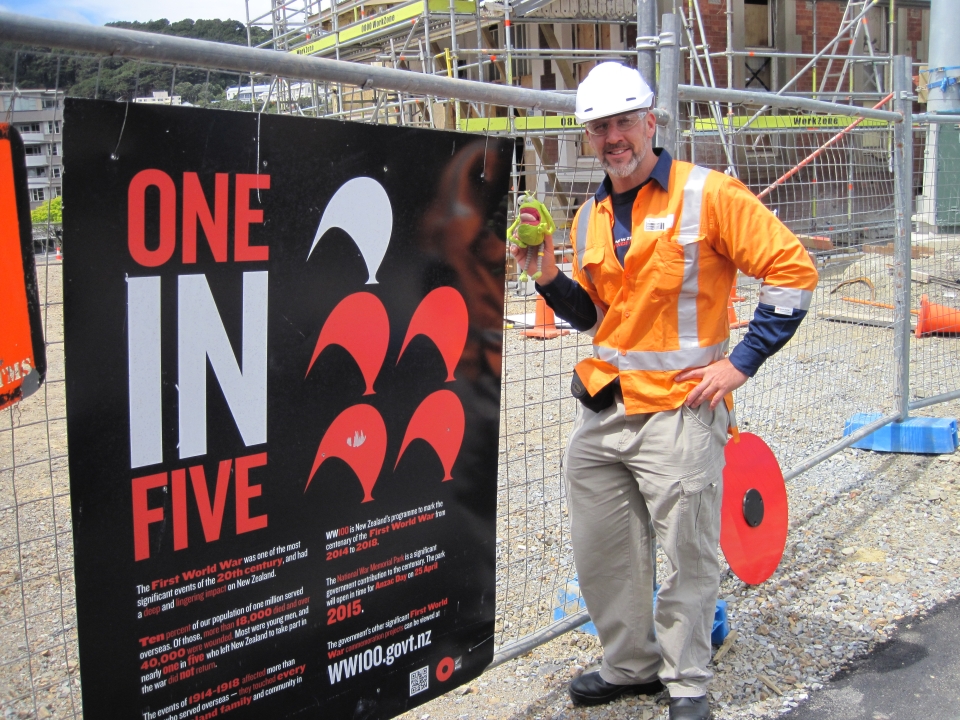 Andrew stands beside a WW100 sign next to the Memorial Park. What do you think "one in five" is referring to? Image: LEARNZ.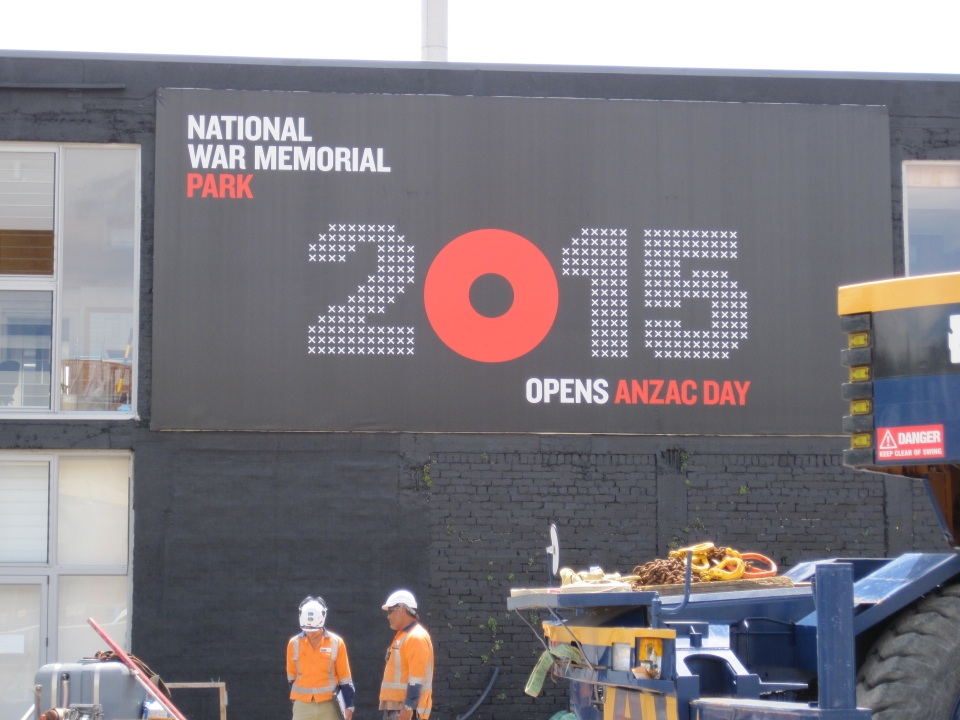 This wall of the Memorial Park Alliance office reminds you when Memorial Park will be ready. Image: LEARNZ.
The final audioconference today with Sacred Heart Cathedral School asking the questions. Have you listened to an audioconference recording yet? Image: LEARNZ.