Diary 4
Date:
Thursday, May 23, 2019
Field Trip Name:
Our Primary Industries
Field Trip Place:
Hawke's Bay
Kia ora koutou,
You headed back to Plant and Food Research to complete the final field trip web conference. Jim Walker and Anna Kokeny were keen to talk to students from Pukekohe Intermediate School. They were impressed with their thoughtful questions. It was interesting to hear about how apple varieties are developed and that apples originally came from Turkey. You can find out more by watching the recording of this web conference.
Protecting our primary industries
New Zealand's apple industry is worth millions of dollars and produces some of the best apples in the world. This industry could crumble if certain pests or diseases enter the country and spread. You spoke to Peter Lo, who works on reducing and controlling insect pests. Peter described how lucky we are in New Zealand to be surrounded by thousands of kilometres of ocean. This sea border stops many pests from reaching our shores. Unfortunately, people can accidentally bring pests into the country when they travel or import goods. This is why biosecurity checks are so important. If major pests such as fruit flies or brown marmorated stink bugs get into New Zealand they will cause a lot of damage to crops. They will also be very difficult to remove.
Unwanted bugs
Peter showed you pictures of the brown marmorated stink bug BMSB. These bugs have spread from Northern Asia, to Europe, America and Chile. They damage fruit and are hard to kill. As their name suggests these bugs also stink! They come together in huge groups and can infest homes. Because they can fly, they would quickly spread across New Zealand, so its important to try and keep them out. Peter has been working with the introduced green vegetable stink bug. By studying this bug he hopes to find ways to control other stink bug species such as BMSB. It was scary hearing about how much of a problem this stink bug could cause if it gets established in New Zealand. Peter showed you how to identify the BMSB so you can report it if you see it. You can call the MPI biosecurity hotline on 0800 80 99 66. Find out more by watching the video.
Technology to the rescue
This week is techweek so you wanted to find out how technology is helping in the war against pests and diseases. Anna showed you the drone that they use to release sterile codling moths above orchards. It sounded weird that scientists wanted to release a pest rather than kill it. But because these moths are sterile, they will not be able to reproduce and in time they will lead to a collapse of the population. Using this method means that apple growers do not need to use as much chemical spray to kill the moths. You can watch the video about this.
Disease detectives
You met Matthew Arnet who studies plant diseases. He showed you an apple that had a type of rot. If Matt can identify a disease, he can help apple growers to try and stop this disease from spreading. Matt showed you how he collects a sample of a disease and grows it on an agar plate. He then looks at what grows under a microscope to identify what type of bacteria or fungus it is. It was interesting to see some of the fungal threads that had grown on an agar plate in just a few days. You can see this in the video.
Mini but mighty
Most apples are a certain size and come in a limited number of colours. Scientists have been working on developing new and different apple varieties. The Rockit™ Apple took 19 years of selective breeding to develop. This apple is the world's first miniature sized apple. It was developed to give people a snack sized apple, it's also perfect for lunchboxes. Although this apple is small it has more potassium, vitamin C and fibre than most large apples. You met Mark Pay from Rockit™ and he showed you around the packhouse. Rockit™ apples are sold mostly overseas and fit neatly into plastic tubes. This packaging keeps them fresh and easy to transport. Plastic doesn't break down so Rockit™ is now looking at changing its packaging to cardboard or plant-based materials. It was neat to see how innovation is helping to sell New Zealand apples and I can't wait to try a Rockit™ apple.
It has been a busy week unpacking the apple story and seeing just how much work goes into producing the world's best apples. I will never think of apples in quite the same way again!
I hope you have enjoyed the field trip and can join us on another one soon.
Mā te wā,
Shelley the LEARNZ field trip teacher.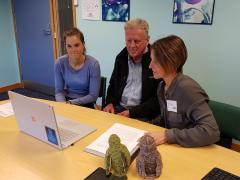 Anna, Jim and Shelley talk to students from Pukekohe Intermediate School during the last field trip web conference. Image: Andrew Penny, LEARNZ.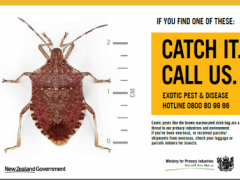 This is the brown marmorated stink bug (BMSB). If this bug gets established in New Zealand it will be a major threat to our primary industries. Image: MPI.
These are green vegetable stink bugs. Why do you think scientists are studying these bugs? Image: Shelley Hersey, LEARNZ.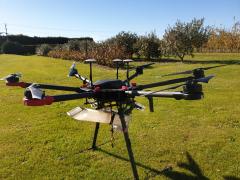 This drone is used to release sterile codling moths over orchards. You can see the white plastic pod where the moths will be released from. Image: Shelley Hersey, LEARNZ.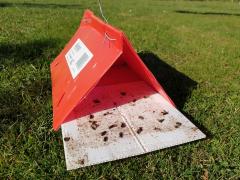 This sticky trap is used to monitor the presence of codling moths in orchards. Image: Shelley Hersey, LEARNZ.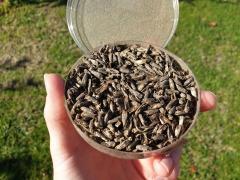 These are sterile codling moths used to reduce the viable population of this pest species. Image: Shelley Hersey, LEARNZ.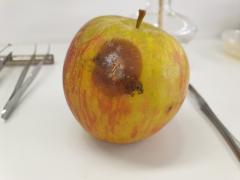 This apple has been affected by a type of rot. How do scientists identify the cause of this rot? Image: Shelley Hersey, LEARNZ.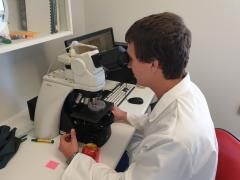 Matt looks at a sample of apple rot under the microscope to identify the type of fungus or bacteria present. Image: Shelley Hersey, LEARNZ.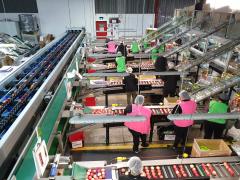 Inside the Rockit™ apple pack house. What makes these apples unique? Image: Shelley Hersey, LEARNZ.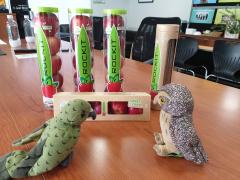 The ambassadors check out some packaged Rockit™ apples. Why do you think these apples are packaged in this way? Image: Shelley Hersey, LEARNZ.