Meet Kelly Huntley
Job description:
As a Train Controller I look after the movement of trains and other rail vehicles travelling on the railway. I set up their routes and signals; do lots of planning (i.e. where I will cross two trains travelling in opposite directions); and communicate with the drivers. I also provide protection to our maintenance teams working on the tracks.
Work background:
After finishing school I worked for a freight company as a receptionist, and progressed my way through to Sales Support then became Personal Assistant to one of the General Managers. I have a lot of administration and customer service experience. I especially enjoy planning and organising.
Favourite part of job:
Every day is different. You might have a day that flows smoothly, or you might have a train break down or an incident on the network where everything turns to custard (that's my favourite time)! There is nothing better than going home at the end of the day and knowing you've done a really good job.
Least favourite part of job:
I can't really think of any part of the job that I don't enjoy. If I HAD to think of something it might be the shift work aspect of it. Train Control is a 24/7 operation and sometimes it can be a bit hard when you have to go to work in the weekend or at night. But that can also be a good part of the job because you get days off during the week and sometimes not having to go to work on a Monday morning when everyone else has to can be a very good thing!
What I am working on now:
I have been a Train Controller for seven years now, and have just taken on a new role training people in our Train Control Schools. The schools normally have five people on them and they run for 8-10 weeks before they go on a desk with a full time trainer.
A quick story about a job well done:
We had a frantic mum call us up to tell us that while she was getting her pram off the train, the doors had closed behind her. Her son was stuck on the train and it just departed the platform! We radioed the Locomotive Engineer and stopped him at the next platform. The Train Manager located the boy and looked after him at the platform until his mum arrived in a taxi. Thanks to good communication and team work, the mum and son were reunited quickly.
Qualifications:
I have previous experience working in the freight and logistics industry. The ideal Train Controller is eager to learn, has excellent attention to detail, can keep calm when under pressure – and definitely has a sense of humour!
Interests outside work:
I have two bulldogs that keep me entertained and busy; I love being in the kitchen trying out new recipes (and baking cupcakes for my workmates!); and I also enjoy fitness and spending time with my friends and family.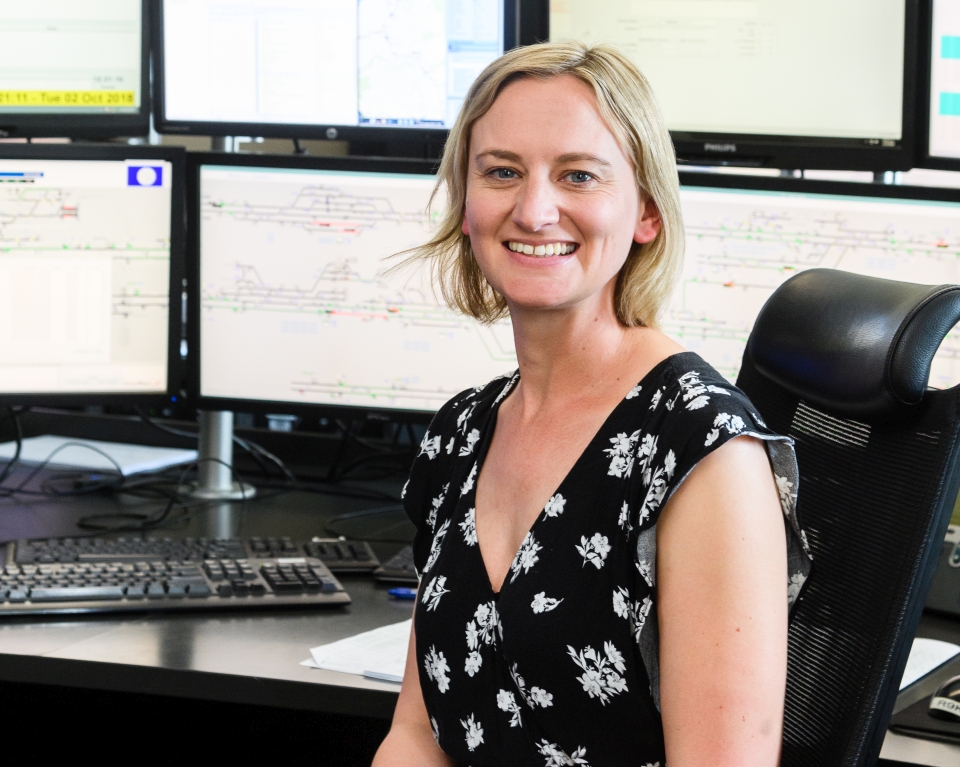 Kelly Huntley is a Train Controller for KiwiRail. Image: Supplied.