NCTIR
The North Canterbury Transport Infrastructure Recovery alliance (NCTIR) was set-up to restore the road and rail networks between Picton and Christchurch. The top priority was to reopen SH1 and the Main North Line railway. Construction of these transport networks had to happen at the same time, and quickly.
A safe, durable road and rail line had to be designed that minimised impact on the environment, wildlife, and landscape. The difficult terrain, along with coastal and weather conditions, has been and still is, a major challenge. These environmental factors mean that changes are made regularly to the recovery programme to keep everyone safe and the work on track.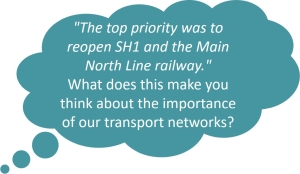 State Highway 1 (SH1)
More than 200 areas of road along SH1 were affected by the earthquake. Close to 1 million cubic metres (about 400 Olympic-sized swimming pools) of loose material dislodged by the earthquakes fell onto the road and rail line. More than 30 slips were identified south of Kaikōura and nine major slips north of Kaikōura.
After a lot of hard work, SH1 north and south of Kaikōura reopened for daytime travel on 15 December 2017. It then reopened for night time travel on Monday 30 April 2018. More than 30,000 square metres of steel mesh was wrapped around slips south of Kaikōura and new infrastructure, such as bridges and seawalls, has been built to the north.
A different Picton to Christchurch route
With SH1 closed after the earthquake, drivers between Christchurch and Picton had to be diverted to a different route along State Highways 63, 6, 65 and 7 (and the alpine Lewis Pass). The increased traffic along this route impacted the road as well as local communities. New speed limits were set to improve safety for both drivers and communities. The road was also upgraded so it could handle the extra traffic.
The Inland Road (Route 70) between Kaikōura and Waiau
Another priority was to restore access to communities which were cut off by earthquake damage. The inland road (Route 70) via Waiau and Mt Lyford was the best way to restore access to Kaikōura.
The badly damaged road had to be made safe for general use. This included:
clearing the road of more than 50 slips
stabilising slopes
repairing damage
building an entirely new diversion road around the highly unstable Whalesback section.
Access through this route was restored within a few days of the earthquake. Emergency supplies were then able to get through to areas cut off by earthquake damage.
Main North Line railway
The Main North Line railway between Picton and Christchurch is important for moving freight and people between the North and South islands. Nearly 900 sites along this line were damaged. The line was buried under more than 90 slips and landslides. 59 bridges and 20 rail tunnels were also damaged.
10 months after the earthquake, some freight rail services were able to start again. This helped to reduce the number of trucks on the road and improve the ability to supply goods to the area. KiwiRail is still working hard to get the track ready for passenger trains but these won't be running until mid-2018 at the earliest.
As a measure of the scale of the work that was carried out, about 50,000 cubic metres of ballast (enough to fill 20 Olympic-sized swimming pools) was used to restore the track.
Commemorating the rebuild of the line with a sculpture
A sculpture was unveiled at the reopening event in Kaikōura on 15 September 2017. The sculpture commemorated the effort put in by the 1500 people involved in the Main North Line rebuild. It also recognised the November 2016 earthquake event and its effects on the wider community.
Caring for people
NCTIR worked closely with local communities to provide employment and business opportunities. More than 1300 people from 100 organisations joined the rebuild effort, which included many residents and businesses from Kaikōura and surrounding areas.
Keeping everyone informed has been an important part of this NCTIR project, including:
local communities affected by the roads
New Zealand businesses that rely on the roads for transporting goods
public travelling along the road
tourists visiting the country.
Regular community meetings were held in the Kaikōura area, as well as 'door-knocks' in some neighbourhoods to discuss upcoming high-impact work.
A NCTIR office was opened on Kaikōura's main street, for residents and others wanting updates on the recovery work.
You might like to check out The Bulletin which provides up-to-date information on progress.