Activities for Antarctica
These activites test domain knowledge from the Background pages and their Easy-reading versions, assisting students to develop higher levels of inquiry.
Interactive activities
The following interactives play in any web browser supporting Flash or HTML-5 while iPad users are prompted to download and install Articulate Mobile Player for free from the iTunes App Store.
1.
Antarctica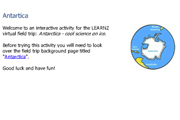 2.
Ice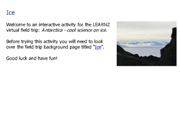 Other activities to try
Try this 'who am I' match up activity - Word (35k) | PDF (132k)
Have a go at the WickED Antarctic activities.