Meet Buggles
Hi I'm Buggles and I'm an adventurous little guy who loves sharing in the learning experiences of my friends in Room 9 at Brightwater School near Nelson.
I get very excited when I'm preparing for a field trip and can't wait for the fun to begin. I'm especially looking forward to going to Antarctica and following scientists as they work under the sea ice and visit penguin colonies and seal haul-outs.
See you soon,
Buggles.
1-2 November
Hey there,
What an adventure it has been getting to Antarctica. I can't believe how lucky I am to be here! The flight down was only a little bit bumpy and boy was it neat to step out of the big noisy C17 on to the sea ice. It is so bright down in Antarctica you have to wear sunglasses or goggles. 
We had to do field training to learn how to survive the very cold temperatures and storms that are common in Antarctica. The highlight of the training for me was learning to drive a skidoo. 
Well, even though it's going to stay light outside all night I need to go and get some rest.
Catch you tomorrow,
Buggles.
3 November 2014
Kia ora
Just as I thought this trip could not get any better we were given a surprise helicopter flight out to Cape Bird to stay there overnight. Not many people get to visit this remote area and it has a huge colony of very cute Adelie penguins. 
We weren't just at Cape Bird to go sightseeing though. We helped Steve and his team collect penguin pooh so they could find out what the penguins had been eating. Luckily, most of the pooh was frozen so it didn't smell too badly.
It has been a big day so I'm off to bed.
See you in the morning,
Buggles.
4 November 2014
Hi everyone,
I'm not sure how much longer I can keep up this high pace of scientific adventure. A helicopter ride this morning and skidoo riding this afternoon made for an exciting day!
We watched the scientists diving under the ice and I was impressed with how they coped with the cold. I guess they did have big dry suits and were wearing lots of layers. I wonder what they will see under the sea ice. Hopefully we can see the photos tomorrow.
Bye for now,
Buggles.
5 November 2014
Hi there,
We spent most of our time around Scott Base today and helped Kate with her experiments. She has been trying to find out how Antarctic cushion stars and urchins react to higher sea water temperatures. We even helped pack up some sea stars for their trip back to New Zealand.
We went for a walk up Observation Hill this evening. The views were amazing!
Talk to you tomorrow,
Buggles.
6 November 2014
Hi everyone,
Today we were able to skidoo out to Cape Evans Wall underneath the glacial ice of Mount Erebus and help Rebecca with her fishing. Rebecca has to catch 60 fish for her experiments and it's cold work. She is collecting a species that lives on the sea floor and a species which lives up near the sea ice to see what they eat.
I had a go at the fishing but I gave up quickly because it was pretty chilly sitting waiting for the fish to bite. Before returning to base we also visited Arrival Heights so we could watch the dive team in action again.
Tomorrow we are off to another site so I'll see you there.
Buggles.
7 November 2014
Kia ora
This week has flown by and I am not quite ready to come home. Antarctica is amazing and I have learnt so much and had heaps of fun. I have missed my classmates though and I am looking forward to catching up with you all soon.
We went searching for seals today and found a whole lot of Weddell seals. At this time of the year these seals are having their pups and boy are they cute! Weddell seals live in areas that have almost permanent sea ice so it will be interesting to see exactly what they eat.
Well, I have to go and pack my bags but I will see you all soon.
Buggles.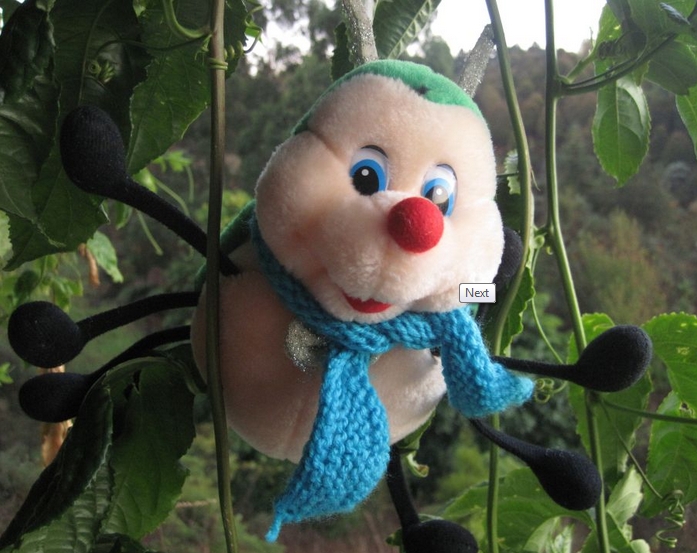 Buggles from Brightwater School can't wait to go down to Antarctica!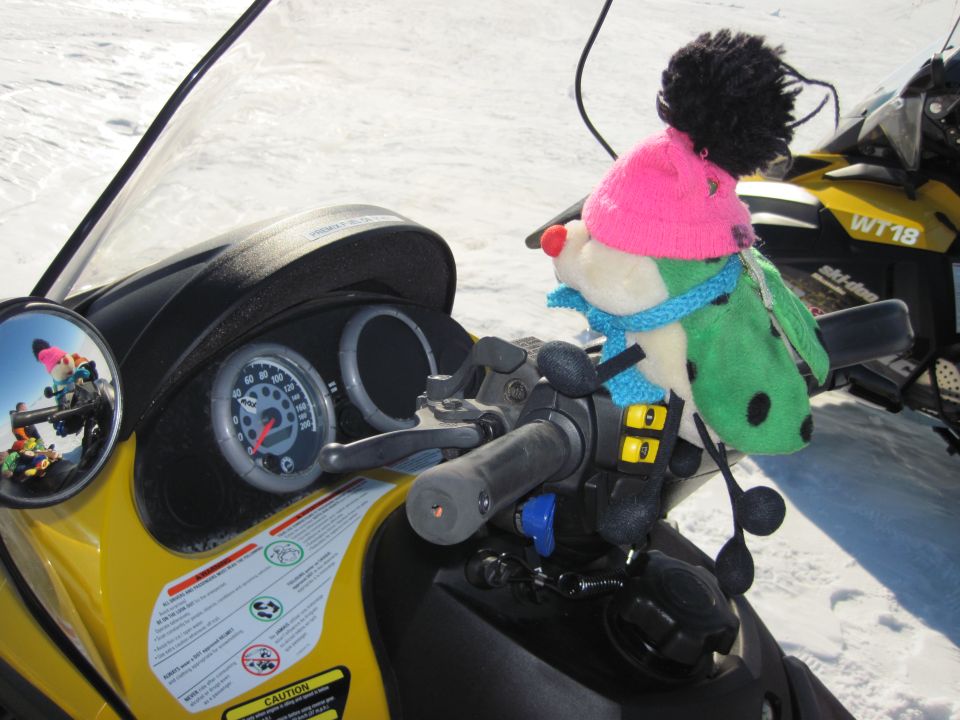 Buggles learns how to drive a Skidoo in Antarctica. Image: LEARNZ.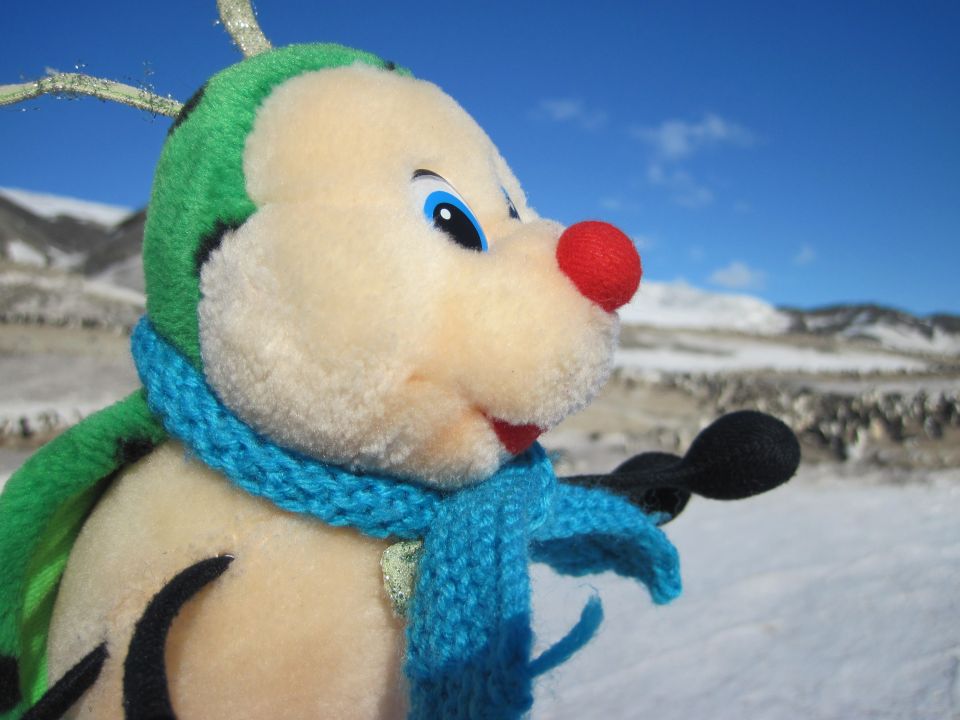 Buggles points out some Adelie penguins at Cape Bird. Image: LEARNZ.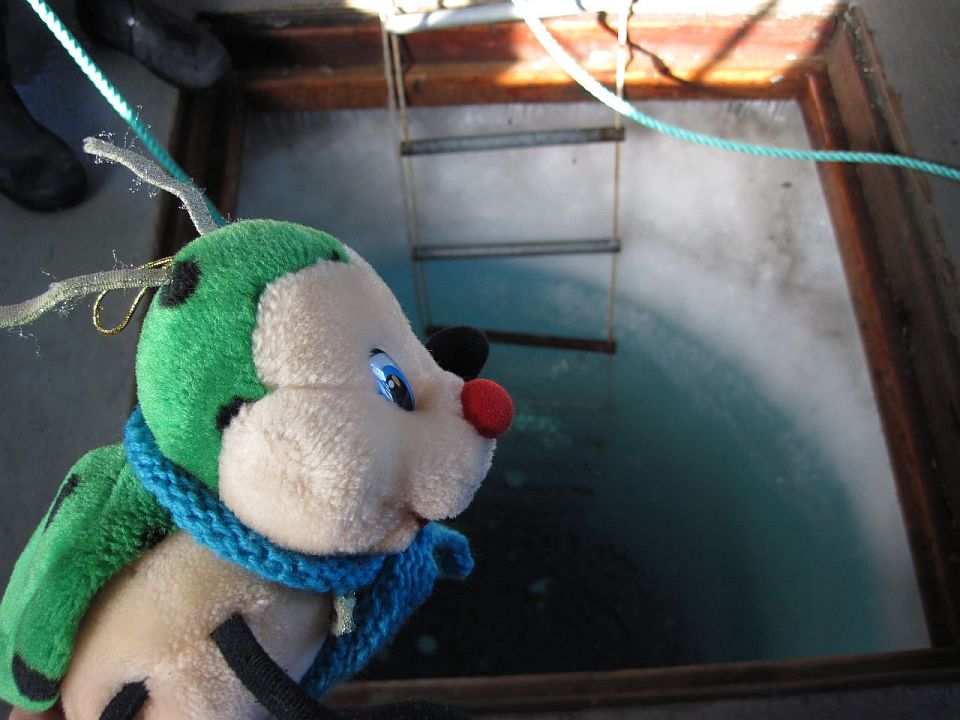 Buggles checks out the dive hole through the sea ice at Cape Evans. Image: LEARNZ.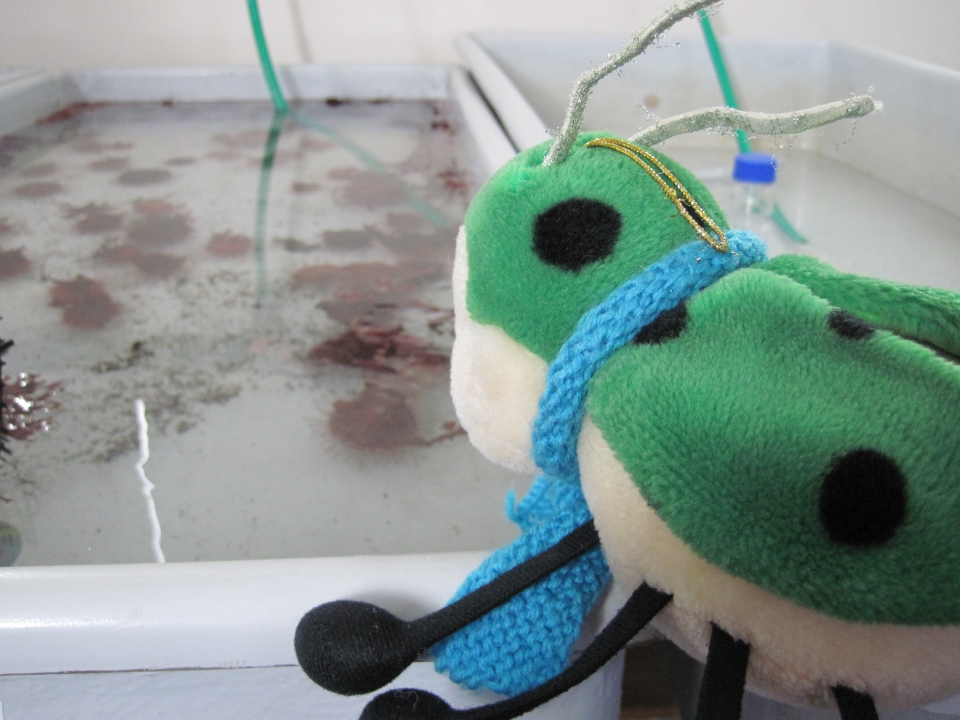 Buggles inspects the tank full of Antarctic cushion stars and sea urchins in the wet lab at Scott Base. Image: LEARNZ.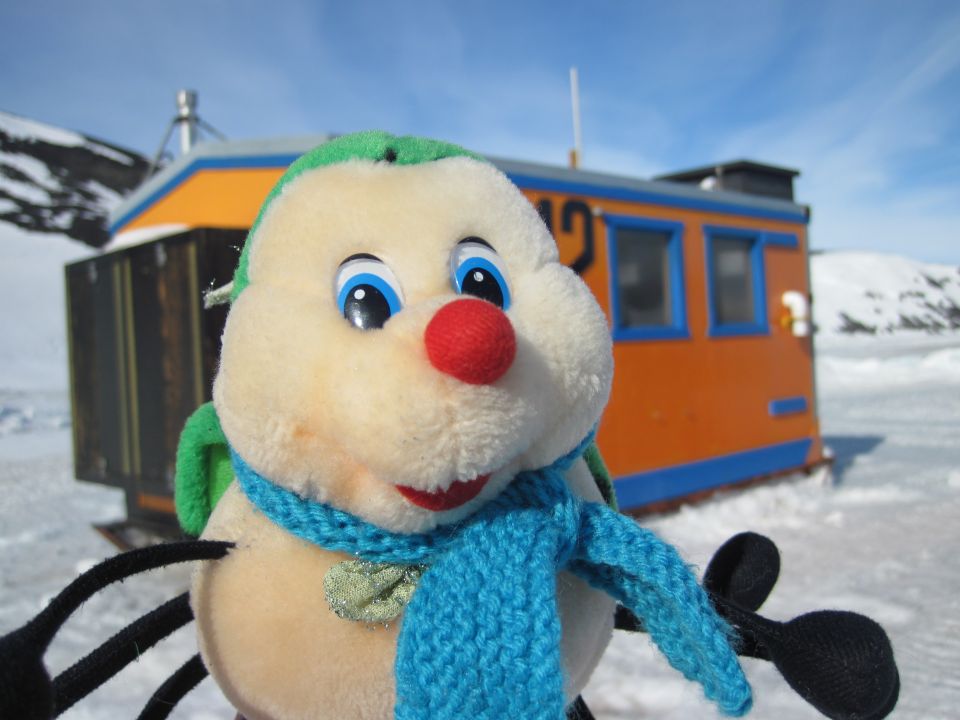 Buggles enjoys the sun outside the dive hut at Arrival Heights. Image: LEARNZ.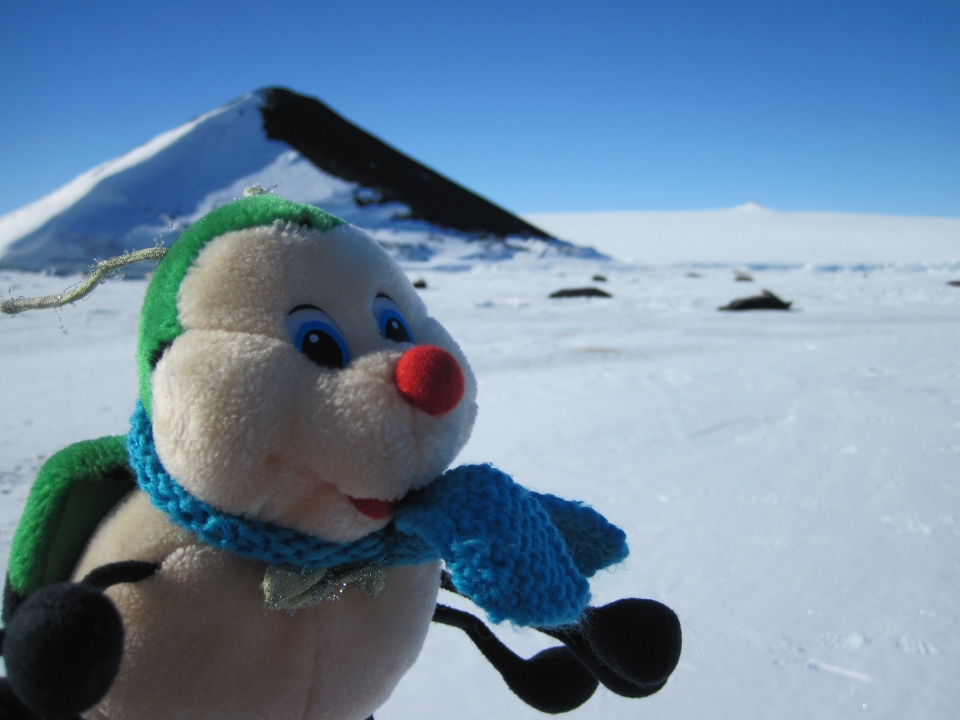 Buggles finds Weddell seals at Turtle Rock.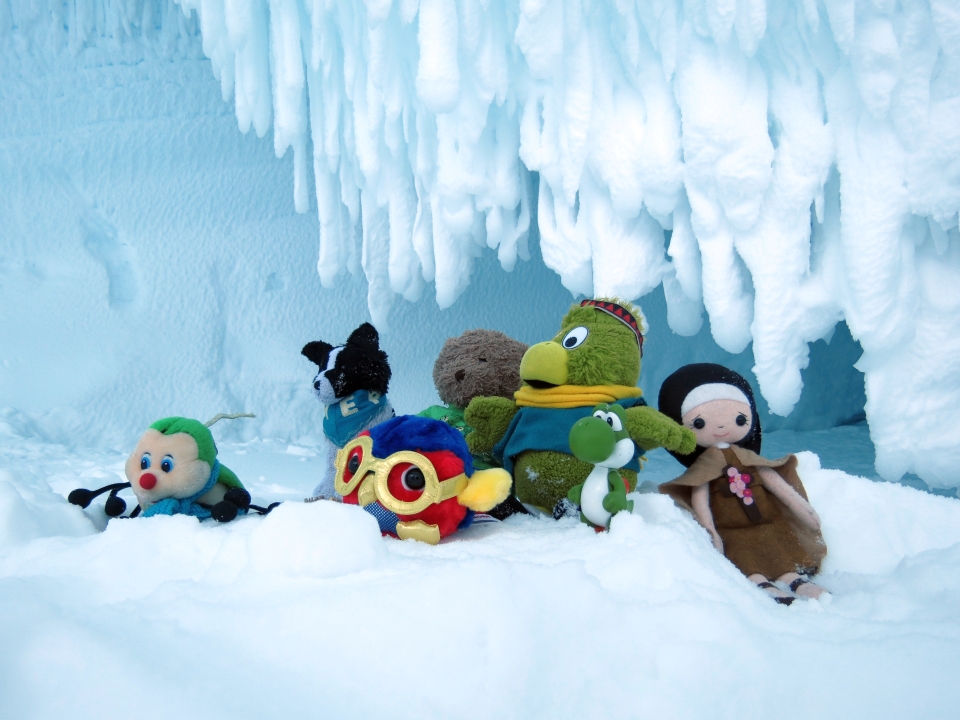 Buggles goes ice caving in glacial ice off Mount Erebus. Image: LEARNZ.