Meet Kowhai Kea
Kia ora
My name is Kowhai Kea and I'm from the Kowhai Home Group (Years 2-4) at Clifton Terrace Model School in Wellington.
I am very excited about my adventure to Antarctica. I even had some new warm clothes made for me for the trip. I am looking forward to connecting with the Kowhai students during my trip and sharing my learning and experiences. Antarctica here I come!
Bye for now,
Kowhai.
1-2 November
Hi folks,
I have been on some cool field trips but this trip is pretty special! Keas love mountains and snow so I was really looking forward to coming down to Antarctica. Some of the other ambassadors are struggling to get used to the cold but I think I'm doing pretty well. The flight down here was quite an experience. It was hard to believe that such a huge plane could actually get off the ground!
We learnt how to travel on sea ice today and I was surprised to hear that a Hagglund can cross cracks in the sea ice as long as they are less than 75cm wide and there is at least 75cm of ice to support the vehicle. If a Hagglund does break through the sea ice it floats so people can escape.
Tomorrow I am going to hang out with some other birds – can you guess what type?
Catch you then,
Kowhai.
3 November
Kia ora
I always thought it would be a bit cold to fly in Antarctica so luckily Shelley arranged for us to catch a helicopter ride instead. We were given special permission to go out to Cape Bird to help the scientists to collect Adelie penguin pooh. They will use the pooh to find out what the penguins have been eating.
I made lots of friends out at the colony as some curious Adelies came up to introduce themselves. It has been a busy day so I'm off to catch up on some sleep.
Talk soon,
Kowhai.
4 November
Hi folks,
What a day! I'm exhausted. We got up early to catch a helicopter flight back to Scott Base after staying overnight at Cape Bird and then we headed out to Cape Evans on skidoos.
Cape Evans is close to Mount Erebus and the bay is full of sea ice. The scientists are diving here to collect samples and I was amazed at how well they coped with the cold water.
Well, it has been another action packed day so I'll say goodbye for now.
Kowhai.
5 November
Kia ora
After such a busy time down here in Antarctica it was nice to spend a day around Scott Base. We helped Kate with her work on Antarctic cushion stars and urchins. I didn't know that sea stars are scavengers and will eat anything that is rotten, dead or dying. This means they are great for the food web as they recycle nutrients.
Well, this bird's gotta fly. I'll catch you tomorrow.
Kowhai.
6 November
Kia ora
I am looking forward to talking to you all tomorrow in the audioconference. I have been missing you all but have managed to have a great time too.
Today we were out on the skidoos again. We went to two different dive huts, watched the divers collecting samples and photographing the sea floor and we even went fishing. To fish in Antarctica you first have to drill through the sea ice and it is a bit cold sitting waiting for the fish to bite. Rebecca has managed to catch nearly 60 fish in the last few days and these fish are really cool because they have antifreeze in their blood!
Talk tomorrow,
Kowhai
7 November
Hi there,
I have been on a few LEARNZ field trips now but this one has been extra special. We have seen penguins, seals, sea stars, skuas and all sorts of creatures who all rely on sea ice and each other in the food web. It has been a privilege to come to Antarctica and I think it is a place that we should all work really hard to protect.
Today we went searching for seals and were lucky enough to find a whole lot of Weddell seals out on the sea ice. At the moment these seals are having pups and it was so cool to see the pups and hear the seals calling to each other. We could even hear the seals that were swimming under the sea ice.
I can't wait to see you all and share more of my adventures.
See you soon,
Kowhai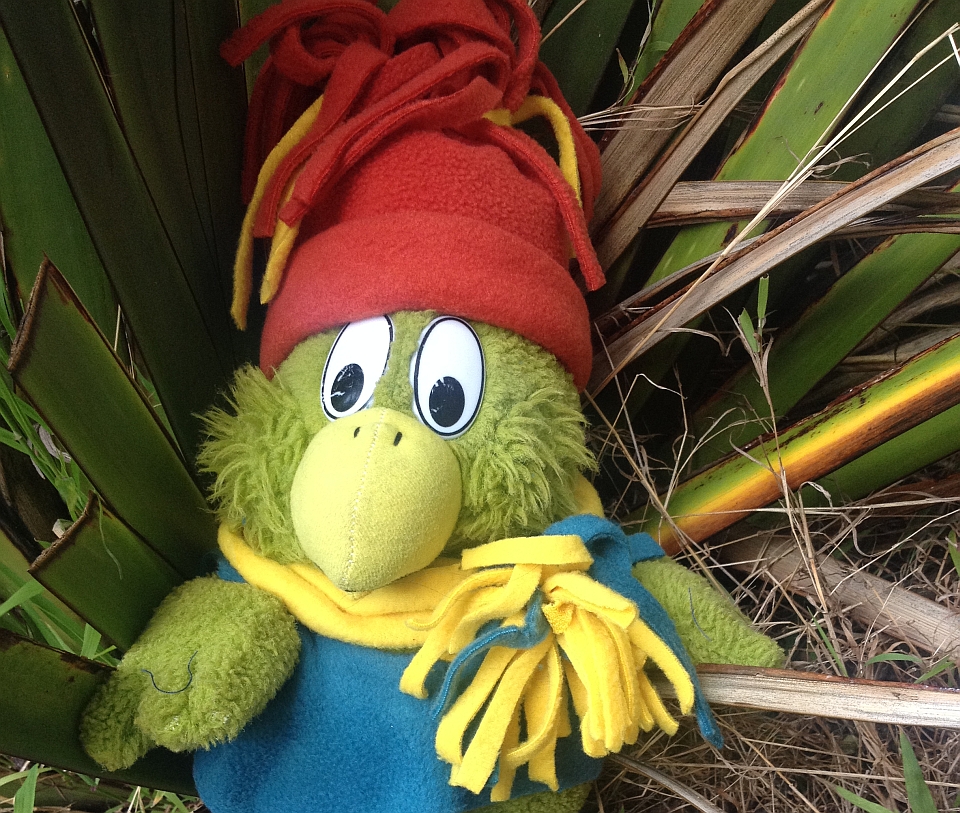 Meet Kowhai Kea from Clifton Terrace Model School in Wellington. Image: LEARNZ.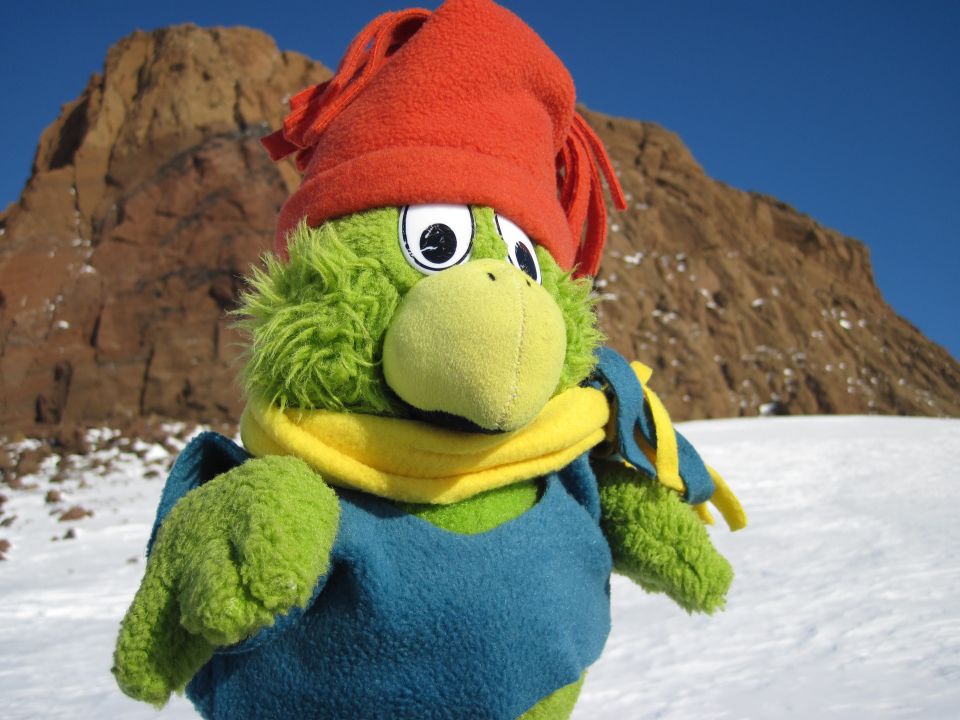 Kowhai Kea is feeling at home in the mountains of Antarctica. Here he is at Castle Rock on Ross Island. Image: LEARNZ.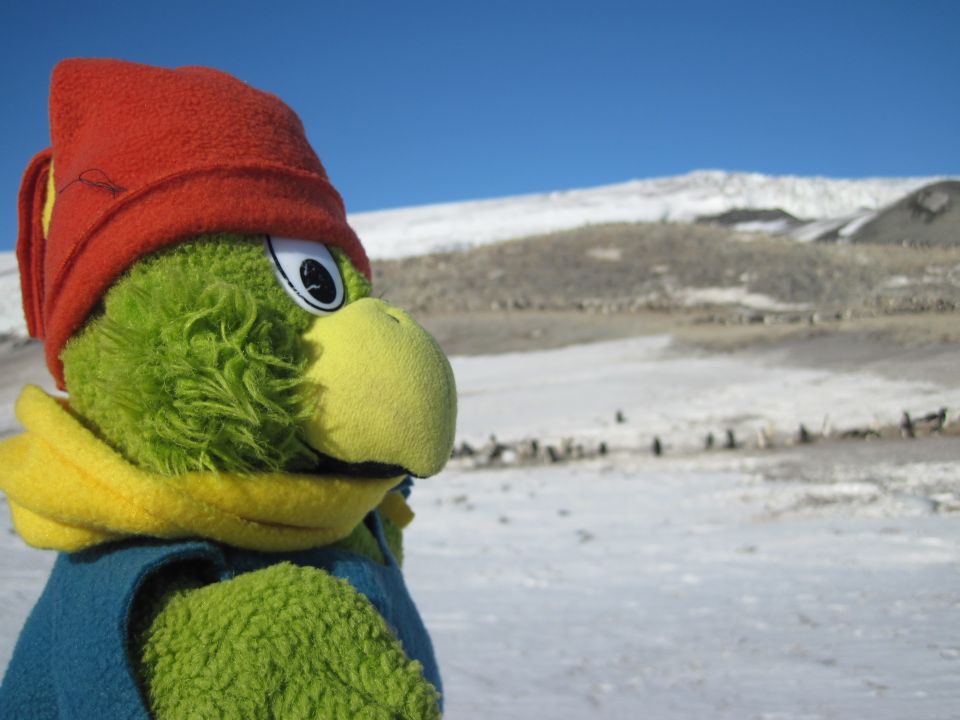 Kowhai meets some flightless birds known as Adelie penguins at Cape Bird. Image: LEARNZ.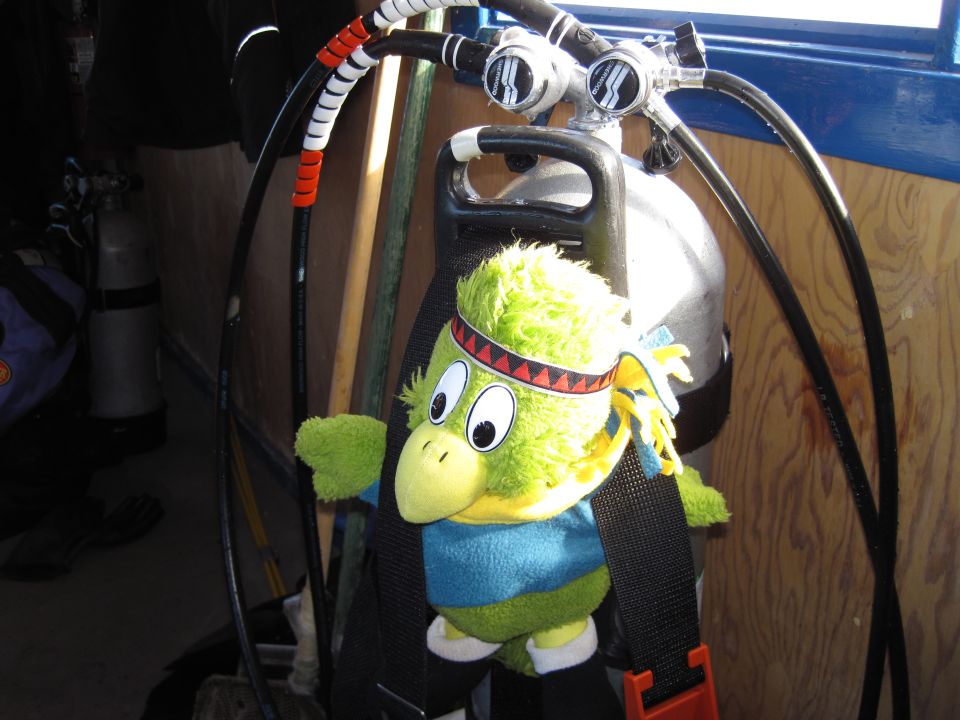 Kowhai tries on a dive tank in the dive hut at Cape Evans. Image: LEARNZ.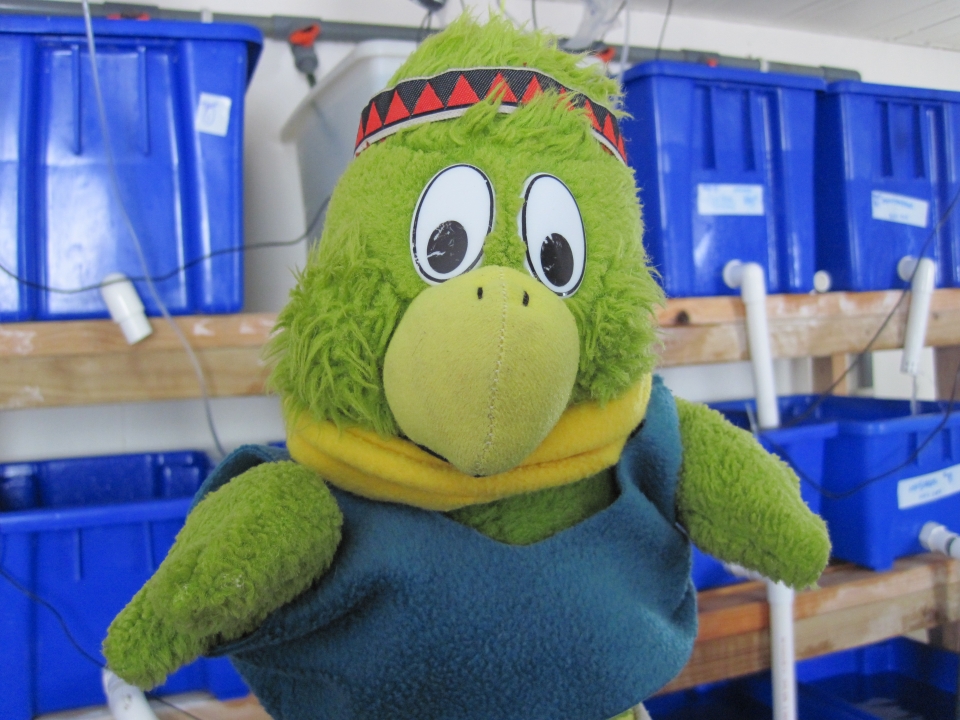 Kowhai Kea helps out in the wet lab at Scott Base. Image: LEARNZ.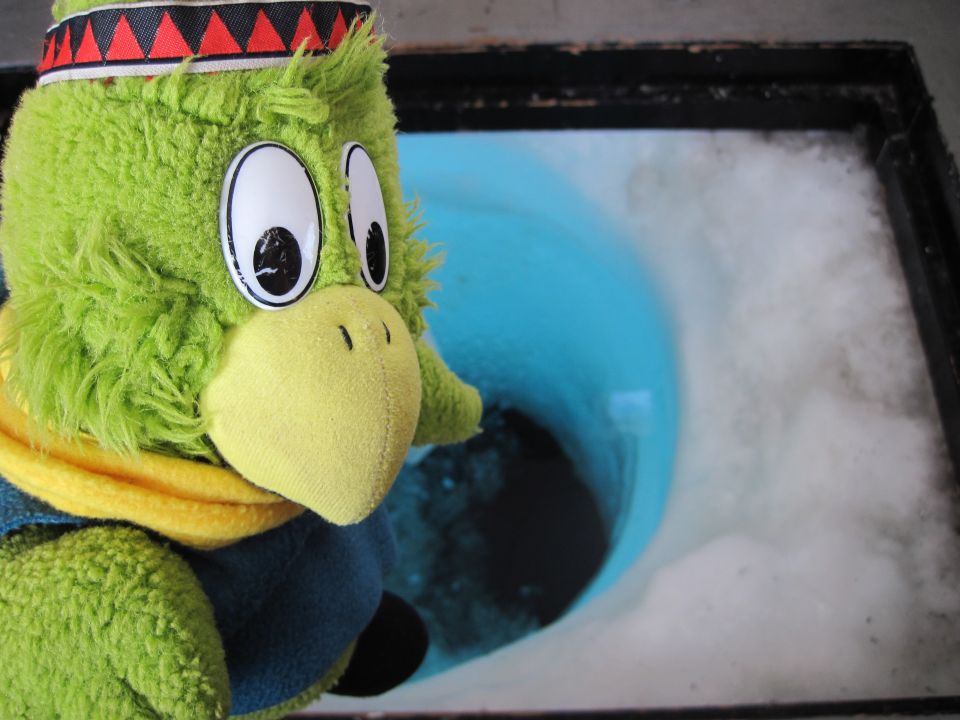 Kowhai takes a look into the hole in the ice that the divers will dive through. Image: LEARNZ.
Kowhai enjoys the sites out near Turtle Rock. Image: LEARNZ.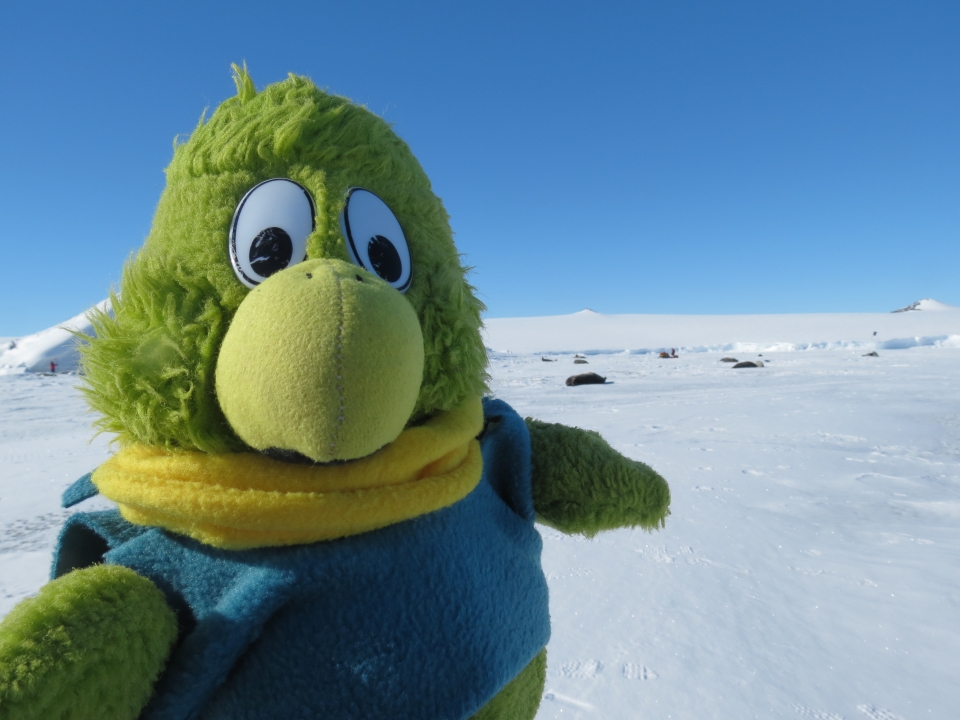 Kowhai finds Weddell seals at Turtle Rock. Image: LEARNZ.