Smart Motorways 2 Diary 4
Date:
Thursday, March 3, 2016
Field Trip Name:
Smart Motorways 2
Field Trip Place:
Wellington
Where You Are:
Wellington City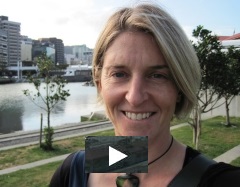 Watch Shelley's diary cam video

Kia ora koutou,
It was a stunning day in the capital today and you were able to make the most of your final day on the Smart Motorways field trip.
Question time
You began the day by speaking to students from Banks Avenue School in Christchurch during the last audioconference. These students had some tricky questions but your expert David Philipson managed to rise to the challenge and answer them all. I was surprised to hear that this smart motorway is not only special because it is the first in New Zealand, it is also the first in the world to use a computer model that is able to make predictions about traffic congestion. You can listen to the recording of this audioconference to find out more.
The smarts behind the smart motorway
The technology behind the smart motorway has been developed by Becca, an engineering consultancy, here in Wellington. We headed into central Wellington to meet the smart people behind this smart technology. Bob Hu is a senior transport engineer with Becca and he has helped create an amazing model that is able to set speed limits for the smart motorway based on conditions and driver behaviour. This software takes into account 250 different things and uses a mathematical formula to set speed limits. Models such as this are used on other smart motorways around the world but Bob has taken the model one step further. This model is able to collect driving data. It then uses this information about what has happened in the past to predict what is likely to happen in the future. The model is then used to adjust the motorway speed to reduce congestion. Watch the video about this.
Testing the model
The smart motorway is expected to open before the end of May. This will be the first time that Wellington drivers are able to use the new fourth lane. This lane will allow more cars on the road and over the following few months Bob's computer model will be tested. The model will collect data about car movement and congestion on the new motorway. Over this time speed limits will be manually set. You met Hayden a systems engineer who has worked with Bob to set these speed limits to test the model. Once more real time data is collected the system will become fully automatic and be able to predict the most efficient speed limits. It was amazing to see how much work has been done to ensure this motorway works as well as it possibly can.
The hub of the smart motorway
After lunch we drove out to the Wellington Traffic Operations Centre, known as the TOC. This is the hub of the smart motorway. The computers that monitor and run the smart motorway are operated through this centre. Mike Seabourne the TOC manager showed you around. It was fascinating to see how much our motorways are monitored. Cameras and sensors send information from all over the network. This monitoring is to increase road safety, not to enforce speed limits. Any accidents or problems on the roads can be picked up quickly and dealt with. Mike showed you some footage of some common problems that occur on motorways, including objects such as ladders and mattresses falling off the back of vehicles. He even showed you how a duck had to be rescued from the Terrace Tunnel by police because it was holding up traffic.
Smart drivers
Local Wellington students from Raumati South School were interested in the technology behind the smart motorway and they were surprised by how closely our highways are monitored. They learnt about how to drive 'smart' on the smart motorway and have some great advice that you could share with your whanau and community. Check out the video to find out more.
A smart future?
Throughout this week you have discovered how an ordinary motorway can be transformed into a smart motorway to improve the safety and efficiency of the road and reduce the amount of fuel vehicles use. This field trip has made me realise how important it is to have roads that work well. It has also left me wondering about how technology will not only change the way we build roads but also how we drive. Who knows what might happen in the future?
I hope you have enjoyed this field trip as much as I have and can join us on another one soon.
Ka kite ano,
Shelley the LEARNZ teacher.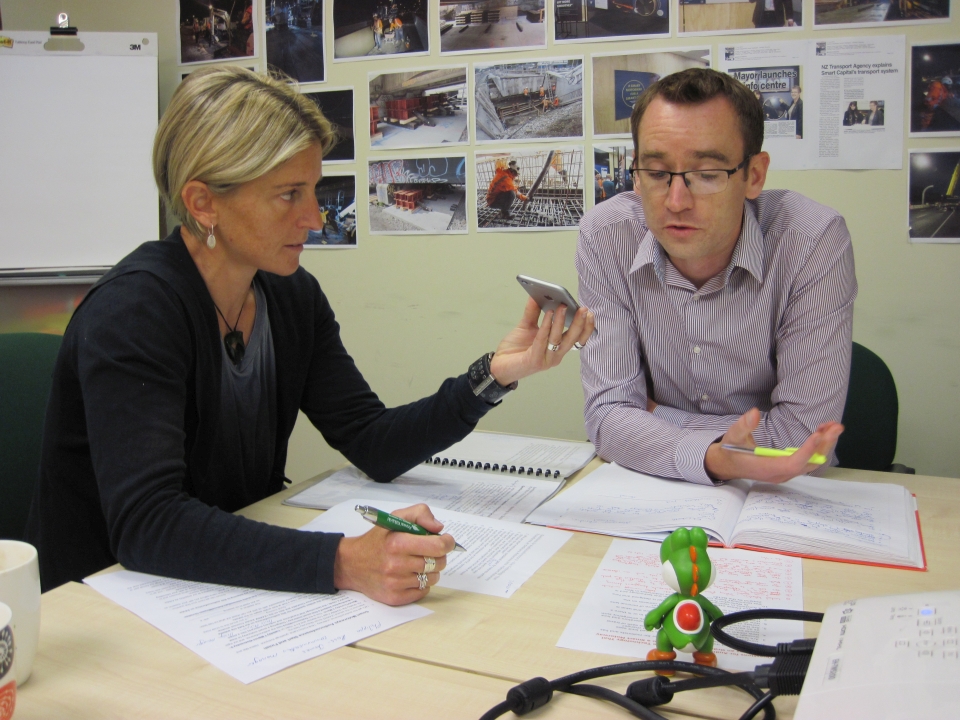 David Philipson answers questions from Banks Avenue School students during today's audioconference. Image: LEARNZ.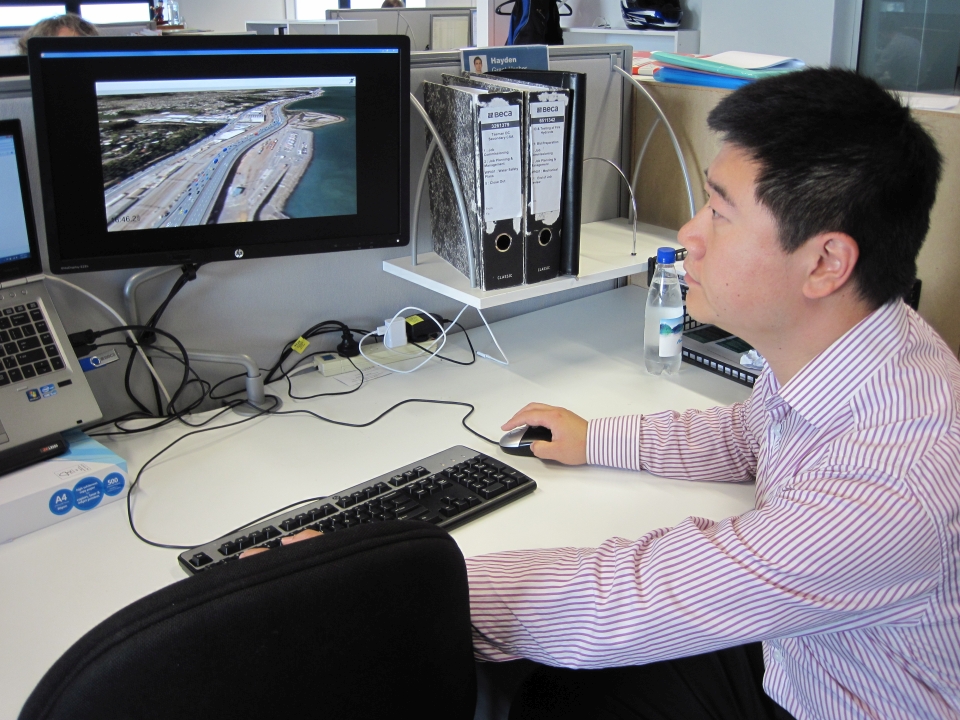 Bob Hu, a senior transport engineer shows you how his smart motorway computer model works. Image: LEARNZ.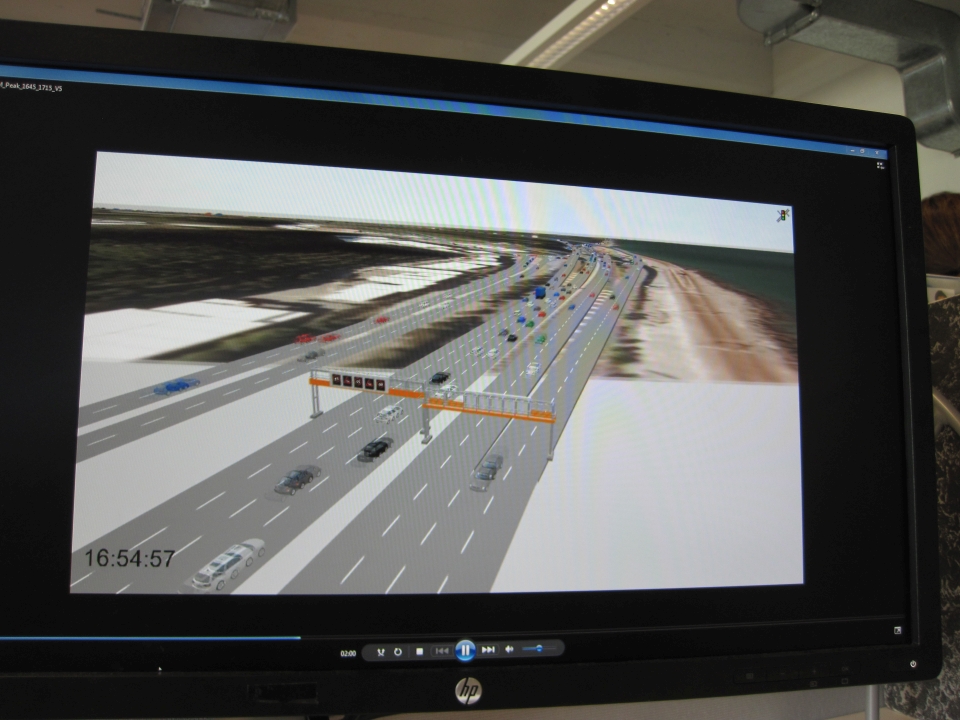 This computer simulation shows how a model will predict traffic flow and change the speed limit to reduce congestion. Image: LEARNZ.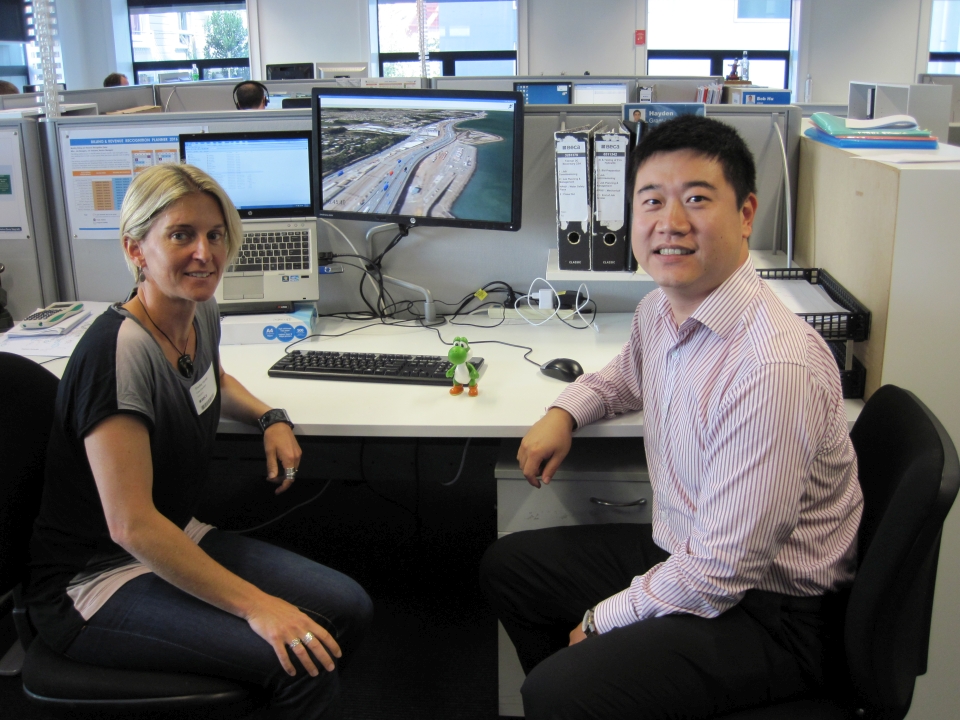 Bob explains to Shelley how his computer model uses mathematical formulas to predict the best speed for cars to travel to reduce congestion. What is special about this model? Image: LEARNZ.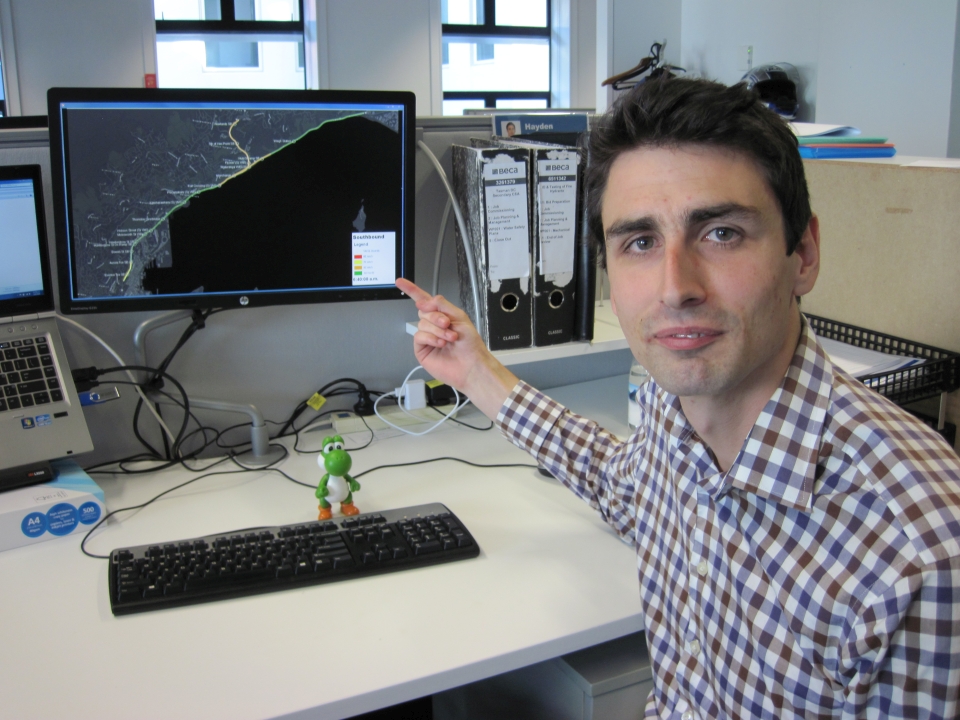 Hayden Grant-Ussher shows you a video about how the smart motorway will work when it first opens. Why do you think the speed limits will be manually set for the first few months on the smart motorway? Image: LEARNZ.
This is the Wellington Traffic Operations Centre (TOC) in Johnsonville. What do you think happens inside this building? Image: LEARNZ.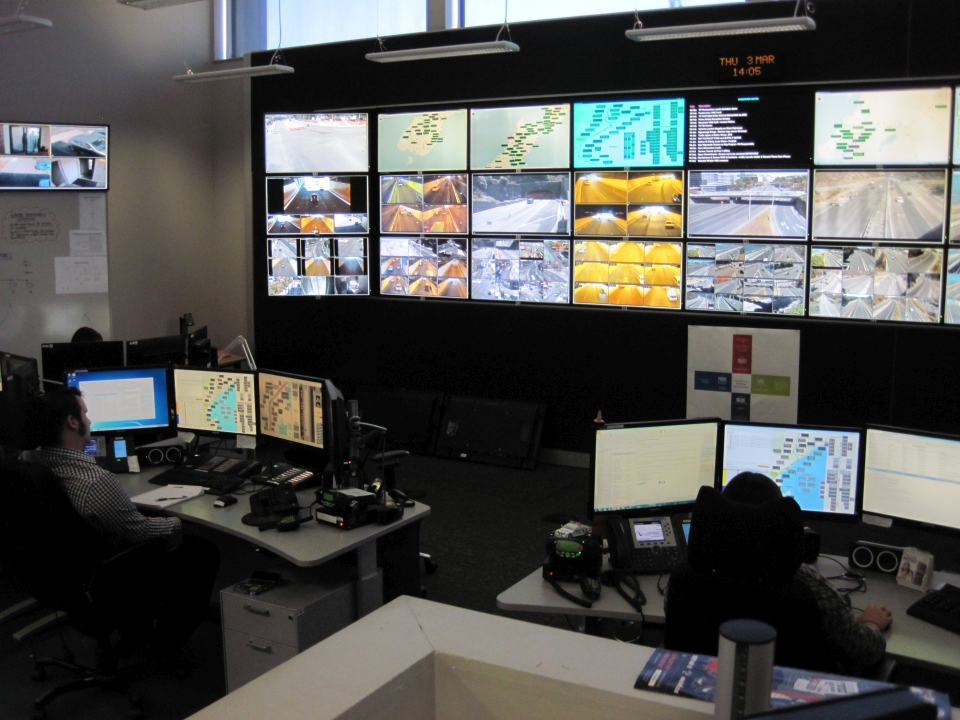 Inside the TOC you could see how our motorway network is monitored. Image: LEARNZ.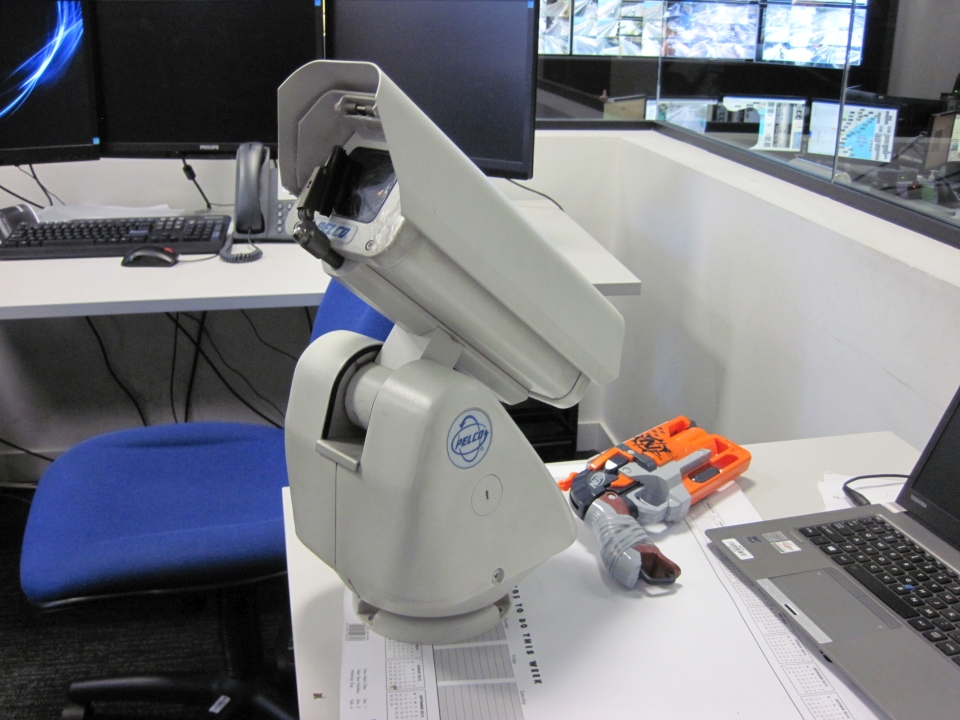 Cameras such as these are used to monitor our motorways. Why do you think our motorways need to be monitored? Image: LEARNZ.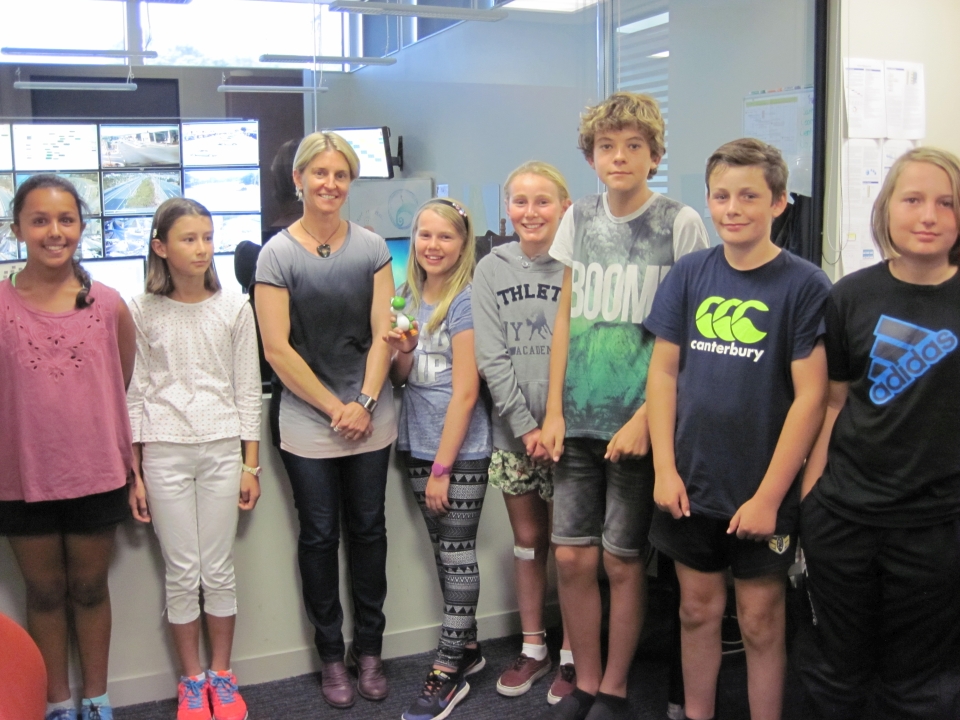 Students from Raumati South School share what they have learnt about the smart motorway with Shelley at the TOC. Image: LEARNZ.