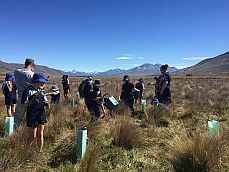 Reasons to enrol your class(es) in LEARNZ virtual field trips:
1. Newsletters
Emailed newsletters are sent out to teachers of enrolled classes. Their main purpose is to direct teachers to newly released material.
1st Newsletter - from 2022 when all material is published such as Discovery reading pages and quizzes, Google Earth Tour and videos. Web conference bookings are requested.
2nd Newsletter - the week after the field trip, when recordings of the web conferences and the evaluation form are released and a reminder is included to get entries in for the Field Trip Challenge.
If you enrol after the second newsletter, you may not be sent any emails but are free to use all the field trip material.
2. Live Web conferences
Teachers of enrolled classes can take part in web conferences and access recordings.
Live web conferences offer the chance for your students to orally put their questions directly to experts. Bookings essential – more details in newsletters.
Live web conferences also offer the chance for any class to ask questions using the chat feature. No bookings required.
Instructions for connecting to live web conferences are in field trip newsletters or in your MyLEARNZ.
3. Recorded Web Conferences
Teachers of enrolled classes can access recordings of web conferences.
Recordings are accessed via a code in the field trip newsletters or in your MyLEARNZ.
4. Evidence of Usage
Providing us with evidence of your use of LEARNZ helps keep LEARNZ free.
We are able to offer LEARNZ free to teachers in New Zealand state, integrated and registered private schools because of financial contributions from our partners. It is important that we provide evidence to them that their funding has created useful educational outcomes for New Zealand learners.
Enrol in field trips via the LEARNZ homepage