Ambassador Banana


Kia ora,
I'm Banana the monkey and I am the ambassador for THE EDGE learning centre at Elim Christian College. I love to eat bananas and go on adventures and I can't wait to travel to windy Wellington for the People and Water field trip.
See you in Welly,
Banana.
Monday 22 May
Kia ora,
It was a great day to travel today even if it did start out freezing cold with frost all over the ground. The airport was really busy and our huge plane was full to the brim.
Luckily we arrived in Wellington with plenty of time to have a look around. Wellington is such a cool place to visit. We spent lots of time wandering around and exploring the waterfront. Water is such a big part of what makes Wellington so scenic and I'm looking forward to finding out more about water on this trip.
See you tomorrow,
Banana.
Tuesday 23 May
We met lots of interesting people from Wellington Water today and found out where Wellington gets all its water from. I was surprised to hear that some of Wellington's water comes from under the ground. These aquifers are areas where water flows slowly through gravels, getting filtered along the way. Aquifers can be a great source of clean water.
I was surprised at how much water from rivers needs to be cleaned to make it safe to drink. I couldn't believe how much dirt is removed in the treatment plant. I'm glad we don't end up drinking this dirt!
Tomorrow we will discover what happens to water once it goes down the drain.
See you in the morning,
Banana.
Wednesday 24 May
Kia ora,
Today was quite different from yesterday because we were looking at wastewater rather than drinking water. It was a bit smelly at the wastewater plant and it was really gross seeing the rubbish that had to be removed from the water. It was funny to see lots of peas and corn in the waste water and showed how hard it is to digest these.
I found it really interesting that good bacteria are used to help break down the wastewater and UV light is used to kill harmful bacteria.
It has been a busy day so I'll say good-bye and catch up with you again tomorrow,
Banana.
Thursday 25 May
Kia ora,
We learnt about different uses of water today. Water is important for all sorts of things, including fire fighting. Another type of water is Stormwater, this is all the rain water that flows over the ground and into drains. These drains lead to the nearest waterway so we need to make sure we aren't washing rubbish or pollutants like oil and soap down these drains. If we don't keep stormwater clean we might end up harming marine creatures and making our water unhealthy to swim in.
I can't wait to get home to tell you more about my great adventure.
See you soon,
Banana.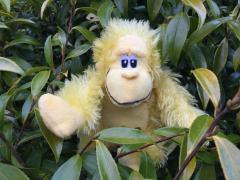 Banana is the ambassador for Elim Christian College. Image: LEARNZ.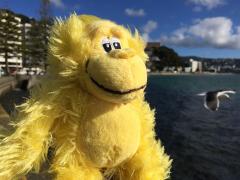 Banana enjoys the fresh breeze along the waterfront in Wellington. Image: LEARNZ.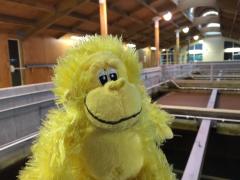 Banana watches dirt being filtered out of water at the Treatment Plant. Image: LEARNZ.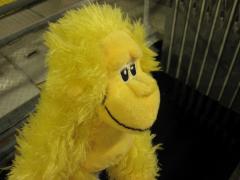 Banana sees how water is treated with UV light to kill harmful bacteria. Image: LEARNZ
Banana finds out where the water to fight fires comes from. Image: LEARNZ.