Testimonials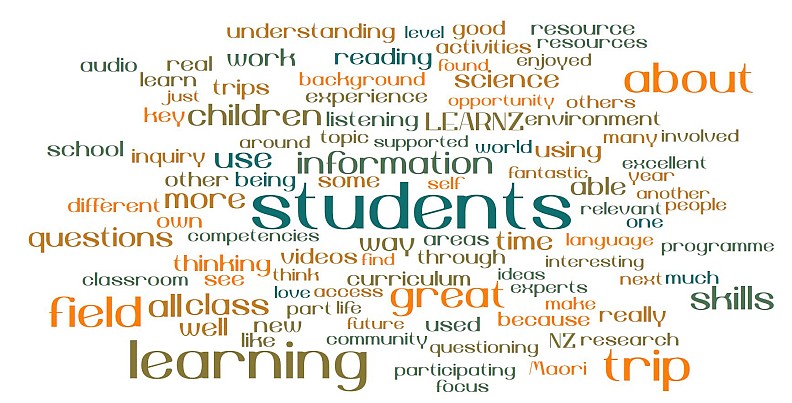 Geohazards
This Learnz Geohazards site allowed my students to work at their own pace and helped them to become drivers of their own learning.
Rachel King from St Mary's School Hokitika
Contributes to learning objective for both Earth and Space Science L2 internal and external assessment. Helped as part of the inquiry process with student-led learning. Good opportunity for managing self. 
Lucy Meagher from Havelock North High School
Excellent resource that can be picked up by all students or just one who wants to delve into an area at a greater intensity. Self regulated, great background to an area of interest. 
Matthew Satherley from John Paul College
Pitched to range of levels - many students are visual learners so the videos and photo gallery are especially useful. Ability to revisit info and to pace themselves as they read through the background notes is also good.
Robyn Gillies from Roncalli College
The field trip introduced children to real scientists, gave them ideas and stimulated curiosity. Students came to realise that science occurs in their own back yard, not just overseas.
Rosemary Benns from Rangeview Intermediate
... brought the curriculum to life. Opened the eyes of the class to all the interesting things going on around them.
Hazel Halton from Rapaura School
Students gained through the Science strand - Nature of Science - How scientists work.
Jeremy Hogue from St Gerard's School Alexandra
Up-to-date, relevant, interesting and provides a great framework for computer assisted research while at the same time students are developing social and cooperative skills. Particularly useful as we were specifically looking at Tsunami. Information is culturally relevant and there is a wide range of resources so all learners in my class can achieve, accomplish something.
Gavin Kidd from Ellesmere College
This Geohazards virtual field trip hit the nail on the head as a learning tool for Year 8 Earth Science. It has been a great chance for a small rural Northland school to see the wider world, and has broadened my horizons in terms of what is possible with my classes.
Adrian Humm from Ruawai College
We live in a geothermal area so its relevance to our community makes this field trip appropriate. The field trips are a shared social experience that provides the opportunity for students to encounter and explore novel things in an authentic New Zealand setting.
Ngareta Te Whau from Malfroy School
Our topic this term is actually civil defence and I used this field trip as motivation. Living on the lower slopes of Mt Taranaki the volcano parts were our particular focus and as my class are year 2-4 we used the fabulous videos and the photos in the gallery. The class have gained a huge understanding even from what we have used. There was a lot of information they could access with a little guidance, and they really enjoyed it. It was also easily accessed by the special needs children with their teacher aides.
Teresa Jones from Kaponga School
Memorial Park
This field trip will really emphasise to students that memorials and remembering are an essential human condition, and that the Anzac Day commemoration is nationwide. We plan to visit local memorials and attend our local service to tie in with Anzac Day.
Fiona Rice from Diamond Harbour School
Kids were amazed at the thought and influence of soldiers' personal journeys that were included in the design and symbolism in the park. Making connections with schools and viewing questions and listening to responses was great. Kids enjoyed learning about what the experts did to enable the park building project to work.
Nella Stowers from St Bernadette's School Naenae
This is by far the best learning experience we can offer 21st Century elearners. We use the iPads to follow the virtual field trip from go to whoa. This field trip definitely captured the interest of the boys in the class because it was technical, involving digging machinery, geology and archeology.
Graham Elsmore from Christian Renewal School
Linked to Social Sciences and linked well with build up to Anzac unit.
Clare Murdoch from Riverview School
Student engagement in this media platform is apparent, they love it! From students who need support through to students who require extension, Learnz field trips have been able to be implemented in the classroom to meet all needs. There was parental involvement and interest in this topic, with more learning conversations happening at home. This programme will be picked up in our senior classroom because of the success and engagement from students in my Year 2-4 class.
Katrina Laurie from Clifton Terrace Model School
The timing was good. We all want to see it (Pukeahu National War Memorial Park) if we go to Wellington. It was a really good way to learn about Memorial Park. The videos were a good length and gave us a different perspective of the construction. The website was really easy to use and didn't go off to other topics. It was level appropriate.
Julie Argyle from Harewood School
The flow on from Memorial Park 1 through to 2 was good. Looking forward to the next one. The use of some of the technical language was great. Love the interactive nature of the field trips - especially the Twitter updates! The diaries are always interesting.
Marcia Ferguson from Rosebank School (Balclutha)
We had looked at the videos from Memorial Park 1 as a warm up exercise, so this followed on perfectly. After watching the videos from last November, had a student in Wellington for the weekend and was interested enough to take parents to see what was happening with the park, to update class before the 2nd LEARNZ visit. LEARNZ field trips have become an important part of learning in my senior class. Regardless of ability, students are loving the experiences.
Gabriel Hawke from St Mary's School (Hastings)
Highly engaging, complimented our topic "Our Place". Supported many literacy skills, thinking, reflecting, questioning, discovering.
Karen Edwards from Brightwater School
Students are continuously thinking and evaluating information they are reading or viewing. They are self managing their learning and using technology to enhance it.
Ngareta T Whau from Malfroy School
Best comment was from a student who is going to Wellington and is planning to go and take a look at the construction site. It covered a range of curriculum areas and also looked at beliefs and attitudes. There was some challenging new vocabulary in this topic which was very good for the students. Other language keywords were great for low level NESB student.
Fraser Campbell from Riwaka School
The audio conferences and videos were amazing. Perfect for my class. We had all Year 8's do it together and they loved it. My class are already asking about the next one.
Tracy Cappel from Glenfield Intermediate
A LEARNZ trip has great relevance - it is NZ based, which I like, as this is our students' real world context. Te Ao Maori is often included ... giving validity to the voice of our Maori students in a positive way
Robyn Bennett from Stanmore Bay School
The material was pitched at the right level for year 7/8s and linked into our ANZAC day topic. It is a fantastic resource, easy to use and understand, and it compliments reading, writing and inquiry programmes. It is great to have the real world contexts for children to engage in.
Ryan Burson from Clearview Primary School
Pages