Testimonials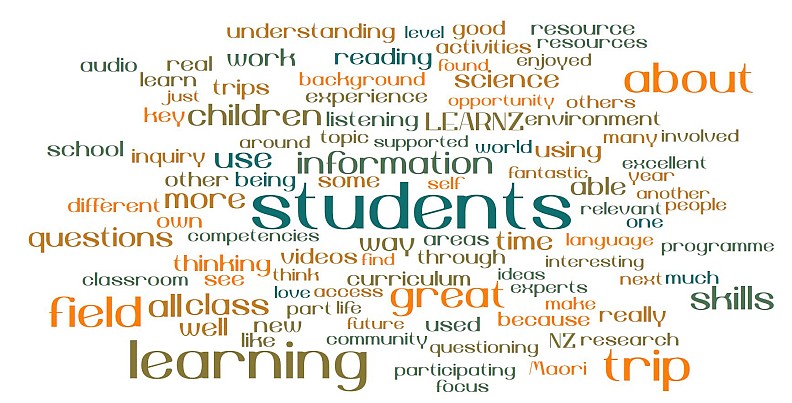 Wetland Biodiversity
The field trip supported all of the Key Competencies, attitudes and values of the NZ Curriculum, and our own school Curriculum.
Lorraine Southey from Pirinoa School
Great for our integrated units. Fun and engaging. Allows students to greater understand ICT and the topic at the same time. I was able to adapt the materials and information provided so that it aligned with our school values, structure and learning areas we are focusing on at the moment. Fantastic and well organised. Thank you.
Patrick Wyatt from Weedons School
Used to support digital devices in science at high school and an opportunity to experience the South Island. Some videos included Maori content - used as a role model for students. Pronunciation of Maori place names helped me as a teacher, as I try to improve and utilise Te Reo in the science class.
Lucy Meagher from Havelock North High School
Provides an interactive online learning website that is safe and relevant to the student's needs and interests, in regards to protecting NZ's wildlife and environment. Māori dictionary and glossary is provided and the relevance to the past use of wetlands to Māori shows respect for their ancestors and the future of NZ.
Sandra Harnett from Rangiora Borough School
It is such a great resource as all the background research has been completed for teachers and we can rely on it as being factual with the experts involved. Having a face to experts is really important for children. Videos were also most useful for a Y2 & 3 class. We are using it as a context for our Inquiry and this topic complimented our topic as it was local to our school.
Susan Furndorfler from Methven School
Students appreciate information from different, up to date sources and they can work at their pace. Allowed for differentiated learning. Good photos.
Beverley Warner from Waimate High School
I particularly used the field trip in a Science context and looking at work scientists do (science capabilities). Videos had lots of content that was appropriate to use to discuss what scientists do. Community and participation as well as ecological sustainability were principles that were supported by the wet land field trip. We had a discussion about the drought as our overarching topic this year is water. 
Britta Martin from Otari School
It is appropriate for anyone!! We had every level in our primary school- year 0-6 participating this year. It was amazing! We will use LEARNZ again because of the ignition that happens for the kids. Motivational, fun, a way for kids to take their learning home. Loved the quick responses I got from your team when I did participate in the online help.
Jennifer Wiedel from Methven School
We were studying a local waterway and were able to compare the bio-diversity between our waterway in the Far North with a fresh waterway in the South Island. The students were motivated to research their topic, find out more about their own community and particularly enjoy the audio conference and following their ambassador.
Diane Henderson from Ohaeawai School
We used the field trip as an alternative programme for our advanced readers. The students who undertook this field trip were engaged and interested in the content. We were able to select background information and activities that were suitable, yet challenging enough for our students. The use of video, with the ability to replay and revisit parts to gain a greater understanding, was helpful. They had very little knowledge prior to the 'trip', but demonstrated a great understanding afterwards.
Megan Croll from Beachlands School
Very motivating. Students were engaged.
Gillian Taylor from Cockle Bay School
Fitted in very well with our Term School focus of Kaitiaki and Science focus of Living World. Preparing for the audio conference extended our students thinking and created a whole new level of class discussions and understanding.
Richard Kerr from Avondale Intermediate
Ability to have contact with scientists and other experts provides an authentic learning experience. We were able to learn about other wetlands and compare them to our local wetlands. Great background information and resources. Thank you!
Sonjia Campbell from Mercury Bay Area School
It was a great learning experience that is still going as an inquiry! I love the interacting that occurs between the LEARNZ teacher and the children. The activities are very child friendly and engaging. The language was able to be learnt and the videos were fantastic to clarify anything. I love the use of Maori words throughout.
Alice Walker from Methven School
Key competencies were all addressed through the use of this field trip and it was easy use the material to differentiate for different learners. The LEARNZ trips are motivating for students and supporting for teachers. They are broad enough to use as the basis for many Inquiry topics and versatile enough to use over a long or short period. 
Leone Baylis from Fairburn School
I feel it covered all areas of the key competencies - I used it to foster new learning relationships within our class, and it was an excellent tool to draw out my innovative thinkers. Due to the video nature of this field trip, the students were very engaged.
Kathryn Rayson from Brooklyn School Motueka
The field trips allow me to provide an integrated literacy programme with links across the Curriculum, especially science. Everything that I use to implement the field trip within my classroom programme is clearly laid out and available on the website - thank you!
Katrina Laurie from Clifton Terrace Model School
You bring the outside world to us! Boys especially are absorbed by the videos and discussions with scientists - you help turn them on to learning. The field trip helped us connect and participate with our community and is making science real and meaningful.
Jennifer Kitchin from Weston School
My students loved learning about the animals in the wetlands and why they are important. I have used the field trip integrated into my planning and programme.
Cheryl Isherwood from Methven School
Students got to continue to learn about the environment (following on from involvement in the Virtual Great Walks field trip). The detail and facts included in the background pages made things more interesting to read (or listen to!).
Marcia Ferguson from Rosebank School Balclutha
It is a great way to motivate students and it was set at the approximate age and interest. The virtual field trip was effective and we are planning a field trip to our local wetland area next term.
Pamela Furze from Roto-O-Rangi School
This is awesome (one student, Jack, many times over)! Being my first Learnz fieldtrip I was a learner too, and found it well prepared with invaluable information to add to our Wetlands unit. The managing self aspect came into play here as well for my Year 4-8 class.
Tanya Stone from Ngutunui School
Real life visuals and information were very specific and had a greater impact on my students and myself then scrolling through unlimited amounts of information via search engines. It supported my students learning with in-depth knowledge on worldwide topics from within New Zealand. Learnz caters for all learning needs. Totally appropriate.
Nick Sakaria from Finlayson Park School
Great for Maori and Pasifika students and ESOL.
Anthony Cairns from Wellington High School
Students were engaged. They went on to the website in their own time, of their own accord as well as at school and shared this learning with their families. It was great having the different levels (L.1-2 and L.2-3) to chose from with the activities so I could cater for the different needs in my classroom. Having an ambassador was also very engaging for students. Great coverage of a topic. Easy to use. Engaging. Student led learning. Caters for different levels. Māori content. ICT use. Good effective learning.
Te Ireland from Karoro School
Pages