Testimonials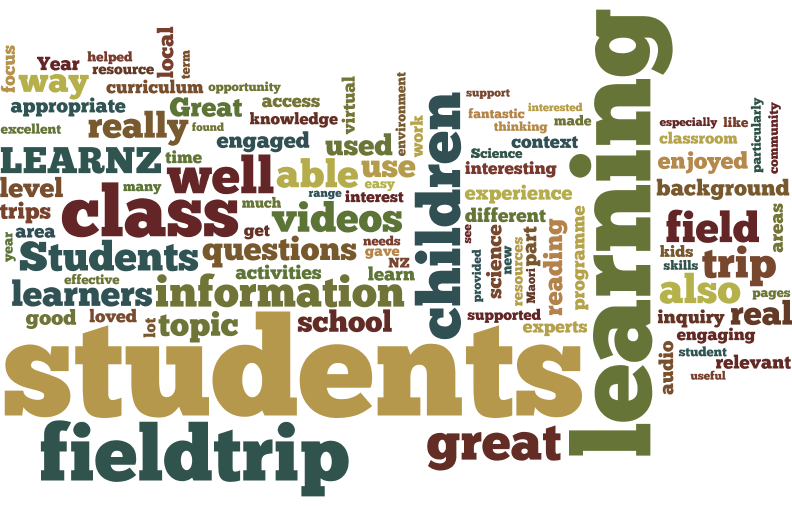 Map my Waahi
Love the links to tikanga and Maoridom - something that is a focus for us as  school right now, but can be hard to do in an authentic way. This field trip helped us to achieve that. Students also hadn't thought of 'mapping' beyond the one on the wall so this opened up a whole new world for them.
Jessica McConnell from Mount Hutt College
Adapting after Emergencies
This field trip ended our term long unit on preparing for an emergency. It was spot on for my year 4-5 class, giving us a chance to hear from experts and people who experienced the earthquake. It also allowed us to ask questions and clarify our understanding. This has opened another door for me. It was so interesting, meaningful and relevant. It shows how technology can be used to extend learning. The students loved it - all rating the experience 9 or 10 out of 10. Thank you.
Nicola Bennett from Wanaka Primary School
Living in Kaikoura it was good for my students to be able to look back and see how far they have come. It is so great to have the work done with linking it to the NZC.
Rebecca Macer from Kaikoura Suburban School
The field trip has been a great next step in learning from experts and hearing stories from our own back yard. Each morning of the field trip the kids have arrived enthused and ready to see what Andrew will be sharing with us today.
Katie Halvorsen from Wanaka Primary School
Great Safety management ideas came through and layering on what we've learnt in Stan the Plan Learnz. Kia Pakari resource was fantastic. We had some great discussions on how different people help in the community and key messages endorsed such as - have a grab bag etc.
Tracey Thomson from The Clan in a Caravan Homeschool
Matched well with the NZ Curriculum in Social sciences and Planet Earth science. My children did enjoy using the Maori vocab.
Helen Voice from Kaikoura Primary School
This field trip covered Science and Social Sciences and gave the students the information they needed to be able to make personal links to the learning. LEARNZ takes our learning and understanding beyond anything we could hope to offer our students - the field trips are a valuable part of our global learning program.
Teresa Jones from Waitoriki School
Students were engaged with the topic and it was great having experts to answer their questions. Interactive activities have been helpful to scaffold learning for all students.
Michelle O'Neill from Verdon College
We had a fantastic time. This field trip was great for leveraging digital in such a meaningful way. Students learnt a lot that they could talk about afterwards and it gave them meaning and context. They really like hearing from and seeing other children.
Jennifer Croxford from Wanaka Primary School
Kōkako
Authentic context and linked to our inquiry for term 2. Useful for promoting Key Competencies - we used thinking, managing self, participating and contributing.
Kathleen McIsaac from Cambridge East School
LEARNZ field trips like Kōkako are great for inquiry projects to show children another way to find information and to feed into passions.
Bernadette Ballantyne from Mercury Bay Area School
Students interested, good to have Māori view, overall great learning for kids. Relevant and NZ based learning about the Living World and conservation.
Robyn Bennett from Stanmore Bay School
My students felt like they were there. It helped my students to connect with real life issues that are occurring now in real time. Great connection with tangata whenua.
Daniele Cuthbert from Edgecumbe School
Very appropriate, as it linked into our theme on Change - and the students were engaged. It connected to the science curriculum - Level 3 objectives of Ecology and Evolution.
Colin Lambie from Karori Normal School
This Kōkako field trip heavily support our focus on māori perspectives and tikanga practices surrounding nature and our syndicate mountain. The videos and background sheets are also excellent and catered for the range of levels in my class.
Stacey Vowles from Tamahere Model Country School
I like the way that it has opened our learners' eyes to the use of experts to support your inquiry. It has also been a powerful tool for getting students used to the idea of 'actioning' something as part of an inquiry.
Blake Walker from Greytown School
Helped us engage with community - parent feedback was positive. Students engaged and study was also relevant to Treaty of Waitangi - returning taonga, plus Social Studies/Science/Technology.
Alison McCartie from Waitetuna School
It was good for our students to apply principles we have been learning to the kōkako and Mt Pirongia. Videos were great and also great to include a context from our local area, with corrrect pronunciation of Māori terms
Melissa Young from Hamilton Girls' High School
We had very little knowledge on the kōkako before but the boys will tell anyone who will listen about them now. Also, one of the biggest advantages is discussions generated from the resources for critical thinking. An amazing resource - thank you, we are all learning together!
Tracey Thomson from The Clan in a Caravan Homeschool
The project itself was great. It was interesting and my science students were really engaged from the outset. The website was awesome but one of the greatest things was the communication with the organisers and scientists.
Jessica O'Boyle from Wellington Girls' College
Pages