Testimonials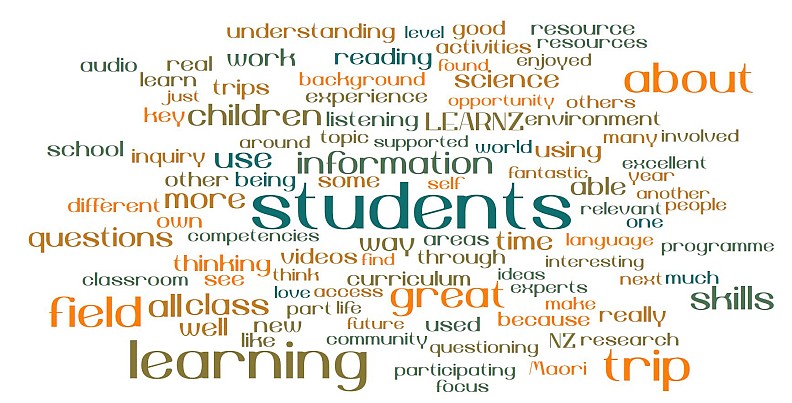 Unpacking the apple story
Great to have a primary industry field trip - this provided a great range of videos as starters about the apple production process for Level 3.
Kerry Allen from St Paul's Collegiate Hamilton
My science students used this apple story to make great connections, which generated a lot of discussion and further research. LEARNZ is a fantastic resource and teaching tool enjoyed by many of my students.
Seuga Frost from Otaki College
This Apples field trip was highly inclusive and supported students with different learning styles and learning challenges - great to have reading support on the site. High engagement, helps develop intrinsic motivation in my students as well as inspiring them.
Louise Trousdale from Pukeoware School
We have been learning about sustainability in horticulture, so this was perfect for our class learning and could not have been timed better. The field trip allowed our class to experience the entire industry from a safe environment. It encouraged self-management and enabled us all to rewind our learning.
Petra Cawood from Te Mata School Havelock North
Matariki and Navigation
We were studying Matariki as a whole school so this field trip was fantastic!
Jennifer Dodson from Rangikura School
Absolutely fantastic experience. Complimented the work we were doing with School Kit. Supported all key comps, real learning for the kids, integrated into many learning areas, authentic learning.
Suzanne Crockett from Ngakuru School
Perfect fit for our learning. Students really responded to this teaching medium. It met our AO about understanding cultural aspects - stars / navigation, understanding signs and symbols, participating and contributing, and thinking. Also helped a special needs student to shine.
Tanya August from Havelock North Intermediate
Great for inquiry learning about Matariki and a good link with Tuia 250. Helpful to be able to replay the videos and do the quizzes to check learning and retention in a fun interactive way.
Jean Waretini-Paul from Mercury Bay Area School
Perfect timing for Matariki. Tamariki were very connected with this field trip. Strong Social Sciences link around cultural ways of knowing.
Denise Barrington from Kerikeri Primary School
The kids loved seeing our ambassador and reading her diary. Thank you.
Nicola De Vries from St Albans School
Excellent that students could replay the web conferences, as they can view later to find answers to their questions and hit the pause button as often as they need.
Sandra McKendry from Seddon School
Students were excited to go on this virtual field trip and really enjoyed using Google maps. They were motivated to do the activities, which utilised all key competencies and encouraged multiple learning styles.
Megan Connolly from Arahoe School
It was a lot of fun and very valuable learning. It took a lot of the research and planning out of my hands and allowed me to learn alongside my students.
Kellie McGinlay from St Mary's School Blenheim
Natural Hazards
From the NZC, all Principles, Values covered in the programme, Key Competencies all used to reinforce learning; Science - natural hazards - future focus.
Helen Gibson from Hilltop School
It got the children thinking about volcanoes and earthquakes in NZ. Clear topics and answers were in kid talk.
Alison Ferris from Rangitoto School
It was effective and was presented in such a way that it was really enjoyable, and the learning appropriate. LEARNZ trips give a great insight into the world and allow us to see and learn things we otherwise would not. Great learning tool - making learning real.
Elley Mullany from Mullany Homeschool
We absolutely loved this Iceland field trip and got so much out of it, that it took over a very intense 3 weeks of our learning. The content was so well pitched that all our children from year 1-8 could understand and learn from it.
Teresa Jones from Waitoriki School
It has been fantastic for children to speak with experts. Sending our ambassador this time just made it all so real. Such an excellent teaching resource. Nothing like it anywhere else.
Dorothy Hutton from Columba College
It was at a perfect level for Level 3 to 4 of the Curriculum with extension opportunities. We participated live in one web conference but being able to replay all the web conferences was awesome! Took away the need for all the paperwork now needed for any outdoor education trip!
Joanne Haselden from Orewa College
The field trip gave my students a good hook into volcanoes and natural hazards. It supported the science learning area well. Watching the scientist's plane trip sparked my kids curiousity, as did the trip up the volcano.
Sarah Hey from Northcote School
Supported collaboration, inquiry, and taught specific knowledge about the subject.
Richard Baylis from Hawera Intermediate
I loved that the children were involved in creating the content by writing the questions for Ben and Shelley. Matched our inquiry concept of "Change" perfectly. Encouraged lots of 21st century skills and great learning.
Kate Hamill from Masterton Intermediate
It was really engaging and held the students' interest. The online support was fabulous, as there was a lot of support and different material and ideas.
Louise Lynch from Belfast School
Absolutely ideal for my year level 3 & 4.
Seuga Frost from Ohau School
The field trip allowed the children to dig deeper than just volcanism in Iceland. Students followed up with research on NZ Geology and experimenting making ther own lava, like Ben does in his lab!
Siobhan Connor from Masterton Intermediate
Pages