Testimonials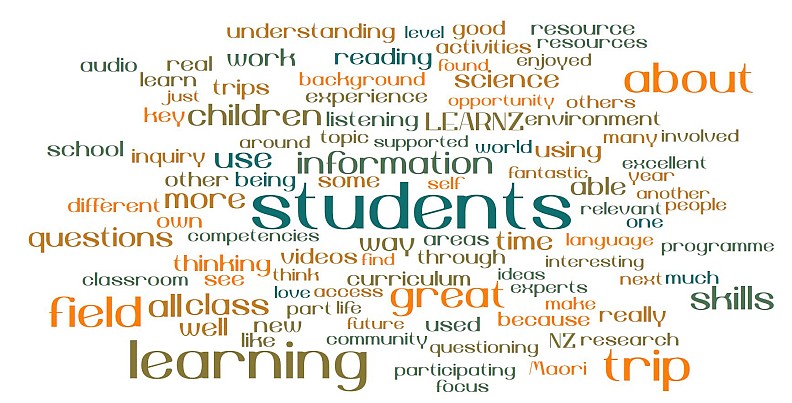 Freshwater Ecology
We found it really interesting and helpful towards our inquiry topic "Wai Care". It gave us a whole new perspective on nature and wildlife. We enjoyed feeling like we were out there with you experiencing it. LEARNZ ... helps all learners.
May Pullar from Havelock North Intermediate
Following the Inquiry model for the field trip meant students were co-constructing their own learning. It provides current and informative resources. Students were able to form good research questions.
Isobel Huggard from Katikati College
Our students loved being able to manage their own learning from the website and being introduced to new experiences such as the audio conferences. Great for the learners who have difficulties with literacy - easy background and listening features are excellent for them.
Susan Andrews from Cashmere Primary School
We were teaching about NZ Rivers as a module class, combining Science and Social Studies, so it fitted the achievement objectives perfectly for our subject areas. Awesome!
Sarah Barge from Mountainview High School
Effective because it took my class to a place that they would not necessarily get to in reality. Provided good information at an appropriate level.
Douglas Drysdale from Bunnythorpe School
We use material from completed field trips (Freshwater Ecology and Whio) on school camp at Tongaririo which provides excellent, authentic, high motivation support for our Year 7 students and relates well to our similar interets in Taranaki. I certainly appreciate the quality of the online resources that LEARNZ have produced. Thanks very much to the LEARNZ team.
Andrew McAllister from Sacred Heart Girls Collge New Plymouth
It tied in with our statistics unit, collecting data and using it to make a difference and to advise. My class love when they can view things through the data projector and it was helpful to generate discussion. Students were kept motivated and were also interested in the jobs available in this field. LEARNZ fits with all learners.
Caroline Arthur from Opawa School
As we are going to all these places for our school camp in September it was awesome to give them some background and really light the fire of the students. The activities were at the right level and there was a range of interesting things to do. The kids were very enthusiastic and were looking forward to each new day and what was happening to the experts. The learning they got from it was very real. I have got some amazing writing from the students as they try to explain complex terms like ecology and such like. It was a really good experience for me and my class, they learnt a lot about the topic and themselves. Brilliant. Have already recommended to many colleagues both in my school and at other schools.
Gregory New from Rukuhia School
Having a variety of reading levels and activities helped the children to participate well. I have Pasifika children who thoroughly enjoyed the trip and participated fully - even forming the questions and talking on the audio conference. It gave us an opportunity to do some learning that was way outside our resources and actual ability to 'be there'. It gave a wider perspective to our thinking about water.
Jane Sutherland from Cornestone Christian School
The experience that my students got was fabulous. They gained skills in manaakitanga, independent learning, and the ability to refine questions through inquiry. All my students, in particular my boys, thoroughly enjoyed the activities  Beforehand, a lot of my students did not understand the magnitude of sustainability but there was lots of information that helped students understand it in the context of freshwater ecology. As a bi lingual class my students enjoyed using the Māori kupu in our word wall, using them in conversations with their peers and asking lots of questions about the Māori kupu in general.
Trina Bennett from Finlayson Park School
Outstanding programme. Children were able to visit another locality and compare it to our work with DoC on our local river. Added an extra dimension to our Inquiry. Our special needs students enjoyed the visuals and were able to contribute to class discussions.
Julie O'Neill from Opawa School
It is real time, here and now as well as New Zealand info and presenters which all makes it more authentic learning for children. The field trips offer current visual, aural and authentic learning for children, without a huge amount of time and preparation on the teachers part. The teacher can learn along side the children.  It's easy to access, well planned and organised and encourages a passion for our beautiful country.
Anneke Esselbrugge from Rukuhia School
Supports the school curriculum in innovative ways. We live in this area and students recognised many visual features and people interviewed. It reinforced classroom learnings as it linked to this term's curriculum studies.
Helen Gibson from Hilltop School
Wetland Biodiversity
You bring the outside world to us! Boys especially are absorbed by the videos and discussions with scientists - you help turn them on to learning. The field trip helped us connect and participate with our community and is making science real and meaningful.
Jennifer Kitchin from Weston School
Students were engaged. They went on to the website in their own time, of their own accord as well as at school and shared this learning with their families. It was great having the different levels (L.1-2 and L.2-3) to chose from with the activities so I could cater for the different needs in my classroom. Having an ambassador was also very engaging for students. Great coverage of a topic. Easy to use. Engaging. Student led learning. Caters for different levels. Māori content. ICT use. Good effective learning.
Te Ireland from Karoro School
Supported inquiry questions. Connections were made between areas visited on the virtual field trip and local known areas. Questions that accompanied videos matched the questions students had in discussions.
Gabriel Hawke from St Mary's School (Hastings)
Students got to continue to learn about the environment (following on from involvement in the Virtual Great Walks field trip). The detail and facts included in the background pages made things more interesting to read (or listen to!).
Marcia Ferguson from Rosebank School Balclutha
This is awesome (one student, Jack, many times over)! Being my first Learnz fieldtrip I was a learner too, and found it well prepared with invaluable information to add to our Wetlands unit. The managing self aspect came into play here as well for my Year 4-8 class.
Tanya Stone from Ngutunui School
The field trip dove-tailed nicely with a trip we made to a wildlife reserve and reading material covered in class. Students were able to make connections with prior learning and consider some of the threats to wildlife with a view to how they could make changes or take action to make a difference. I have learners with a range of needs and some particularly benefit from having learning presented digitally.
Cara Carser from Westburn School
Real life visuals and information were very specific and had a greater impact on my students and myself then scrolling through unlimited amounts of information via search engines. It supported my students learning with in-depth knowledge on worldwide topics from within New Zealand. Learnz caters for all learning needs. Totally appropriate.
Nick Sakaria from Finlayson Park School
I LOVE the trips, as do my students. They are fun, relevant, interesting, and informative. The videos are fantastic as usual and so informative. Those who are interested were given the class log in details and they are watching the videos at home with family. I have had several comments from parents about how much they are all enjoying them.
Caroline Arnold from Lepperton School
Great trip well presented by all involved. The topic of water and conservation of wetlands will effect all New Zealanders. Great information at appropriate reading age.
Stuart Cooke from Queenstown School
Embedded LEARNZ and then went on our own field trip to Cleardale Wetland. More on my Blog.  
Stuart Cooke from Methven Primary School
It supported excellence, high expectations, learning to learn, diversity and environmental sustainability, as well as the NZC level 4. It ticked all our Level 4 boxes. Great resource. My class can't wait to use it again.
Stephen Wood from Greymouth Main School
The field trip provided good enrichment activities with plenty of scope for differentiation. The classes were involved, interested and thinking. They were able to relate the videos to their own experiences and knowledge. The field trips are useful for working collaboratively with other teachers and also as a basis for an enrichment model of gifted and talented education.
Leone Baylis from Fairburn School
Pages