Diary 2
Date:
Tuesday, April 28, 2015
Field Trip Name:
Geohazards
Field Trip Place:
Marlborough
Weather:
Cold with showers

It felt more like winter today with a bitterly cold southerly wind blowing into Kaikōura. Rob Langridge from GNS Science had arranged to meet you at the fur seal colony not far from the town centre, so you had to brave the weather. Rob is an earthquake geologist and he has planned your geological road trip to take in some of the best geology of the area. You may have been wondering what seals have to do with geology but then it all became clear when Rob took you up to the lookout above the seal colony. This is a great place to get a view of marine terraces which have been uplifted by plate tectonics.
Plates on the move
The Earth's surface is divided into about seven large tectonic plates and several smaller ones. The heat in the Earth's molten mantle causes convection currents which provide the energy to move these plates. This movement along plate boundaries, and smaller breaks in the crust called faults, can lead to earthquakes and volcanoes. Rob described this plate movement as the engine room for earthquakes because this is where the energy for quakes comes from. If there was no plate movement there would be no earthquakes.
It is also this movement that pushes land upwards. Rob showed you three different terraces which were once wave cut platforms at sea level that have been pushed up at different times in the past. These three terraces are evidence of three different periods of uplift in our geologic history. You can see this in the video.
It had started to rain so we headed back to the shelter of the car to speak to Fordell School in the audioconference. They had interesting questions about landslides. You can listen to a recording of this and the second audioconference with Valley School about earthquakes.
Earthquakes everyday
Earthquakes usually occur along faults which are areas of weakness in the rock where movement can occur. Sometimes the blocks of rock on either side of a fault suddenly shift to a new position in just a few seconds. This sudden release of energy sends out waves, which are felt on the surface as an earthquake. The strength of the earthquake depends on how much of the fault has shifted. Long fault lines can produce larger earthquakes and the shaking lasts longer.
Earthquakes are possible in many parts of New Zealand and over 600 active faults have been located across the country. Every year over 14,000 earthquakes occur in New Zealand, meaning everyday there are earthquakes. About 100 to 150 earthquakes are large enough to be felt each year. We only know about the others because they are recorded by seismographs.
Tsunami
As you headed back towards Kaikōura Rob talked about another type of geohazard that could affect this area. Tsunami are waves created by movement under the sea floor which displaces water in a surge or wave. Most large tsunami are caused by undersea earthquakes but undersea landslides and volcanoes can also cause tsunami. 
Rob pointed out to sea where the Hope fault is and explained that if a rupture on the fault happens there then it could generate a tsunami. Tsunami can be very dangerous so it's important to know what the warning signs are. If you are on the coast and the sea suddenly draws back or if there is a large earthquake which makes it difficult to stand then you should move to higher ground. The earthquake may be a long way away so may not feel strong, but if it lasts for more than a minute you should also move to higher ground. Sometimes there will be no other warnings and sirens may not go off if the tsunami is generated close by. Tsunami can travel at 600-800km/hour.
The Hope Fault
After talking about the Hope fault Rob was keen to take you to an area where you can actually see the fault. The Hope fault branches off the Alpine fault and is capable of producing large earthquakes. Inland from Kaikōura near Greenburn Stream you can see an obvious line of raised ground. This is part of the Hope fault scarp where land has been pushed up during earthquakes. Watch the video to see this and find out more about this large active fault.
Landslides
Your time in Kaikōura had come to an end and you had to head north for the second leg of your geologic road trip. As you drove along the coastal highway you could see old landslides so Rob stopped to have a closer look. This area is prone to landslides as it is steep, the forest has been removed for farming, and the rock is soft. Heavy rain and earthquakes can trigger landslides and many areas alongside the road had slipped. Further north trees had been planted to try and stabilise the land. You can watch the video about landslides.
It started raining again as you drove to Blenheim and dark clouds made it feel much later than it was. Hopefully the weather will be better tomorrow so you can get out and about around Blenheim.
See you then,
Shelley the LEARNZ field trip teacher.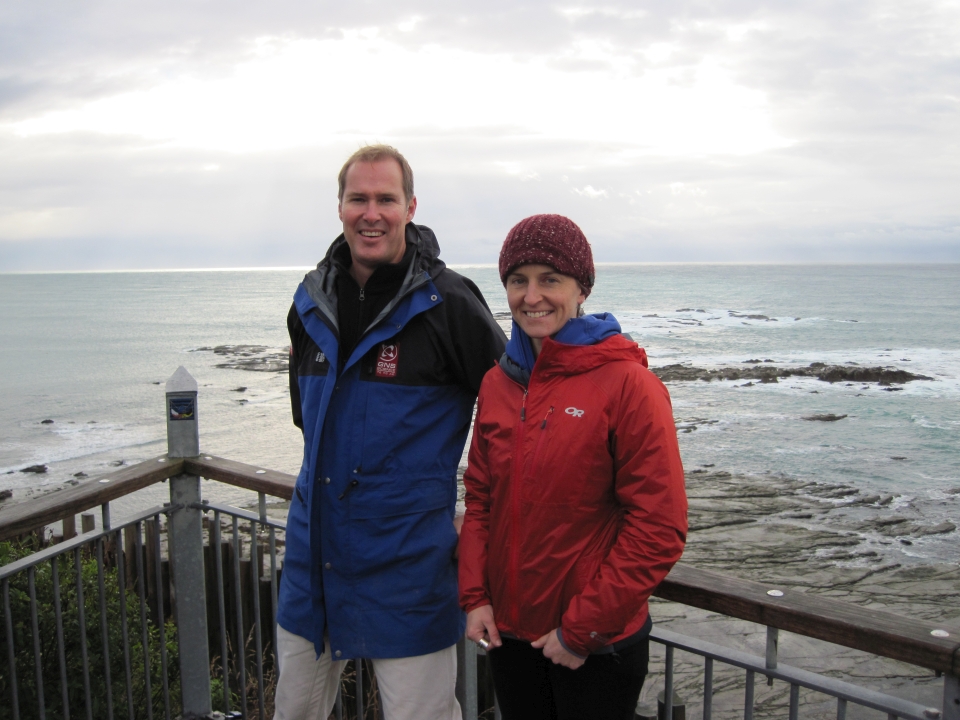 Rob and Shelley check out the view above the fur seal colony in Kaikōura. Image: LEARNZ.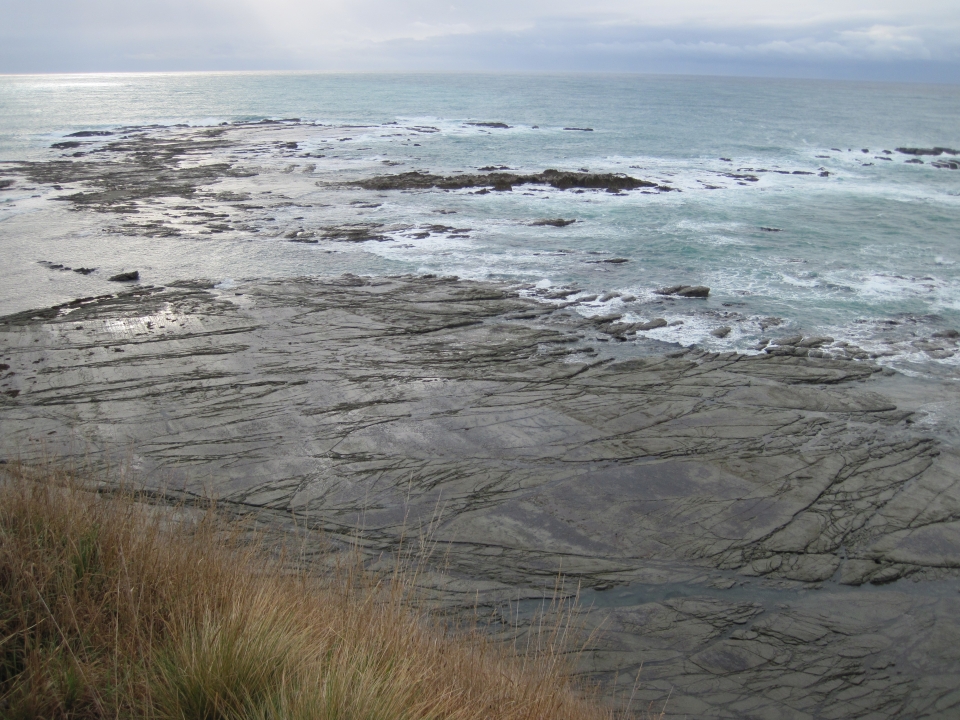 Looking out over the wave cut platform in Kaikōura. Image: LEARNZ.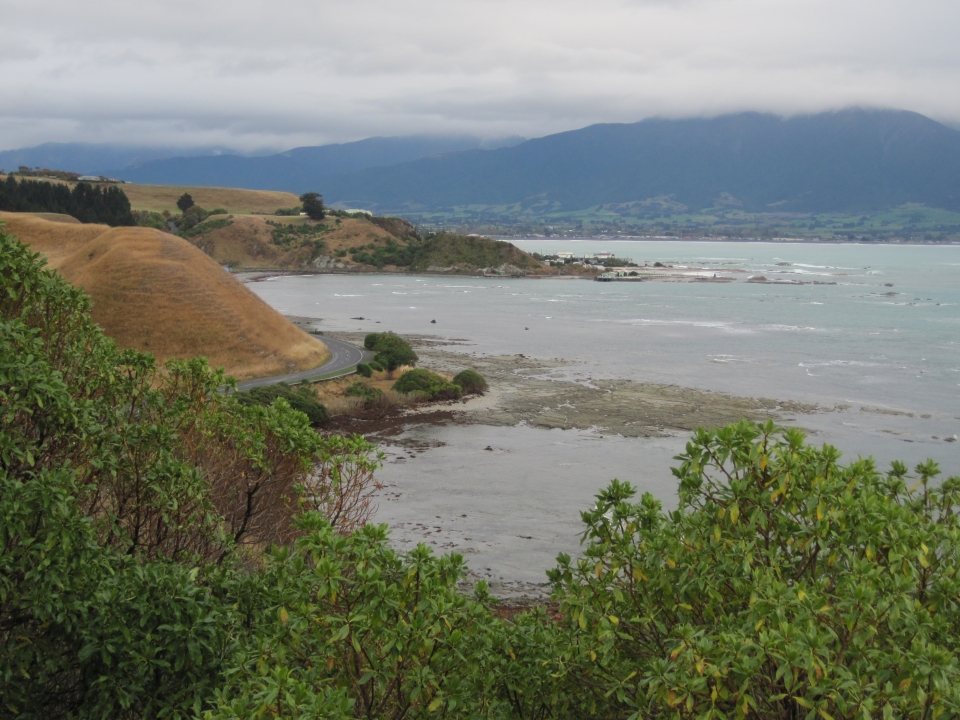 You can see three terraces on the hill in the middle of this photo. Each terrace has been uplifted from the sea by plate movement. Image: LEARNZ.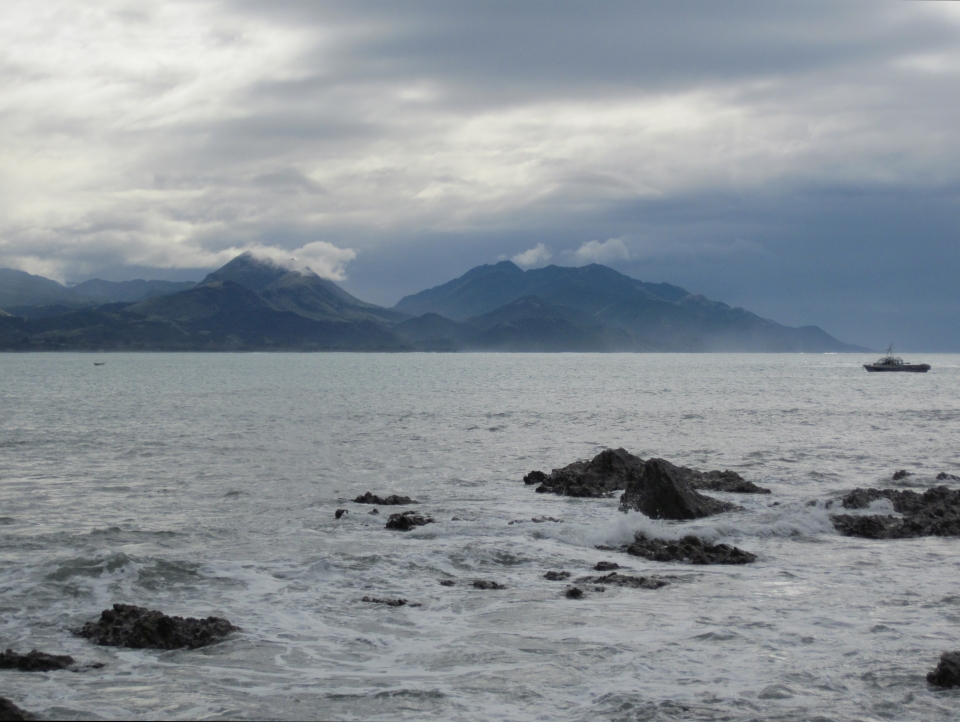 The Seaward Kaikōura Range has been uplifted by plate tectonics and a series of earthquakes over thousands of years. Which New Zealand mountains are not the result of uplift? Image: LEARNZ.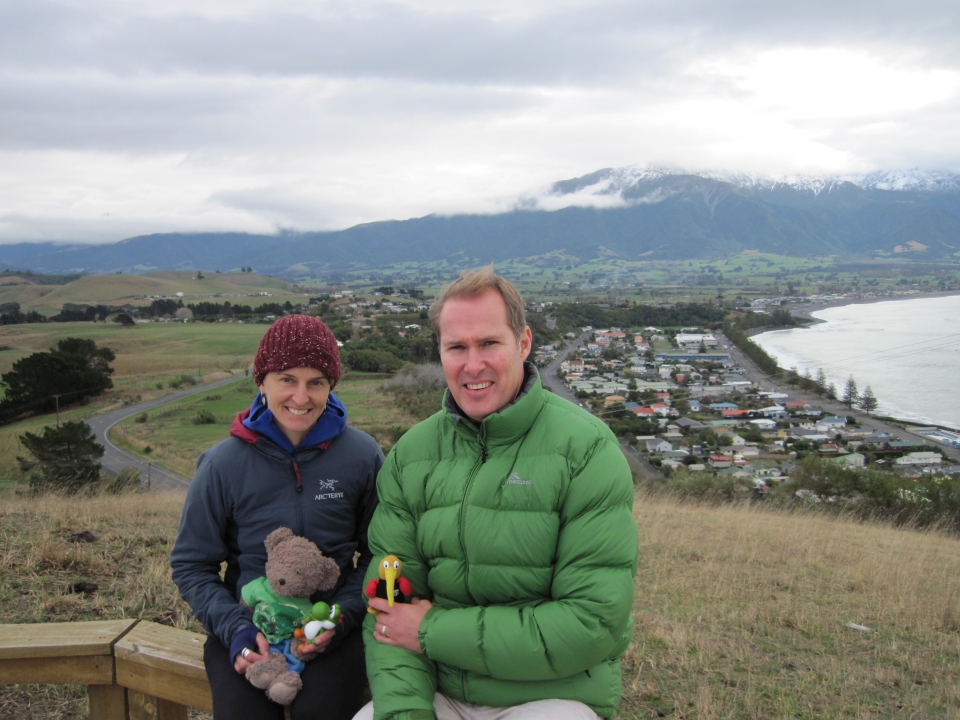 Rob takes Shelley and the ambassadors up to a lookout to find out more about Kaikōura's geology. Image: LEARNZ.
The Hope fault can clearly be seen in this photograph as a hill or scarp. Image: LEARNZ.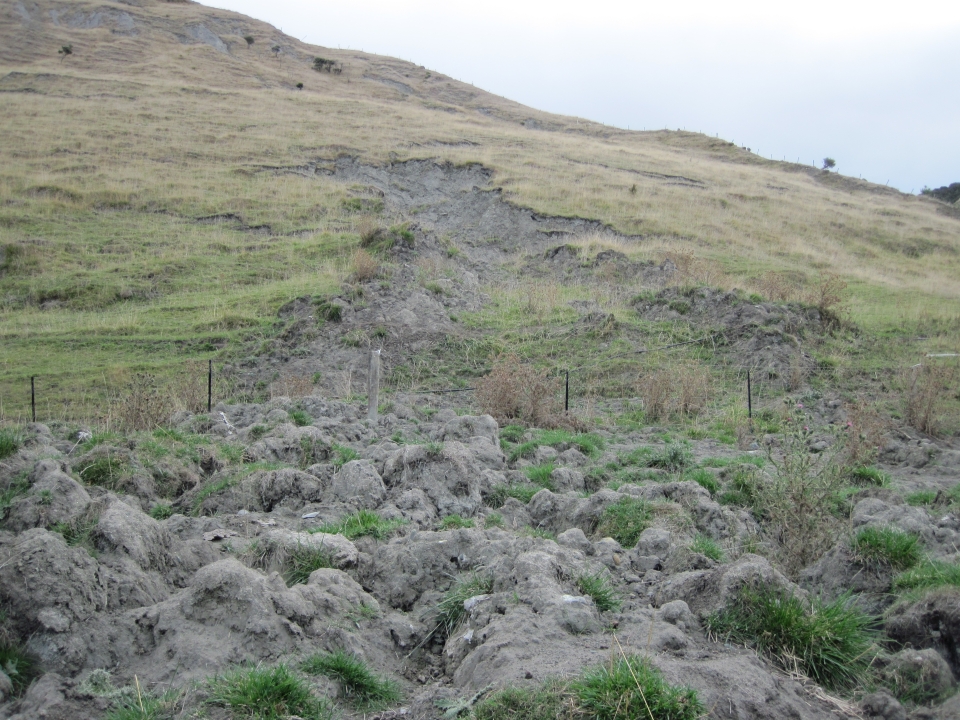 This landslide happened recently during heavy rain. Why do you think this area is prone to landslides? Image: LEARNZ.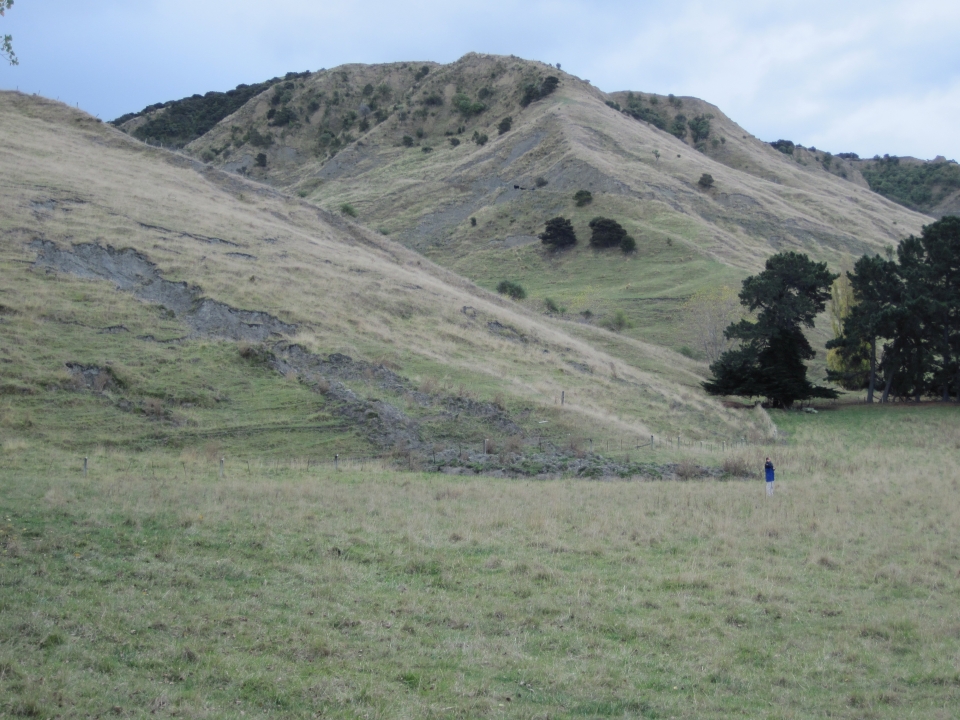 You can see the size of this landslide with Rob standing at the toe of the slide. How many metres long do you think it is? Image: LEARNZ.