Ambassador Alfred
Hi there,
My name's Alf.
I'm from the stunning coastal town of Whitianga, on the Coromandel Peninsula. I can't wait to travel all the way to Franz Josef on the West Coast of the South Island to find out more about the Alpine Fault and geohazards. I know that this field trip will help me to prepare for possible earthquakes, landslides and tsunami... hopefully we won't experience any of these first hand on the field trip!
Talk soon,
Alf.
Monday 8 August
Kia ora,
I hardly slept last night because I was so excited about beginning the Geohazards field trip. We had to get up early to catch our flight and there was another good frost in Dunedin, so it was a chilly start to the day.
The flight north to Christchurch was amazing. I even managed to spot our highest mountain, Aoraki Mount Cook.
There was heaps of snow on the way to Arthur's Pass and I couldn't believe how cold it was! We will spend the night here in the mountains that have been pushed up along the Alpine Fault.
Talk to you tomorrow,
Alf.
Tuesday 9 August
Kia ora,
Despite a chilly -9 degree start this morning we had a great day. The sun shone brightly and we were able to enjoy the amazing West Coast scenery. I learnt about why we have earthquakes. Earthquakes happen when a fault builds up stress as the land around it moves until eventually the strain is too much and the fault breaks or ruptures causing an earthquake.
The Alpine Fault is New Zealand's longest fault and can even be seen from space! I am looking forward to finding out more about this fault tomorrow.
See you then,
Alf.
Wednesday 10 August
Kia ora,
I have been looking forward to today because we had planned to spend time out on the coast. We drove out to a little place called Ōkārito which is a stunning lagoon where kōtuku can be seen. Because Ōkārito is on the coast it has had tsunami in the past. Scientists know this because they can see when trees have died or been damaged by studying tree rings and dating old tree stumps. They have also found layers of sediment brought in by the tsunami.
I learnt that landslides are one of New Zealand's most common and costly geohazards and that there will be lots of landslides following the next Alpine Fault earthquake.
Tomorrow we are off to Franz Josef. See you there.
Alf.
Thursday 11 August
Kia ora, 
I couldn't believe how cold it was when I first got up this morning. It was really frosty but then when the sun came up it quickly warmed up. We went to see the Franz Josef Glacier today, it wasn't nearly as big as it was in the old photos I have seen. 
After visiting the glacier we had a look around the town and found where the Alpine Fault crosses underneath the main street! We could see why it is so important for people living here to have an emergency plan and try and move some buildings away from the fault zone.
It has been a busy week and I have had a great time but I'm looking forward to arriving home for a rest.
See you soon,
Alf.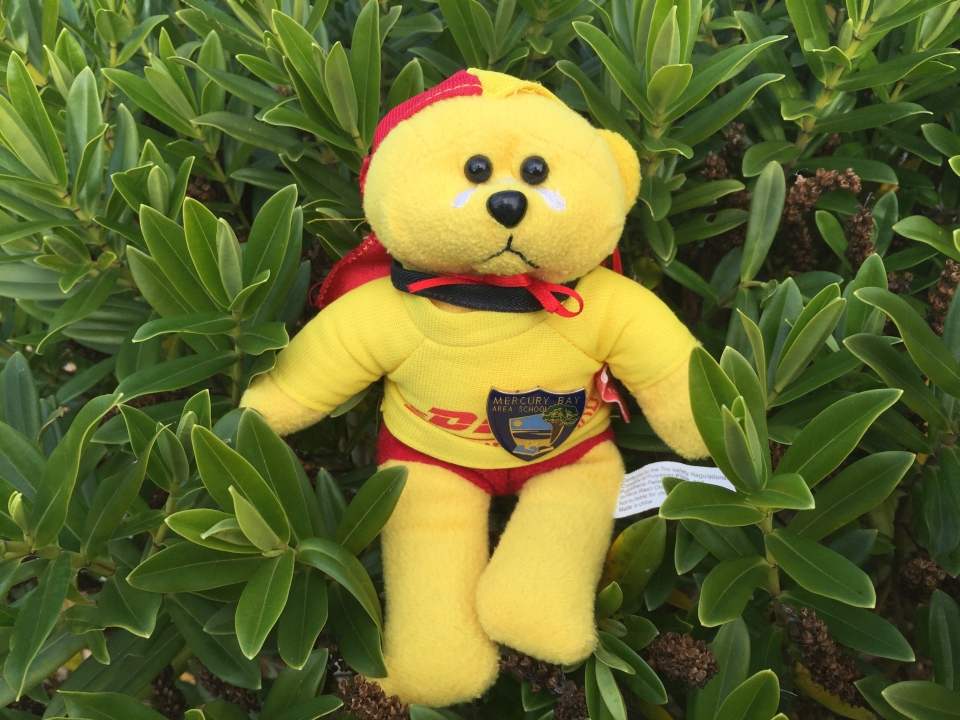 Alf is proud to represent Mercury Bay Area School on the Geohazards field trip. Image: LEARNZ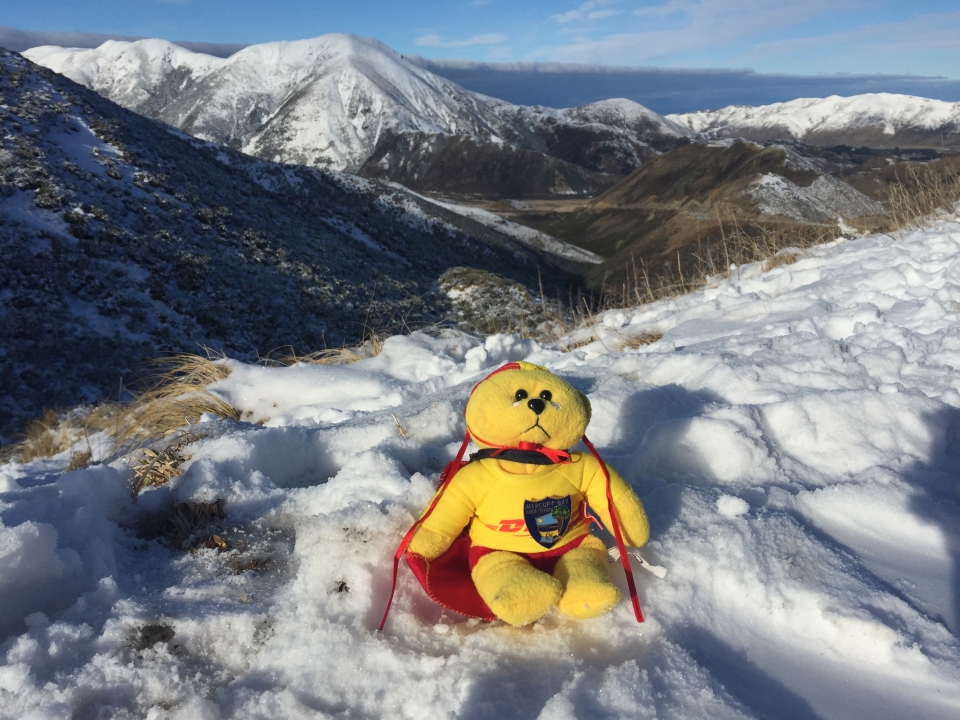 Alf plays in the snow at Porters Pass. Image: LEARNZ.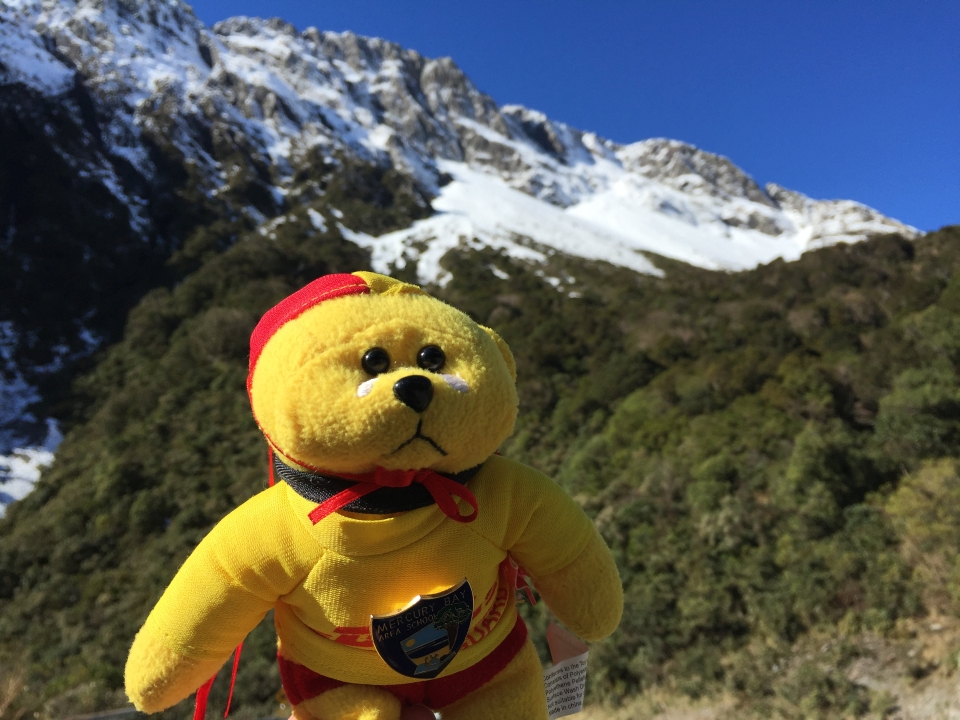 Alf enjoys exploring Arthur's Pass. Image: LEARNZ.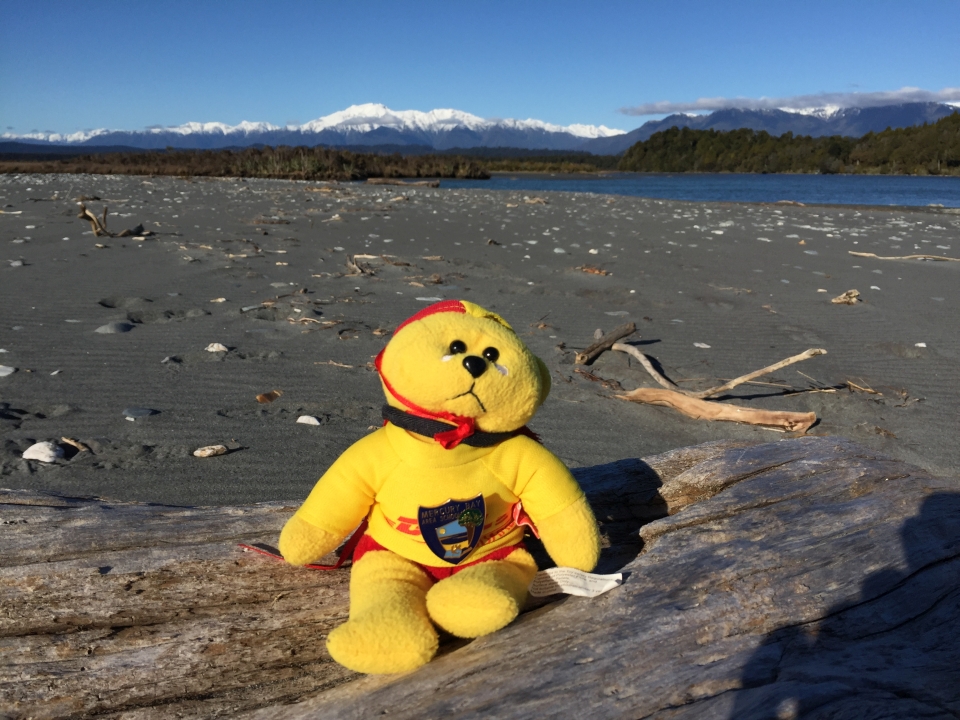 Alf takes a look around at Ōkārito. Image: LEARNZ.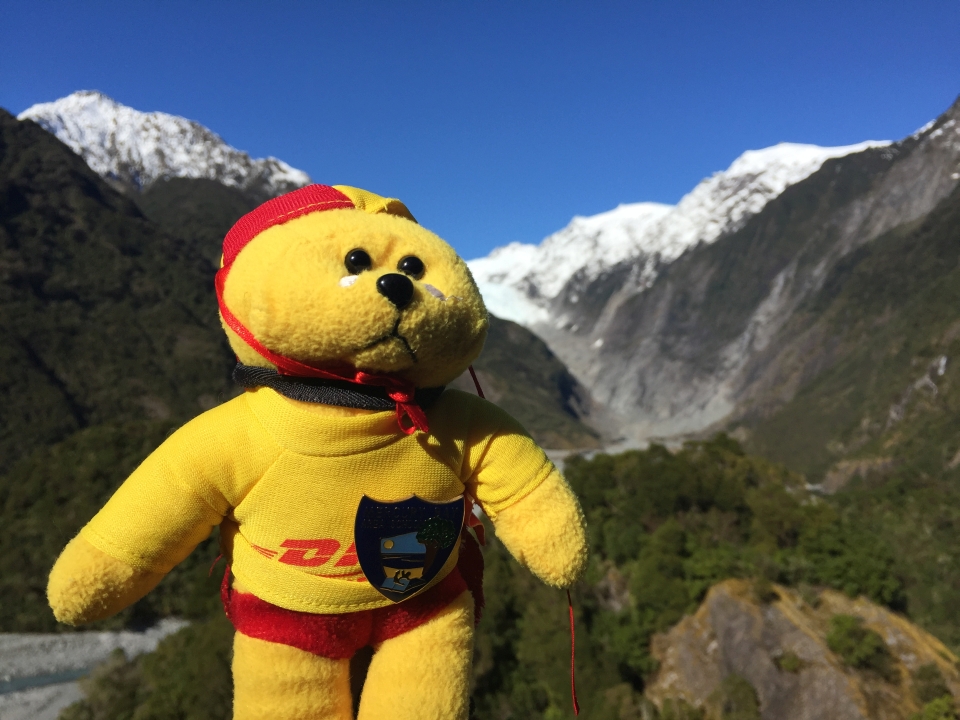 Alf walks up to a lookout to take a look at the Franz Josef Galcier. Image: LEARNZ.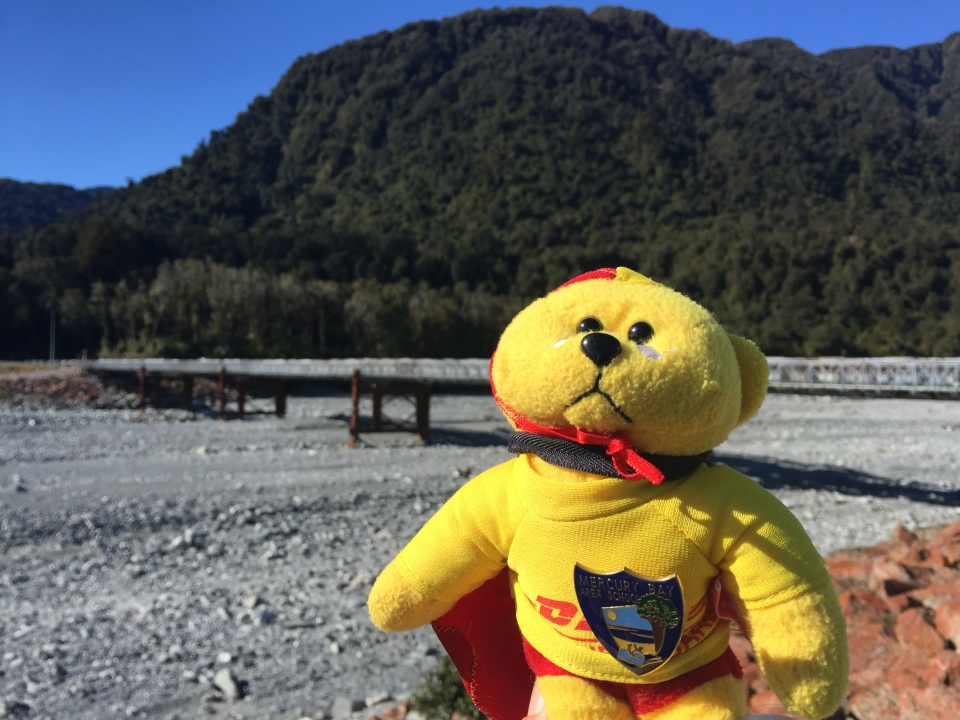 Alf beside the bridge over the Waiho River just outside the Franz Josef township. Image: LEARNZ.