Ambassador Alvin
Kia ora koutou,
I'm Alvin one of the LEARNZ ambassadors. 
I am really excited about taking part in another year of LEARNZ adventures. If you join me you can come and visit out of the way places that you wouldn't otherwise be able to experience.
You can join me on a journey to the West Coast to investigate geohazards such as earthquakes, landslides and tsunami. You will discover more about the Alpine Fault which is one of the fastest moving land faults in the world and learn how to prepare for an Alpine Fault earthquake.
I would love some company on this trip so if your class has an adventurous ambassador who would like to join me, sign them up now via your MyLEARNZ control panel.
See you there,
Alvin, the LEARNZ Ambassador.
Monday 8 August
Kia ora,
I never get sick of flying, especially on days like today. We had fantastic views out over the East Coast towards the mountains. There is heaps of fresh snow around and it made the mountains look even bigger and more rugged. 
As we drove west from Christchurch it became even colder and snow lay beside the road. I was surprised at how cold it was at Porters Pass, we only managed to have a quick snowball fight.
We will stay at Arthur's Pass tonight and then head to the coast tomorrow.
See you there,
Alvin.
Tuesday 9 August
Kia ora,
It was a cold start to the day in Arthur's Pass today but luckily we didn't have to start early. After the audioconference we headed over the pass and west to find the Alpine Fault. I was able to walk across the fault near a place called Inchbonnie. The Alpine Fault runs for hundreds of kilometres but it isn't very easy to see. A fault scarp which is about 5 metres high shows where the fault is and it just looks like a long line of uplifted land.
Tomorrow we are going to head out to the coast to find out more about tsunami.
See you tomorrow,
Alvin.
Wednesday 10 August
Tēnā koutou,
We were able to explore a different part of the West Coast today and I managed to find lots of evidence of past landslides. Once you knew what to look for it was easy to spot even really old landslide scarps because you could see where part of the hill used to be even when trees had grown back.
Landslides are common in New Zealand and cost the country a lot of money so it is good to know where weak, steep rocks are so people do not build near these landslide prone areas.
Tomorrow we are off to Franz Josef.
See you there,
Alvin.
Thursday 11 August
Kia ora,
What a day it has been! The weather was amazing and we had a Franztastic time in Franz Josef. I love this little town, there is so much to see and do. It was rather sad to see how much the glacier had shrunk though, it has only been a few years since I was here last.
We crossed over the Alpine Fault on the main street of Franz Josef and talked lots about how to reduce the impacts of geohazards. 
It has been a great week but I have to admit I am pretty tired after travelling around so much so I am looking forward to arriving home.
See you on another field trip soon,
Alvin.
Alvin loves to travel and can't wait to begin the Geohazards field trip to Franz Josef. Image: LEARNZ.
Alvin at Porters Pass on the way to Arthur's Pass. Image: LEARNZ.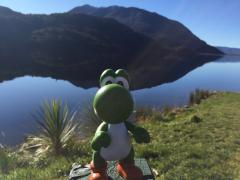 Alvin at Lake Poerua near the Alpine Fault. Image: LEARNZ.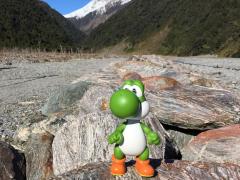 Alvin searches for evidence of landslides up the Poerua Valley. Image: LEARNZ.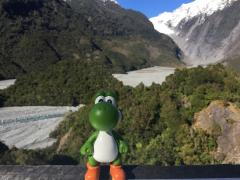 Alvin checks out the Franz Josef Glacier. Image: LEARNZ.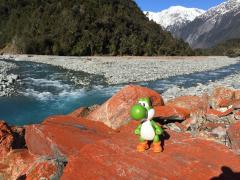 Alvin explores the Waiho River in Franz Josef. How do you think this river affects the Franz Josef township? Image: LEARNZ.