Diary 4
Date:
Thursday, May 10, 2018
Field Trip Name:
Kauri Dieback
Field Trip Place:
Northland and Auckland
Where You Are:
Auckland and the Waitākere Ranges
This morning we went to the MInistry for Primary Industries (MPI) Auckland Laboratory to talk once more with Travis Ashcroft. After that we headed out west to the Waitākere Ranges.
Final web conference
Our final web conference took place in a laboratory at MPI. We've talked this week about the labwork for detecting the presence of kauri dieback, and this was exactly the sort of place where such testing occurs. So it was quite cool being able to have the web conference in such an important place.
Travis Ashcroft was our expert for this web conference and Whangārei Heads our speaking school. We covered a lot of information about kauri dieback through this week's web conferences. I'm sure there has been plenty of learning and discussion amongst you all.
Research to control the disease
There is currently no cure for kauri dieback. But that is not to say that scientists aren't trying to help kauri fight it. In today's first video, Travis gives you some examples of the sort of work that is going on behind the scenes, often in laboratories like the one we were in. He gives an overview of phosphite injections, biological control, genetic resistance, and oospore control. Check it out.
Human behaviour
From the MPI lab we headed out west to the Waitākere Ranges. We went to the Arataki Visitor Centre and met Stuart Leighton. Stuart is a Park Ranger for the Auckland Regional Council.
As you will now know, the public have a key part to play in stopping the spread of kauri dieback. Part of Stuart's job is to make sure people are following the guidelines around keeping kauri safe. Stuart told us that a lot of work has been done to get the right messages out to the public. As you will see in the videos, there is no shortage of information out there.
Cleaning stations have been adapted to try and make sure everyone visiting kauri forest uses them, and uses them correctly. They have had to change their message from "please do" to "must do". There are compliance officers, like Tāne Mahuta ambassadors, who help educate visitors and guide them through the shoe cleaning process. There have even been some track closures to prevent people going through badly affected areas.
I used to live near the Waitākere Ranges. Arataki Visitor Centre was a place we used to take visitors. If you live in the Auckland region and haven't been there, or if you are visiting nearby one day, it's well worth a visit. The views are outstanding! You can also learn a lot about forests and how to keep them safe from threats such as kauri dieback.
Titirangi School
The final place we visited this week was Titirangi School. Titirangi was one of our web conference speaking schools. They also sent ambassador Edmund on the field trip. It was very exciting to visit the school because I used to go there when I was younger (much younger!).
The school is nestled amongst native bush and there are kauri around and in the school grounds. Even one of their five school values, 'Achievement', is represented by a kauri tree. Many of the students have kauri growing at home, and their passion for the tree was evident when speaking with the students we met. Watch the video and you will hear about such things as the sadness felt when Auckland Council had to cut down diseased trees on private property; ideas for protecting kauri on school grounds; and how some families joined a protest to save a 500 year-old kauri being cut down for housing development.
Final word
We've done a fair bit of travelling this week and met a variety of people. One thing everyone has had in common is they all care about kauri. It has been great learning about all the different roles people have around managing, controlling, and even finding a cure for kauri dieback disease. But one thing that has been very clear throughout the field trip is that we all have a responsibility to help save this national taonga. The best we can do right now is help to reduce the spread of the disease. So I will leave you with one final reminder: Follow the 4 Ss:
Scrub your shoes
Spray your shoes (with sterigene)
Stay on the track
Share the message
See you on another field trip soon!
Ka kite anō,
Andrew
Andrew and the ambassadors with Travis Ashcroft on this morning's web conference at the MPI lab. Image: LEARNZ.
Kauri line the footpath in Titirangi Village. I wonder how kauri in public spaces are looked after? Image: LEARNZ.
The top of a large kauri stands out amongst forest in the Waitākere Ranges. Image: LEARNZ.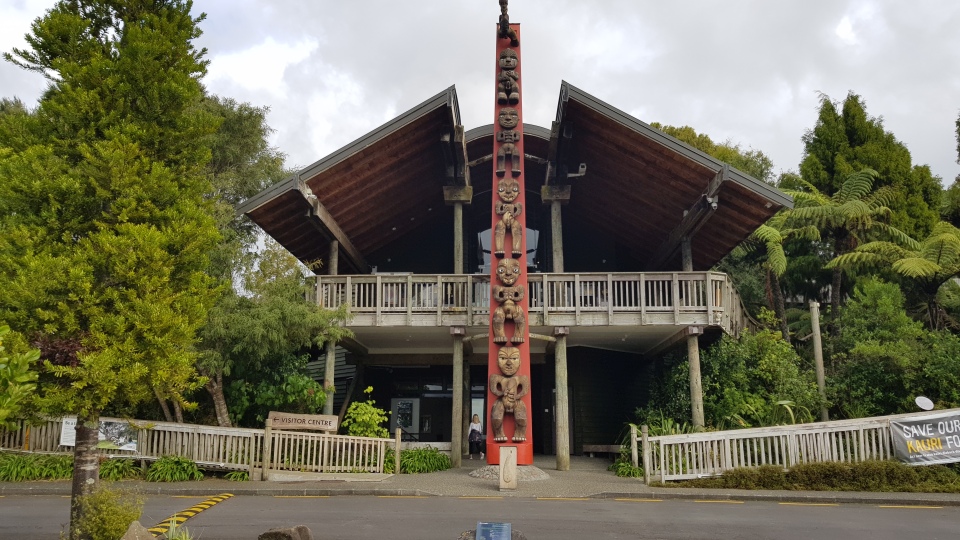 This pou, carved from a fallen kauri log, stands at the Arataki Visitor Centre entrance in the Waitākere Ranges Regional Park. It represents the ancestry of Te Kawerau a Maki, tangata whenua of the Waitākere Ranges. Image: LEARNZ.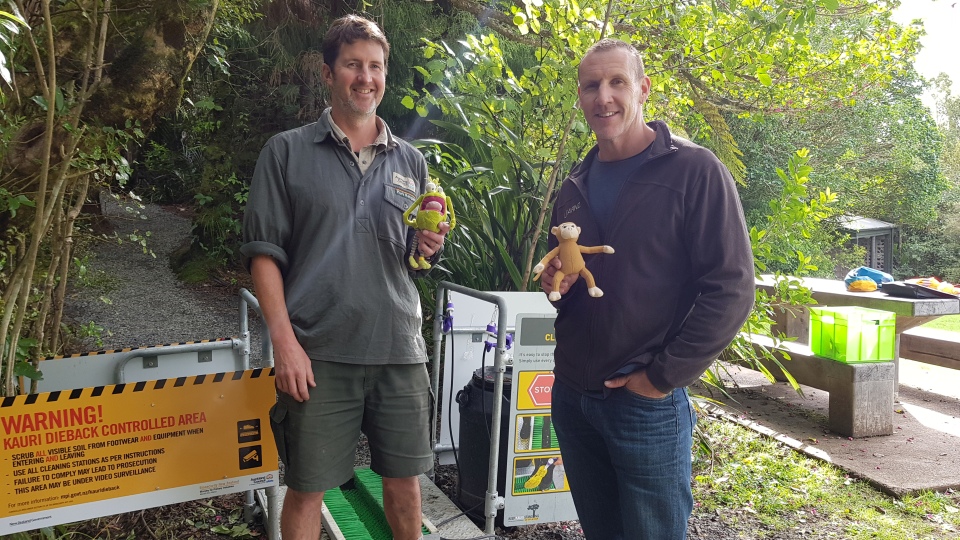 Andrew and the ambassadors with Park Ranger Stuart Leighton next to a shoe cleaning station. Why is clean footwear important when entering and leaving a forest? Image: LEARNZ.
There is plenty of material out there to help explain correct behaviour when visiting kauri forest. Have you downloaded the Kauri Dieback School Resource yet? Image: LEARNZ.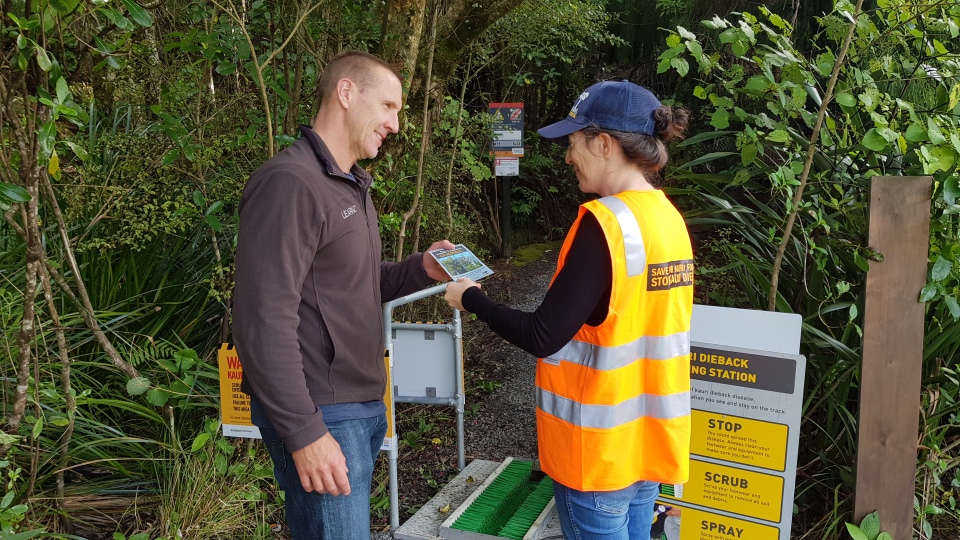 Andrew talks with a compliance officer at Arataki Visitor Centre. How do the compliance officers help? Image: LEARNZ.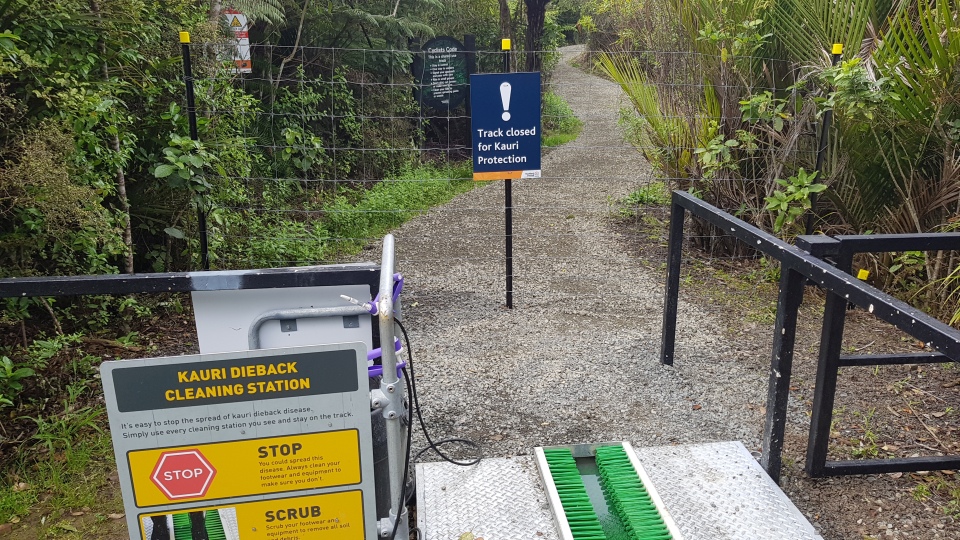 This track has been closed to the public due to kauri dieback being found nearby. How might people feel about this? Image: LEARNZ.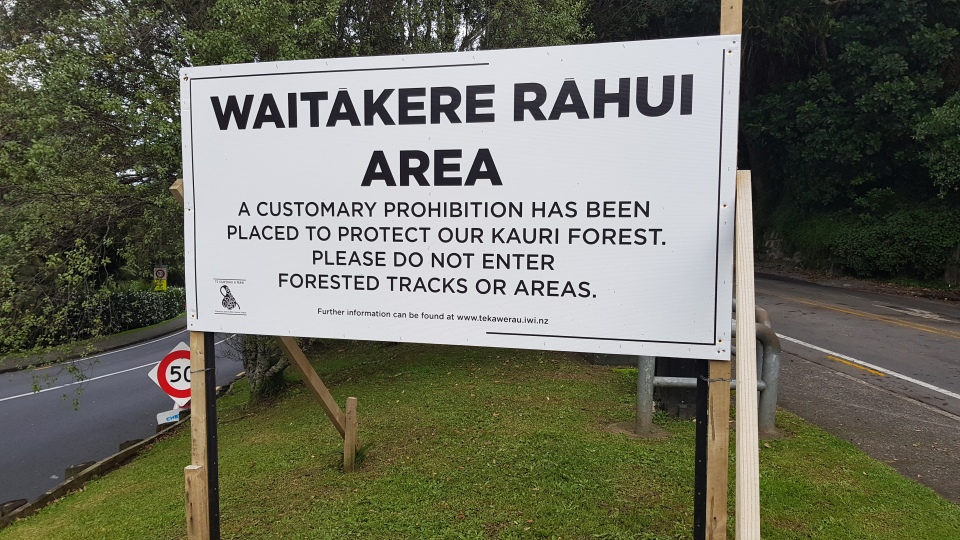 A large board giving clear notice about track closures at the start of Scenic Drive in Titirangi. What issues might there be with closing tracks? Image: LEARNZ.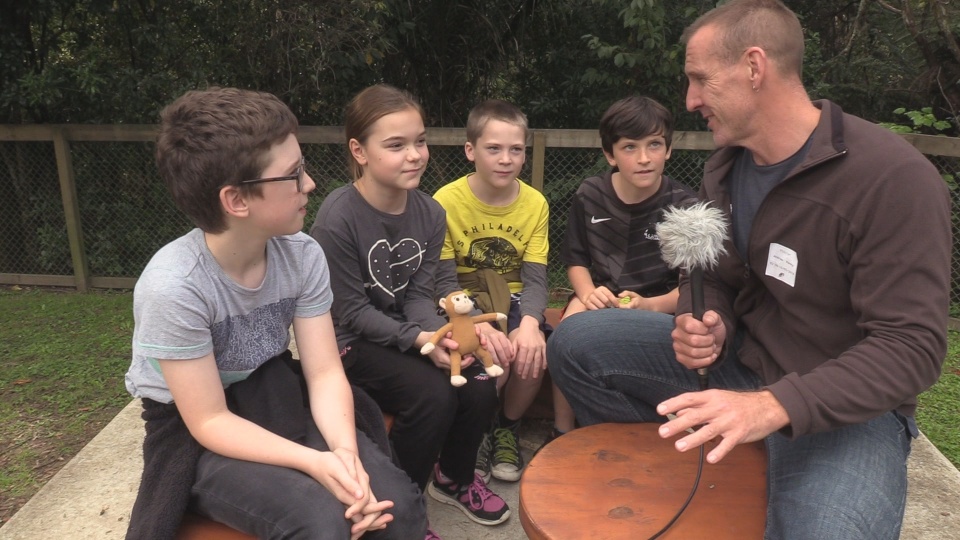 (From left) Alex, Fern, Alec, and Leo from Titirangi School talk with Andrew about what kauri mean to them, as well as plans they have to help kauri at their school. Image: LEARNZ.