Diary 4


Date:
Thursday, June 16, 2016
Field Trip Name:
Where are We?
Field Trip Place:
Wellington
Weather:
Sunny with northerly breeze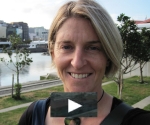 Watch the diary cam video
Kia ora koutou,
The ambassadors' excitement grew when they drew back the curtains this morning to reveal clear skies and light winds. If you're anything like me you have been looking forward to spending the day with the Life Flight Trust.
The Life Flight Trust
You drove back out to the Wellington Airport to meet with John Low from the Life Flight Trust. Their office and hangar is located alongside the runway. John had promised that if the weather was good he would be able to take you out on a maintenance flight around Wellington. Before you could take to the air you spoke to students from St Alban's and Ohaeawai School. These students had lots of questions about John's work for the Life Flight Trust, how he navigates and works to help save people's lives. The trust has completed 371 helicopter flights and 874 plane flights in the last year. The helicopter is used for rescues while the fixed wing aircraft is used to transport people between hospitals. You can find out more by listening to the audioconference.
Flight Planning
Before flying, John has to complete a flight plan. This involves checking the weather and making sure conditions are suitable for flying. If visibility is poor or wind speeds too high then it is not safe to fly. Luckily the weather had not changed and you were happy to go! John also has to check official aeronautical charts and plot a course or track. John also checked the Airways site online to see if there were any updates, notices or alerts for this area. You can find out more about flight planning and how planes are navigated in the videos.
Cleared for take off
Once you had completed all your flight planning you were able to take a seat in the plane. There is plenty of space in these planes as most of the seats have been removed to give enough space for stretchers and medical equipment. John completed his pre-flight checks and radioed through to the control tower to get clearance for take-off. As you gained height you were able to see out across Wellington before John turned and headed south. The wind turbines on the outskirts of Wellington came into view before you headed out over Cook Strait. It was a beautiful day to fly and you could clearly see the Kaikoura Ranges topped with snow. 
The twenty minute flight was over all too quickly and before you could take in all the views you were descending, ready to land back in Wellington. It's amazing how quickly distances can be covered by air. It makes it easy to see why the Life Flight Trust is so important as every minute saved can help save lives. You can track Life Flight Trust flights live through their website.
Global Positioning Systems and land movement
The ambassadors were reluctant to leave the aircraft after such a fabulous flight but it was time to grab some lunch before heading back out on to the airfield. You had arranged to meet Dionne Hansen, a Geodectic Surveyor with Land Information New Zealand (LINZ). Dionne knew how much you have been using GPS this week and wanted to talk to you about how this positioning system works. A GPS unit uses satellites and the time taken for a signal to travel from three or more satellites back to the unit to work out its position. 
Dionne showed you a CORS station out on the airfield. This Continuously Operating Reference Station records GPS positions every second and is used as a reference mark. The station is part of a New Zealand network of 39 stations managed by LINZ and GNS Science. Since this station was installed in 1996 it has moved 84 centimetres. This movement is caused by plate tectonics. New Zealand is one of the fastest moving areas in the world and it is this movement which causes frequent earthquakes. You can learn more by watching the video.
This week you have travelled many kilometres and found out just how important it is to know where you are. You have met lots of people who are experts in finding and using location based information and it is this information that helps us all, especially when we are wanting to travel safely from place to place. 
I hope you have enjoyed the journey and can join us on another field trip soon.
Shelley the LEARNZ field trip teacher.
Follow the journey: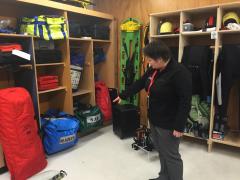 Inger, from the Life Flight Trust, shows you some of the equipment they use. Image: LEARNZ.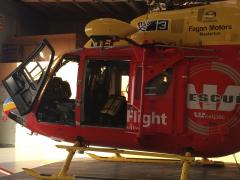 The Life Flight Trust uses helicopters for rescues and planes to transport patients. How many missions did the trust complete last year? Image: LEARNZ.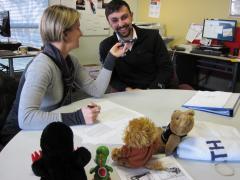 John Low and Shelley talk to students during the last audioconference. Image: LEARNZ.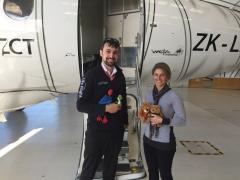 John, Shelley and the ambassadors prepare for a maintenance flight over Wellington. Image: LEARNZ.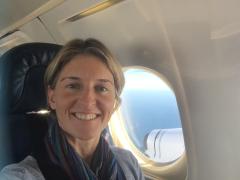 Shelley enjoys a flight with Life Flight Trust. Image: LEARNZ.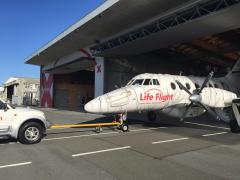 The Life Flight Trust plane is towed out of the hangar, ready to start a maintenance flight. What navigation technology do these planes use? Image: LEARNZ.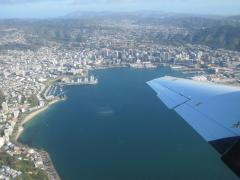 It's a great day for flying! Image: LEARNZ.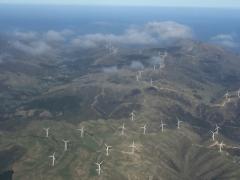 You flew over a wind farm on the hills west of Wellington. Image: LEARNZ.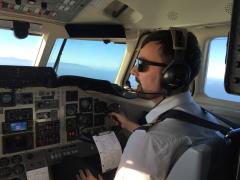 John steers the plane south over Cook Strait. What is he using to help navigate? Image: LEARNZ.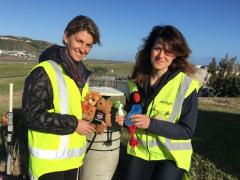 Dionne from LINZ shows Shelley and the ambassadors the CORS station at Wellington airport. What is CORS used for? Image: LEARNZ