Diary 3


Date:
Wednesday, June 15, 2016
Field Trip Name:
Where are We?
Field Trip Place:
Wellington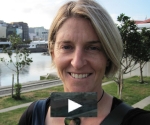 Watch Shelley's diary cam video

Kia ora koutou, 
Yesterday you spent the day out on the sea and discovered more about nautical navigation and charts. Today you will be looking at land based navigation and how Kiwirail uses technology to know where trains are.
Down at the station
The Central Wellington Railway Station is only a few blocks away from your hotel so it was just a quick walk to the station. Not surprisingly the station is a busy place first thing in the morning and you had to go against the flow of people getting off trains to enter the station. This huge building is quite impressive. Next to the station is the KiwiRail office. Once you had signed in at reception you met with Paul Shivnan. Paul is a GIS manager for KiwiRail and he answered questions from Ilam School and Ohaeawai School during the audioconference. These students had spent a lot of time thinking about in depth questions about Geographic Information Systems (GIS) and GPS. You can find out more by listening to this audioconference.
The hub of New Zealand's rail network
Paul introduced you to Colin Vickery who manages the northern section of Train Control. Colin took you into the Train Control Centre which is the hub of New Zealand's rail network. All of New Zealand's trains are controlled from here. There were several rooms full of computers all displaying different parts of the country's railway lines and trains. Colin showed you how trains are located using GPS and tracked. Train controllers use information about where trains are to plan signal changes. With the push of a button a train controller can change a signal out on the track from green to orange or red. Just like traffic lights a green signal gives the all clear, while an orange signal tells the train driver to slow down. Red signals indicate that a train needs to stop.
You can imagine that knowing exactly where a train is in real time is not just helpful but important for people's safety. Tracking trains can help prevent collisions, improve safety at crossings and also help people to know exactly what time their train will arrive.
Tracking trains
All trains now have GPS units on board. GPS is used to not only locate and track trains but also so warnings can be sent if trains end up where they aren't supposed to be or are about to enter an area where people are working on the tracks. Colin reminded us of how heavy trains are and therefore how difficult they are to stop. It can take a train 500 metres to come to a complete stop, so it pays to remember this when crossing train tracks! It also shows how important it is to know where trains are. You can watch the videos about this to find out more.
Keeping trains efficient
Technology is not only improving how trains are tracked but also how they are driven. A system known as DAS (Driver Advisory System) helps train drivers know when to slow down, apply brakes and accelerate to save fuel. This system uses GPS to record the position of changes in the track such as where it becomes steeper or goes around a corner to set the best speed for the train to go. This clever technology is helping to save fuel, money and time and would not be possible if we could not find the exact location of things.
In an emergency
You may be wondering what might happen if there is an emergency and train control has a power-cut. Colin explained that there are other train control centres set up ready to be used instead of the Wellington centre if the need arises. You could also see that the train controllers were not just using computers, but manually recording train positions as well. It was a good reminder that although technology such as GPS is very useful there always needs to be a backup.
How KiwiRail uses GIS
You caught up with Paul to find out how KiwiRail uses Geographic Information Systems (GIS). These systems record information as layers on maps and help staff at KiwiRail not only see where trains are but all sorts of other things such as roads, bridges, hills and houses. When this information is shown on a map it can help people to problem solve. For example if a train has a mechanical fault a train controller can bring up the GIS to find out where the train is, how to get to it and how best to fix it. You can watch the video about GIS to find out more.
A train ride to Masterton
After your tour of train control you were able to jump aboard a train to Masterton to see for yourself how our train system works. It was amazing to see how accurate the arrival times were. Even though I had never been to Masterton I knew exactly where I was during the journey as a display informed passengers of where they were and which station was coming up. The ambassadors enjoyed a relaxed trip north and I was almost rocked to sleep by the gentle motion of the train.
Tomorrow you will take to the air with the Life Flight Trust.
See you then,
Shelley the LEARNZ field trip teacher.
Follow our journey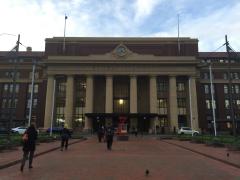 The Wellington Central Railway Station was built in 1937 and is the main station in Wellington. Image: LEARNZ.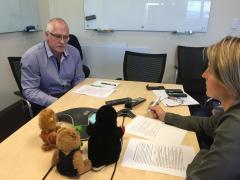 Paul Shivnan from KiwiRail and Shelley talk to Ilam School and Ohaeawai School during the audioconference. Image: LEARNZ.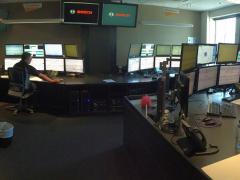 This is Train Control. What happens here? Image: LEARNZ.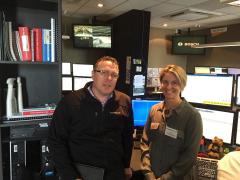 Colin Vickery shows Shelley how trains are controlled by train controllers here in Wellington. What technology is used to control trains? Image: LEARNZ.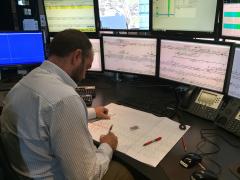 A train controller also manually records where trains are. Why do you think this is done? Image: LEARNZ.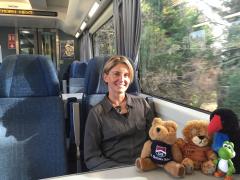 Shelley and the ambassadors enjoy a ride on a suburban train from Wellington to Masterton. How far is this journey? Image: LEARNZ.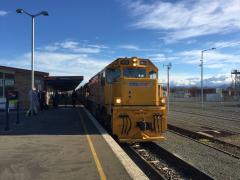 Welcome to Masterton Station. Image: LEARNZ.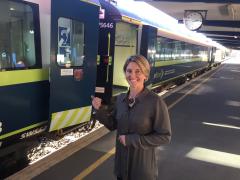 Shelley at Masterton train station. Image: LEARNZ.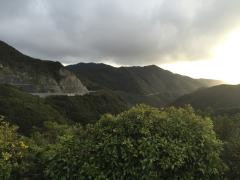 You drove back from Masterton to Wellington over the Rimutaka Hill Road. Do you think it is more efficient to travel to Masterton by car or train and why? Image: LEARNZ.