Diary 2
Date:
Tuesday, July 31, 2018
Field Trip Name:
Map My Waahi
Field Trip Place:
Taranaki
Weather:
cloudy start, wet finish
Where You Are:
Puniho Marae and Hangataahua Awa
Kia ora tātaou
This morning we were welcomed onto Puniho Pā. As Egbert and I were walking into the wharenui I could see the snowy peak of Taranaki rising above the low cloud. This view didn't last long though. Steady rain had set in by the end of the day.
First web conference
For our first web conference we had North Street School as our speaking school. Our experts were Duane Wilkins, Te Poihi Campbell, and Sera Gibson. It was a great web conference. There was a good variety of questions and it was well attended.
Web conferences are available to listen to as a recording if you can't make the live session. You will find the link in the web conference timetable. As a listening school during live web conferences you have an opportunity to post extra questions which are answered after the formal first part. I hope you have some time during the field trip to join us for one of the live sessions.
Places of significance
Including important places in a story map is a good idea. Information about these places can be recorded on the map you make, then passed on to others for future learning. Dennis Ngawhare from Puniho Pā shared with us the story of Te Toka a Rauhoto – Taranaki's guide stone. The site of this stone is where today's hīkoi began. You can watch the video about this story or you can read more on the background page Tāhuhu Kōrero – Background History.
Another place of significance we visited today was part of the Hangataahua River. We spoke with Dennis again and he explained why this awa is so important to the local hapū. Watch the video to find out more.
While at the river, the tamariki who joined us on the hīkoi did a cultural health indicator assessment of the water. For this they used an app called Kobo Toolbox. The app allows you to create your own data collection tool. It is a handy way to collect data which can then be added to your story map. Duane talks about it more in the last video for today. You can also watch instructions for how we used the app here:
Hikoi on the Maunga
We had a bit of a walk through the ngahere to the awa today. This journey was all recorded for today's map. It shows up as a purple line which you can see in the last video for today. It was cool to see the route we had taken for the hīkoi.
Some of the images we took along the way were also added to the map. We used a cell phone with GPS location function turned on. This was done so we could add the images to the map at the places where they were taken. On the map these show up as round shapes. When you click on them the image enlarges. You can then record information under the image about what it shows.
Data and map making
The images we collected on our hikoi today was a type of data. For any map you make you need data. There are many different types of data you can collect. The type of data depends on the map you want to make. Images with captions are good if you want to make a story map.
In today's last video, Duane Wilkins shows you the map we made from the hīkoi. Here you can see how the collected data was used to make a story map of the journey from Puniho Pā to part of the Hangataahua River. Duane has also put together the following two videos with instructions on how to make your own story map:
Tomorrow we head to a different part of Mt Taranaki to find out about some parts of the Taranaki Mounga Project.
Mā te wā,
Andrew
A glimpse of Taranaki Maunga before cloud got in the way. Image: LEARNZ.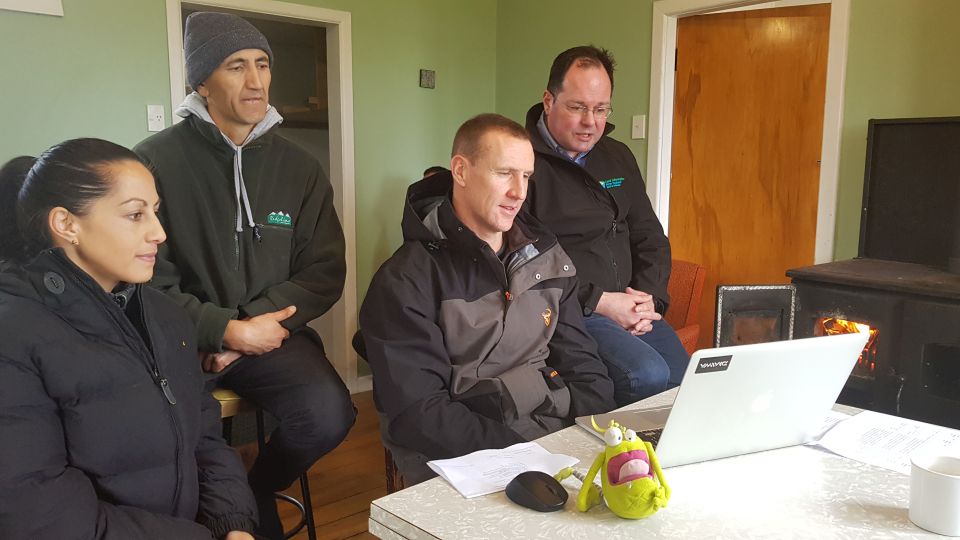 Andrew and Egbert with this morning's web conference experts. Image: LEARNZ.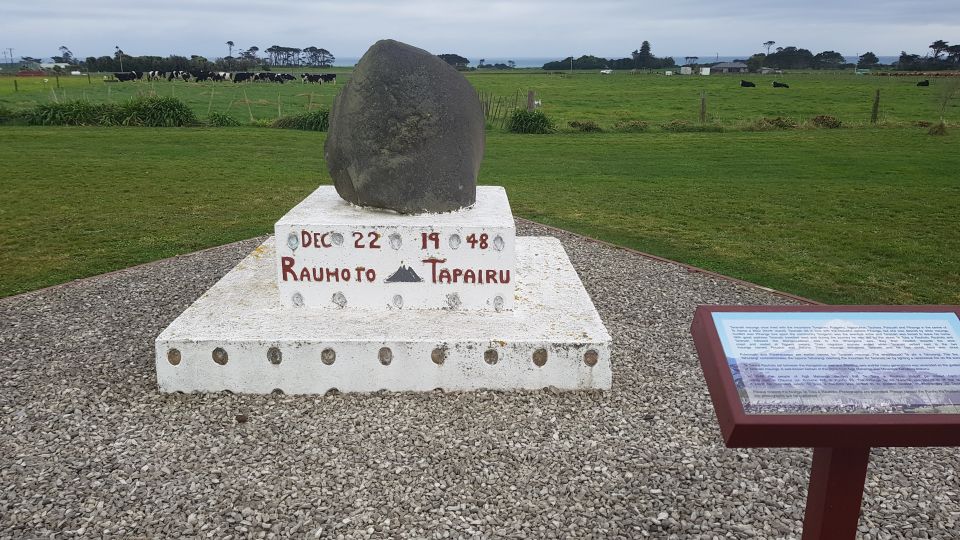 Te Toka a Rauhoto at Puniho Pā. Do you know the story of this guidestone? Image: LEARNZ.
The hīkoi begins! What sort of data for story map making might be gathered on the way? Image: LEARNZ.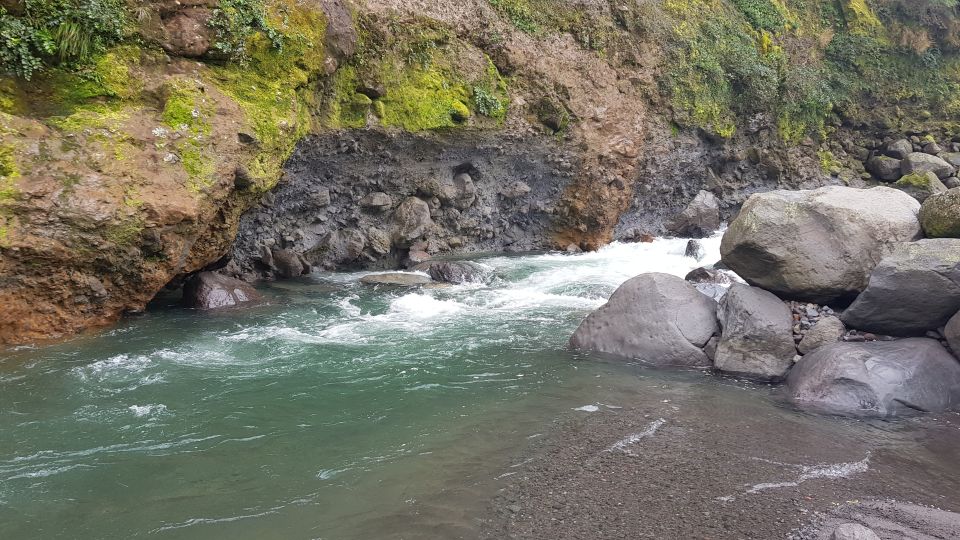 Hangataahua Awa is a significant landmark for local hapū. Image: LEARNZ.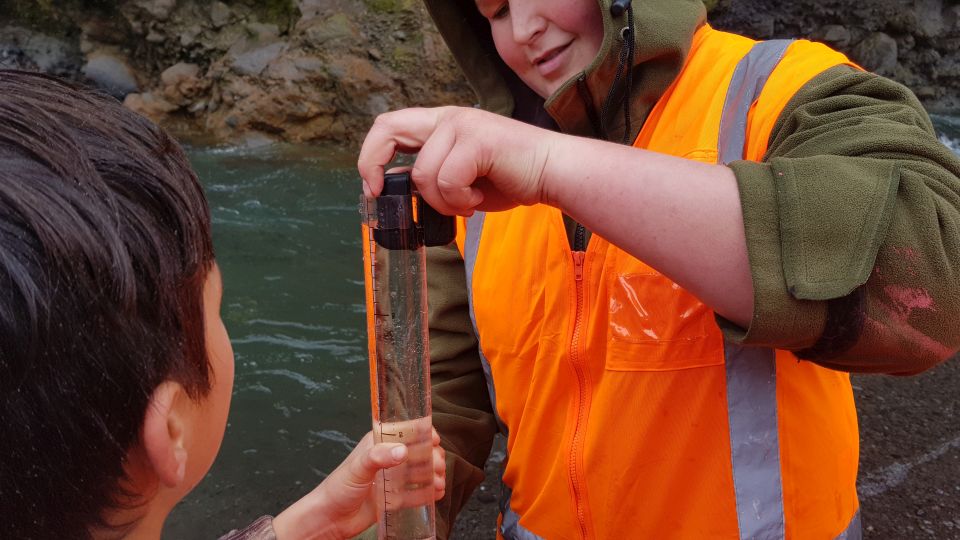 Gathering a water sample to check for clarity during the cultural health indicator task at Hangataahua Awa. Image: LEARNZ.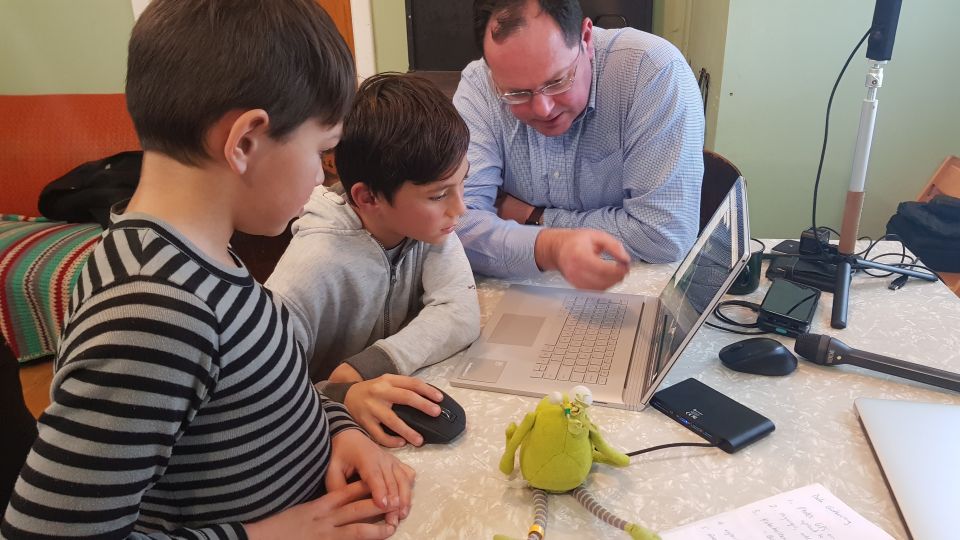 Tamariki help Duane Wilkins put together a story map from today's data gathering hikoi. Image: LEARNZ.
A basic story map was created using Google MyMaps. How about you have a go at making one yourself? Image: LEARNZ.