Diary 3
Date:
Wednesday, November 20, 2013
Field Trip Name:
Memorial Park
Field Trip Place:
Wellington
Weather:
Another hot and sunny day
Where You Are:
Inside the construction site
You had to be up bright and early this morning to make it to your site safety induction on time. Steve Christensen from the Memorial Park Alliance is the Safety Manager and he talked you through everything you and the ambassadors needed to know to stay safe inside the construction trench. After passing a quick test and putting on your high-vis vest, boots, safety glasses and hard hat you were ready to enter the trench.
Staying Safe on Site
With over 100 workers on site it is vital that everyone knows how to operate safely. Heavy machinery such as cranes and diggers are a hazard if not managed properly. After entering the trench you could immediately see just how busy the construction site is. Cranes were lifting buckets of concrete, steel reinforcing and 20 metre long pipes. You had to keep an eye out so you didn't get in anyone's way or trip over obstacles. 
Construction Challenges
Geotechnical Engineer Emma Beech showed you around. Emma has worked on lots of large projects like this and she told you about some of the challenges the construction team have had to overcome. Even before building could begin a huge amount of testing had to be done to make sure the engineers knew exactly what lay beneath their feet where they wanted to dig the trench. Bore holes were drilled to find out more about the different soil layers and their strengths. This information was put into computer programmes which could then show what types of construction materials were needed and how the trench walls needed to be anchored. You can watch the video about this.
Groundwater Levels
Engineers also had to find out about the groundwater levels as this can affect the stability of the land. The workers have bored deep holes by the school so they can monitor the groundwater levels beside the trench.  If necessary, the workers will pump water into the holes if the ground becomes too dry. This stops the soil from shrinking and prevents any damage to the buildings' foundations. But too much water is also a problem, you could see water being pumped from parts of the trench and a specially designed vacuum cleaner was used to suck up any extra water. (Don't try that at home).
Supporting the Trench Walls
The retaining walls looked much higher from down in the trench. Huge amounts of steel and wood have been used to construct these walls. Before any digging could begin, 15 metre long king posts had to be driven into the ground to act as supports. Sheet piles have also been used in areas that need more support. You could see a lot of timber posts slotted between the king posts and Emma explained that there are a massive 14,000 of these timber posts. Once the king posts were in place excavation of the trench could begin without fear of collapse. These retaining walls also keep workers in the trench safe. The king posts and sheet piles are held in place by 13m long ground anchors. These walls are temporary and not the walls that will make up the tunnel. Later concrete walls will be built for the underpass. 
Anchoring the Tunnel
The engineers are designing the concrete box that will form the tunnel to make it safe from earthquakes. It will be anchored to concrete posts that will go down a minimum of 10 metres and a maximum of 30 metres, depending on the depth of the bedrock. These piles have a bell shape at the bottom which makes them stronger during the shaking an earthquake would cause. You could see these piles being concreted in as you walked down the trench. 
Three classes were involved in our two audioconferences today and Emma enjoyed answering some testing questions. You can listen to the audioconference recordings to find out more.
Essential Services
Tom Knight, a site engineer met with you after lunch to take you back out into the trench to see how excavation is progressing. Tom showed you some services that were being shifted. Most people rely on services such as electricity, phone and gas so they have to be very carefully shifted out of the way. It was incredible seeing the hydrovac in action. This machine is used alongside a water-blaster so pipes can be uncovered without damaging them and extra water can be sucked up. You can see this in the video.
Digging Deeper
Tom took you to the eastern end of the trench where soil is still being removed. The trench is now 300m long and 12m deep and has involved removing 35,000 cubic metres (2,700 truck and trailer loads) of earth.  You were lucky enough to be able to jump aboard a digger to get a worker's perspective on the excavation. It must have been hard work removing that much earth! 
The trench is nearly finished so the Memorial Park Alliance will hold an open day this weekend.  Visitors will be able to come inside the trench and see how the underpass is being constructed. 
You were relieved to get out of the hot sun and return your safety gear. It has been an action packed day and I'm sure you are looking forward to a rest, so I'll see you tomorrow.
Shelley the LEARNZ field trip teacher.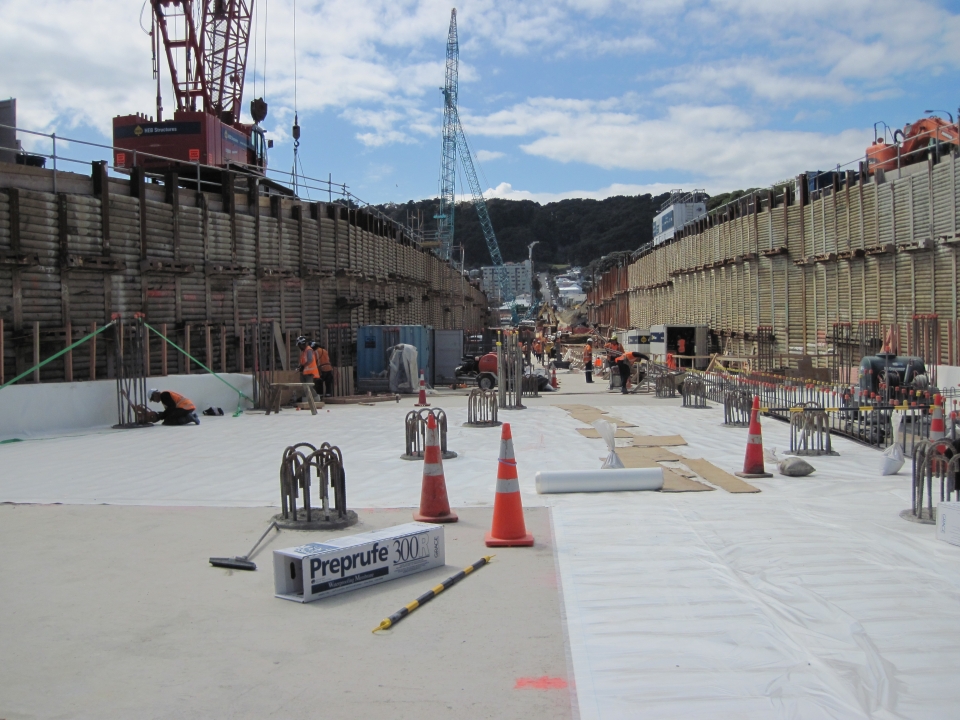 Your first look inside the trench at the Memorial Park construction site. Image: LEARNZ.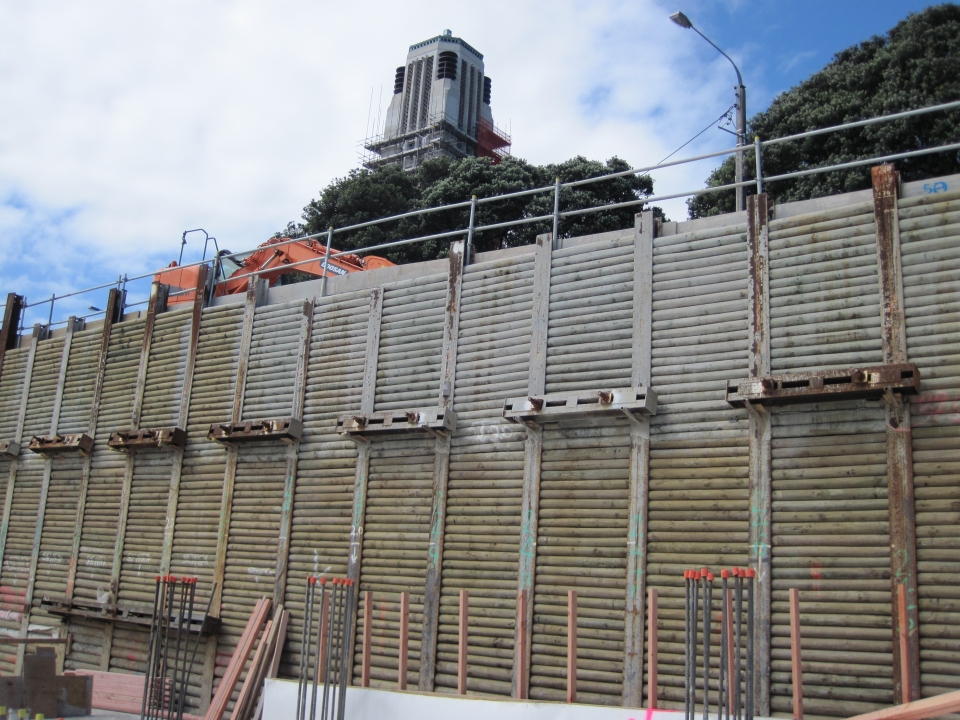 You can see part of the retaining wall which is made up of steel king posts with timber posts slotted between. Image: LEARNZ.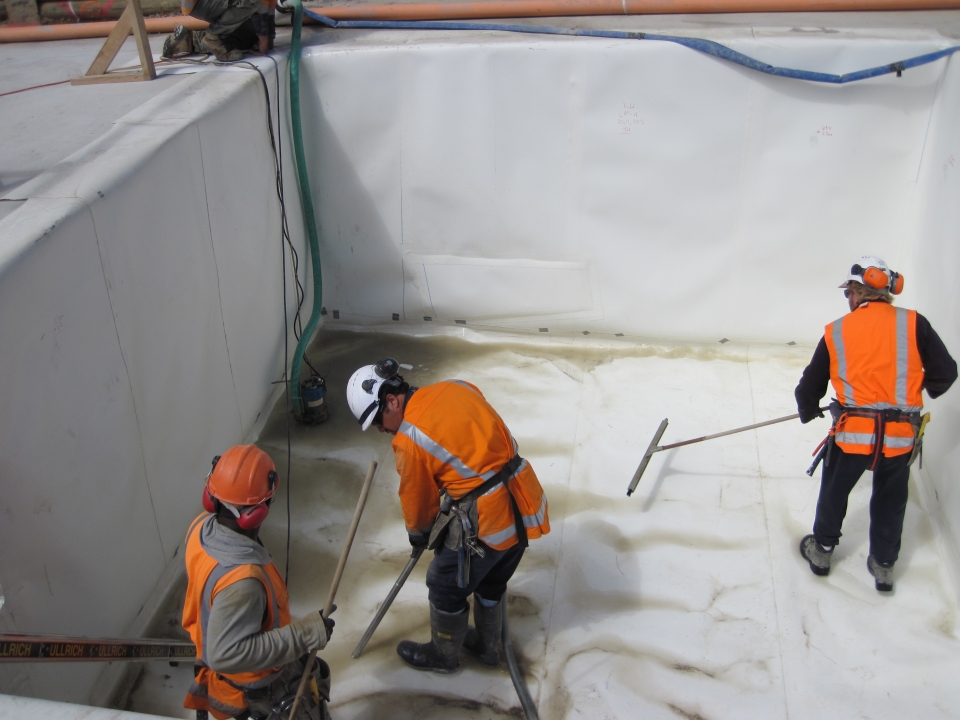 Water can be a problem on site and needs to be pumped from the trench. Excess water is sucked up with a vacuum cleaner. Image: LEARNZ.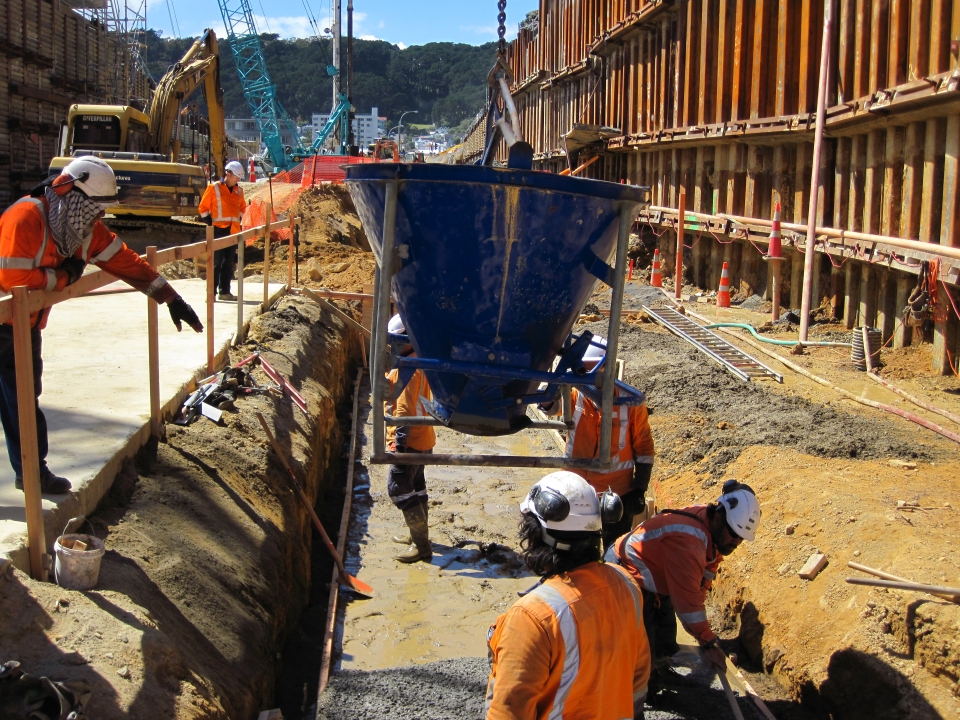 Concrete is poured into what will become the drainage trench in the Buckle Street tunnel. Image: LEARNZ.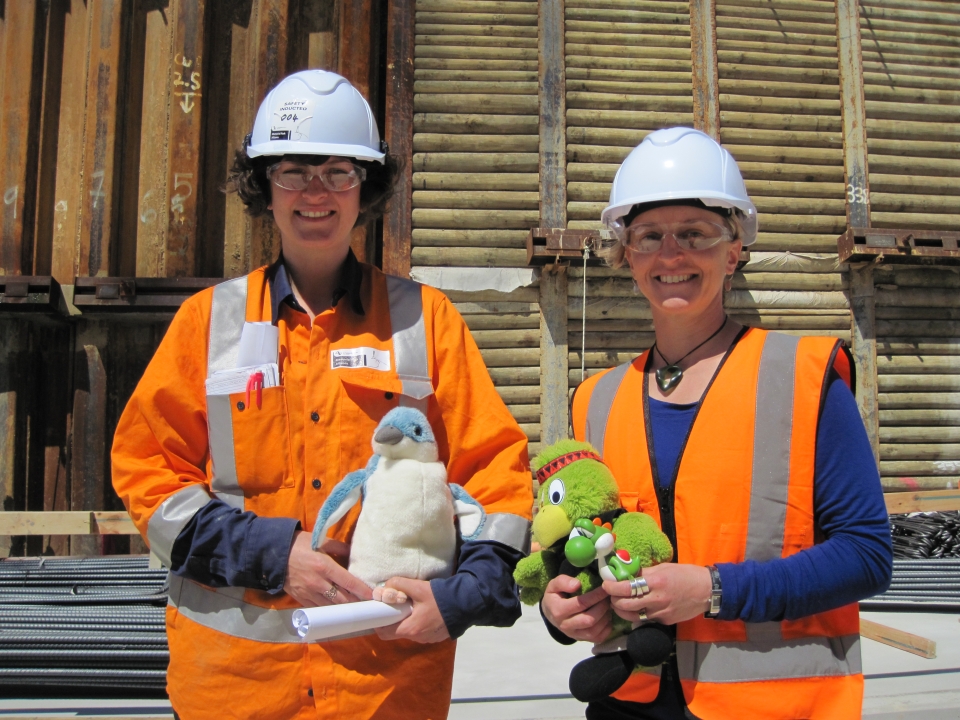 Emma Beech, Shelley and the ambassadors stand beside the trench retaining wall. Can you see the different types of wall? Image: LEARNZ.
Emma and Shelley talk to Seatoun School during the second audioconference. Image: LEARNZ.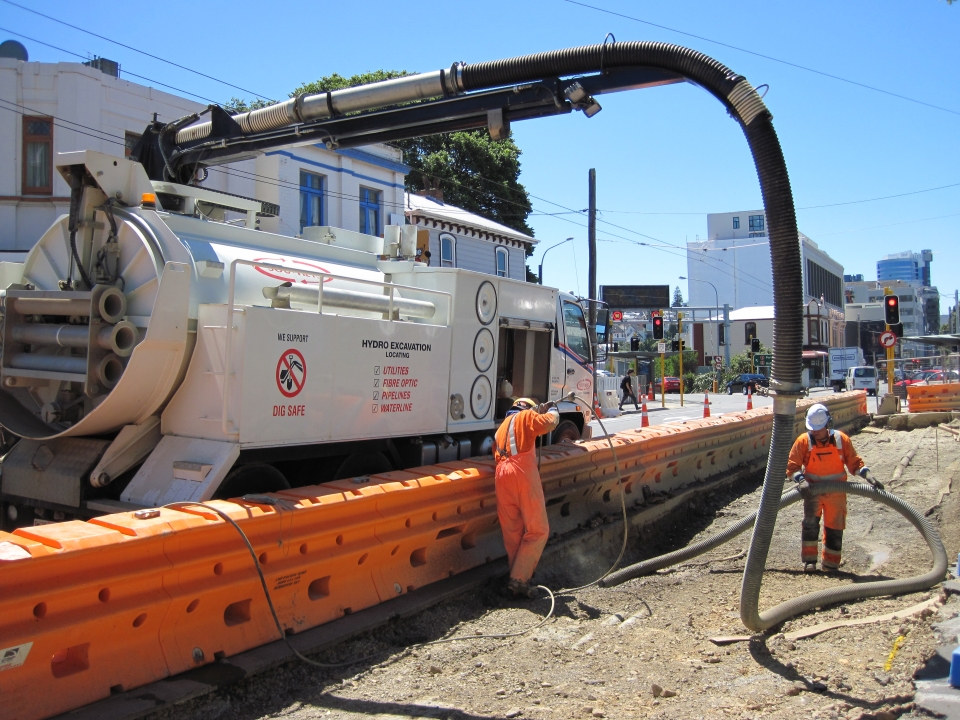 The hydrovac machine is used to carefully expose pipes so they can be moved. Image: LEARNZ.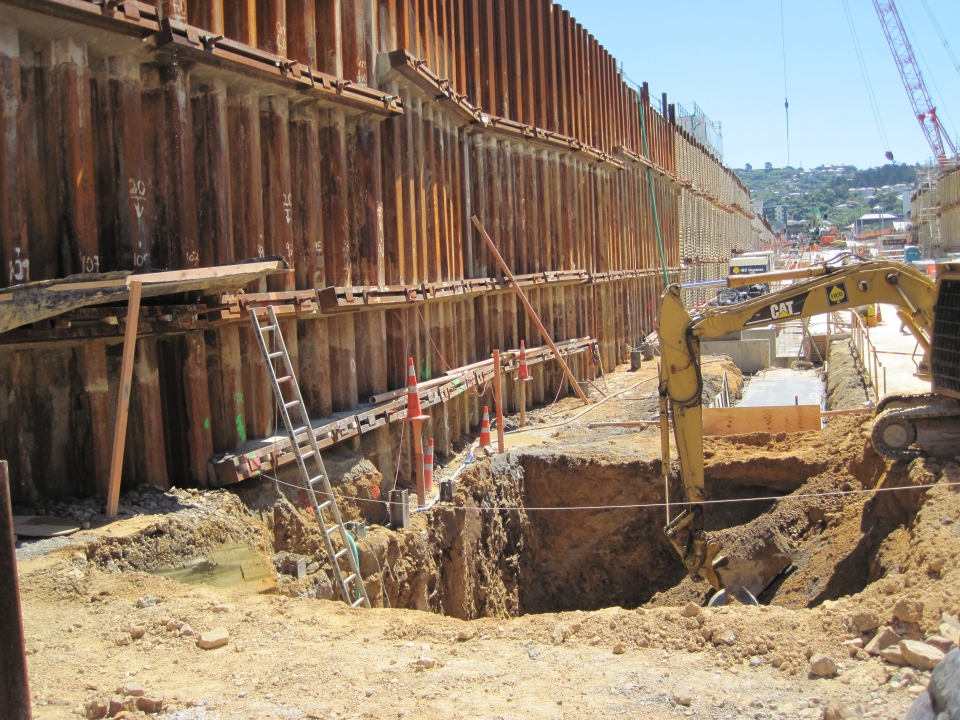 Excavation continues at the eastern end of the trench. A square hole is being dug to create a drainage point. Image: LEARNZ.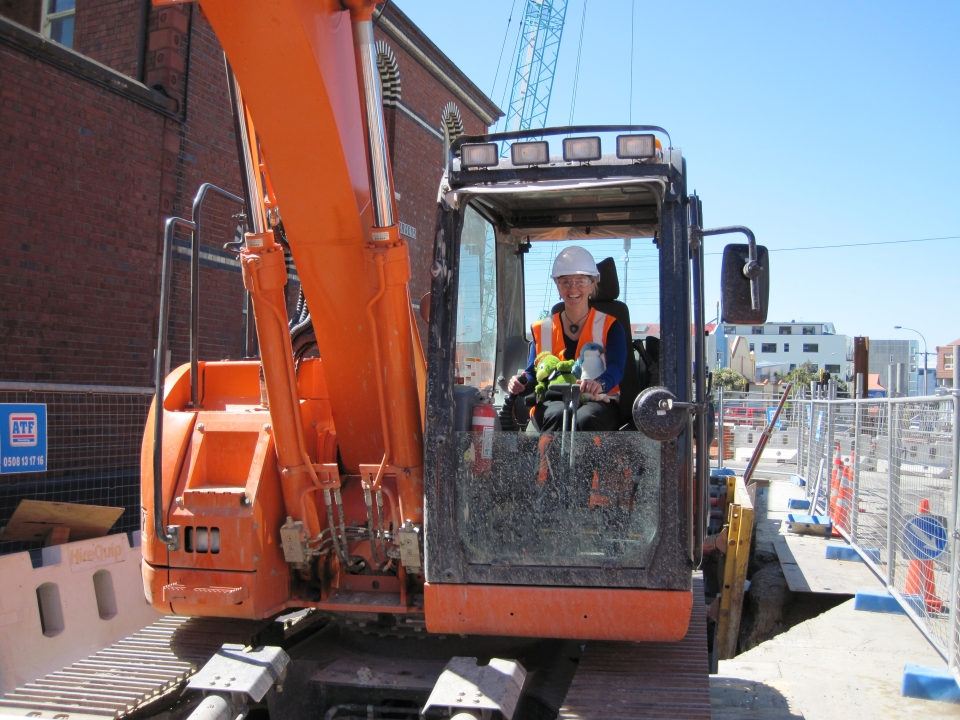 Shelley and the ambassadors enjoy a ride in a digger. Image: LEARNZ.
You can see a 20 metre pipe being lowered by a crane. These pipes are placed down drill holes so concrete can be poured. Image: LEARNZ.