Diary 4
Date:
Thursday, August 15, 2019
Field Trip Name:
Rail Safety
Field Trip Place:
Wellington
Weather:
Fine with a cold breeze
Kia ora koutou,
Today did not quite go as planned. You may have heard on the news that all trains in the Wellington area were affected by a fault in the overhead electrical wires. Power outages are rare, so it was bad luck that happened on the day you were supposed to be enjoying a train ride to Featherston. Buses replaced trains so people were still able to get to where they needed to go.
Finding the answers to some tricky questions
During the delays you met with Dave Allan who is the security manager at Transdev. He answered questions from Paerata School during the last field trip web conference. Students asked some challenging questions about rail services and why there are not more trains and railway lines. Dave explained that electric trains are a sustainable form of transport but it's not always possible to provide these services. It costs a lot to build new tracks and there isn't always enough land available. New Zealand also has some steep terrain which makes building railway lines even harder. In the future we need to look at providing different forms of transport. This means we are able to cope with events such as today's train delays. You can listen to the web conference to find out more.
Security systems
Following the web conference, Dave showed you around the service centre. This centre is like a smaller version of the national train control centre that you saw on Tuesday. Here you could see how the Wellington passenger trains are monitored. All trains and stations have cameras. People can communicate with staff at the service centre if there is a problem. Emergency phones are available, and a speaker system can warn people. This technology helps to keep people safe and record any problems so they can be dealt with quickly. This system also helps the police to respond to problems. Watch the video about this.
Sustainable transport
Dave introduced you to Malia Vehikite. Malia is an Energy Graduate who works for KiwiRail. Malia's job is to look at how KiwiRail can make energy savings and reduce carbon emissions. Malia talked about the benefits of rail. Rail can transport a lot more people and freight than cars and trucks. This reduces the amount of traffic on our roads which helps reduce accidents and road maintenance costs. You may not have the option of travelling by rail. Malia talked about some of the other forms of sustainable transport you can choose. Electric cars, bikes and scooters are becoming more popular and cheaper. Car sharing and public transport are also good choices. People can also choose to walk and bike more with the added benefit of keeping fit. You can watch the video about this.
Staying on Track
You then headed out to Featherston to meet with students from St Theresa's School. I was so disappointed that we couldn't travel by train. I had been looking forward to a relaxed train trip north. Instead you had to take the winding road over the Remutaka Hill. Once you had arrived at the school you met with some students who have been looking at how to stay safe around trains. This school is very close to the railway tracks and many students have to use the level crossing to get to school. Students showed you how to look both ways to check for trains before crossing. They also talked about removing headphones and pocketing phones, to avoid distraction. The whole school has a values system based on staying on TRACK. Think, be responsible, achieve, be courageous and be kind. It was great to see these students displaying these values. Watch the video to find out more.
Linking communities
You finished the field trip at the Featherston Railway Station where you met Donna Harley. Donna has worked for KiwiRail for 30 years. Donna talked about how important rail is to small communities like Featherston. The railway links the community and makes it easier for people to travel. Rail also brings in goods and makes it possible for businesses and industry to trade and export. After tackling the Remutaka Hill Road you could see how helpful the railway link between Wellington and Masterton is. Donna believes that places like Featherston would struggle to survive without the rail link.
This field trip has given you the opportunity to look at the role rail plays in New Zealand and how we can all help to keep our rail network safe. I hope you have enjoyed the journey and can join us on another field trip soon.
Mā te wā,
Shelley the LEARNZ field trip teacher.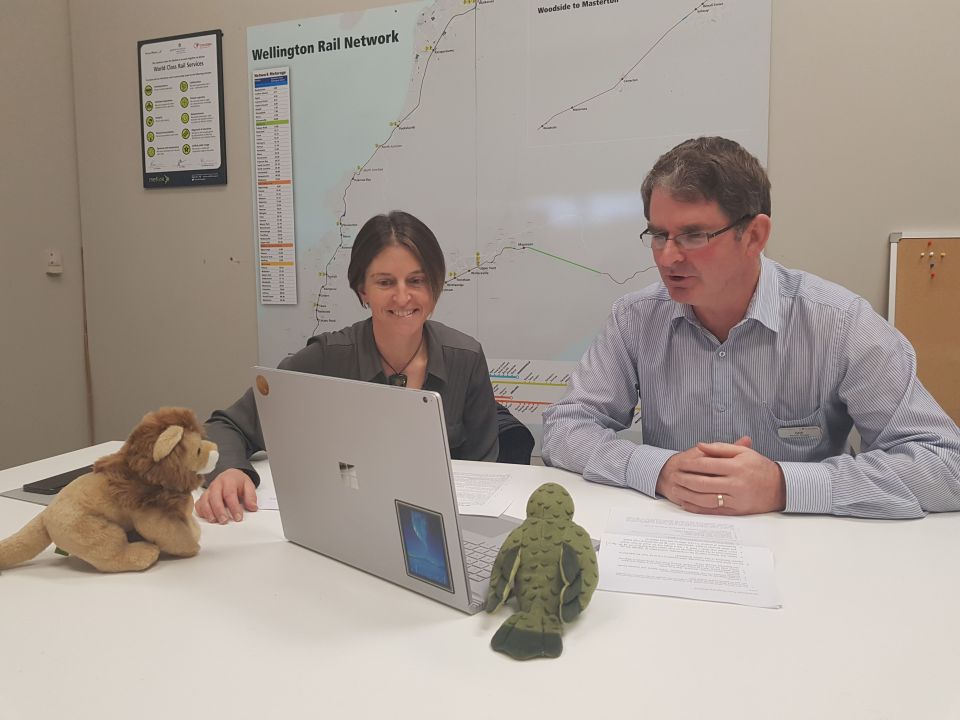 Shelley and Dave talk to Paerata School during the last web conference. Image: LEARNZ.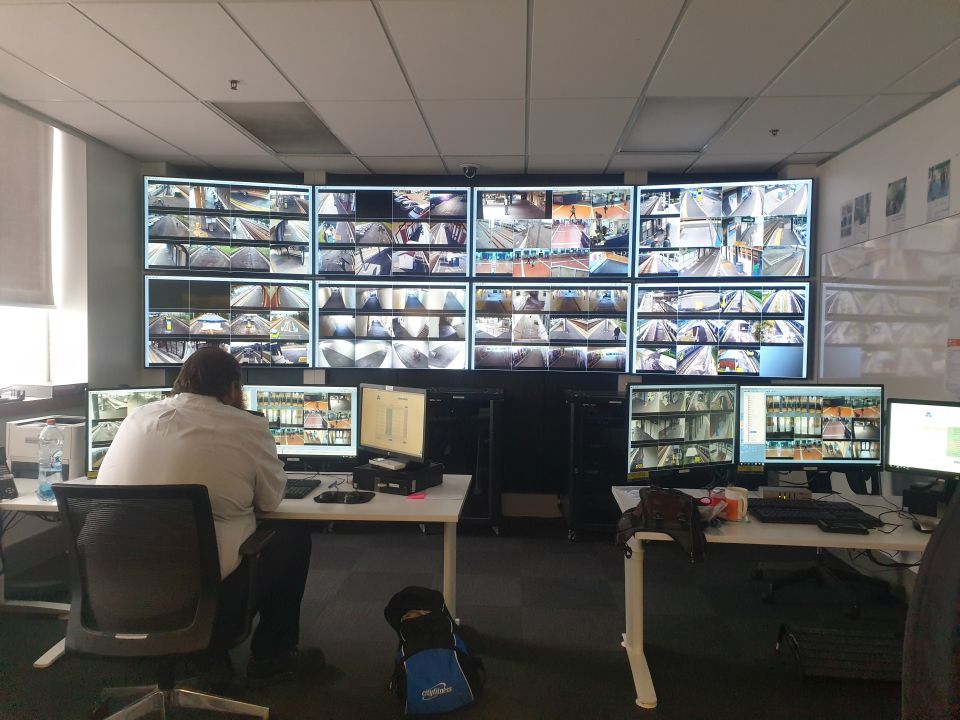 Stations, trains and locomotives all have cameras on them and are monitored at the service centre. Image: LEARNZ.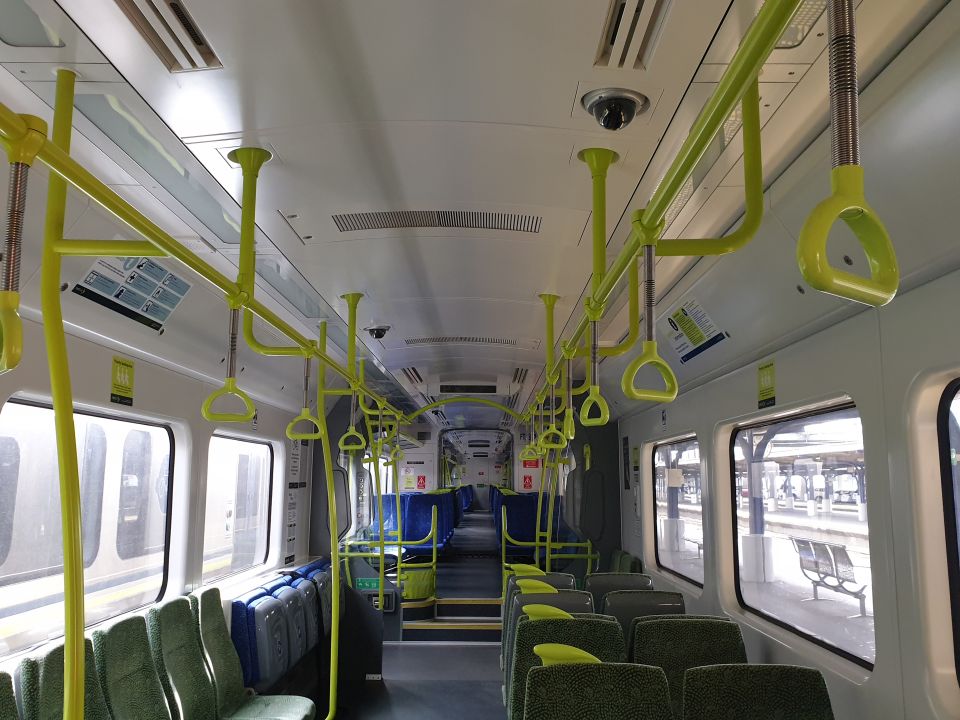 Inside a metlink train you can see security cameras attached to the ceiling. Why do you think it is important to have these cameras? Image: LEARNZ.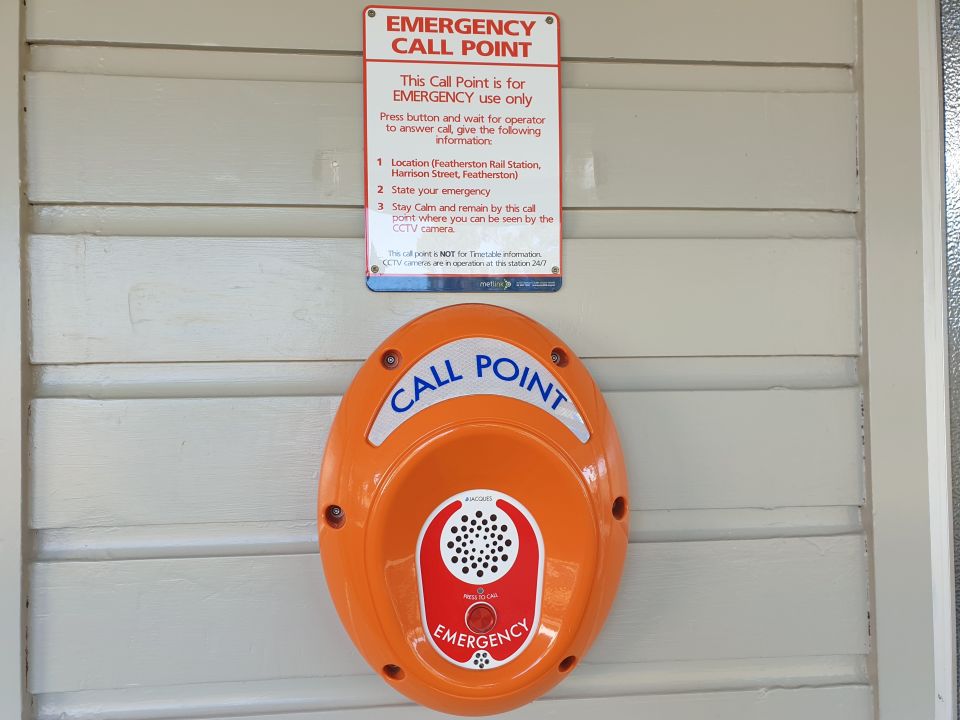 At train stations there are phones that people can use in an emergency. These phones go through to the service centre where a response can be coordinated. Image: LEARNZ.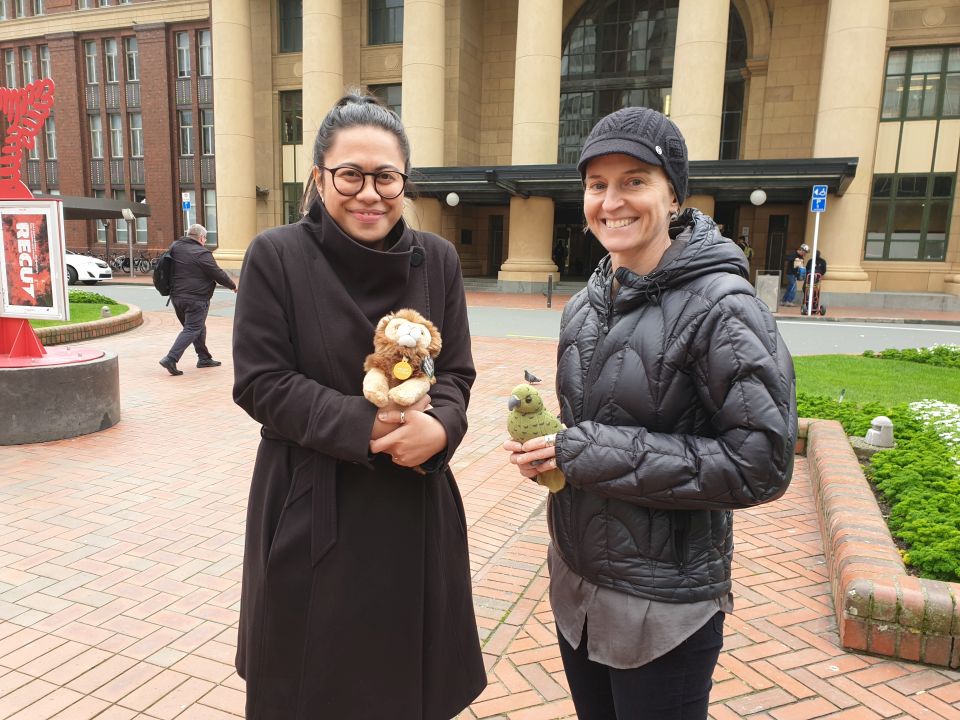 Malia and Shelley talk about sustainable transport options outside the Wellington train station. Image: LEARNZ.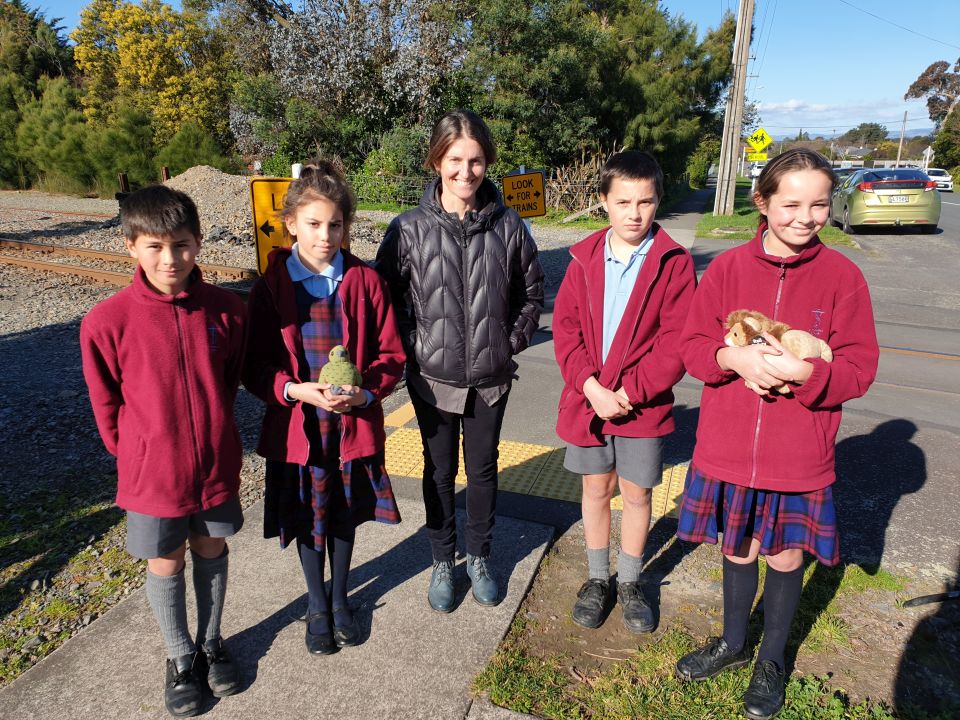 Ledanian, Mexi, Shelley, Van and Rose talk about how to stay safe at a level crossing. Image: LEARNZ.
Students from St Theresa's School in Featherston model good practices at a level crossing. Image: LEARNZ.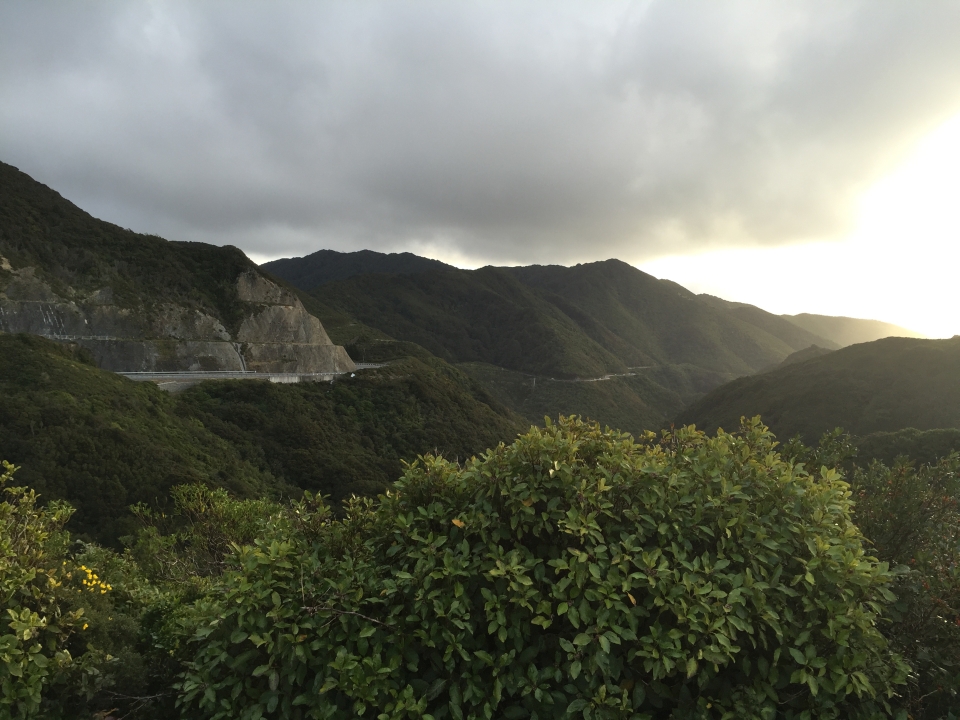 It is easier to travel by train through the 8 kilometre Remutaka Rail tunnel than it is to drive over the winding Remutaka Hill Road. Image: LEARNZ.