Diary 1
Date:
Monday, May 22, 2017
Field Trip Name:
People and Water
Weather:
Sunny with a cool breeze
Where You Are:
Wellington
Kia ora koutou,
The first polar blast of winter arrived over the weekend covering the hillsides around Dunedin in snow. Fortunately, by Monday the bitter wind and sleet had disappeared leaving a stunning day to begin our People and Water field trip. At this time of year, when it's often raining and everything is damp underfoot it's hard to think of water as a limited and precious resource. On this field trip, you will look at just how much we all rely on water and how the water network is managed to make sure there is always enough for everyone.
All aboard
It was a relaxed start to the day and you arrived at the airport in plenty of time to catch your flight from Dunedin to Wellington. The wild weather over the weekend must have disrupted lots of people's travel plans because the airport was packed with people. Everyone seemed anxious to be on their way, so I was thankful for being early. Once on board the Airbus A320 you and the ambassadors could sit back and enjoy the journey. 
Across the Strait
Spectacular scenery made time fly. Te Tiritiri o te Moana, the Southern Alps stretched for miles and glistened in a thick fresh coat of snow. You could easily spot Aoraki Mount Cook and other major peaks as you headed north. It is these mountains that are a major source of water in the South Island and looking out across the jagged landscape it made me wonder how much water we would have access to if we didn't have mountains like this. 
Eventually the mountains shrank and the Marlborough Sounds came into view. You could see the Cook Strait Ferry heading south as you descended towards Wellington.
Welcome to Wellington
The pilot approached Wellington from the south and avoided most of the turbulent air. Despite the sun there was still a persistent breeze blowing in windy Wellington. Wellington is one of my favourite cities and I can't wait to learn more about this cool little capital. After collecting your luggage, you headed into the centre of the city where you will be staying for the rest of the week. 
Wellington Water
Even though the sun was shining it was still quite cold walking around the waterfront. The ambassadors didn't seem to mind the crisp air and were keen to explore. There is always heaps to do and see in Wellington. Walking alongside the harbour made me think more about where our water comes from and how we keep it clean. 
Each person in Wellington uses on average over 220 litres of water every day and this water has to be treated to make it safe to drink. You can find out more by reading the background pages. This week you will see where Wellington gets all this water from and follow its journey from its source to our taps. Then you will discover what happens to this water once it goes down the drain. You will meet experts from Wellington Water who will guide you on this journey and hopefully help us all to better manage our most precious resource.
See you tomorrow,
Shelley, the LEARNZ field trip teacher.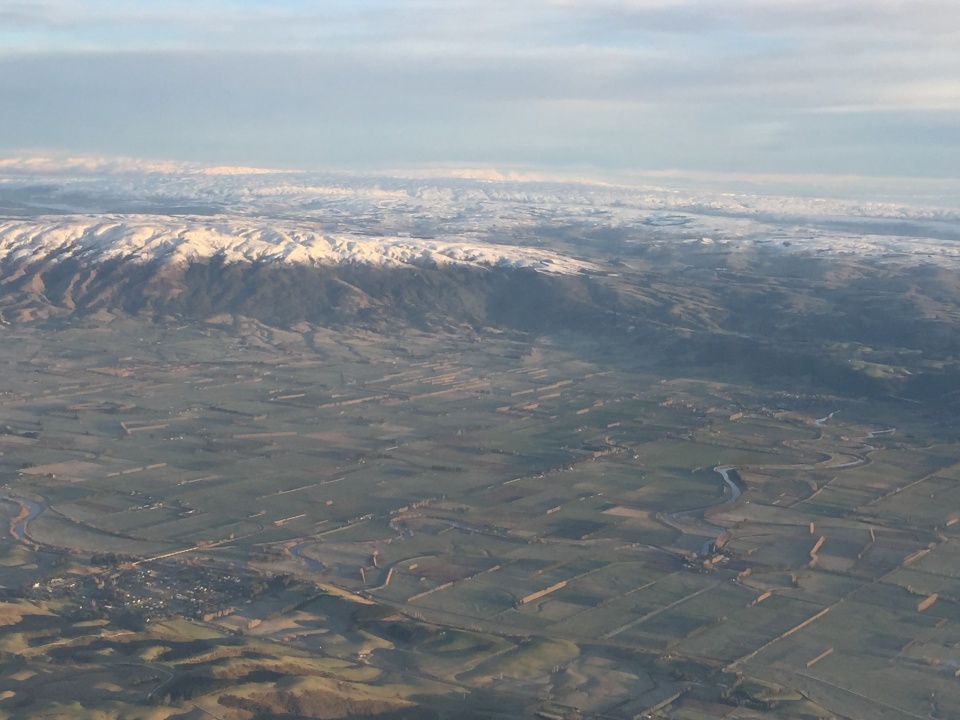 Fresh snow cloaked the hills and frost chilled the valleys near Dunedin airport this morning.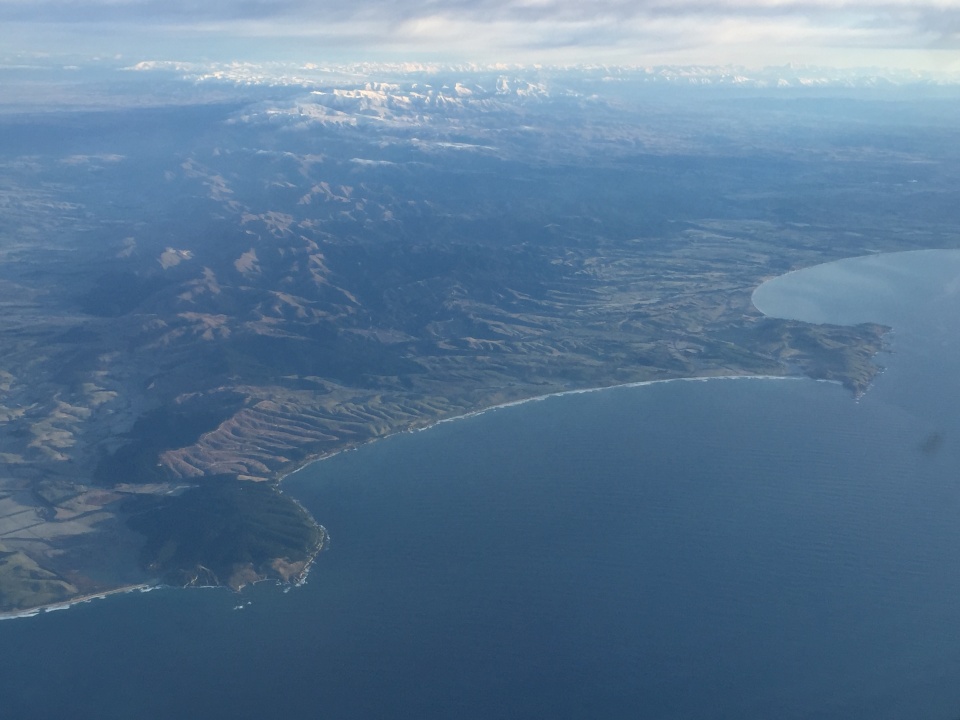 You could watch the waves roll in on the east coast as you travelled north. Image: LEARNZ.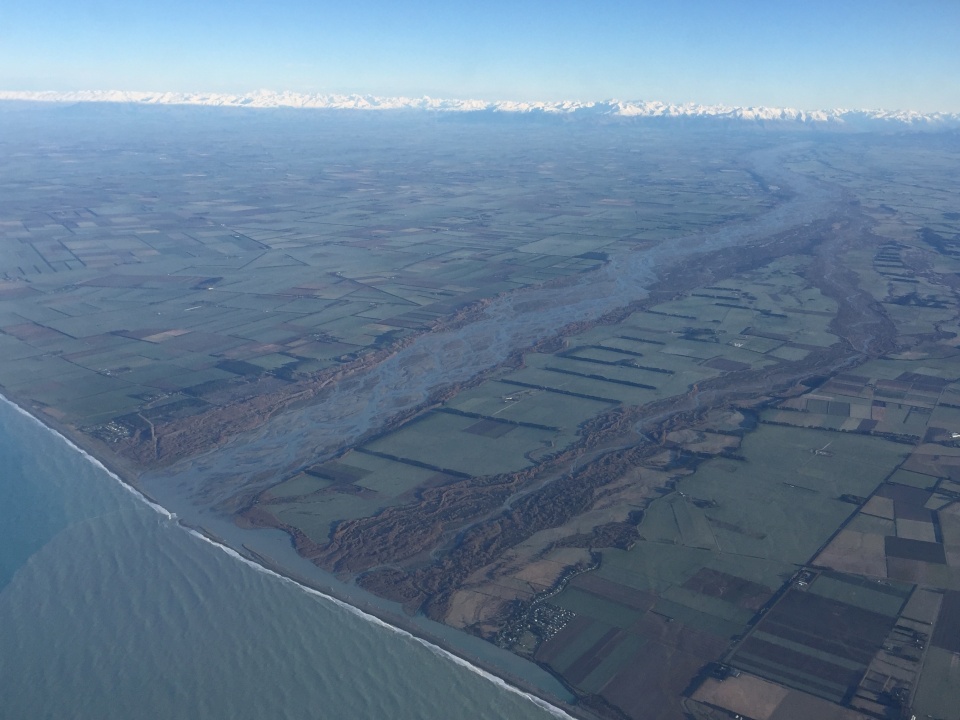 You flew alongside Te Tiritiri o te Moana, the Southern Alps as you headed north. Image: LEARNZ.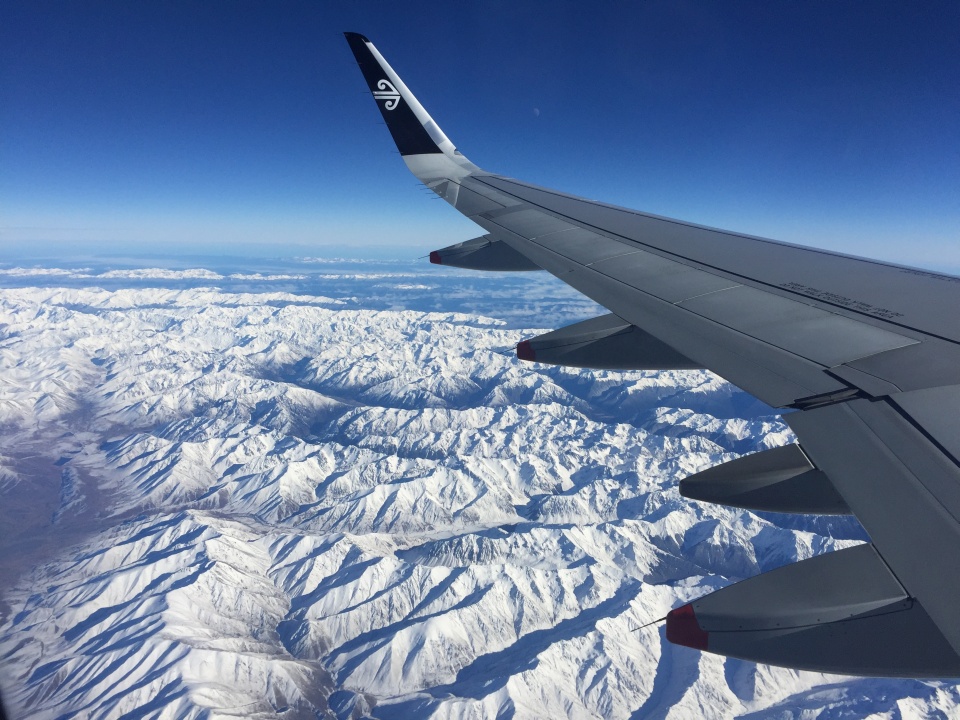 The wild weather over the weekend created spectacular scenery. Image: LEARNZ.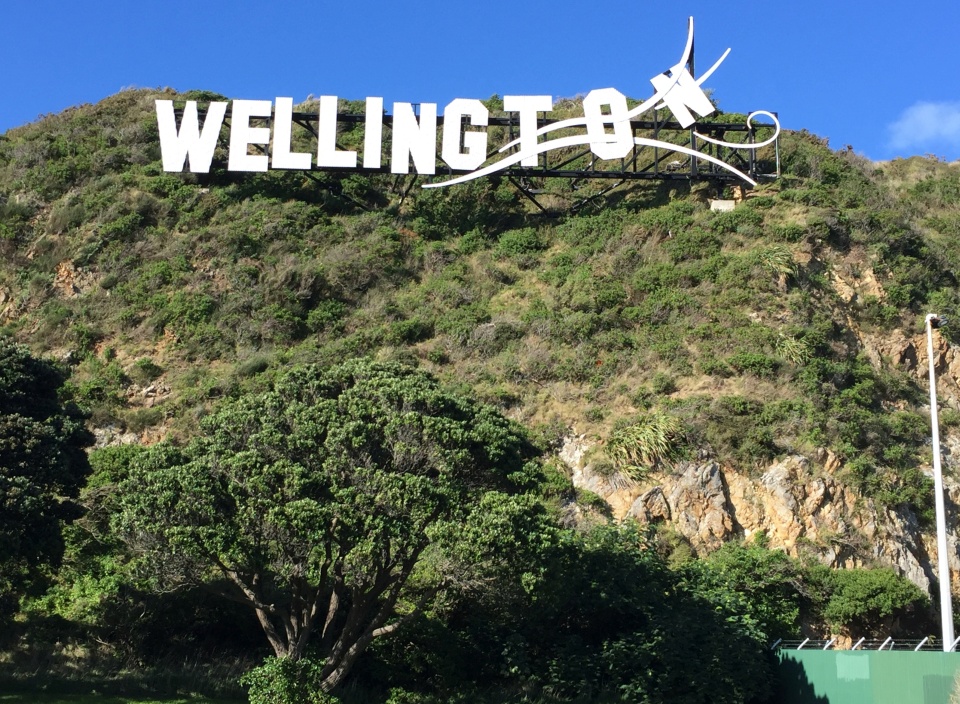 Welcome to windy Wellington! Image: LEARNZ.
It was a great day to wander around Wellington's waterfront and bask in the sunshine. Image: LEARNZ.
Looking out over Oriental Bay in Wellington. Image: LEARNZ.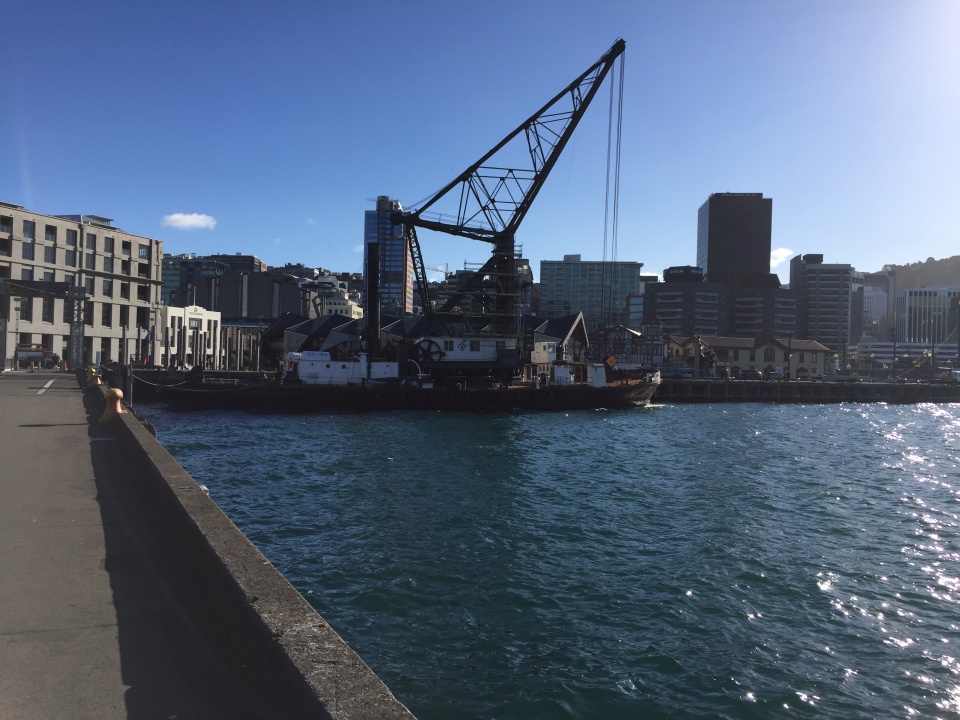 There doesn't seem to be any shortage of water in Wellington. Do you think there is always enough water for everyone in Wellington? Image: LEARNZ.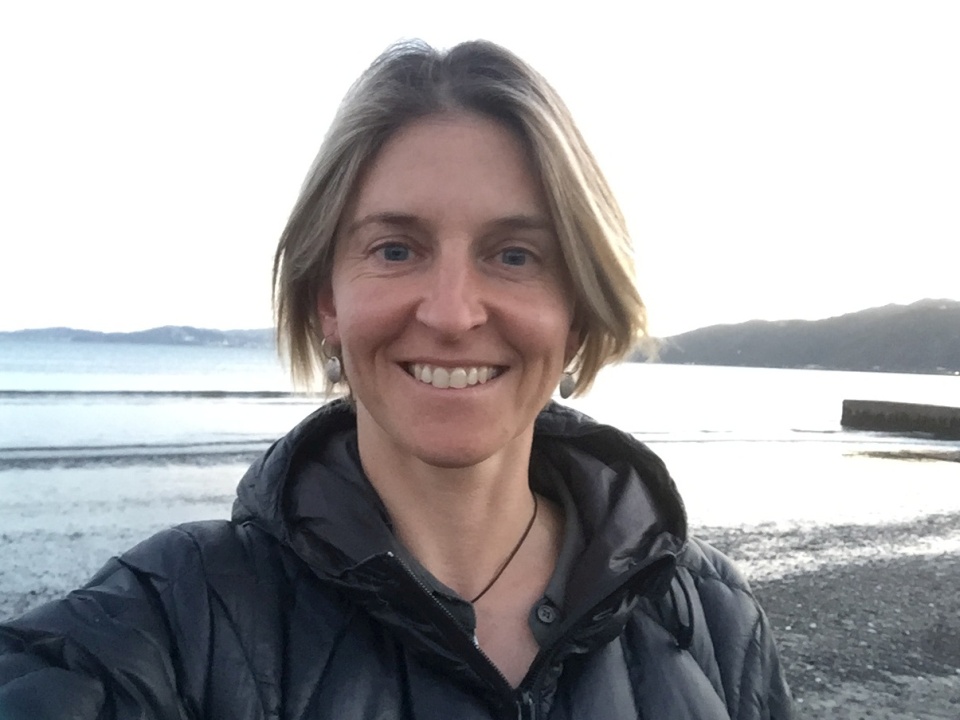 Shelley enjoys the last rays of sunshine in Wellington. Image: LEARNZ.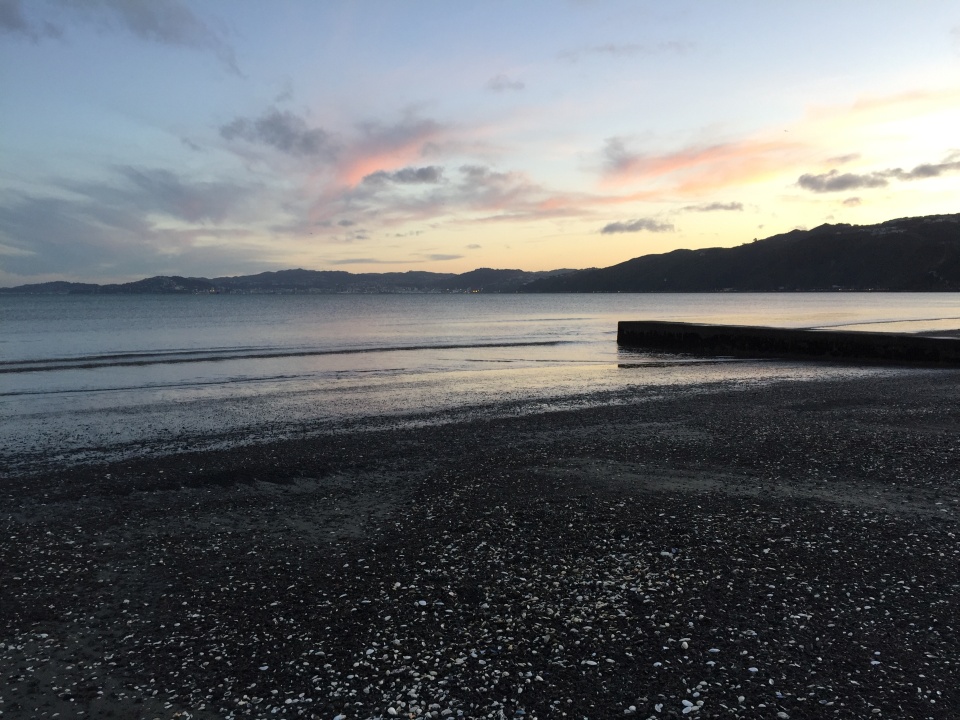 The sun sets over the hills above Wellington. Image: LEARNZ.