Diary 2
Date:
Tuesday, March 19, 2019
Field Trip Name:
Water - a balancing act
Field Trip Place:
Christchurch
Weather:
Cloudy with fine breaks
<- Homepage: Water: a balancing act
---
Kia ora koutou
Eddy and I were keen to learn more about irrigation today. Eddy was especially interested in how taking water for irrigation is managed so that wildlife living on and in the river is not affected.
Web conference
Our first field trip web conference took place at the Central Plains Water (CPW) Sheffield storage pond. We weren't actually in the pond, but in an office next to it! Our speaking school was Mt Hutt College. The web conference experts were Elizabeth Soal, John Sunckell, and Fiona Crombie.
We had a good range of questions from Mt Hutt as well as from the informal part of the web conference. If you missed the live web conference you can access the recording.
What is irrigation?
We caught up with Elizabeth Soal again after the web conference. In the background pages you can read more about what irrigation is and why we need it. But you can also watch today's first video for the answers.
In the video, Elizabeth says that irrigation has been around for a long time. It is basically a way to water plants when there hasn't been enough rainfall. The technology has developed and improved over the years. And with a growing population to feed, irrigation is probably more important now than ever.
It's not just about taking
We travelled to a part of the Waimakariri River to meet up again with John Sunckell. I wanted to find out more about the different uses of river water, other than just taking it for irrigation.
Two of the main things John refers to is biota and culture. Biota is about the plants and animals living in and around the river. Culture is about how we view and use a river. These are important things to consider before taking water from a river for irrigation. There are many plants and animals relying on the river. And we humans use rivers for a variety of activities. People also have historical and spiritual connections to rivers. In the video John talks more on this, as well as how decisions are made about the amount of river water allowed to be taken for irrigation.
Central Plains Water (CPW)
After lunch we went back to the Sheffield storage pond for a chat with Fiona Crombie. Fiona told us all about how the Central Plains Water irrigation scheme works. You can watch the video but in short, the scheme involves a storage dam, tunnels and a series of canals and water races that supply water for irrigation to an area of 60,000 hectares on the Canterbury Plains. Water is taken from the Rakaia and Waimakariri Rivers. Shareholders in the scheme are farms in Selwyn district who take water from the scheme to grow their crops.
To make sure the scheme is environmentally responsible, all farms on the CPW scheme have a Farm Environment Plan. All farms that use water from the scheme must follow their plans. There are audits (checks) to ensure they are being followed. There are many parts to the environment plan. They consider such things as the surrounding native flora and fauna, as well as nutrient, sediment, and phosphorus run-off.
CPW also have an environmental management fund. The fund supports projects which help to enhance the natural environment within the catchment.
Tomorrow we head to a farm where we will see irrigation in action.
Catch you tomorrow,
Andrew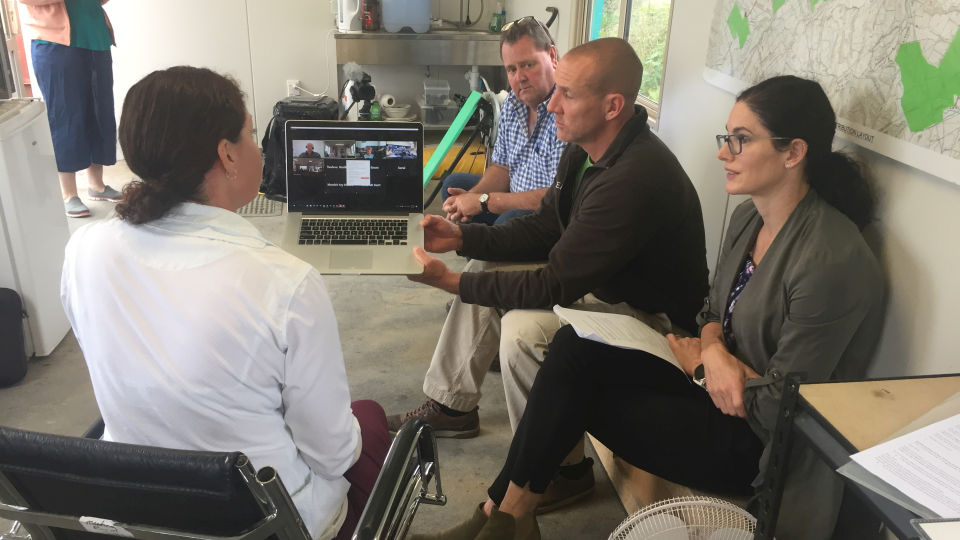 This morning's web conference at the Sheffield Storage Pond office. Image: Shelley Hersey, LEARNZ.
Irrigation is the artificial watering of land that does not get enough water through rainfall. Image: Andrew Penny, LEARNZ.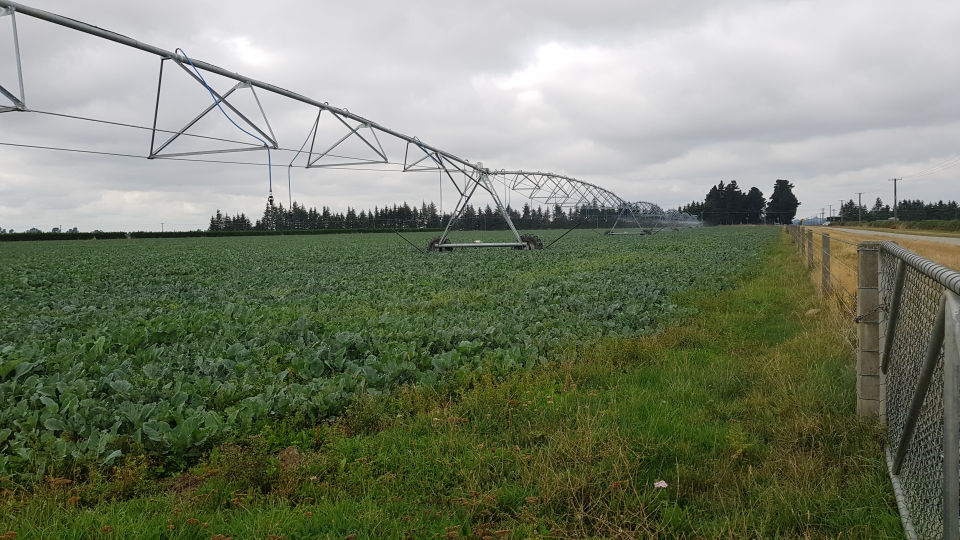 Why is irrigation so important? Image: Andrew Penny, LEARNZ.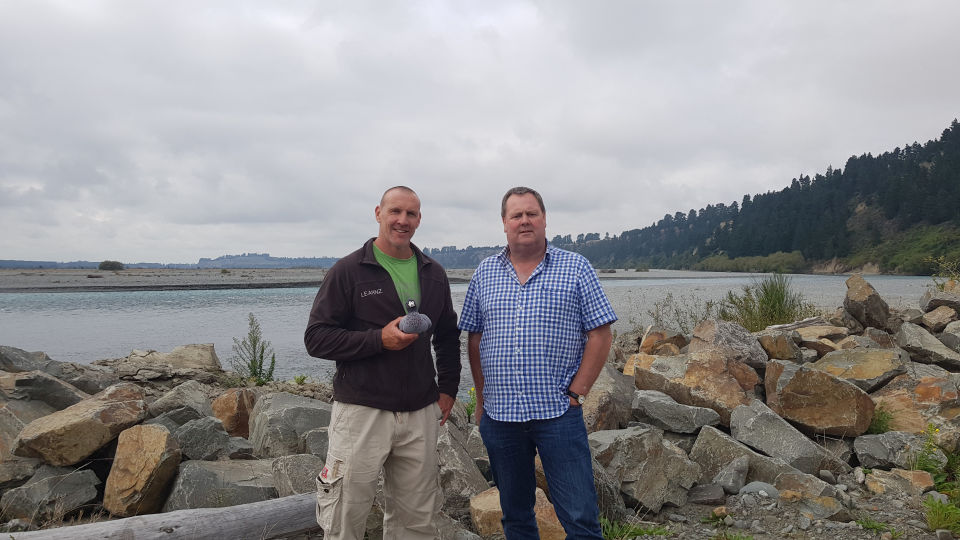 Andrew and Eddy with John Sunckell next to the Waimakariri River. This is one of two rivers used by Central Plains Water Scheme. Image: Allanah Jarman.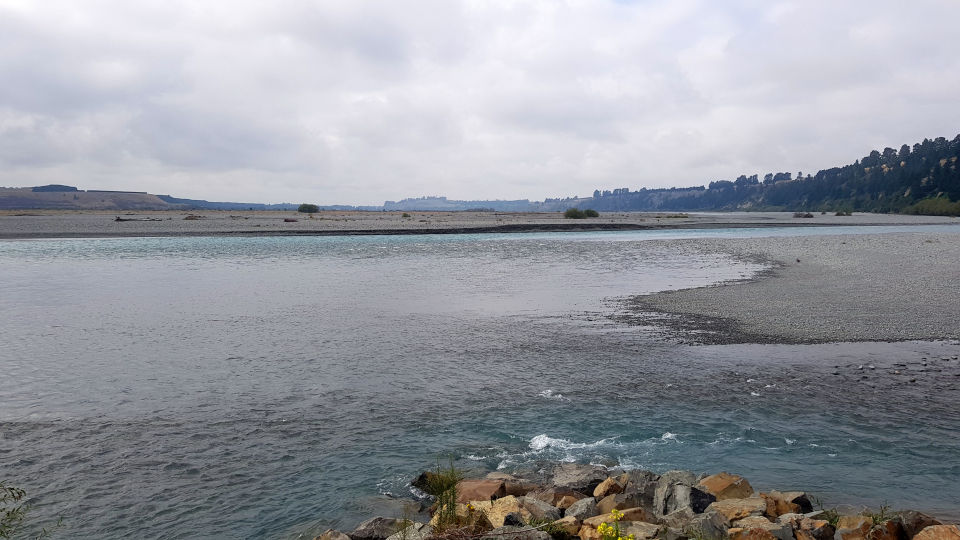 What different uses for a river do we need to consider when making decision about how its water is used? Image: Andrew Penny, LEARNZ.
Andrew with Fiona next to some pipes used in the Central Plains Water Scheme. Image: Shelley Hersey, LEARNZ.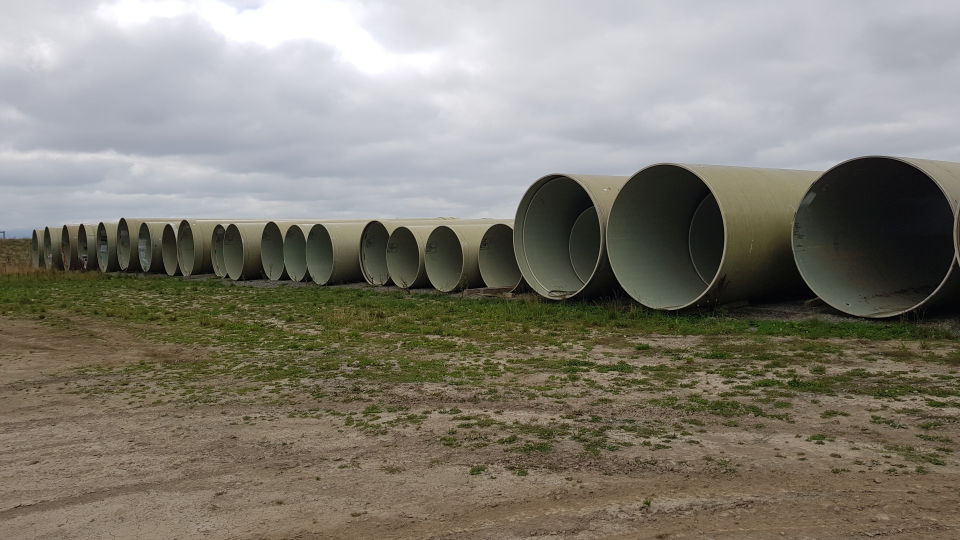 What are the advantages of using pipes when transporting water to farms? Image: Andrew Penny, LEARNZ.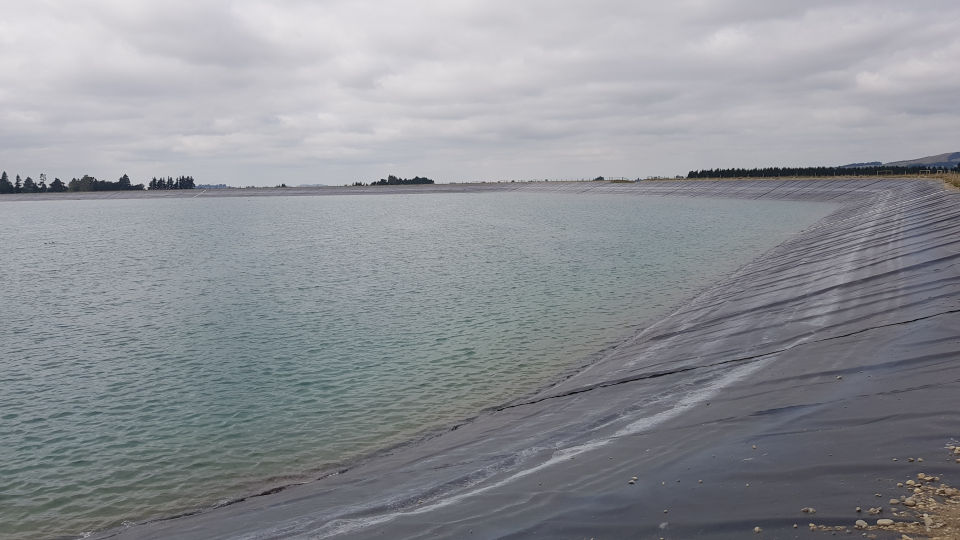 Part of the Sheffield Storage Pond. When is the pond filled? Image: LEARNZ.