Testimonials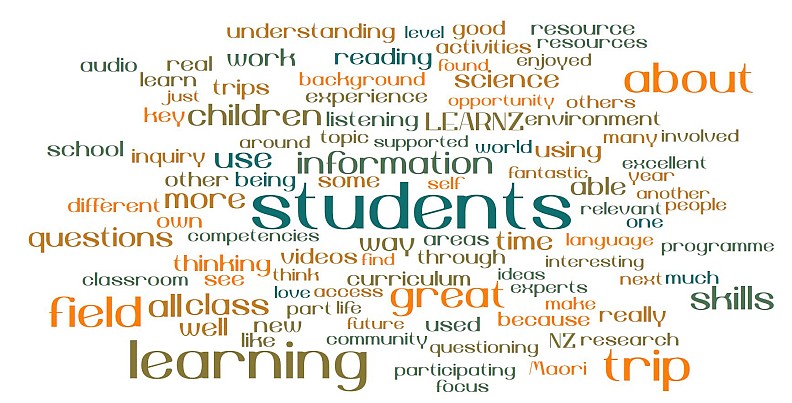 Marine Mammals
It has given my predominantly Pasifika students an invaluable and accessible EOTC experience that would normally be beyond our ability to provide in real time. Oral recordings made it very accessible and having ambassador on board increased engagement further.
Katherine Smith from Nga Iwi School
It was related to a topic the students could branch out into/feel passionate about and the resources were suited and adaptable to our year 7 class. Engaging with an expert models the quest for knowledge and students take it more seriously/engage more when they know the expert has dedicated their life to their chosen field.
Dale Hitchcock from Pukekohe Intermediate
It was really well set up with appropriate material for classroom writing and got all of my students excited about marine mammals.
Nik Serhijenko from Pamapuria School
Great for motivating students, relevant and NZ based. Made me more open to interactive/web conferences/real time learning.
Karen Nicholls from Matamata Intermediate
Motivating, engaging, the short video clips hold student interest and provide plenty of scope for discussion. Well supported with activities, both paper and digital.
Caroline Arnold from Lepperton School
The LEARNZ field trips are a fantastic way to expose students to learning that they may not otherwise have, at places they wouldn't normally go to, while giving them the opportunity to get information from experts.
Marcia Karaitiana from Longford Intermediate
We are learning about sustainability and this was a good trip to take.
Gillian Bartlett from Mission Heights Junior College
Fitted in well with Sea Week and had good information that suited our context for Year 9. Also provided our students of various ethnicity a good opportunity to learn associated Māori vocabulary.
Wyn Morris from Mission Heights Junior College
This topic of this virtual field trip study supports our values of kaitiakitanga. Very appropriate, being a school of students who are sea people, and an interesting form of learning for isolated schools like ours.
Cheryl Waititi from Te Waha O Rerekohu Area School
It engaged the children in a different way; more authentic learning. Got students thinking about their role in our future world and how they could participate and contribute.
Rachel Ammundsen from Moturoa School
Great to connect with others in a real world context.
Katrina Curtis from Clearview Primary
Whats the Plan Stan?
Fitted with our science unit, values of looking after others, and furthered competencies such as speaking and listening and communicating using written language.
Rhonda Beet from Orewa North School
Participation helped students to learn to work together as a team, so they were able to formulate appropriate questions to put to the experts. Really created an awareness of the need to have an emergency plan.
Nadeema Nordien from Zayed College for Girls
Field trips like these help build connected, lifelong, sustainable learners.
Steven Bodger from Piopio College
Very effective, especially for those students who had the ability to engage in the audio conferences and ask their own questions. This was a great way to immerse my class in lots of information and to initiate lots of discussion. Thank you!
Rachel Hall from Paremata School
It was like second nature to this term's inquiry and fitted like a glove. It was leveled and delivered at an excellent level and the content was perfect for my Year 8 class.
Heather Williams from Papamoa College
The children love tuning in live and this really motivates them. We had been on the LEARNZ Kaikōura earthquakes trip earlier in the year and this was a great follow up.
Jennifer Croxford from Wanaka Primary School
I find the teacher support section very helpful and have never thought, "I wish they had this here". Students were able to read and understand the easy background information and were able to discuss the ideas put forward, then form evacuation plans for school and home.
Paula O'Neill from New River Primary
Motivating and interesting for my Year 4 class. Audio conferences great. They also especially enjoyed the videos and the ability to have text read to them was really helpful.
Gina Wan from Levin East School
The amount of information my students learn in these mini units is impressive and they generally retain more knowledge this way. Thanks for all the effort you put in. Saves on my planning too.
Alison McCartie from Waitetuna School
It led to a combination of other tasks including preparing their own households in the event of a disaster, getting to know their neighbourhood and even who can assist in times of need. Children can explore the information independently, challenge their understanding with the quizzes and then be encouraged to follow-up with related tasks and websites.
Glynn Hills from Central School
It worked in well with the nationwide earthquake drill and made students think about how to deal with different emergencies. Everything came into the Key Competencies, Health and PE curriculum, and our values at school.
Louise Parker from Twyford School
The material was relevant to my students, who could cover as much or as little as they were able to complete. With this field trip I had one able learner supporting a less able learner and they both produced some great work.
Jennifer Barrow from Kaniere School
Activities (interactive) are great. Visiting places and discussing in short (video) clips are useful. Students had information at a variety of levels and had access to an expert, allowing teacher to become facilitator.
Kerry Godkin from Red Beach School
Very useful for convincing children that we really do need to prepare for a disaster. Being an e-learning class, we made a disaster plan for our own family. The variety of content is more engaging than normal classroom activities, and this helps to motivate priority learners.
John Brunton from Marshall Laing School
Pages