Testimonials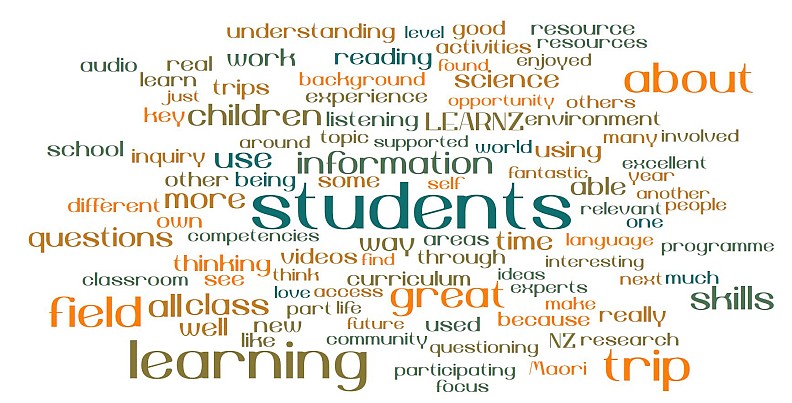 Marine Mammals
It has given my predominantly Pasifika students an invaluable and accessible EOTC experience that would normally be beyond our ability to provide in real time. Oral recordings made it very accessible and having ambassador on board increased engagement further.
Katherine Smith from Nga Iwi School
It was related to a topic the students could branch out into/feel passionate about and the resources were suited and adaptable to our year 7 class. Engaging with an expert models the quest for knowledge and students take it more seriously/engage more when they know the expert has dedicated their life to their chosen field.
Dale Hitchcock from Pukekohe Intermediate
It was really well set up with appropriate material for classroom writing and got all of my students excited about marine mammals.
Nik Serhijenko from Pamapuria School
Great for motivating students, relevant and NZ based. Made me more open to interactive/web conferences/real time learning.
Karen Nicholls from Matamata Intermediate
Motivating, engaging, the short video clips hold student interest and provide plenty of scope for discussion. Well supported with activities, both paper and digital.
Caroline Arnold from Lepperton School
Whats the Plan Stan?
I found the easy background pages appropriate for most students and the ability to have the text read to them was really helpful. Motivating and interesting - my Year 4 students especially enjoyed the videos.
Gina Wan from Levin East School
The material was relevant to my students, who could cover as much or as little as they were able to complete. With this field trip I had one able learner supporting a less able learner and they both produced some great work.
Jennifer Barrow from Kaniere School
This field trip linked in really well with our Science Inquiry and the real world nature of the field trip, which the children felt connected to and motivated them to self-direct their learning and go further. I have had excellent learning from my children from the LEARNZ Virtual Field Trips. I think they are fantastic.
Kelly Parker from Papakowhai School
The field trips cater for a number of learning styles providing visual, written and audio information. I love using Learnz with my class. Thank you for providing this fabulous resource. 
Jennifer Barrow from Kaniere School
At Year 2 level, fire drills, earthquake drills etc need more context, and this field trip provided that. This field trip helped students to become engaged in society by having a better understanding of how good citizens understand and prepare for disasters.
John Brunton from Marshall Laing School
Very useful for convincing children that we really do need to prepare for a disaster. Being an e-learning class, we made a disaster plan for our own family. The variety of content is more engaging than normal classroom activities, and this helps to motivate priority learners.
John Brunton from Marshall Laing School
It was great to have real-life experiences recounted and for students to be able to communicate with scientists. The "What's the Plan, Stan?" topic was relevant, and seeing the conference call made students even more interested.
Dale Machin from Buckland School
Tied the emergency drills that we practice in the school into a wide context. It supported the learning we were doing in class.
Aaron Frost from Whitiora School
It made my children more aware that floods, earthquakes and other natural disasters don't just happen to other people in other places but can happen anywhere at anytime. Thank you, I am enjoying learning along with my class!
Margaret Cassidy from Kaikohe East School
This is a fantastic resource for all as there is a lot of information compiled into a number of units. We are ever so grateful for the hard work put into making LEARNZ virtual field trips.
Seuga Frost from Ohau School
Connects with studets' wider lives, and engages the support of their families, whānau, and communities. Another vehicle that can be used to engage students with like-thinking students across the motu.
Tarakihana Roberts from Kaitao Intermediate
All of my students, including Maori Pasifika and ESOL, have good understandings as a result of the LEARNZ What's the plan, Stan field trip. It was helpful having experts answer inquiry questions my student had, and videos helped certain students gain a deeper understanding.
Mary Herlihy from Royal Road School
The field trip was appropriate for our class of Yr 3 students and met many aspects of the NZ curriculum. Students are now highly motivated to find out more about hazards/disasters that are likely to impact them at some stage.
Jessica Byrne from Rata Street School
The subject was national and we localised it by making a plan for our schools which we shared with the whole community. The key competency of  'managing self' is very relevant here and the activities and videos were great.
Hilary Spedding from Millers Flat School
Most children went home and planned emergency supplies and procedures. We integrated reading, mapping, videos, discussing, writing, maths, presenting ideas, as well as health and safety procedures. We had a lot of fun.
Joanne Phillips from Te Mata School Havelock North
It is a great platform for the children to engage with their parents about what they are learning, in this case to get families to talk about how to be prepared. The children love seeing real people in real time. They engage with the learning but also relate it to the people on screen as if they are their friends.
Lesley Johnston from Firth School
The amount of information my students learn in these mini units is impressive and they generally retain more knowledge this way. Thanks for all the effort you put in. Saves on my planning too.
Alison McCartie from Waitetuna School
The students loved Stan the dog and the way he acted out in the video. This held the younger viewers interest, but also reinforced the learning points. It made online learning very purposeful, more than just a research or processing tool. Talking to someone in Auckland from Picton was very powerful and engaging for learners.
Elizabeth Ives from Picton School
Participation helped students to learn to work together as a team, so they were able to formulate appropriate questions to put to the experts. Really created an awareness of the need to have an emergency plan.
Nadeema Nordien from Zayed College for Girls
Fitted with our science unit, values of looking after others, and furthered competencies such as speaking and listening and communicating using written language.
Rhonda Beet from Orewa North School
Pages