Ambassador Kevin
Kia ora,
I'm a cheerful and curious chap (much like the kids in Room 5 at Alexandra Primary School)! I love to explore and learn new things. It's sad but my family hasn't been seen in the South Island lately.
I can't wait to go where no Kōkako has gone before and travel to Antarctica!
See you there,
Kevin.
Thursday 23 November
Kia ora,
I have been looking forward to this trip for ages but unfortunately the weather has been terrible in Antarctica and we were not able to fly today. Lots of people have been waiting to head south as there have only been a couple flights in the last two weeks. 
We were given all our special clothing to wear, but luckily my feathers are already designed to keep me warm. I am a bit nervous about heading to the coldest, windiest, and driest place on Earth. Best I don't forget my water bottle.
See you tomorrow,
Kevin.
Friday 24 November
Hi everyone,
We woke up early hoping that we would be heading south but at 6am we found out that the flight had once again been cancelled. This really is turning into a challenging season for anyone trying to get to Antarctica.
The next flight is scheduled for Monday so wish me luck!
Have a good weekend.
Kevin.
Monday 27 November
Kia ora,
Today was our last chance to head to Antarctica so we were all so relieved to hear that the flight had not been delayed. It was so exciting to board the C130 Hercules aircraft and even though it was hot, cramped and noisy I was so happy to be onboard.
I slept for most of the flight until Shelley woke me up to look out over the sea ice. I was surprised at how much sea ice there is – it stretches for hundreds of kilometres. It is amazing to finally be in Antarctica and I can't wait to get out and about tomorrow.
See you then,
Kevin.
Tuesday 28 November
Kia ora koutou,
I have been looking forward to today and talking to my classmates. I was so proud of all your great questions during the web conference and it made me feel just a little bit homesick.
We learned heaps during our Antarctic Field Training and I found out how to pitch a tent in the freezing wind so that it won't blow over or get buried in snow. I also learned that the Ross Ice Shelf is the size of France!
It's dinner time now so I'm off to grab some kai.
See you tomorrow,
Kevin.
Wednesday 29 November
Kia ora,
I met a friendly Weddell seal today. These seals look like big fat slugs lying on the sea ice and are over 450kg in weight. It is fantastic to hear that the Ross Sea is now going to be a protected area so animals such as this will not have to compete with people fishing for food.
It was neat to look behind the scenes at Scott Base and see how they manage waste and generate electricity using the power of the wind, with diesel generators for back up.
Tomorrow we will head off base on an adventure – I can't wait.
See you then,
Kevin.
Thursday 30 November
Kia ora,
We woke to another glorious day in Antarctica, so we decided to head out for a hike up a hill. I wanted to fly but the other ambassadors wouldn't let me. It was a good way to practice the skills that we learned in Antarctic Field Training. We walked all the way up Ob Hill and met a friendly skua at the top. These birds are scavengers but it didn't seem interested in us.
We have all had a fantastic time here in Antarctica. I'll be sad to leave, but I am looking forward to catching up with you all soon.
See you soon,
Kevin.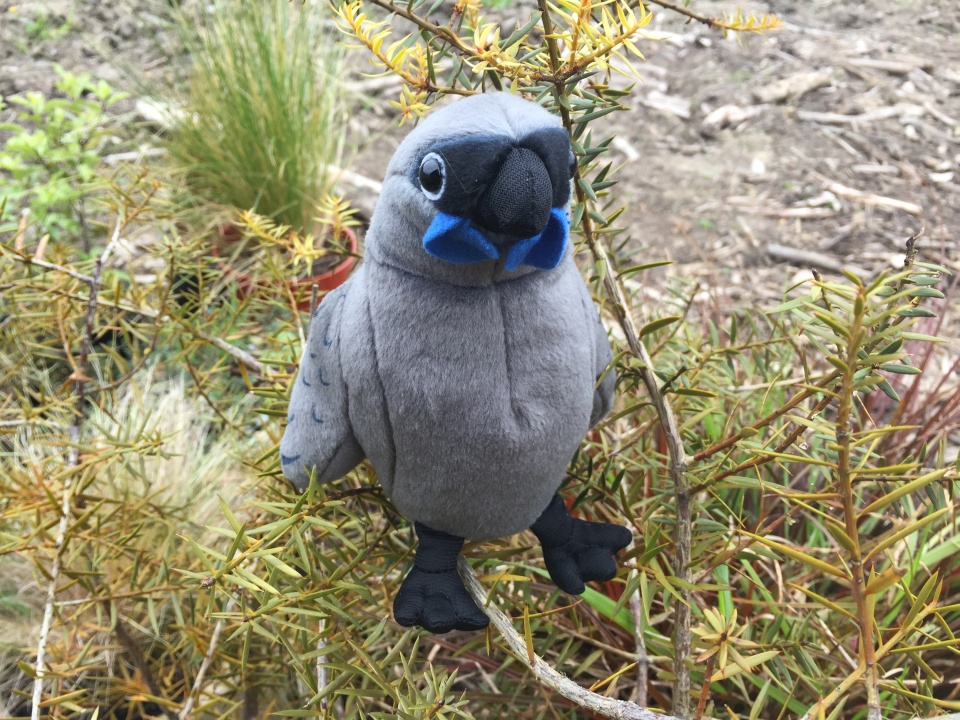 Kevin Kōkako is looking forward to his Antarctic adventure. Image: LEARNZ.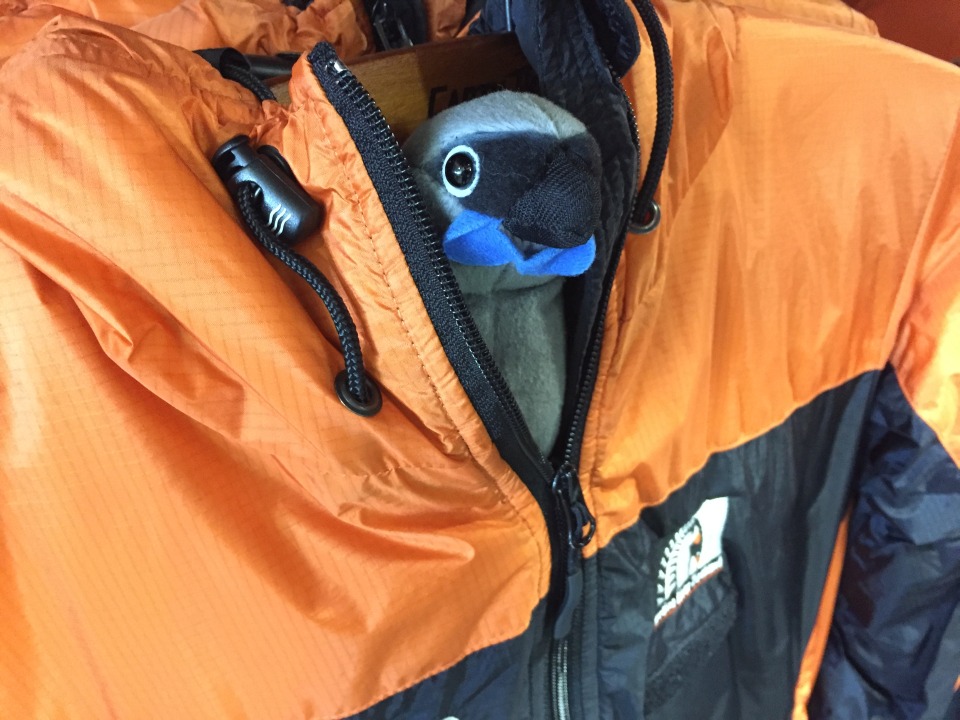 Kevin tries on an Antarctic jacket. Image: LEARNZ.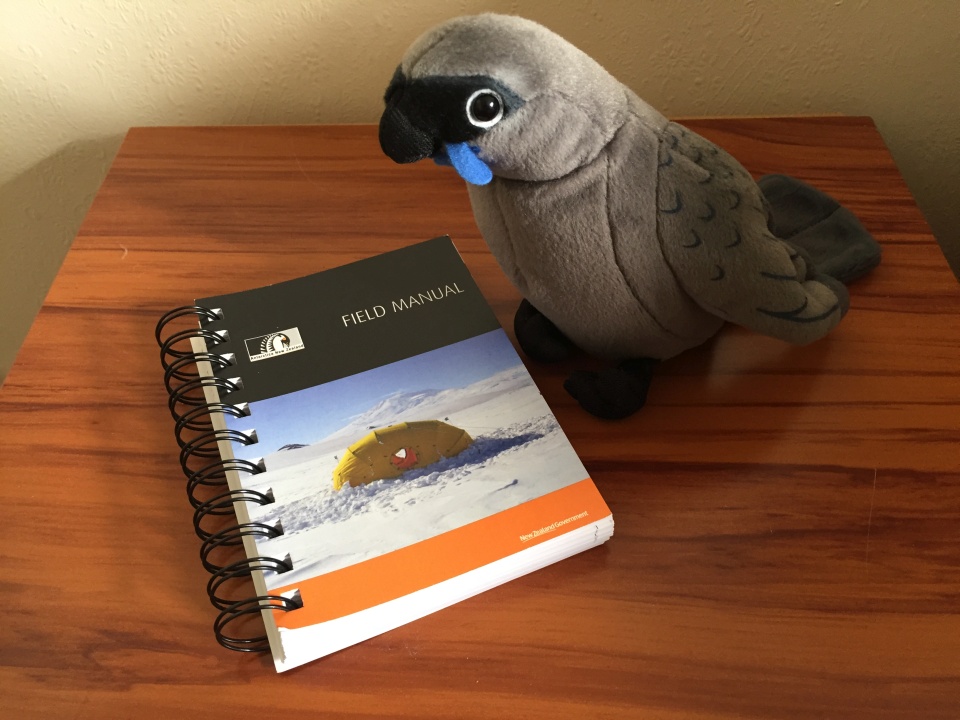 Kevin reads up on his Antarctic Field Manual in preparation for his flight south. Image: LEARNZ.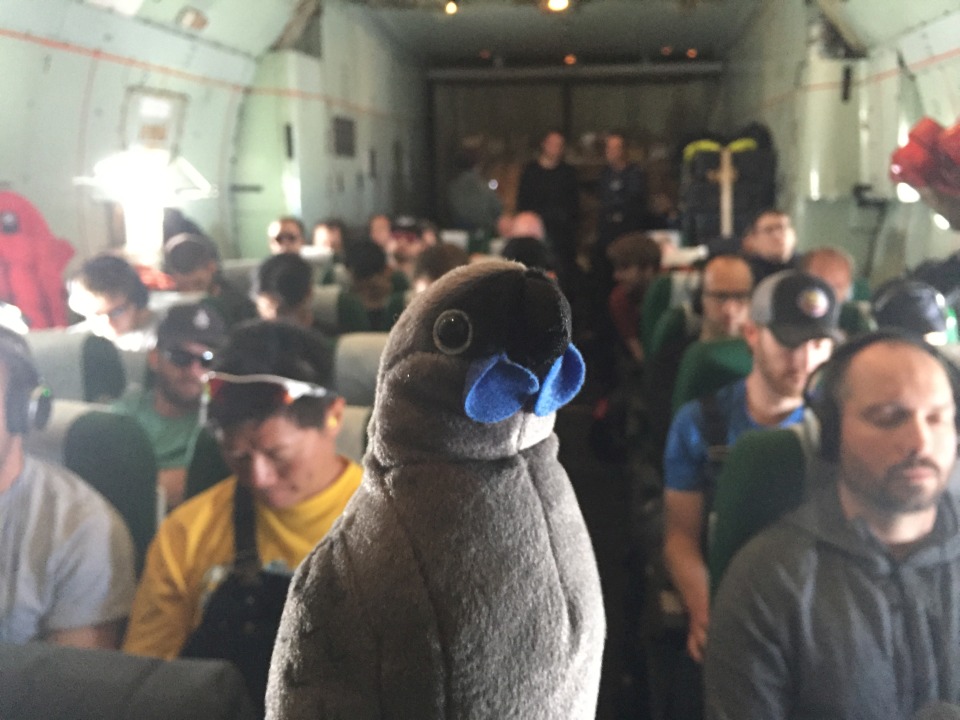 Kevin enjoys his flight onboard the C130 Hercules. Image: LEARNZ.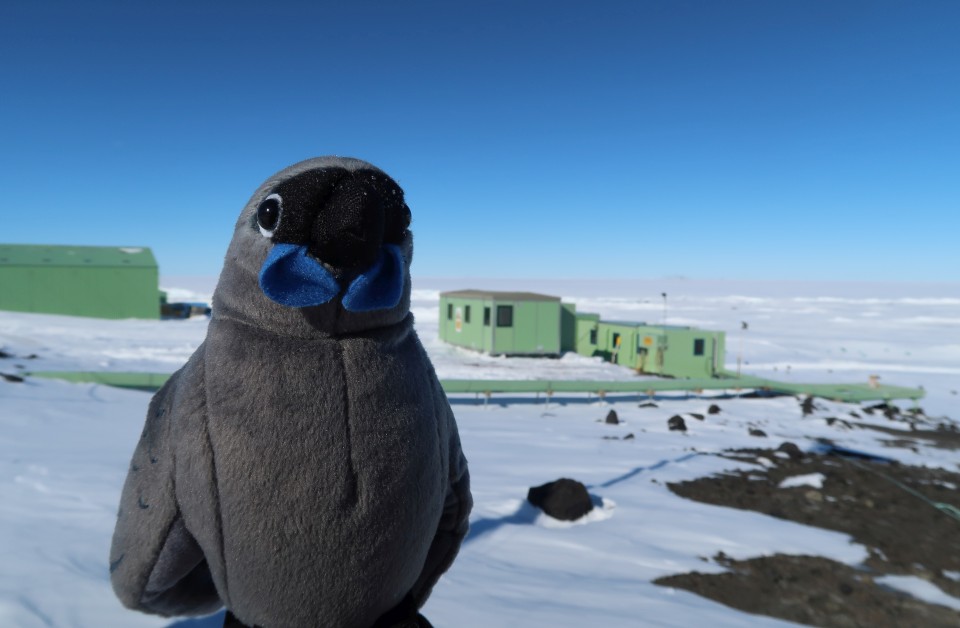 Kevin enjoys the sunshine at Scott Base. Image: LEARNZ.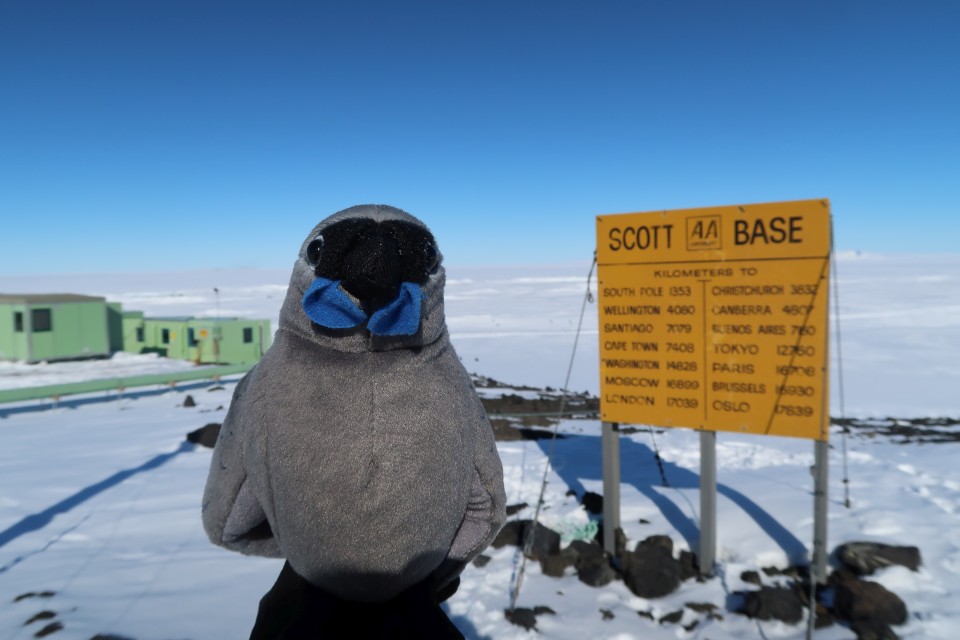 Kevin finds out how far he has travelled to get to Scott Base. Image: LEARNZ.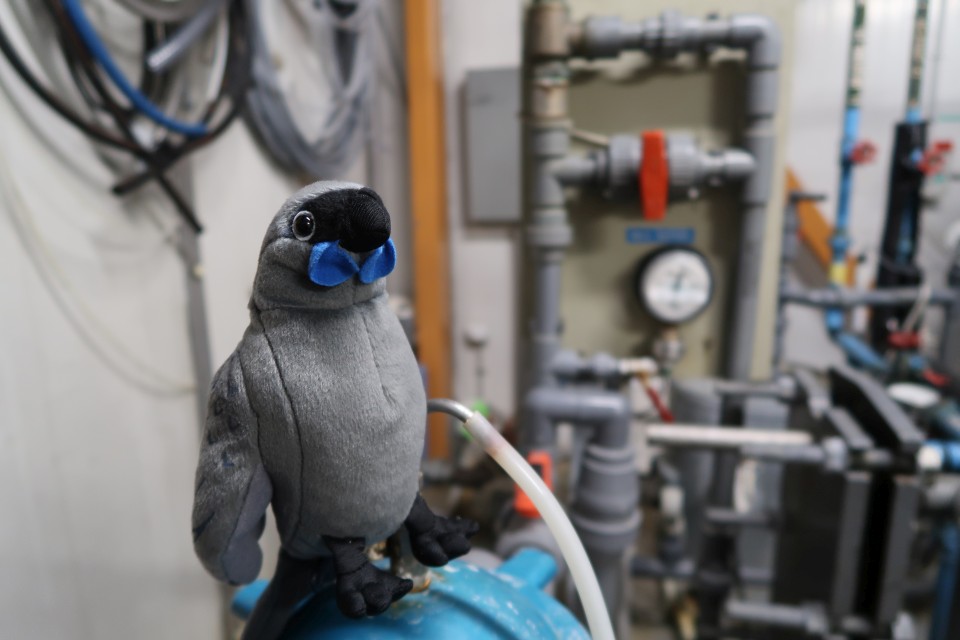 Kevin finds out how seawater is used to make freshwater for Scott Base. Image: LEARNZ.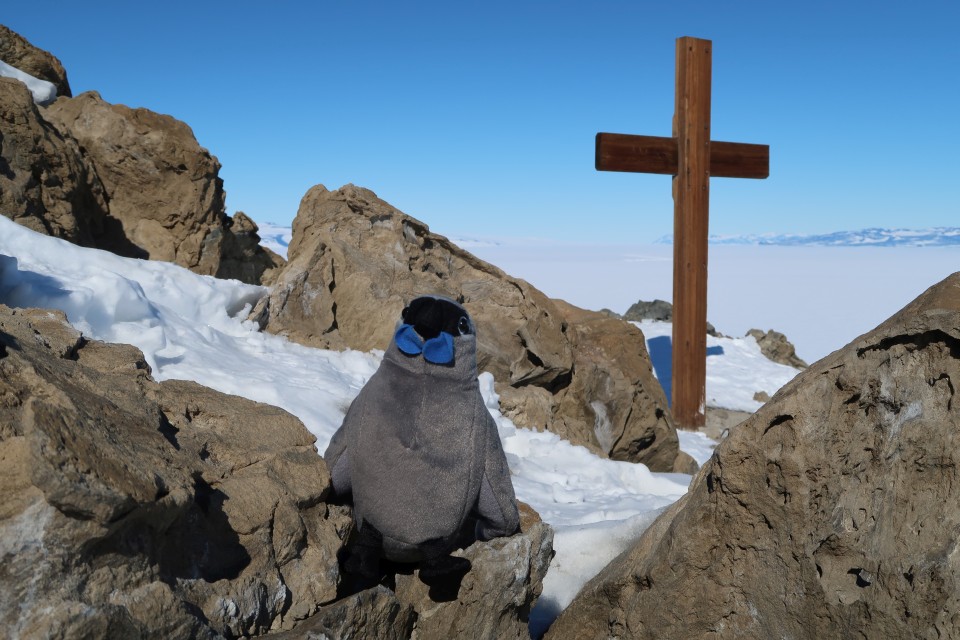 Kevin makes it to the top of Observation Hill. Image: LEARNZ.