Diary 4
Date:
Thursday, August 11, 2016
Field Trip Name:
Geohazards
Field Trip Place:
West Coast of the South Island
Where You Are:
Hari Hari and Franz Josef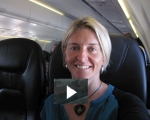 Watch Shelley's diary cam video

Kia ora koutou,
The final day of your Geohazards field trip has arrived. Your mission for today was to venture south to Franz Josef to look at the impact of an Alpine Fault earthquake and how people are preparing for this.
Question time
Before heading south you spoke to Columba College during the last field trip audioconference. Many volcano questions were asked and Sam being a volcanologist enjoyed answering these questions. One question was asked about what affect climate change will have on geohazards. This was an interesting question that many scientists have also been trying to answer. Some geohazards for example can be made worse by things like heavy rain, so you might want to think about the impact that climate change could have on certain geohazards. You can listen to the audioconference to find out more.
Franztastic Franz Josef
The audioconference gave you enough time to warm up and for the frost to melt before heading to Franz Josef. This town is about 70 kilometres south of where you have been staying in Hari Hari and the drive was spectacular with clear views of the snow clad mountains. Franz Josef attracts around 250,000 tourists every year and it was easy to see why. The town is located on the Alpine Fault near the Franz Josef Glacier/Kā Roimata o Hine Hukatere and alongside the Waiho River. I would have liked to have been able to spend more time in such a stunning place. You were able to walk up to a lookout to see the Franz Josef Glacier/Kā Roimata o Hine Hukatere. I was shocked at how much the glacier has retreated since I was here in 2012. It made me realise how lucky we are to still have large glaciers in our country. 
An Alpine Fault earthquake
Ali told you about what might happen in Franz Josef following an Alpine Fault earthquake. He talked about the worst that could happen to give you an idea for what people should prepare. Franz Josef is used to the environment changing and causing problems for people. The river often floods because a lot of rock has built up raising the river bed level so there is now less room for water. Stop banks have been built to try and stop the river from changing course but these may collapse during a large earthquake. Landslides will block roads and could damage parts of the town. The movement along the fault will also probably break power and phone lines as well as damage roads and cut water supply. Buildings that are on or near the fault are likely to be badly damaged so work is being done to relocate or strengthen these. You can watch the video to find out more. 
Managing the impacts
Knowing that the Alpine Fault can cause a large earthquake means that the government, the local community and individuals can plan and prepare so the impact of the quake can be reduced. A large earthquake may not happen here for many, many years but it's important to know what to do and to have a plan. Ali talked about how important it is for all New Zealanders to know what geohazards could occur in their local area and for people to have an emergency plan. You may not be with your family when a geohazard strikes so you need to know where you will meet and what you will do. Everyone needs to have an emergency kit organised. You should have enough food, water, shelter and clothing for at least three days. You will also need things like a torch, batteries, a gas cooker and any medicine that you rely on. You could spend some time after this field trip organising your emergency kit. You can also fix and fasten things around your home to make sure they don't fall over during an earthquake. Watch the video about this.
Monitoring geohazards
Another way of improving our understanding of geohazards is by monitoring them. Unlike earthquakes there are often warnings before a volcano erupts because as magma rises to the surface, tremors are felt. GeoNet is run by GNS Science and it monitors ground movements caused by earthquakes, volcanoes and geothermal activity. GeoNet also monitors tsunami. GeoNet operates 24/7 and is funded by EQC and LINZ (Land Information New Zealand). A national network of seismographs are used to measure the magnitude and location of earthquakes, while tsunami gauges are used to monitor wave heights. You can even add your own felt reports to help scientists to better understand the affects of earthquakes. You can visit the GeoNet website to find out more and watch the video where Sam talks about GeoNet.
With all this talk of geohazards it is reassuring to discover that scientists now know a lot more about these hazards and have developed more accurate ways to monitor them. We all need to remember that the risk of geohazards has not increased but our vulnerability increases when we choose to live and develop areas close to these hazards. This field trip has certainly given me an appreciation for the geological processes that shape our amazing land, as well as the hazards they can sometimes create. 
I hope you have enjoyed this field trip and can join us on another one soon.
Shelley, the LEARNZ field trip teacher.
Follow the journey: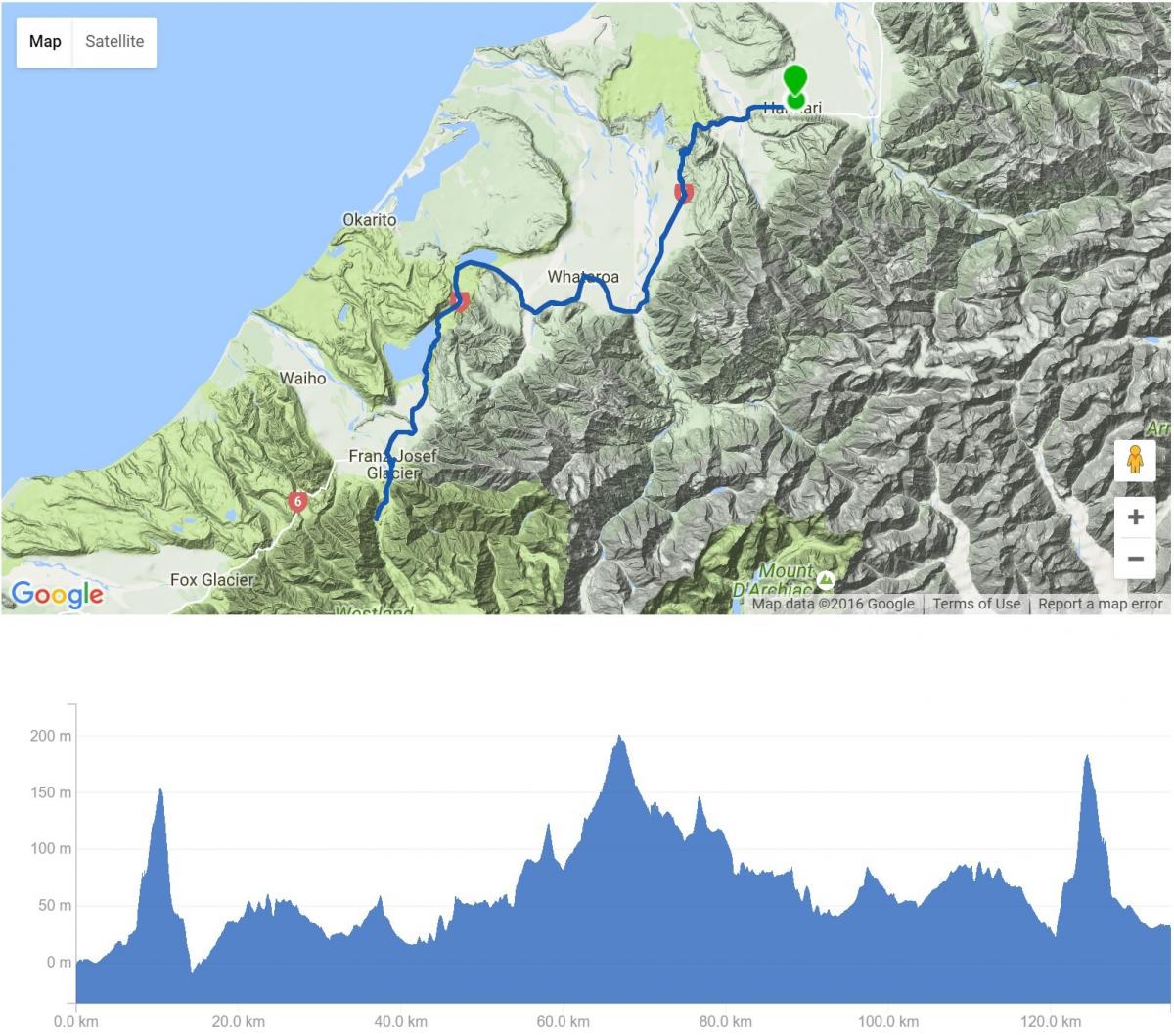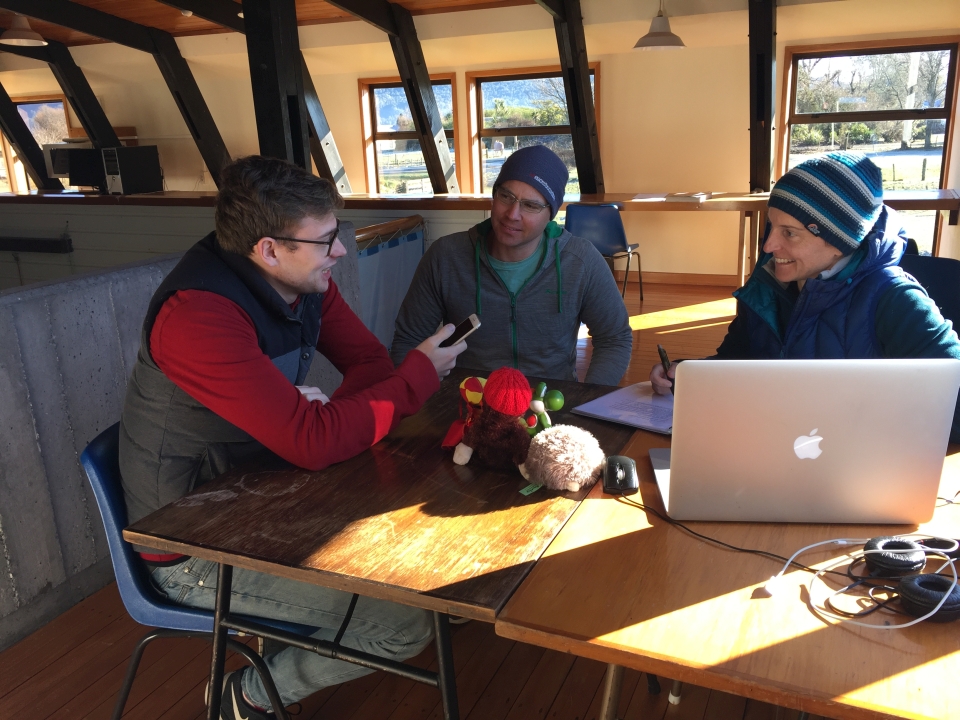 Alistair, Sam and Shelley talk to Columba College during the audioconference this morning. Image: LEARNZ.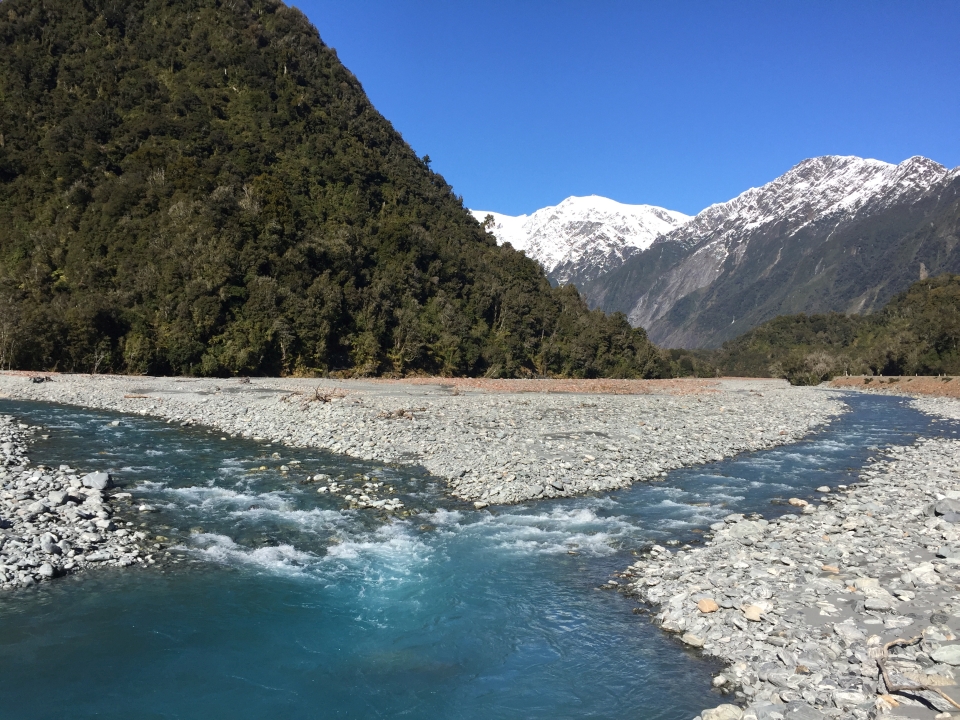 Two rivers meet below the Franz Josef Glacier/Kā Roimata o Hine Hukatere. What are the names of these rivers? Image: LEARNZ.
The Franz Josef Glacier/Kā Roimata o Hine Hukatere has receded dramatically in the last few years. Do you know to where the glacier used to come down? Image: LEARNZ.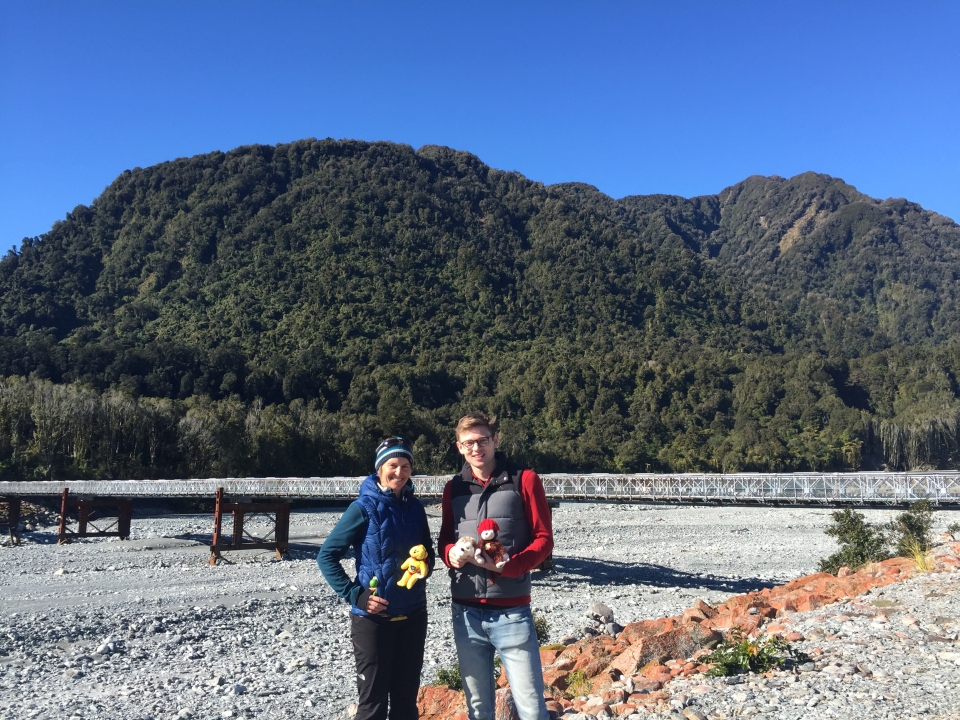 Shelley and Ali talk about how the Waiho River in Franz Josef will be affected by an Alpine Fault earthquake. What do you think will happen? Image: LEARNZ.
A sign warns of flood risk near the Waiho River. Can you see the difference between the level of the surrounding land compared to the river bed. Image: LEARNZ.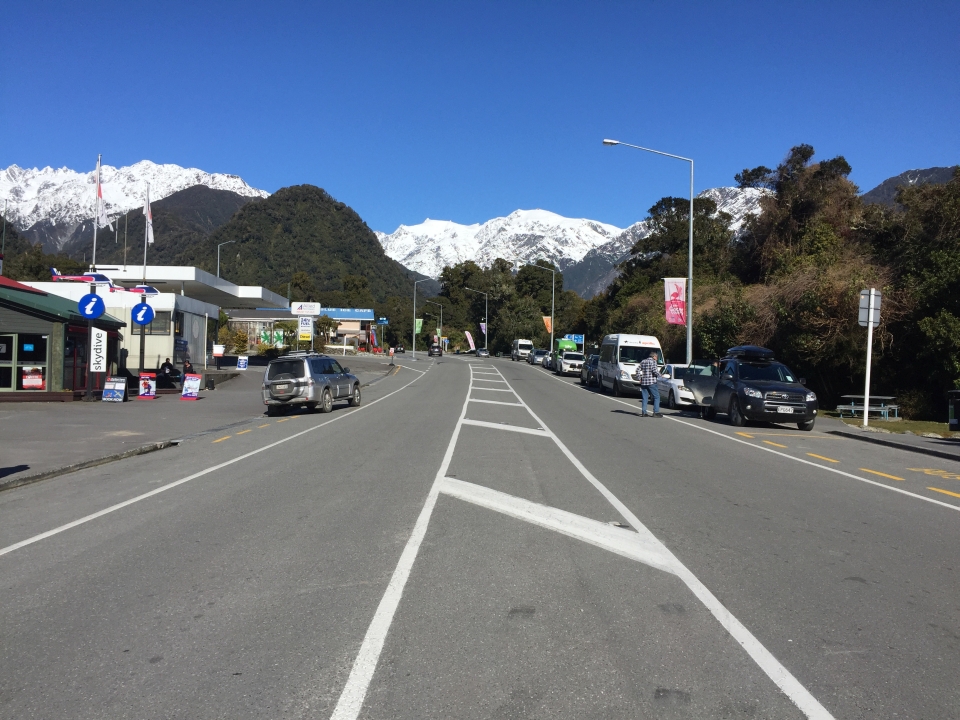 Looking up the main street of Franz Josef township. The Alpine Fault can be seen as a rise in the road. Image: LEARNZ.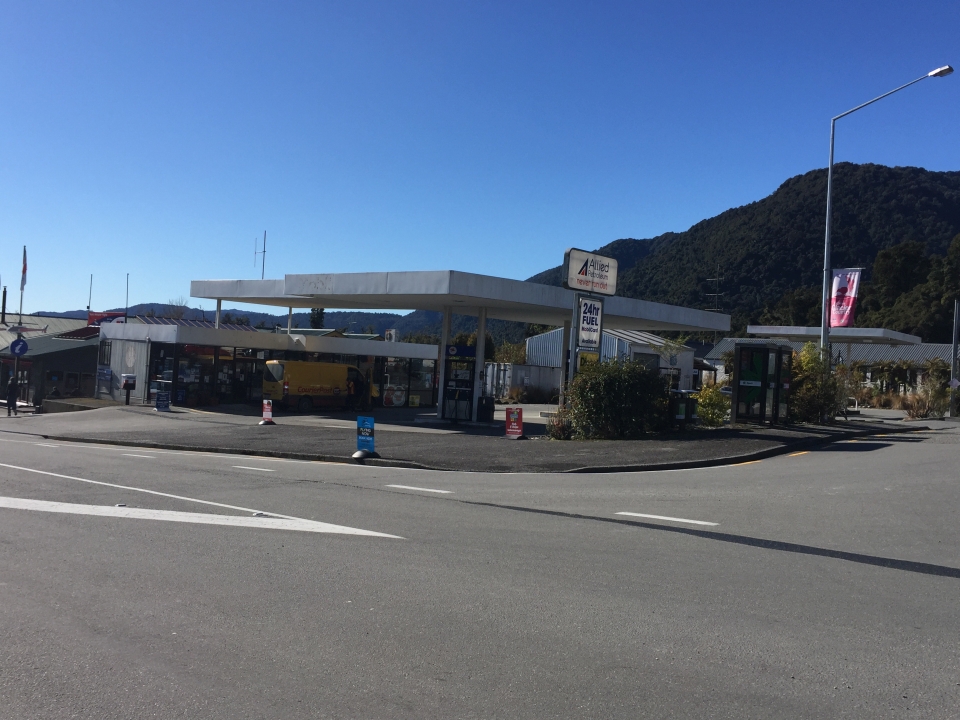 The petrol station sits on top of the Alpine Fault. What problems might this cause? Image: LEARNZ.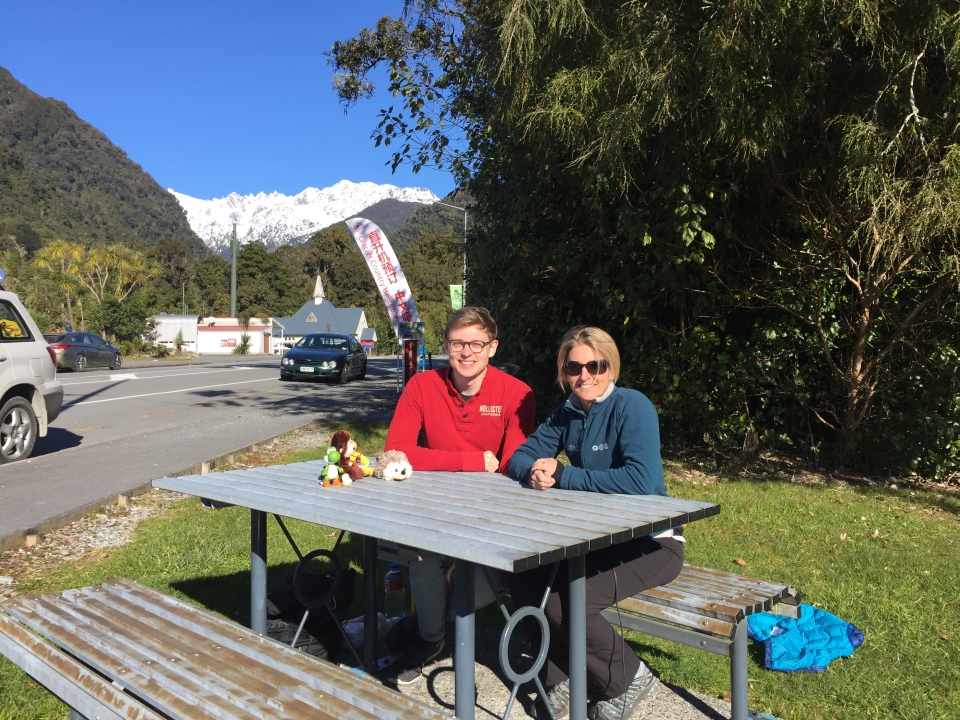 Ali, Shelley and the ambassadors take time at the end of the trip to think about how to prepare for geohazards. Are you prepared? Image: LEARNZ.