Diary 2
Date:
Tuesday, May 8, 2018
Field Trip Name:
Kauri Dieback
Field Trip Place:
Northland and Auckland
Where You Are:
Waipoua Forest
We had an early start this morning. It was a two-hour drive from Kerikeri to the Te Rororoa office in Waipoua Forest. We arrived in plenty of time to meet everyone and settle in before the first field trip web conference.
Web conference
For our first web conference we had Titirangi as our speaking school. Tom Donovan from the Kauri Coast DOC office in Dargaville was our main expert for this morning's session. Conrad Marsh from Te Rororoa Iwi also joined us to answer some questions. The ambassadors sure enjoyed it, especially Edmund - ambassador for Titirangi School!
Web conferences are available to listen to as a recording if you can't make the live session. As a listening school during live web conferences you have an opportunity to post extra questions which are answered after the formal first part. I hope you have some time during the field trip to join us for one of the live sessions.
Into Waipoua Forest
After some morning kai, we went with Conrad into a part of Waipoua Forest that is privately owned by Te Roroa. Before we went in it was important to scrub and clean our shoes. In this case we also wore covers on our boots for extra protection. In today's first video, Conrad explains the reasons why this cleaning is done when you go in and out of a kauri forest.
The brightness of the day soon dimmed as we went further into the forest and under its tall canopy. The air became cool and damp as we wound our way down into a valley. I felt quite small in the forest. I could see it stretching out in front of me between gaps in the dense foliage. This feeling grew as we suddenly came across a stand of large, mature kauri. Towering above us, these forest tupuna greeted us with a stern, protective presence. It seemed like a good place to stop for a while and kōrero with Conrad. Perhaps the kauri would hear our good-natured purpose and allow us to pass.
Connection to a national taonga
Conrad shared with us the creation story which helped give kauri their mana. Te Roroa have deep links to Waipoua Forest and people need its mauri to survive. With this connection comes a high level of respect and responsibility. Manaakitanga is a word Conrad uses to describe this connection and the level of care he feels towards the kauri he treats as his tupuna.
Kauri are also a keystone species. Many plants and animals have evolved to live on and around kauri. They are a taonga to people and a very important part of New Zealand's biodiversity.
A feeling of sadness
Conrad's kōrero seemed to clear the air and the grand old kauri were satisfied enough for us to move on. But I soon realised why they may have been cautious. After another 10 minutes walking we came across a sad sight. It was another stand of large kauri. Massive trunks and spreading crowns that would have been standing here for 1,000 years or more. Yet there were 2 or 3 showing clear signs that all was not well. Gum was oozing from the base and large chunks of bark were dropping off.
We all stood silent as Conrad played a haunting tune on his clay flute-like instrument as a lament to the sick trees. I suddenly felt the weight of kauri dieback disease. How could such a strong old tree be made to surrender its life in such a way? In the video Conrad explains what kauri dieback does, how it spreads, and the signs which show a tree has been infected. I wouldn't say it's nice to hear, but understanding the disease is the first step in the fight against it.
Final word for today
As kaitiaki of Waipoua kauri, Te Roroa have a mission to protect kauri. Manaakitanga of these rākau rangatira (noble trees) extends to the health and wellbeing of the whole forest. Even removing only one part of an ecosystem will upset its balance. A forest without kauri could have far reaching consequences.
Our well-being relies on the well-being of our ecosystems. We all have a part to play as kaitiaki of these ecosystems. For kauri, that kaitiaki is needed now more than ever. That way generations from now can walk among the giant kauri of tomorrow.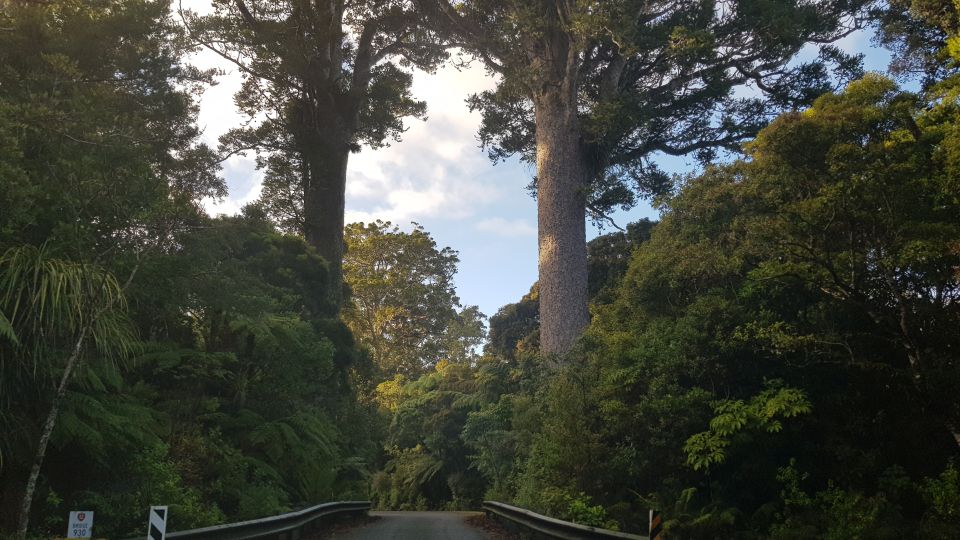 You could see large kauri on the roadside as we drove through Waipoua Forest this morning. Image: LEARNZ.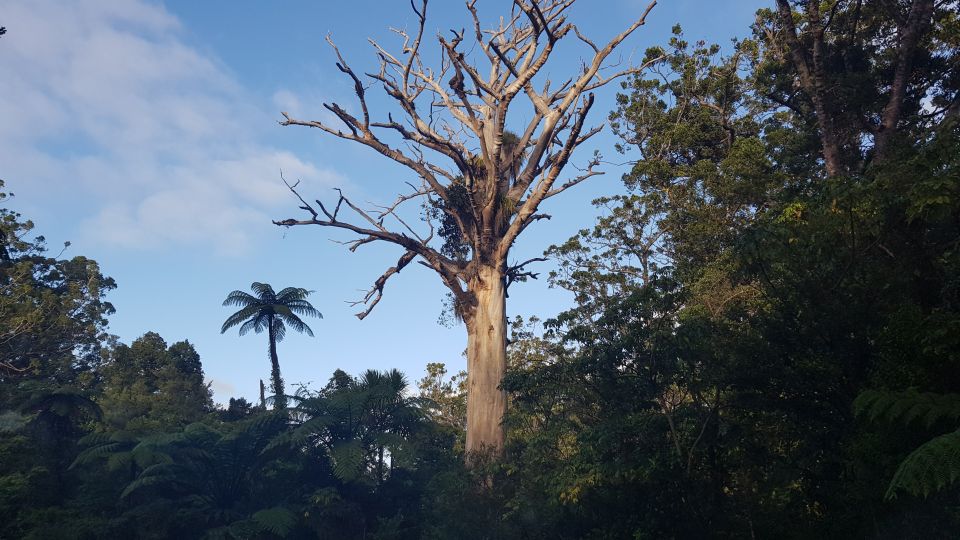 Unfortunately, not all of the kauri we saw on the way through Waipoua Forest were healthy. Image: LEARNZ.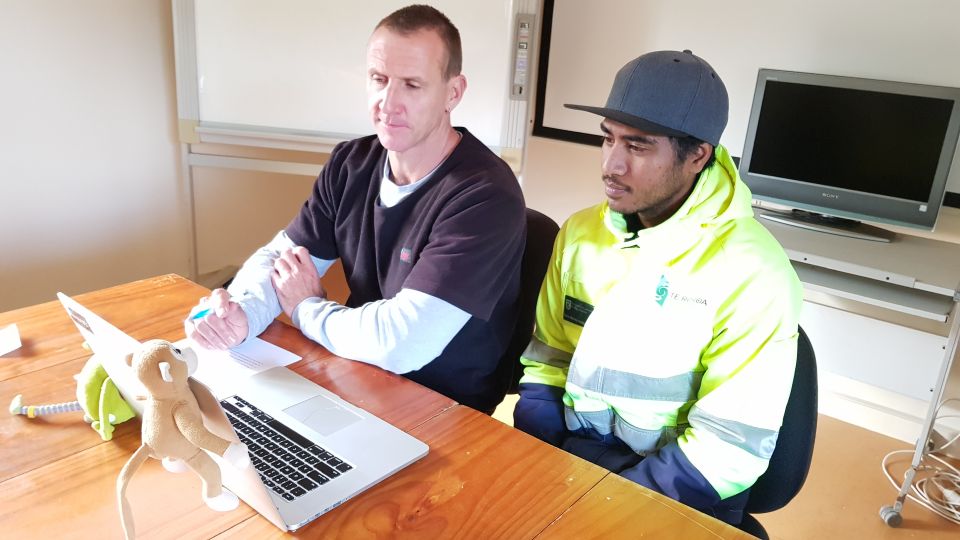 Andrew with the ambassadors and Conrad Marsh in this morning's web conference. Image: LEARNZ.
Whether it's public or private land, always scrub to remove dirt from your shoes and spray them with sterigene. What are two other things to think about when visiting kauri forests? Image: LEARNZ.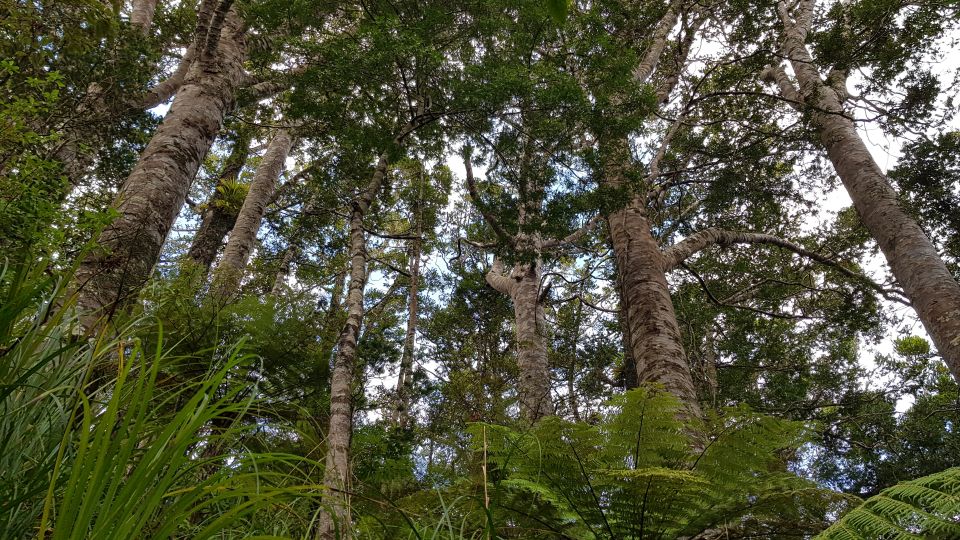 We came across this stand of kauri where the trees looked fairly young. How old do you think they might be? Image: LEARNZ.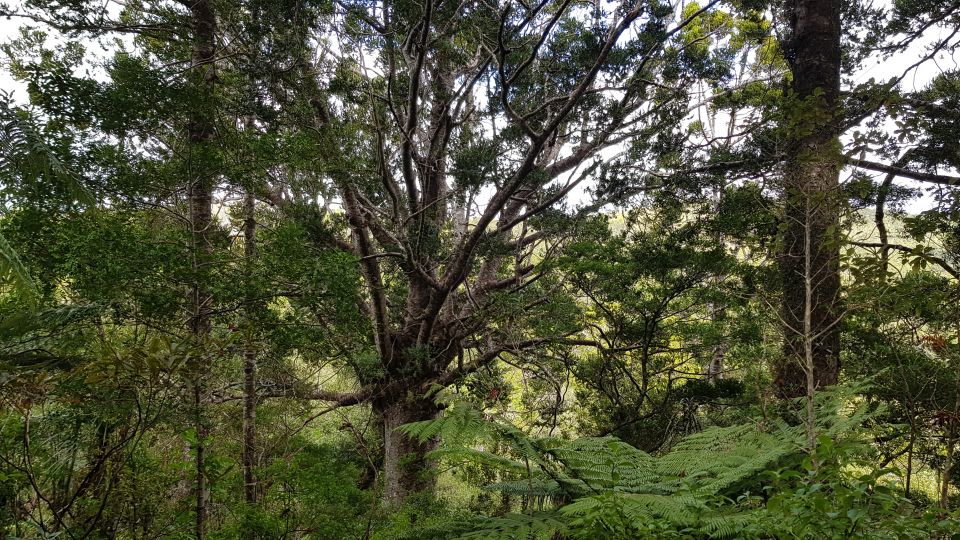 The massive spreading crown of a mature kauri. Can you see why Te Roroa say it is an upside down tree? Image: LEARNZ.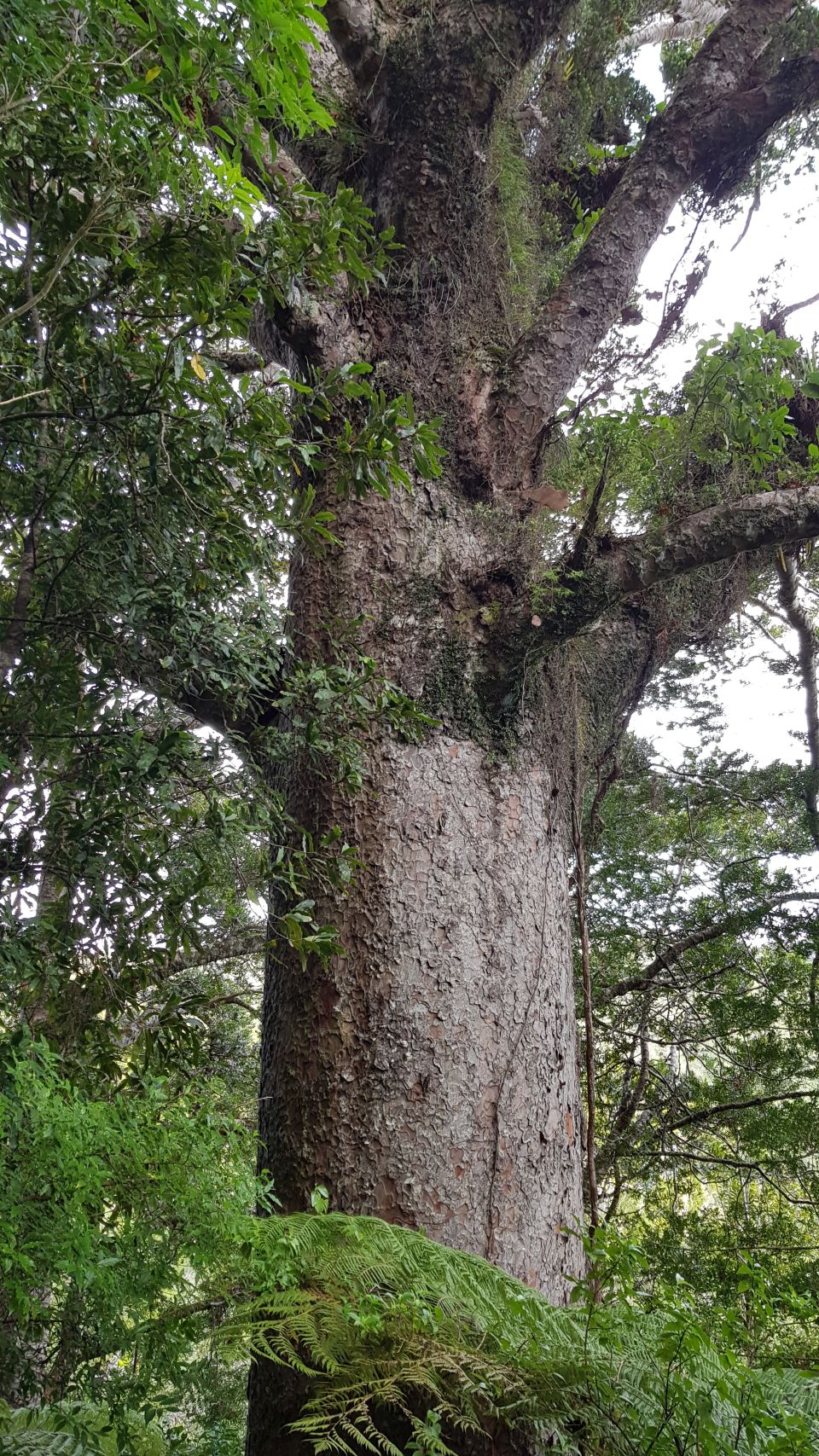 Even using portrait view was not enough to fit this massive kauri into the photo frame. I wonder how old this kauri is. Image: LEARNZ.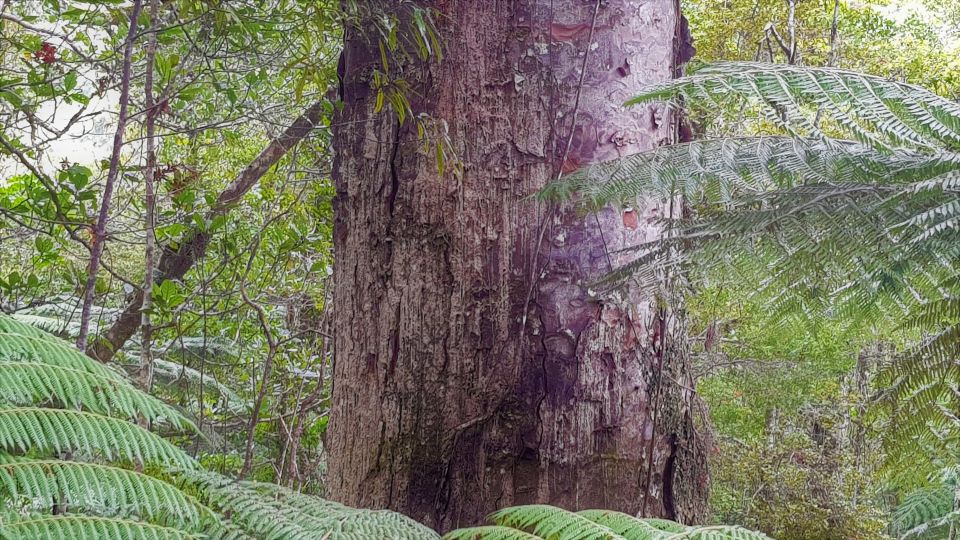 Can you see the symptoms which suggest this kauri may be infected with kauri dieback? Image: LEARNZ.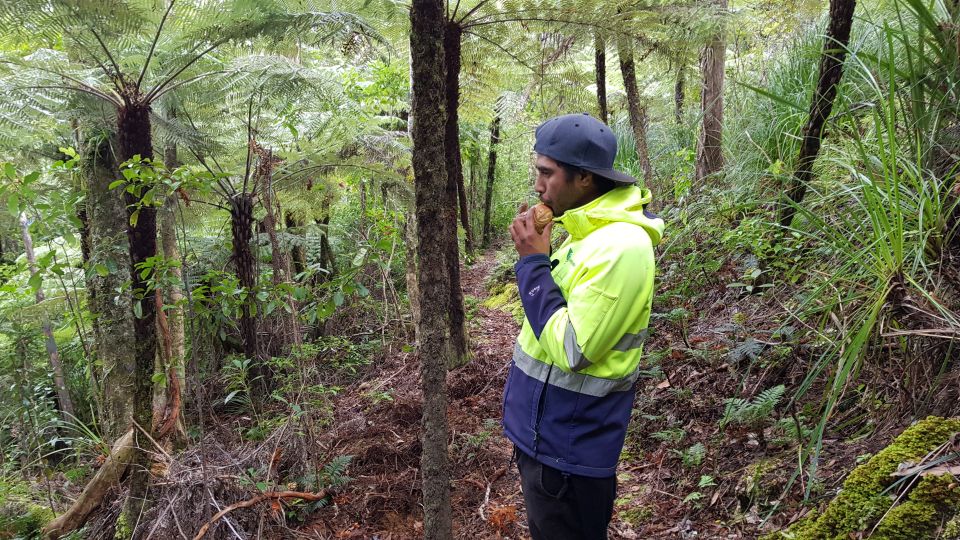 Conrad plays a mournful tune to the sick kauri. Image: LEARNZ.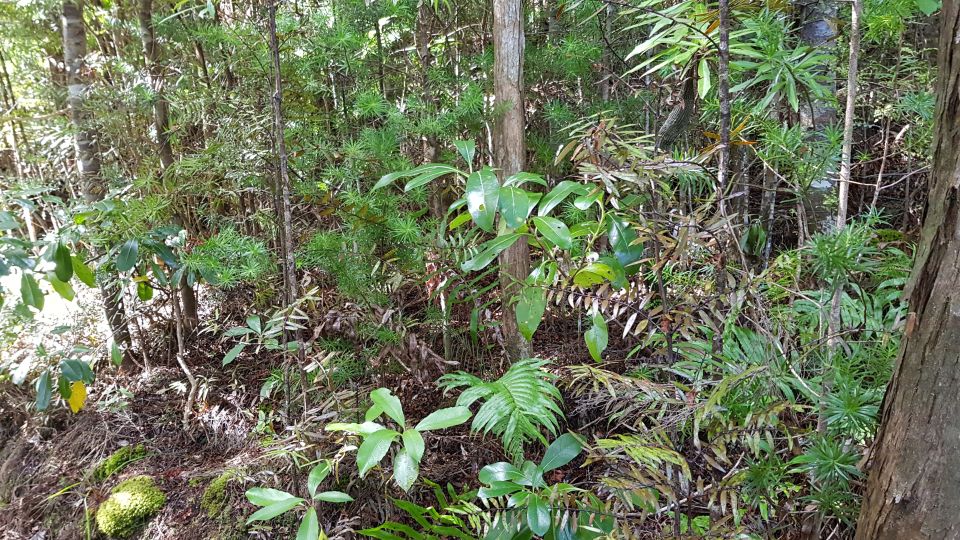 With all our help, these kauri sapplings of today will grow to be the forest giants of tomorrow. Image: LEARNZ.