Diary 3
Date:
Tuesday, November 4, 2014
Field Trip Name:
Antarctica
Field Trip Place:
Ross Island, Antarctica
Weather:
Fine, -20 to -12
Where You Are:
Scott Base
Hello everyone Shelley here,
Despite the 24 hours of daylight I managed to get a good night's sleep in the hut at Cape Bird. I think everyone was quite tired after a big day exploring the penguin colony yesterday and then watching the penguins from the comfort of the hut late into the evening.
Back to Scott Base
You may have been sad to leave such a special place but you had to make it back to Scott Base in time for the audioconferences. The helicopter arrived right on time and you enjoyed more fabulous views of Antarctica as we flew south.
Awesome audioconferences
Back at base you listened to Kate Sparks from the University of Otago answering questions from Banks Avenue School, Marist College, Netherton Primary and Cobham Intermediate. The topic for these audio conferences was food webs in Antarctica and as Kate answered the challenging questions you would have gained an understanding of how all plants and animals are interconnected and rely upon each other. If you remove one type of animal you can affect everything else by upsetting the natural balance between producers and consumers. You can listen to these audioconferences to find out more.
Time to test your skidoo skills
You have been so lucky with the weather on this field trip and today was no exception. In Antarctica you have to make the most of good weather so the skidoos were booked to travel out to Cape Evans. You may have read about Cape Evans because this is where Robert Falcon Scott built his hut to begin his expedition to try and be the first to reach the South Pole in 1911. The ambassadors were very excited about not only seeing Cape Evans, but also about riding skidoos across the sea ice. You had to wrap up warmly and make sure no skin was exposed to the cold air. Flags marked a safe route across the sea ice and it was a fun-filled hour of skidooing out to Cape Evans. Take a look at the panoramas of Cape Evans and Scott's hut.
Ice Diving
The science team were already hard at work at the dive hut so you parked your skidoo and walked carefully over the slick sea ice into the dive hut. These huts are positioned over holes that are drilled in the ice for scientists to go diving under the sea ice. The hut is heated so that the hole doesn't freeze over and it was cosy warm inside. It was quite a site looking down into the dive hole. The ice was about two metres thick and the water below looked deep and dark. Steve explained that the ice blocks out a lot of light and when there is a layer of snow on top of the ice it is even darker. You moved carefully around the hut to make sure you didn't fall in and to keep out of the way of the divers. Diving under ice in Antarctica isn't for the faint hearted. Not only is the water extremely cold, there is also a layer of thick ice to contend with. The divers have a safety line attached to them so if something goes wrong they can be pulled up to the surface. Jim told you about the dry suits and special equipment that is used to cope with the cold. You can find out more in the video.
It was incredible to watch the divers squeeze into their dry suits and prepare for their dive. Alvin was the only ambassador keen enough to give it a go. Each dive lasts about half an hour and Steve, Sal, Dale and Jim will complete two dives each day to take photos and collect samples. Michelle is the dive supervisor and will keep an eye on everyone. 
Precious ice algae
Jim talked to us about the Sea Ice Microbial Communities (SIMCO) that grow on and through the ice. These blooms of algae are a food source for other marine animals so the scientists are trying to find out how much SIMCO there is. They can then make predictions about how the changing amounts of sea ice will affect marine animals. To find out how much SIMCO there is you have to take samples and gather evidence about where it grows. This is why the divers are taking photographs of the sea ice and then scraping the greenish algae off the ice to measure it. You can watch the video about this.
Watching the divers at work made me feel tired; it looked like such an effort to fit into the dry suits. After a few hours it was decided that we should all head back to base so we wouldn't miss out on dinner.
The skidoo ride back home was just as much fun as this morning and before you knew it we were back at Scott Base in time for a well-earned rest.
We'll see you in the morning.
Shelley, the LEARNZ field trip teacher.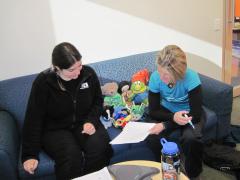 Kate and Shelley talk to Netherton Primary School and Cobham Intermediate School during one of the audioconferences today. Image: LEARNZ.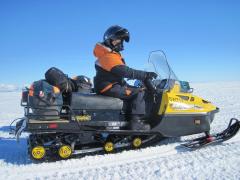 Shelley is all geared up and ready to skidoo out to Cape Evans. Image: LEARNZ.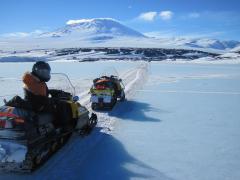 Shelley admires the view of Cape Evans. What is the name of the volcano that you can see? Image: LEARNZ.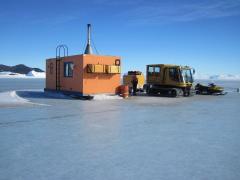 The dive hut at Cape Evans where the scientists are diving under the sea ice. What do you think the scientists will see while diving here? Image: LEARNZ.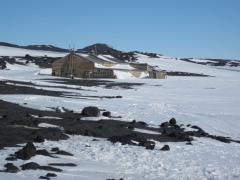 Scott's Hut at Cape Evans. When was this hut built and why do you think it was built here? Image: LEARNZ.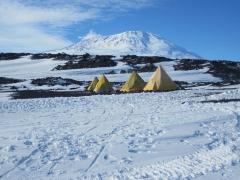 These polar tents are for people from the Antarctic Heritage Trust who work on restoring historic sites and huts. Image: LEARNZ.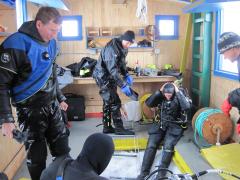 The science team prepares for another dive under the ice. What equipment do they have to cope with the cold? Image: LEARNZ.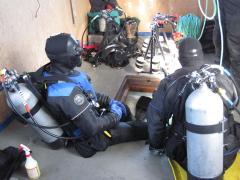 The divers dive in pairs for safety and wear several layers under their dry suits to keep warm. Image: LEARNZ.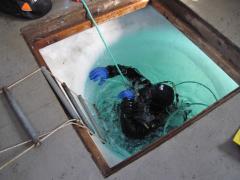 The divers are attached to a safety line while diving under the ice. What other safety features can you see in this photo? Image: LEARNZ.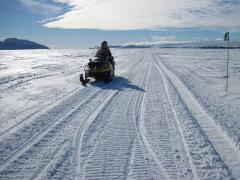 Time to skidoo back to Scott Base. Image: LEARNZ.