Diary 3
Date:
Thursday, November 10, 2016
Field Trip Name:
Antarctica
Field Trip Place:
Ross Island
Weather:
Fine, -8 degrees Celsius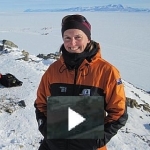 Watch Shelley's diary cam video
Kia ora koutou,
You may have heard the wind howling through the night and the sound of pieces of ice hitting the building, but by morning the weather was less wild. A steady breeze stirred up ice crystals that shone in the air and I was looking forward to heading out to Discovery Hut.
An awesome audioconference
Before heading outdoors, you talked to Spring Creek School and St Mark's School during the audioconference. Buzzbee and Dragon were looking forward to catching up with their class mates and were proud of the questions that they asked. There were lots of questions about surviving the freezing conditions in Antarctica and Scott's polar expeditions. It was interesting to hear about the equipment that both Scott and Shackleton brought to Antarctica over 100 years ago. There have been many advances in technology since then but some of the science they did is still useful today. Scott began weather recordings that now give scientists an understanding of how temperatures have changed over time. You can find out more by listening to the recorded audioconference.
The oldest hut in the Ross Sea area
It was great to be able to leave Scott Base and drive over the hill to McMurdo Station with Lizzie. This station is the American base here in Antarctica and is much larger than the kiwi base. Scott Base has room for 85 people while McMurdo can have over 1000 people. It felt like driving through an Alaskan mining town with lots of buildings and huge fuel tanks spread out over the hillside. After driving through the Station, you reached Hut Point, named after the Discovery Hut which was the first hut to be built in the Ross Sea area. Discovery Hut was built by Robert Falcon Scott and his team during their 1902 expedition. This British expedition came to Antarctica to do science and to explore. Scott wanted to be the first to reach the South Pole so a hut was built as a base.
Discovery Hut looks like a building you would expect to see in the Australian outback with its huge veranda and tiny windows. The hut was designed in Australia and brought to Antarctica on Scott's Discovery ship. The hut was not used very much because it was hard to secure to the ground and therefore had lots of gaps in the walls and roofs which let in cold air and snow. Scott's team lived on the ship and used the hut for storage. I felt very lucky to be able to look inside the hut. It felt like travelling back in time. The first thing I noticed was the strong smell coming from old seal carcasses kept for their fat. The seal blubber was burned as a fuel and it was incredible to see hunks of blubber preserved by the cold.
Preserving History
The Antarctic Heritage Trust has done a great job of restoring the hut so the history of Scott's first Antarctic expedition can be preserved and shared with others. You had special permission to enter the hut but had to brush all the snow and grit off your boots and take care not to touch anything. Many of the objects inside the hut are fragile but if visitors are careful the hut will survive for many years to come. It was amazing to see all the different types of food in boxes and tins throughout the hut. You could even see old biscuits. Lizzie explained how the Trust repaired the building, securing the walls and lifting the sagging roof. Before this work the hut had filled with snow and was in poor shape. The ambassadors had a good look around and found a hole in the floor which was used to take magnetic readings. You can find out more by watching the videos.
Looking after artefacts
It took a while for my eyes to adjust to the glare after leaving the hut. Looking back at the building I found it hard to imagine just how hard it would have been for Scott and his team living in such a cold place. The hut faces South and is often battered by wind. A ten-minute drive brought you back to Scott Base where you caught up with Sue from the Antarctic Heritage Trust.
After seeing all the preserved objects in Discovery Hut, you may have been curious about how these artefacts are preserved. Sue is an expert in conserving objects and she talked about the careful process of recording what each object is before photographing it and cleaning it. She showed you an old telephone from Hillary's TAE hut. Sue explained that rather than making objects look like new they are preserved so they won't deteriorate any more. Metals are often the hardest to look after because they corrode. Iron can rust away even in the dry conditions of Antarctica because of the salty sea air. Watch the video to find out how Sue is working on objects from the TAE hut.
Tomorrow you will head out to Cape Evans to see Scott's Terra Nova Hut and find out more about his final trip to Antarctica.
See you then,
Shelley the LEARNZ field trip teacher.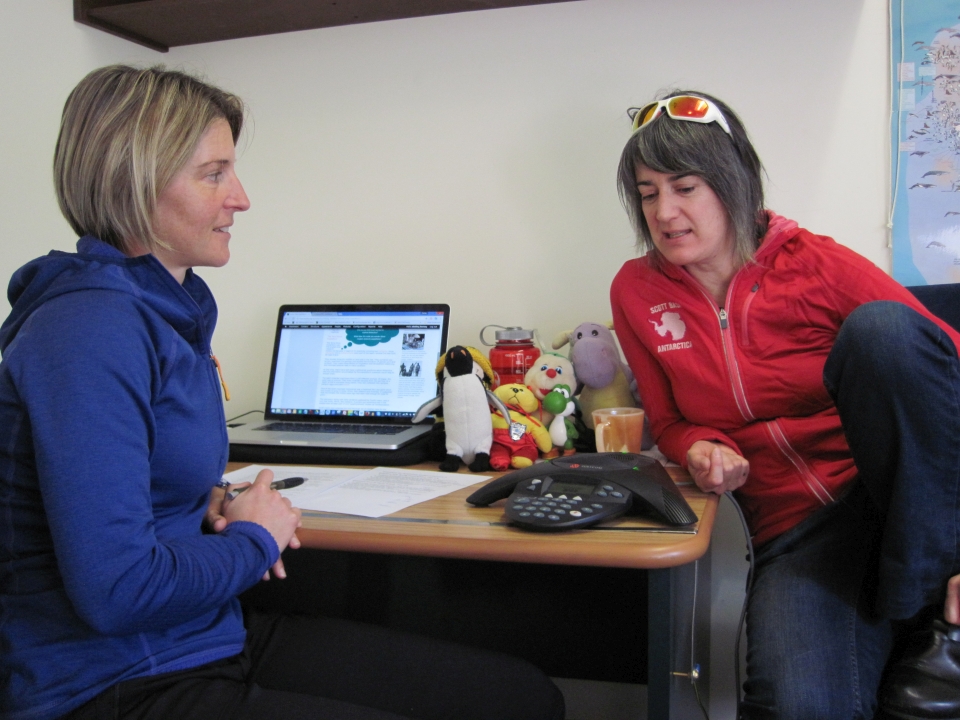 Shelley and Lizzie talk to Spring Creek School and St Mark's School during today's audioconference. Image: LEARNZ.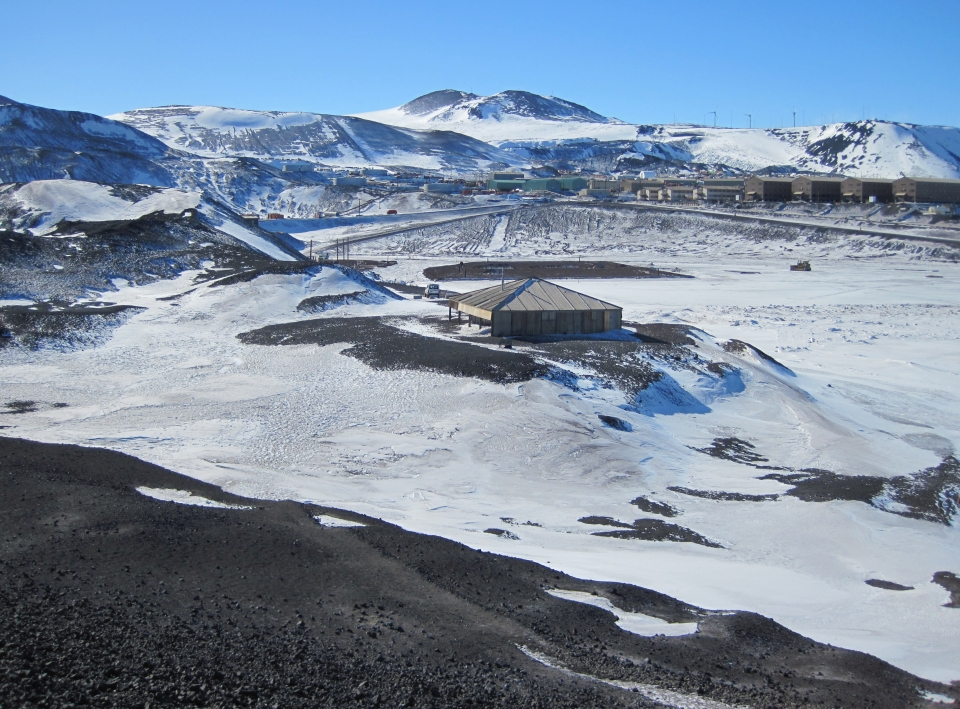 Looking out over Scott's Discovery Hut towards McMurdo Station. How old is this hut? Image: LEARNZ.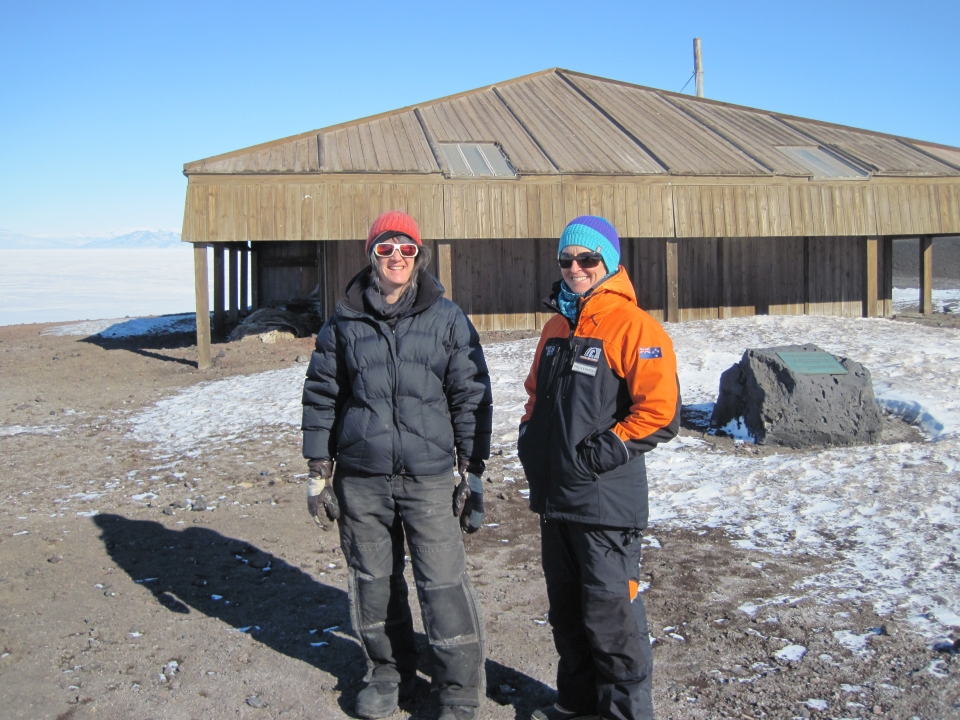 Lizzie and Shelley outside Discovery Hut, the oldest hut in the Ross Sea area. Image: LEARNZ.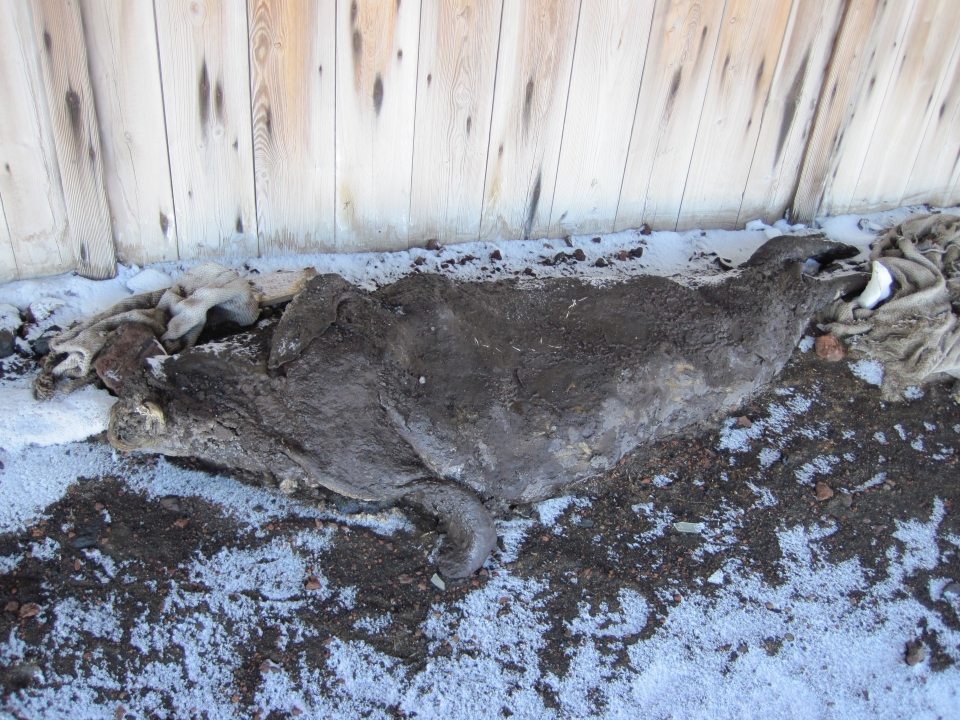 An old seal carcass can be seen outside Discovery Hut. What were seals used for during Scott's expedition? Image: LEARNZ.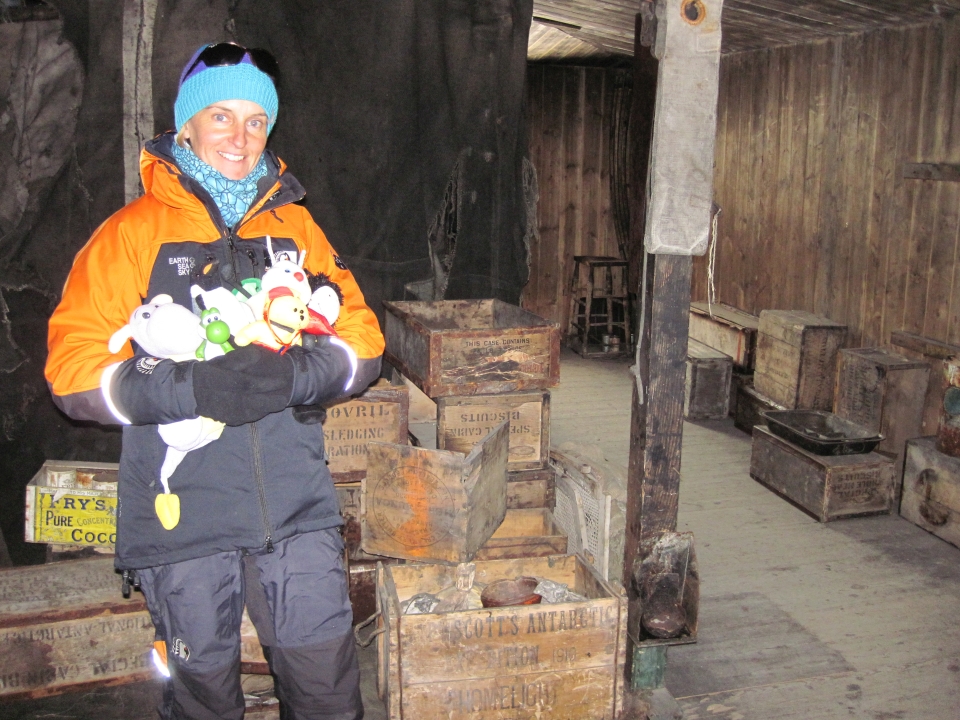 Shelley and the ambassadors explore Scott's Discovery Hut. Image: LEARNZ.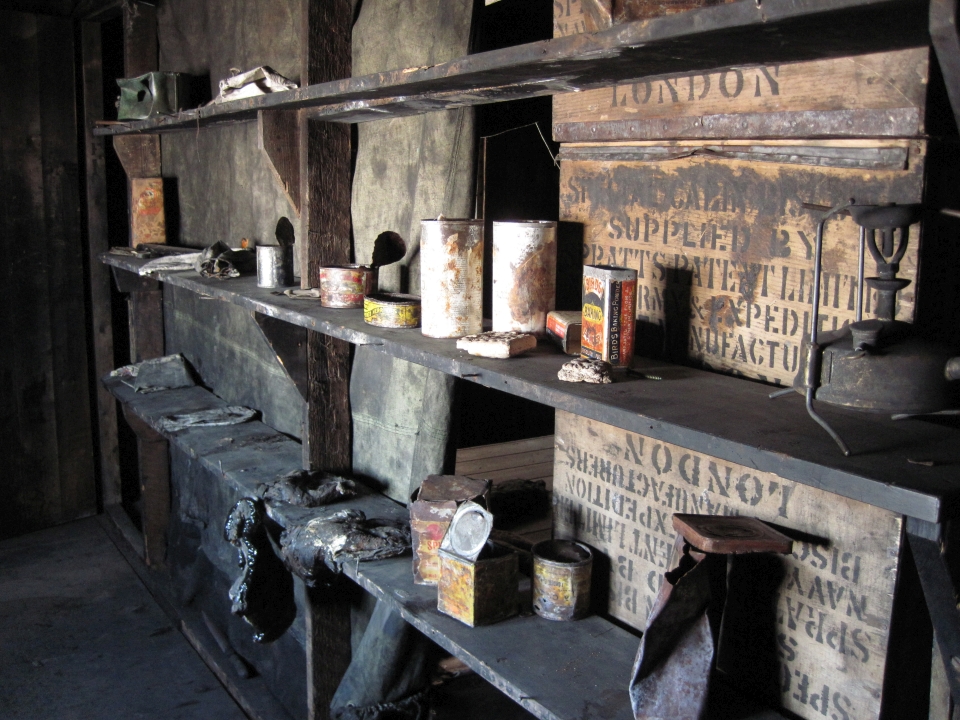 There were lots of interesting objects inside the Discovery Hut. What objects can you identify in this photo? Image: LEARNZ.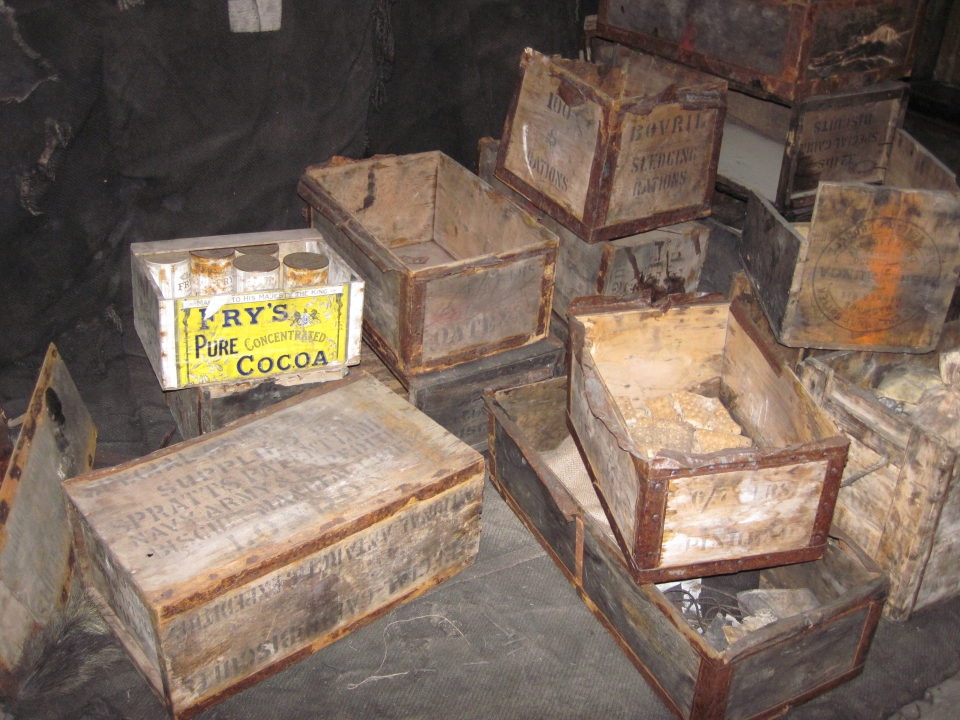 Boxes of supplies and even biscuits have been preserved in the Discovery Hut. Image: LEARNZ.
An old telephone from Hillary's TAE Hut is being preserved. Image: LEARNZ.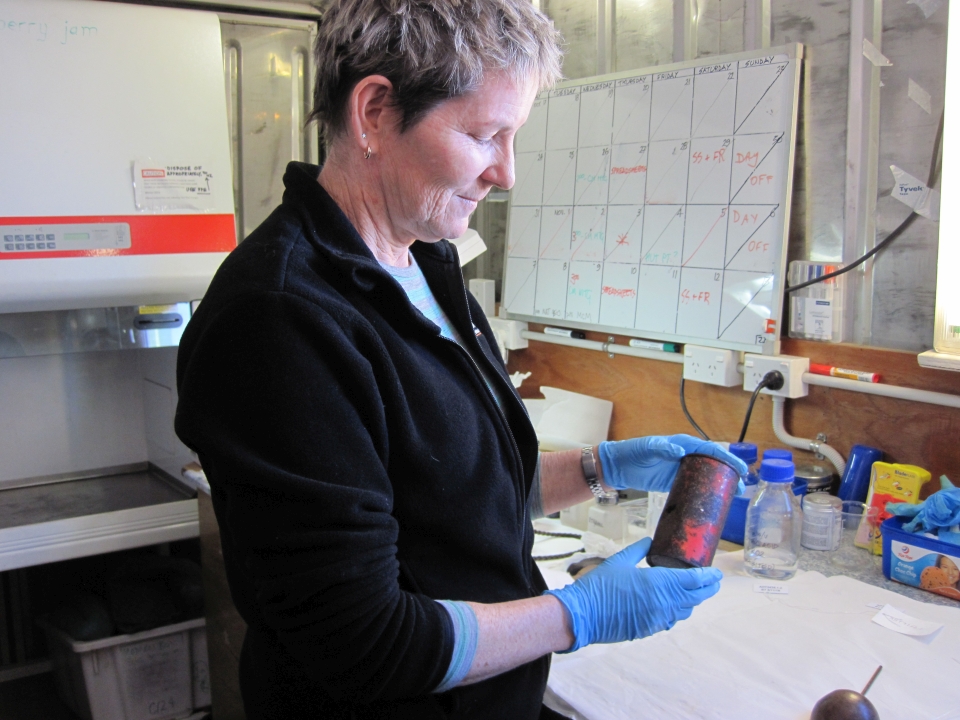 Sue shows you an old can that has corroded and now needs to be treated to stop further corrosion. Image: LEARNZ.