Diary 4
Date:
Friday, November 11, 2016
Field Trip Name:
Antarctica
Field Trip Place:
Ross Island
Weather:
Fine but windy -12 degrees Celsius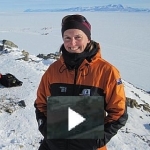 Watch Shelley's diary cam video

Kia ora koutou,
Over the last few days you have explored the TAE Hut and Discovery Hut and looked at how explorers and scientists have helped us to better understand Antarctica. Today you travelled out over the sea ice on Hagglunds to Cape Evans. The ambassadors were so excited about travelling over the frozen surface of the sea and couldn't wait to explore a new area of Ross Island.
Curious questions
Before heading out you spoke to Alfriston School from Auckland and Mercury Bay Area School from Whitianga. There were many questions about the Trans-Antarctic Expedition and Lizzie talked about the skills that scientists needed to have. The scientists who were part of this expedition needed to have a lot of different skills other than just science. The scientists had to be able to survive in the cold, repair equipment, problem solve and get on well with others. Lizzie said that a sense of humour was important because things don't always go according to plan in Antarctica and people have to live and work together. You can listen to a recording of this audioconference.
Travelling across the sea ice
Once you had completed the audioconference you had to organise your lunch and all your warm clothing ready to head out to Cape Evans. Mike is an Antarctic Field Trainer and he had organised a Hagglund. These strange looking vehicles have tracks on them to grip the ice and are an ideal way to travel across the sea ice, especially when you need to take lots of people and gear. Lizzie had collected the hut key and after signing out you could head across the transition from Ross Island to the Ross Ice Shelf and on to the sea ice.
The Hagglunds can only travel about 25 kilometres an hour and it was a pretty bumpy ride but it felt amazing crossing frozen ocean and being surrounded by thousands of miles of ice. At this time of year it's easy to travel around on the sea ice but in a few months' time the ice will have melted and there will be open ocean instead. 
Cape Evans
With clear skies, you could see the top of Mount Erebus smoking away. Erebus is an active volcano which is continuously erupting. You passed islands of black rock which stuck out through the sea ice and steep walls of ice from glaciers that flowed down Mount Erebus. It took you about two hours to travel north to Cape Evans. You had to walk carefully across the sea ice, avoiding the glassy-blue slippery sections and cross the cracks in the ice between the land and the sea to get to Scott's Hut.
Scott and his team built this hut in 1910 during Scott's second expedition to Antarctica. This expedition was named after their ship the Terra Nova. The expedition was the largest ever research mission to the pole. A team of 12 scientists including two biologists, three geologists and a meteorologist were part of the team. 
Stepping back in time at Terra Nova Hut
The wind blew fiercely and it was bitterly cold. I found it hard to imagine what it would be like to live in a place like this for over two years. Lizzie unlocked the hut and asked you to brush the snow off your boots before entering. You had to duck as you went in through the low door and let your eyes adjust to the darkness inside. It felt eerie to look around at a hut that had been left over one hundred years earlier. When Scott and his four companions did not return from their trip to the Pole the rest of his team had to endure another Antarctic winter before they could sail back to England. It was incredible to see all the equipment and food that was left behind.
Lizzie showed you around the hut and explained how the navy officers lived in one half while the lower ranked workers lived in the other. You could see a lot of bottles of science chemicals, test tubes and other equipment on many of the tables. Stoves would have kept the hut warm but as I looked at the canvas and woollen clothing that hung from hooks around the hut I could imagine how hard life would have been. You can see the hut in the videos.
All in the name of science
Lizzie showed you where the scientists would have worked. There was even a darkroom so photos could be developed. You may have spotted the emperor penguin that was lying on the table. The team collected specimens from 2,109 different animals. Of these, 401 were new to science. They even collected samples from the sea floor at a depth of half a kilometre using trawls. They also collected rock samples, penguin eggs and plant fossils. It was astounding to hear of the journey of three men to collect emperor penguin eggs in the middle of winter at temperatures of minus 60 degrees Celsius. Watch the video to find out more about the science that was done during this expedition.
As you looked around the hut you could see the effort that had been made to explore and better understand Antarctica. It made me appreciate all my warm clothing and the technology that we have today which allows us to come and explore places like this. I left the hut feeling very lucky.
Travelling back in the Hagglund I thought about Scott and his team hauling sleds across the ice and felt inspired by just how much effort they were willing to put in to achieve their goals. Tomorrow you will make an even longer journey out to Cape Royd's to find out more about Shackleton, another famous Antarctic explorer.
See you then,
Shelley the LEARNZ field trip teacher.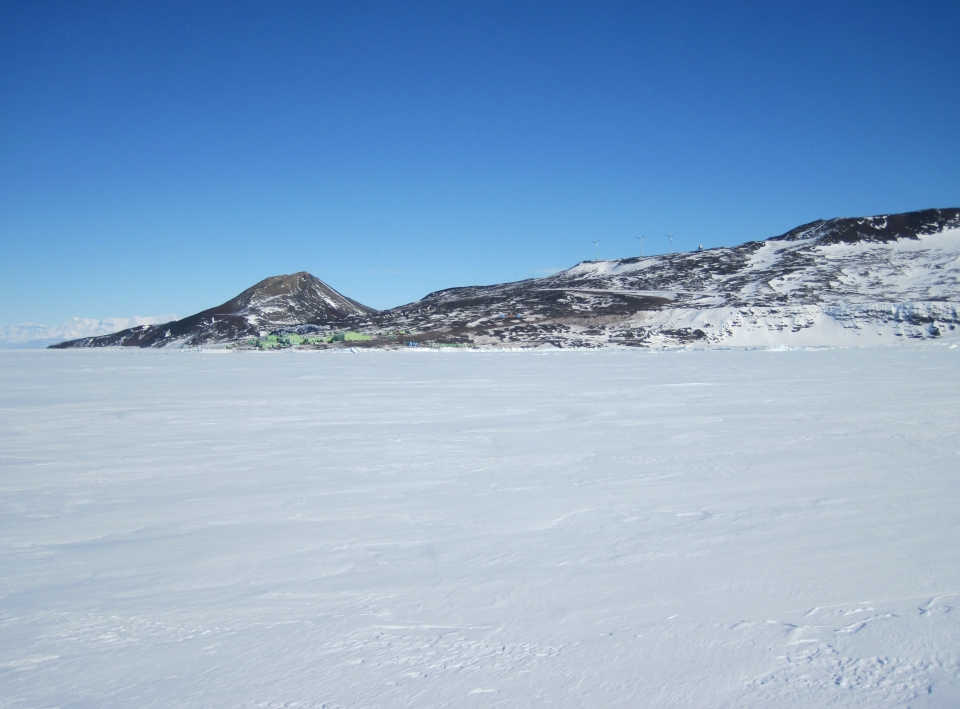 Looking back at Scott Base as we travel out across the sea ice on the way to Cape Evans. Image: LEARNZ.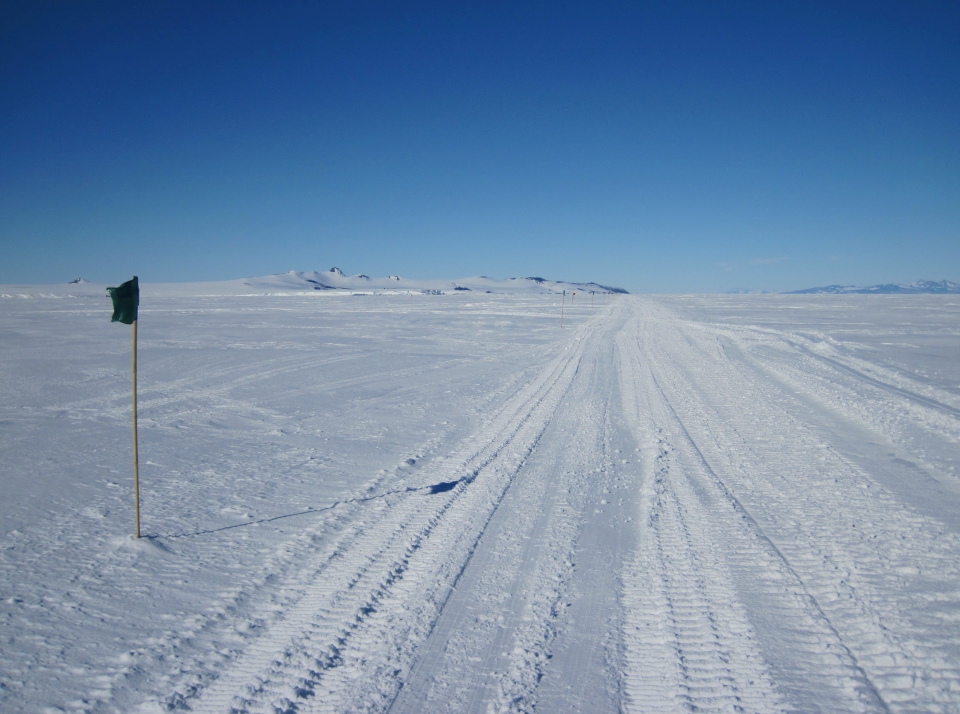 Flags mark the safest route across the sea ice. How thick do you think the sea ice is? Image: LEARNZ.
You travelled on Hagglunds out to Cape Evans. Why do you think these vehicles are used in Antarctica. Image: LEARNZ.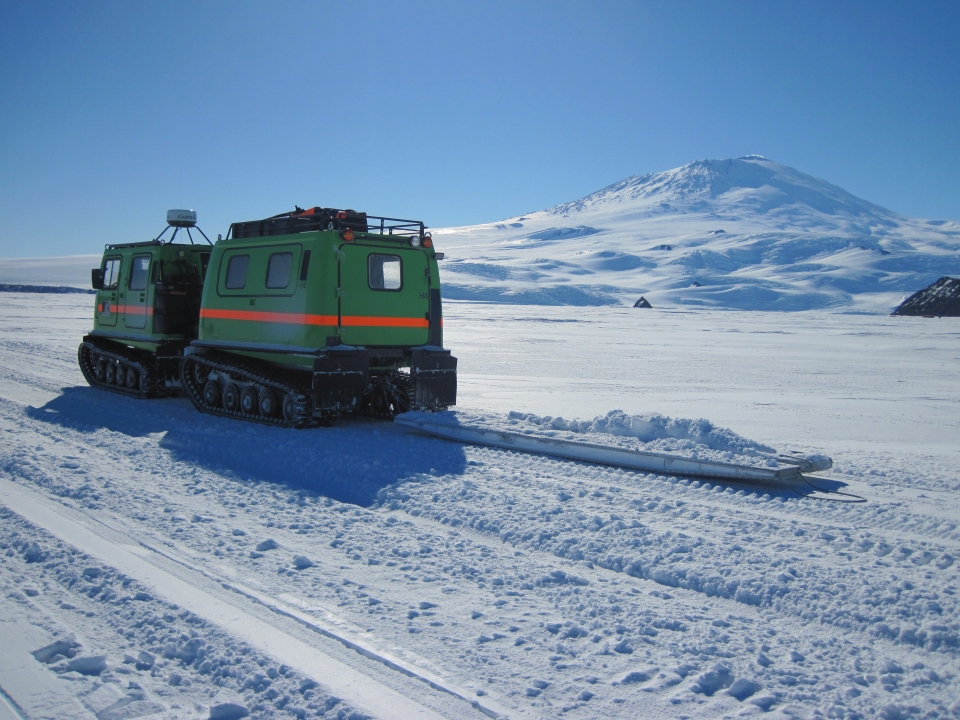 Mount Erebus, an active volcano could be seen smoking as you headed out to Cape Evans. Image: LEARNZ.
Looking over the frozen bay at Cape Evans towards Scott's Terra Nova Hut. Image: LEARNZ.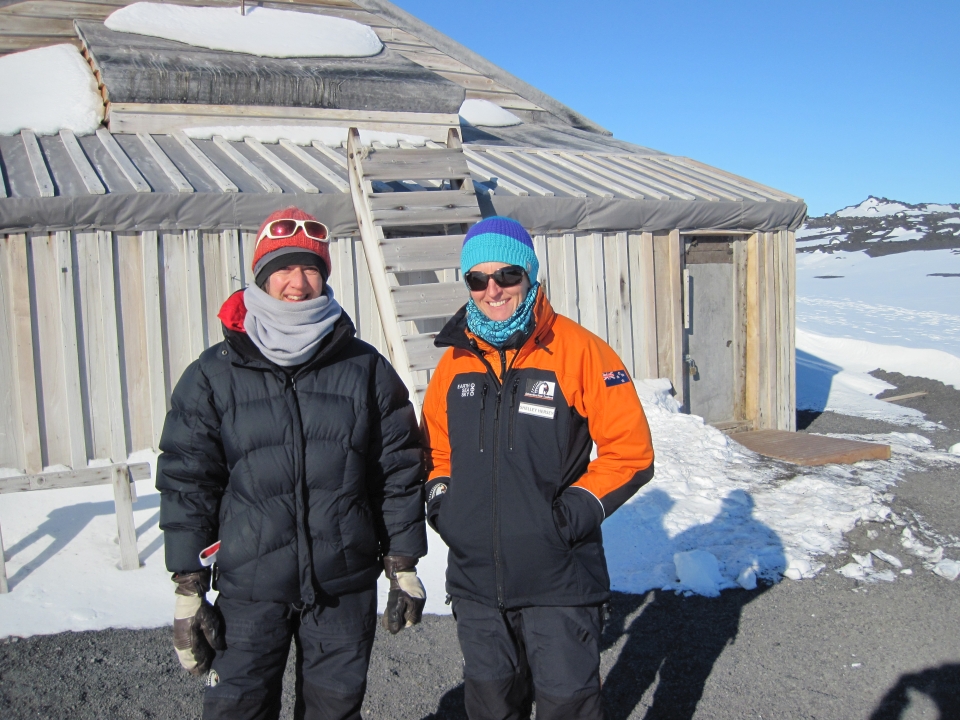 Lizzie and Shelley outside Scott's Terra Nova Hut. Why do you think Scott decided to build this hut here? Image: LEARNZ.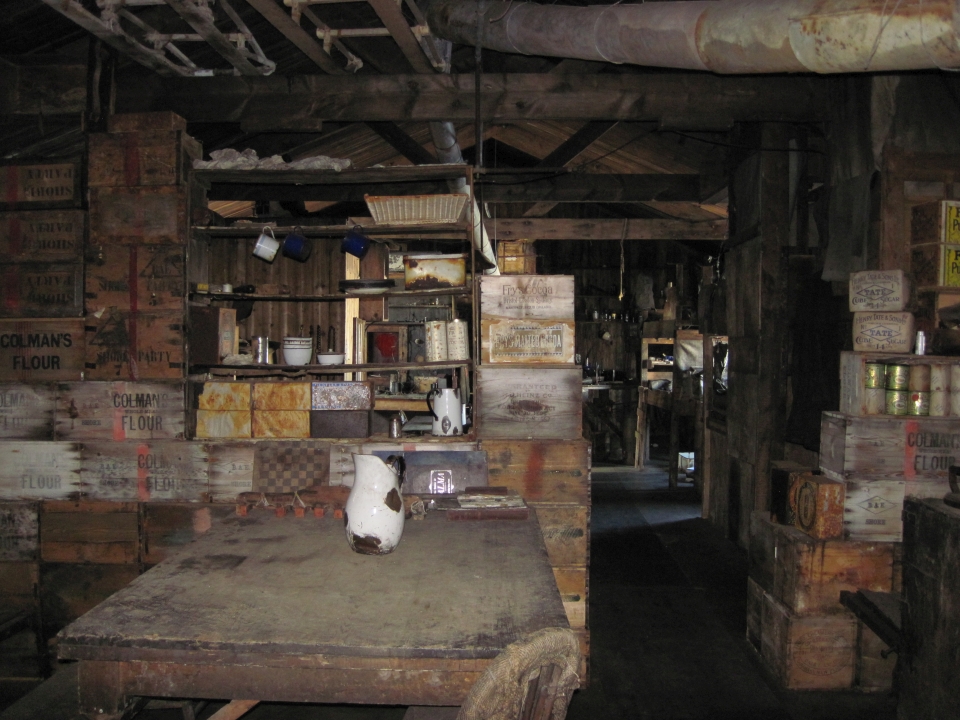 Walking into Scott's Hut was like walking back in time. It was dark inside and it took a while for your eyes to adjust from the glare of the snow outside. Image: LEARNZ.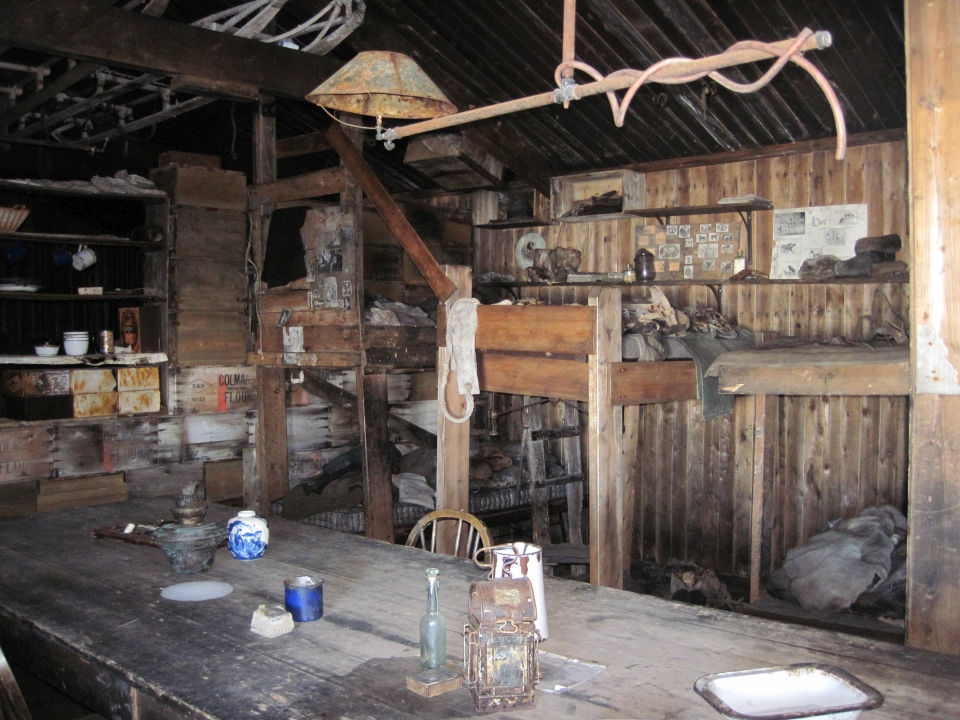 You can see the acetylene gas lighting system which was used to light the hut and the bunks in the background. Image: LEARNZ.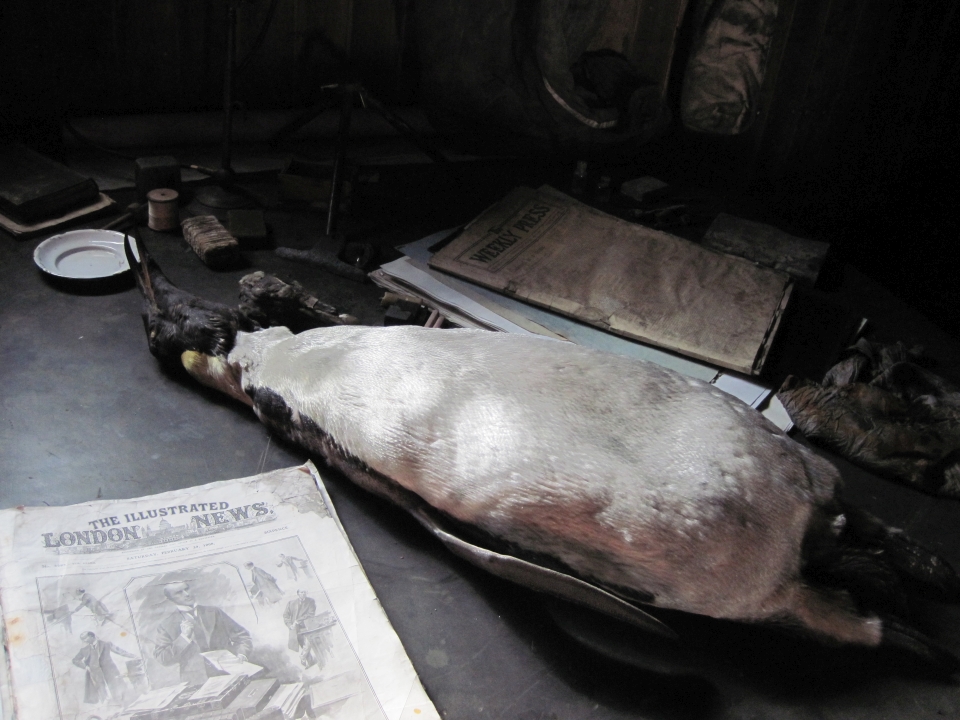 An emperor penguin can be seen inside Scott's Hut. How do you think they preserved the penguin and why were they interested in this bird? Image: LEARNZ.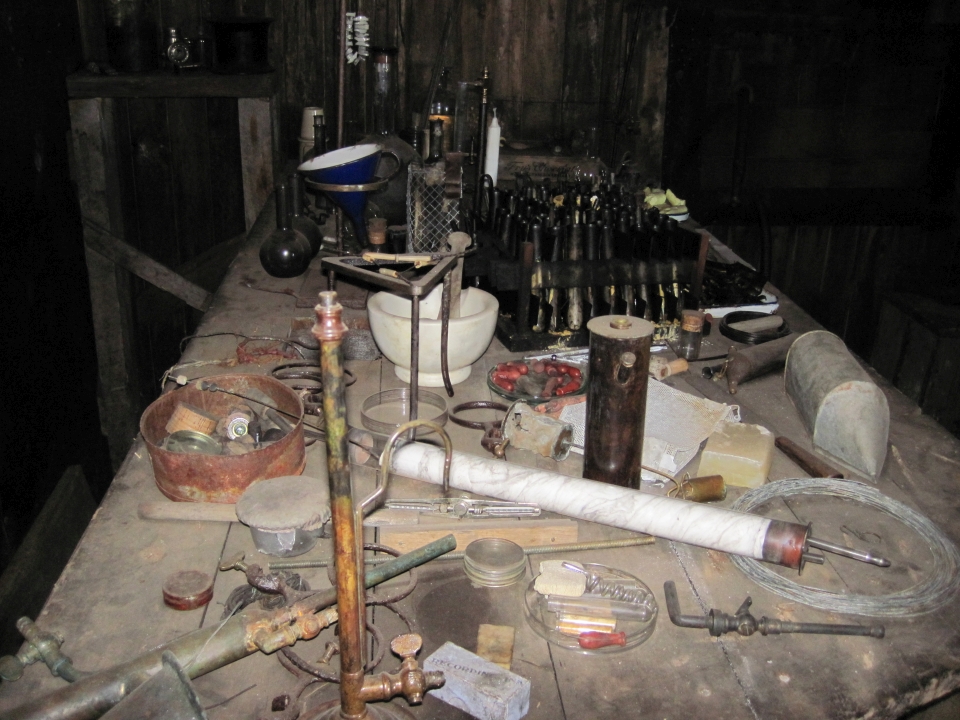 You could see a lot of science equipment inside Scott's Hut. Image: LEARNZ.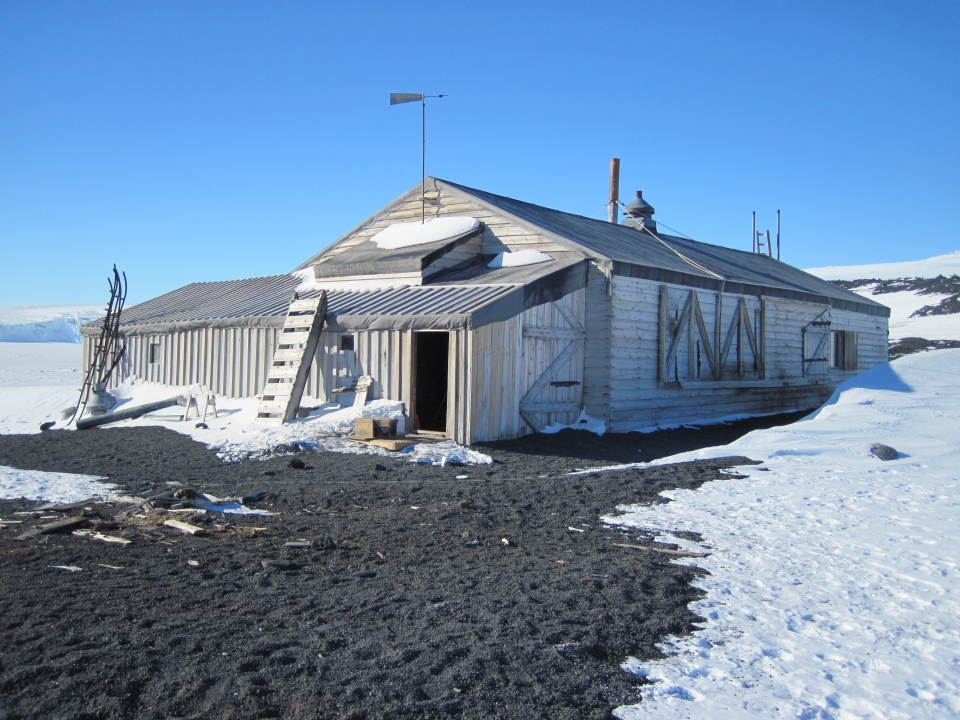 The Antarctic Heritage Trust has done a lot of work to conserve Scott's Terra Nova Hut. Why do you think it is important to preserve the historic huts in Antarctica? Image: LEARNZ.